Since the pillars of Göbekli Tepe have been unearthed and their consequential temporality assigned, the voices of esoteric intermediaries with ancient-kind have been amplified. And so it has been for writer and independent researcher Madeleine Daines, who has spent the past few years revising the meanings of archaic pictograms of the most antiquated kind, and their potential links with myths from olden times.
So once again the cries of an esoteric mind can be heard amidst the established sand-castles of our time: something came before. 
---
'The stones are rustling beneath our feet.  We are ascending…'(1)
The stones of Gobekli Tepe don't rustle. Of that we're sure. What happened there? What voices spoke, and what might they have said or sung? No, the stones tell us nothing of all that. After eleven thousand years of silence, it would be ridiculous to suggest that they might. But still we lean closer, lay our ear to the cold surface…. just in case. How else will we ever know?
We may sense a spiritual foundation, anchored in cosmology, both to the evidence before our eyes and to the many myths with sacred stones at their heart. There are respectable, plausible theories to explain the existence of those carefully placed blocks. But something essential of our history remains beyond our grasp. We can only guess what acts were performed by the people who made the pillars of Gobekli Tepe or Stonehenge. Did they dance? Did they laugh? Or were these such sacred places that lightness of heart would have got you into serious trouble? We don't have the details to piece those scenes together. Only words could give us that kind of information, words on a document written by and copied from someone who knew. Does that sound improbable or just plain impossible? Are we sure that stones don't rustle?
King Ashurbanipal of Assyria, who lived from 668 to 627 BCE, was an erudite man. In his lifetime, he amassed a great library, and, at one point, wrote "the whole of the inscribed tablets, of all the clay tablets, the whole of their mysteries and difficulties I have solved." (2) What an intriguing declaration! The most important works of literature, inscribed on hardened, durable clay tablets and discovered in various parts of Mesopotamia since the nineteenth century, have been translated using the Sumerian, Babylonian or Akkadian languages of their times. Today, we can read the most important and complete texts directly on the web. (3) So to what mysteries, to what difficulties, did the great man refer? Have we missed something?
We understand from respected scholars such as Jean Bottéro, a specialist of Assyria, that writing began in Sumer, the southern part of modern-day Iraq, not before 4000 BCE, for the purposes of accounting and trading as civilisations began to develop. (4) It is an accepted fact that the earliest pictograms, the subject of my study, were mere pictures of things for practical but primitive purposes such as counting animals or goods. It is given as evident that this, the most archaic form of the Sumerian writing, has no link to any other language; that it appeared out of nowhere and, its symbols having been transformed and improved for use by more civilized societies, then disappeared again without much more than an uneducated squeak; a primitive, isolated language with no past or future of any interest. Nevertheless, Jean Bottéro, writing in a more general sense, insisted on what he deemed to be the cardinal rule of History; "Il y a toujours quelque chose avant." There is always something that came before. In the same way that stone cannot be dated by the organic material around it, I would suggest that the word cannot be dated by either the ground or the tablet on which it is found. Something came before.
Perhaps we should look more closely at those fragments of tablets excavated from the most ancient levels of Mesopotamia. Here is one, found in the ruins of Susa in Iran, housed today in the Louvreand and dated to between 3500 and 3350 BCE. (5)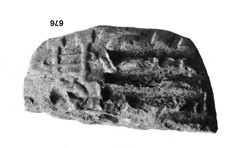 Does it merely indicate a site where animals were bought or sold? We have no way of knowing, but the stamp is fascinating, don't you think? Below the circled T-shapes, there appears to be the front half of an animal peeking out from a rounded line. I choose to see there a rodent, perhaps a Persian jird, emerging from its hole. Whatever the truth of the matter, we might agree that it would not seem out of place as a bas-relief carved on an ancient stone pillar. And neither would this lioness discovered at the same archaeological level.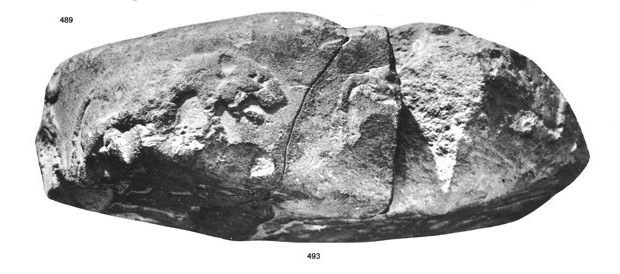 If the stones of Gobekli Tepe have not been seen by human eye since at least 9000 BCE, could it be that the memory was powerful enough to be kept alive, copied from one clay tablet to another for thousands of years? Perhaps there were other similar, later sites that have since been destroyed or buried. Is it possible that we could still find some way to solve, even partially, these mysteries of another age?
The literary texts of Mesopotamia to which we might turn for answers are very strange. Despite the great quantity of scholarly information, the numerous books full of authoritative commentaries on these gods and other characters; noble Gilgamesh, hairy Enkidu, the wise father Shuruppak, I find very unengaging.
There are many weird and somewhat boring texts transliterated from the tablets of Mesopotamia since their first discovery in the nineteenth century. Rather than suggest that these were very strange and boring people, I would propose that some of those texts originated in more ancient times and that we have indeed missed something. The tablets on which they were found were inscribed with the cuneiform symbols of the Babylonian or Akkadian eras, and then translated into English through those languages. But, if we consider that the texts might have been copied over and over for centuries or even millennia before they reached and were copied into these writing systems, then what intermediary language should be used to truly understand them? And how can we be sure of anything about the workings of their grammar or indeed the agglutinative nature of the language, where two or more symbols are glued together to form one meaningful word?
We would do well to pay a visit to King Ashurbanipal and ask him outright, "What mysteries? What difficulties?" Perhaps he would tap the side of his nose, delight in watching us squirm for a while, and then finally, triumphantly throw open the doors to his Great Library. There, he might lift down a fragile tablet, and point to the first three symbols. It might well be the document we know today as "Gilgamesh, Enkidu and the Netherworld "(6), but it will not be that same tablet. It will be an ancient version, the oldest still intact in 650 BCE, and written in the most archaic style. (7) The symbols he might show us are UD, RE, and A:

UD: the rising sun, one of a family of homonyms: with meanings such as 'sun', 'daylight', 'hot' or 'bright' and 'dry', (8)
RE/RI:'to collect', 'gathering' and the notion of flying.

A: two parallel wavy lines for 'water', also a verb or adverb, 'to flow' or 'flowing', or even another substance, a liquid.
Imagine, if you will, that King Ashurbanipal taps heavily on the tablet, and asks us,"UD RE A. What do you understand? What does this mean?"
Intimidated, we hurry to consult the Akkadian transliteration from the ETCSL website (he doesn't notice the gadgets sneaked out of our pockets), and we answer "In those days!" But have we simply given him his moment of triumph?
"Know that each image was created by people of great wisdom," he will explain, not unkindly, "and carries in its heart a precious element of their sacred knowledge. The words we waste on our grammar were not necessary then. There was no 'if' or 'but'. Nothing was redundant. There was no one sign of less importance than another. They fitted together to form the whole, and they will continue to do so forever …whether we read them or not. True meaning can be found only when this is understood."
And so, we look more closely at the writing on the clay tablet which today we call "Gilgamesh, Enkidu and the nether world", and we consider each symbol separately, as part of a monosyllabic language. In this way, UD RE A, 'day', 'gather', 'water', gives us much more than the usual result of 'In those days'. It gives us 'By day, the water gathers'. But, equal to that and infinitely more poignant, it gives us 'By day, the deluge';
"Hear this, my friends!" King Ashurbanipal pauses for effect and then, the tip of his beard pointing upwards to the great vaulted ceilings of the library, he intones and we hear for the first time in thousands of years the true opening words of that Gilgamesh tablet:
"UD RE A
(day/sun- collect-water)
BY DAY, THE DELUGE
UD SUD DU RE A
(day/sun-remote-stand-collect-water)
THAT DISTANT DAY, THE DELUGE
MI RE A
(night-collect-water)
BY NIGHT, THE DELUGE
MI BAD DU RE A
(night-open-stand-collect-water)
THAT ENDLESS NIGHT, THE DELUGE
MU RE A
(year/age-collect-water)
IN THAT AGE, THE DELUGE
MU SUD DU RE A
(year/age-remote-stand-collect-water)
THAT BYGONE AGE, THE DELUGE"
"But that", he adds, lowering his voice and moving closer, "is merely what you find at the most earthly level. We must now speak of REA. But who is this REA, you ask me. And I answer that She is one aspect of the Great Matriarch…. the one behind it all! She is the Mother as her waters break. She is the cosmic birth-giver. She brings the flood. Thus, you might also say, UD REA, The Sun and The Mother."
So that is how Rhea came by her name! We see that her future function as Greek goddess of fertility and of motherhood has barely altered with the passing ages. That, in itself, is a revelation. But, even more startling, we are seized and pulled backwards past Ancient Greece, past the great King Ashurbanipal, beyond even Babylon, and we find ourselves immersed in an archaic, matriarchal time.
King Ashurbanipal is off again, muttering to himself "Baskets they want! Baskets they shall have!" How did he know?
This time we find him holding up another clay tablet, one that we know today as "The Instructions of Shuruppak". (9)
"Isn't that the story of a father's words of wisdom for his son?" we ask tentatively. The paltry question is swept aside.
"THE BEE OR NOT TO BE!" he proclaims to the lofty ceiling, "Now THAT, my friends, is a question! What do you know of beer and bees?"
We suspect that he knows more than us. Silence reigns supreme.
"You are aware that both of them return each year, are you not? Fresh honey and fresh beer? Know that I recommend our homeland brew. It is by far the most exquisite of them all! But, for the beer and the bees to survive, there must be water and air, A and AN. (10) Without them, no beer….as simple, as terrible as that! It is the most evident of origins, don't you see? TO BE is to have water and air, A-AN or AN-A. Which one came first is not important. They are of equal stature. Ana-logia, my friends, ANALOGIA!"
He pauses for his brow to be wiped, "And now look closely at this tablet. Do you see the symbols A and AN inscribed here six times over these six lines? APPROACH! Look closely, I say! One line for every item in the offering baskets. Of the utmost importance they were! Without the offerings, no beer! Imagine that, my friends…. a world cut off from the beer!"
"The Instructions of Shuruppak", a cuneiform text found on several different tablets in Mesopotamia, can be dated to at least 2500 BCE thanks to the archaeological level at which it was found and the style of the cuneiform symbols on it, but still there is no way of knowing when the work was first composed. How many re-editions of Shakespeare have there been since he first wrote? If "The Instructions of Shuruppak" was first inscribed on clay long before the Babylonian period, then translating it today based on transformed symbols and the complex grammar of later times, would not guarantee much of the original meaning, if anything at all. I offer you here a new version of four lines from that text, treating it as a monosyllabic language, and reconstituting as closely as possible the archaic symbols with their phonetic equivalences. They would, of course, have been placed in a completely different manner on their original tablets. Certainly the symbols as I show them today would have caused ancient eyebrows to shoot up, but I hope that this format has the merit of allowing anyone who has read this far to comprehend my method of translating:(11)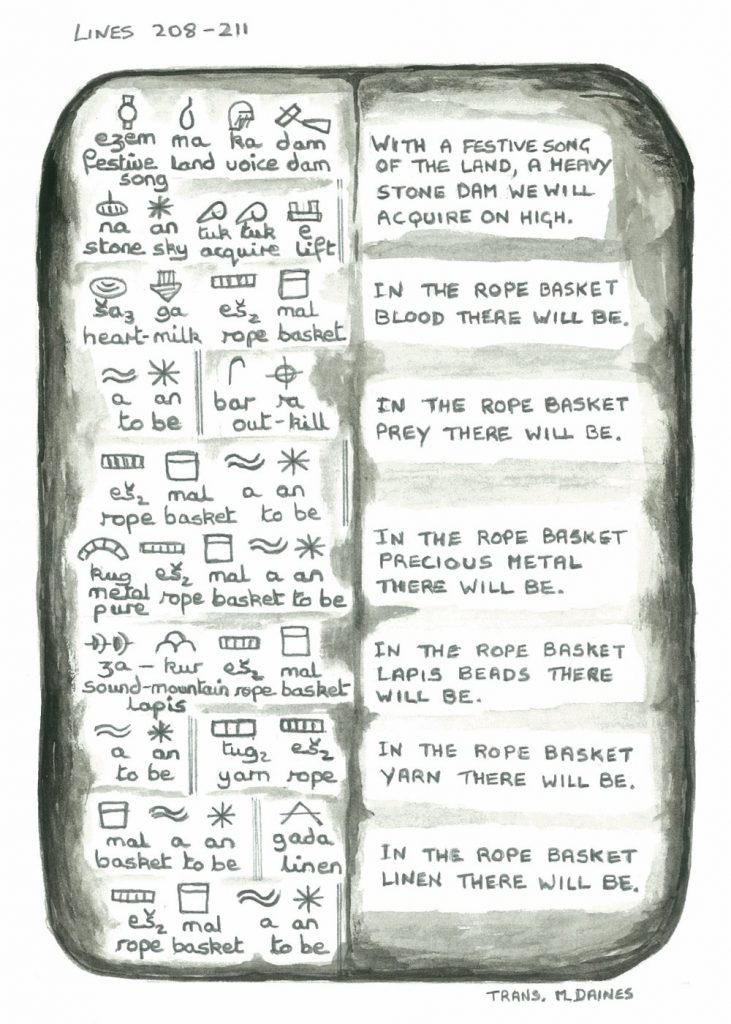 Whatever the reaction to the above, I am sure of one thing: I have done my best to provide a clearly referenced Sumerian text with a translation sufficiently transparent as to be at least partially verifiable by anyone with the will and some straightforward internet-based tools. Blind faith is not called for here. Are other more scholarly and very different versions of these lines correct? I don't know. There is no way of knowing without delving into Babylonian or Akkadian grammar as presented to us by modern-day specialists. Perhaps the ancients were clever enough to create two very different texts in one, a kind of linguistic hologram. Who can be sure of anything?
There is one last point I would like to make: a translator has a duty of respect to the author of a text, however long ago they wrote, however dead they may be. We don't have the right to fancifully add to, subtract from or change their work knowingly. Interpreting an ancient text implies a sense of context, a dose of empathy, and the negation of our own sensitivities or inculcated points of reference. If we find no gods there, then so be it. We must try with sincerity to sense the will behind the work and, where necessary, erase ourselves from the text again and again until the Master Scribe is satisfied. Their words must be freed, as far as our understanding will permit, from the cobwebs of those intervening years and then from us. The sacred principle of MA must be re-membered; truth above all. (12)
So could it be that somewhere in the Sumerian literary texts the oldest stories have survived and still lie hidden? Is that Persian rodent sculpted somewhere at Gobekli Tepe, waiting to be unearthed? Do we find here the lyrics to a song from as far back in time as those standing stones? Might we be reading here an account of the three baskets carved on Pillar 43? Is this what King Ashurbanipal meant when he wrote of the mysteries of the old tablets? So many questions! Is that a regal snore we hear; or have the stones begun to rustle?
---
(1) Aleksandr Solzhenitsyn, The Gulag Archipelago, 1973.
2) George Smith, History of Assurbanipal translated from the Cuneiform Inscriptions, p.6-7,1871.
(3) Electronic Text Corpus of Sumerian Literature, (ETCSL), a site of the University of Oxford.
(4) L'Orient Ancien et Nous, Jean Bottéro, 2011, Editions Albin Michel.
(5) Clay tablets found in excavations at Uruk in modern-day Irak, dated to around 3500 BCE, Cuneiform Digital Library Initiative, (CDLI), references P281729 and P281704., collection of the Musée du Louvre.
(6) Gilgamesh, Enkidu and the Netherworld, Electronic Text Corpus of Sumerian Literature (ETCSL) reference 1.8.1.4.
(7) A concise and useful manual,L'Ecriture Cuneiforme, Syllabaire Sumérien, Babylonien, Assyrien, by L.J. Bord and R. Mugnaioni, published by Geuthner Manuels, shows a good selection of symbols and their evolution, along with the corresponding phonetic forms. But not all of the many variants are shown.
(8) The electronic Pennsylvania Sumerian Dictionary (ePSD) gives a large selection of meanings according to the different periods. For example, type UD into the box at the bottom of the page and hit 'sign'. In the right-hand box that has opened, click on 'DRY' or 'SUN' to discover the periods of use of the symbol UD with those meanings. I can only imagine the work involved in providing such priceless information, from the person who dug tablets out of sand to those who put such a tool into our hands. My translation choices were made partially thanks to this site, but also by other means such as the Sumerian proverbs. However, it does not allow to see the archaic symbols and their evolution.
(9) The Instructions of Shuruppak, Electronic Text Corpus of Sumerian Literature, (ETCSL) transliteration, reference 5.6.1., website of the University of Oxford.
(10) On the electronic Pennsylvania Sumerian Dictionary (ePSD), type A or AN into the box and hit 'sign'. Type AM3 to obtain the aggregate form of A-AN. Thus, the symbols for water and sky/air, necessary for all life, are quite logically used in the same way as our verb "to be", and together give the phonetic form ANA. I believe this to be the origin of Greek prefix 'ana'.
(11) Lines 208 to 211 of The Instructions of Shuruppak, re-translated from the transliteration (where the symbols on the tablets are transformed into their phonetic equivalences) given on the ETCSL site under reference 5.6.1. The language is taken to be monosyllabic rather than agglutinative. Each symbol as it might have appeared in the earliest times is shown on the left-hand side. Underneath is the Sumerian phonetic form (also from the earliest periods) and, under that, an English translation for each symbol which can be checked using the electronic Pennsylvania Sumerian Dictionary. (see 8) For the letter Š pronounced SH, type 'C': CA3 or EC2.Then, ŠA3 and GA together, 'heart' with 'milk' give the notion of blood. BAR and RA, 'out/outside' and 'kill', give prey as opposed to farmed animals. A and AN (AM3) with the meaning 'to be'are repeated six times, as is MAL meaning basket. Translated in this way, a surprising and coherent new version of this portion of text becomes apparent.
(12) See Chinese Magu (Sumerian MA-GU: Mother/Earth/land-cord) for a direct link to cannabis/mariguana use in this context. Symbols change while the sounds of the words and their truth continue to resonate.