When it comes to confronting global climate change, we don't have much experience to draw on. As world leaders prepare to meet in Paris starting on Nov. 30 to hash out a binding international agreement to limit greenhouse gases, it appears that we are in new and frightening territory, without the past as a reliable guide.

History, however, can offer some important lessons. Archaeologists in recent years have discovered that dramatic weather events helped lay the foundations for our very civilization. Climate calamities, in fact, may have sparked the urban revolution that continues to alter the planet.

Originally the Monuments Men were a group of people, most of them with a cultural studies background, who joined a special branch of the US Army for one reason only: to save and retrieve stolen art from the Nazis. The goal of the digital Monuments Men today is no less important: they want to save global culture from destruction.
Available Now!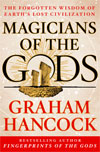 Magicians of the Gods (2015)