Smartphone-toting pilgrims regularly stream into northern Cambodia from all over the world. Their destination: Angkor Wat, a medieval temple that's famous for massive towers and majestic stone carvings of Hindu gods, spirits and mythological battle scenes. The site, considered the world's largest religious monument, drew more than 2.3 million visitors in 2014.

Archaeologists excavating the ruins of a city of the Kushan Empire in Pakistan have discovered an ancient shrine with statuary depicting the Buddha's entry into the world of suffering people. After he saw the pain and misery of the world, from which he had been shielded as a youth, Buddha went on to found a religion based in love, compassion, and mercy.

Experts have discovered a new geoglyph 30 meters (100 feet) long among the Nazca lines on an arid plateau in Peru that experts say depicts an imaginary animal with a long tongue. Archaeologists say the rock carving may date back 2,000 years.

---

Alt:

Over 2000-year old geoglyph found in Nazca desert
Available Now!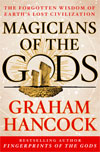 Magicians of the Gods (2015)