He wants to create two tiny pulsing suns over the Martian poles

A few weeks ago, SpaceX CEO Elon Musk was likened to a James Bond villain after he announced his idea to nuke Mars on The Late Show with Steven Colbert. He said it was the most rapid way to induce climate change on the planet. Now the billionaire has clarified those comments a bit further. He doesn't want to nuke the surface of Mars; he just wants to nuke the sky over the Martian poles every couple of seconds.

On 25 September, a sensational rumour appeared on Twitter: Lawrence Krauss, a cosmologist, reported hearing that the world's largest gravitational-wave observatory had seen a signal, barely a week after its official re-opening.

The rumour had been spreading around physics circles for at least a week. If it is true, and if the signal seen by the Advanced Laser Interferometer Gravitational-Wave Observatory (LIGO) genuinely represents the signature of a gravitational wave, it would confirm one of the most-elusive and spectacular predictions of the general theory of relativity almost exactly 100 years after Albert Einstein first proposed it.
Featured Content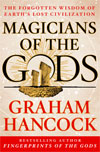 Magicians of the Gods (2015)