The evolutionary history of the bacteria in your guts predates the appearance of humans, and mirrors that of our great ape relatives, according to a genetic study.

The research suggests that microbes in our ancestors' intestines split into new evolutionary lineages in parallel with splits in the ape family tree.

Long before the advent of social media, human social networks were built around sharing a much more essential commodity: food. Now, researchers reporting on the food sharing networks of two contemporary groups of hunter-gatherers provide new insight into fundamental nature of human social organization.

The elongated skulls of Paracas in Peru caused a stir in 2014 when a geneticist that carried out preliminary DNA testing reported that they have mitochondrial DNA "with mutations unknown in any human, primate, or animal known so far". Now a second round of DNA testing has been completed and the results are just as controversial – the skulls tested, which date back as far as 2,000 years, were shown to have European and Middle Eastern Origin. These surprising results change the known history about how the Americas were populated.
Available Now!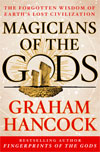 Magicians of the Gods (2015)