Graham Hancock's Upcoming Tours and Speaking Events

Saturday, May 28, 2016, Wappinger, NY, USA
Graham Hancock at CoSM
Location: CoSM Chapel of Sacred Mirrors
46 Deer Hill Rd.
Wappinger, NY
12590
Admission: Early Bird – $100 (First 40 tickets)
For details see: http://cosm.org/events/graham-hancock-at-cosm/
23-26 June 2016, Bucharest, Romania
Sumiruna Awakenings: The first conference on expanded consciousness in Eastern Europe
For details see: http://www.sumiruna.org/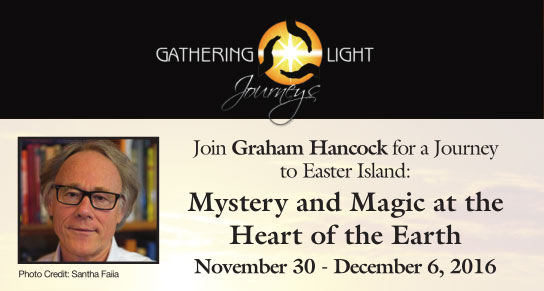 Nov 30 – Dec 6, 2016, Easter Island
Journey to Easter Island: "Mystery and Magic at the Heart of the Earth" with Graham Hancock
For details see: http://www.gatheringlightjourneys.com/Journeys/2016/EasterIsland/
Two thousand miles from anywhere, Easter Island is amongst the most highly-energised places of power, spirit and mystery that our sacred planet has to offer, an ancient "Navel of the Earth" connected to a lost system of Gaian wisdom and to a deep, abiding knowledge of humanity's purpose in the cosmos.
A land of haunting natural beauty, lying to this day under an almost palpable enchantment, what Easter Island has to teach does not come from books, or dry academic studies that focus on the sad decline of its most recent inhabitants but rather from direct experience of the monuments that were already millennia old when those inhabitants arrived.
Join me on this journey into mystery and earth-magic, where we will invite the mighty memorials of Easter Island's forgotten past to speak to us directly and share their secrets with us.

September 15-28, 2017, Ethiopia
ETHIOPIA TOUR with GRAHAM HANCOCK: On the trail of the lost Ark of the Covenant
For details see: http://www.timeofanewera.com/tour-ethiopia-tour-with-graham-hancock,29.html
Introducing the most exciting tour to Ethiopia ever! Join Graham Hancock on an amazing journey in search of the Ark of the Covenant. It is the first and the only tour that aims to build on the revelations in The Sign and The Seal, the international bestseller that established Graham's reputation as the world's leading investigator of our hidden past. Now, 25 years after publishing The Sign and The Seal, you can join Graham in a breathtaking real-life adventure that will take us to Ethiopia's places of power and ancient mystery guarding the most shattering historical secret of the last three thousand years – the whereabouts, and real nature, of the 'lost' Ark of the Covenant.
---
When future tours or events are planned, updates will appear here and be announced on the alternative news desk.
In the meantime please check out Graham's YouTube channel to watch some of his presentations:
http://www.youtube.com/GrahamHancockDotCom
You may also add him on facebook, Twitter or find him on Google+