Suppose all the wildest theories and historical conspiracies of novelist Dan Brown were proven true. And the mind-reading, spoon-bending claims of Israeli psychic Uri Geller all turned out to be real as well.

That wouldn't be half as extraordinary as the announcement in an obscure scientific journal this month that vindicated 20 years of maverick research and best-selling books by the eccentric archaeologist Graham Hancock.

Plastic bags need hundreds of years to biodegrade, but wax worms break them down in no time.

The researchers confirmed that the worms' digestion process was breaking down the plastic, breaking polyethylene's chemical bond and converting it to ethylene glycol, an organic compound used in the production of polyethylene that itself biodegrades in a few weeks.

---

Alt:

This Bug Can Eat Plastic. But Can It Clean Up Our Mess?

The ants of the genus Sericomyrmex – literally translated as 'silky ants' – belong to the fungus-farming ants, a group of ants that have figured out how to farm their own food. The silky ants are the less well-known relatives of the famous leaf-cutter ants – well-studied, photogenic model organisms that you simply cannot avoid if you take a trip to the Neotropics.
Graham's latest book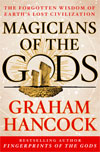 Magicians of the Gods