An excavation in the Dargeçit district of the southeastern region of Turkey, which will soon be left under the reservoir waters of the Ilısu Dam, has revealed crucial information about the North Mesopotamian people's social life 10 millennia ago, particularly about burial rituals and the ancient belief in life after death.

IT SEEMED like a curse. The summer of 821 was wet, cold and yielded a poor harvest. Then winter came. Temperatures plunged. Blizzards smothered towns and villages. The Danube, the Rhine and the Seine—rivers that never froze—froze so hard that the ice covering them could be crossed not just on foot but by horse and cart. Nor did spring bring respite. Terrible hailstorms followed the snow. Plague and famine followed the storms. The next few winters were worse.

Researchers have been studying not just the monument itself, but the area around it, hoping to find clues in this intriguing landscape of prehistoric monuments.

Underground imaging and excavation have revealed that Stonehenge was once part of a complicated network of structures: ancient burial mounds, unknown settlements, processional routes and even gold-adorned burials.
Graham's latest book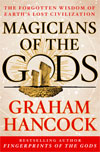 Magicians of the Gods