Your cognitive capacity is significantly reduced when your smartphone is within reach — even if it's off.

McCombs Assistant Professor Adrian Ward and co-authors conducted experiments with nearly 800 smartphone users in an attempt to measure, for the first time, how well people can complete tasks when they have their smartphones nearby even when they're not using them.

Children of Nso farmers in Cameroon know how to master the marshmallow test, which has tempted away the self-control of Western kids for decades.

In a direct comparison on this delayed gratification task, Cameroonian youngsters leave middle-class German children in the dust when challenged to resist a reachable treat while waiting for another goodie, a new study finds.
Latest Articles
Graham's latest book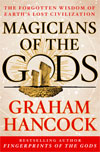 Magicians of the Gods