They were dismissed as stupid and primitive by the archaeologists who first studied their fossilised bones, but it seems Neanderthals may have been just as chatty as our own species.

Researchers have discovered evidence that suggests Neanderthals may have used vocal communication just like our own species Homo sapiens.

---

Alt:

Neanderthal and modern human ear bones

A team of researchers at Norwegian University of Life Sciences has found that horses are capable of reading symbols on a sign and using them to convey a desire—whether they want a blanket put on them or not. The researchers have written a paper describing their efforts with the horses and have had it published in the journal Applied Animal Behavior Science.
Available Now!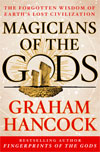 Magicians of the Gods (2015)