Graham Hancock's Upcoming Tours and Speaking Events

November 28, 2016, New York, USA
Graham Hancock: "The Art of Being an Outsider"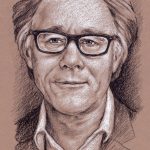 For details see: http://www.nationalartsclub.org/default.aspx?p=.NETEventView&ID=3864126
Location
Graham Hancock's past National Arts Club talks have been at capacity — with significant waiting lists.
The Art and Tech Committee will accommodate all members who RSVP by the deadline. Guests will be prioritized by the date of their RSVP.
Members and guests please RSVP by November 15: artandtech@thenationalartsclub.org
November 29, 2016, New York, USA
Graham Hancock and John Anthony West: An Unprecedented Dialogue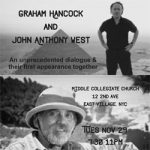 For details see: https://www.eventbrite.com/e/graham-hancock-and-john-anthony-west-an-unprecedented-dialogue-tickets-29225636666
Location: Middle Collegiate Church, 12 2nd Ave between 6th and 7th St,
New York, NY 10003
Where have we been and where are we going?
Join Joe Rogan Alum bestselling author Graham Hancock and legendary Egyptologist John Anthony West for a captivating evening of heresy and unthinkable thoughts about the origins of mankind.
April 23-30, 2017, Croatia
Bridging Heaven and Earth | Graham Hancock & Robert Bauval Croatia Cruise
For details see: http://www.heaventoearth.com/graham-hancock/
April 23 to April 30, 2017. Gain the rare opportunity to be in an intimate setting with Graham Hancock and Robert Bauval while cruising the coast of beautiful Croatia. In addition to their formal lectures, there will be plenty of time for casual discussions and one-to-one learning with these influential legends from the world of ancient mysteries.
---
When future tours or events are planned, updates will appear here and be announced on the alternative news desk.
In the meantime please check out Graham's YouTube channel to watch some of his presentations:
http://www.youtube.com/GrahamHancockDotCom
You may also add him on facebook, Twitter or find him on Google+