Behold, Egyptologists! Our Authors of the Month for July are Jonathan Meader and Barbara Demeter, with a short presentation based on the newly abridged version of their much revered and simply stunning book, Ancient Egyptian Symbols: 50 New Discoveries. 
Carol Andrews: "This remarkable publication challenges the world of Egyptology to reassess long-held and clearly incorrect theories about the origin and meaning of so many symbols and representational forms which are fundamental to our understanding of ancient Egypt." (Amulets of Ancient Egypt, British Museum Department of Egyptology, 27 years).
Herman te Velde: "This is a very fine book… beautiful and instructive… I recommend it wholeheartedly." (Seth, God of Confusion, 1967)
James P. Allen: "Innovative and thought-provoking, with some important contributions to Egyptology." (President 2011-15, International Association of Egyptologists, Metropolitan Museum 16 years)
Andrew Weil: "Remarkable discoveries that, once seen, are completely obvious. A revelatory work." (MD, 10M books sold)
Martine Rothblatt: "A momentous work of art and deep reservoir of revealed knowledge… seeing what everyone else has seen, but thinking what no one else has thought." (PhD, JD, MBA; founder Sirius Satellite Radio and United Therapeutics)
Ancient Egyptian Symbols: 50 New Discoveries (Abridged) (128 pgs., 260 illus., soft: £14 €18 $20).
– By Jonathan Meader & Barbara Demeter
Foreword by Hans Schneider (Director Rijksmuseum van Oudheden, 10 years; Deputy Director of Anglo-Dutch excavations, Sakkara, Egypt, 20 years).
Barbara and I have spent the last 13 years searching for the sources and meanings of ancient Egyptian symbols. Our research focused on the two ancient Egyptian Sacred Waterlilies, ancient Egyptian symbolism, and the three primary Egyptian funerary texts – all ancient sources. We've traveled to Egypt many times, and to museums in Europe and the US to study and photograph the ancient symbols. We discovered the sources and meanings of more than 50 ancient Egyptian symbols, including Seth's mysterious head, the Eye of Horus, 10 major crowns, and the symbolic foundations of Osirian mythology, the backbone of ancient Egyptian religion for more than 2000 years.
I'm an artist (jmeader.com), and I lived in Lebanon and Morocco as a teenager. Barbara is a business consultant, specializing in the mortgage and banking industries.
Note to reader: Dates in our book are abbreviated: c. 1250 BC = •1250, and c. 30 AD = 30•. Sacred Waterlilies and Sun symbols are capitalized, but the Waterlily's sun is not. Several symbols' names were changed when their sources and meanings were discovered.
"The purpose of all true symbols is to direct the individual away from the superficial concerns of life towards the center of existence… the true symbol always points beyond the here and now for it is a signpost to another world… each fragment points to the whole and everything ephemeral is in an image of the eternal."
– Manfred Lurker, The Gods and Symbols of Ancient Egypt.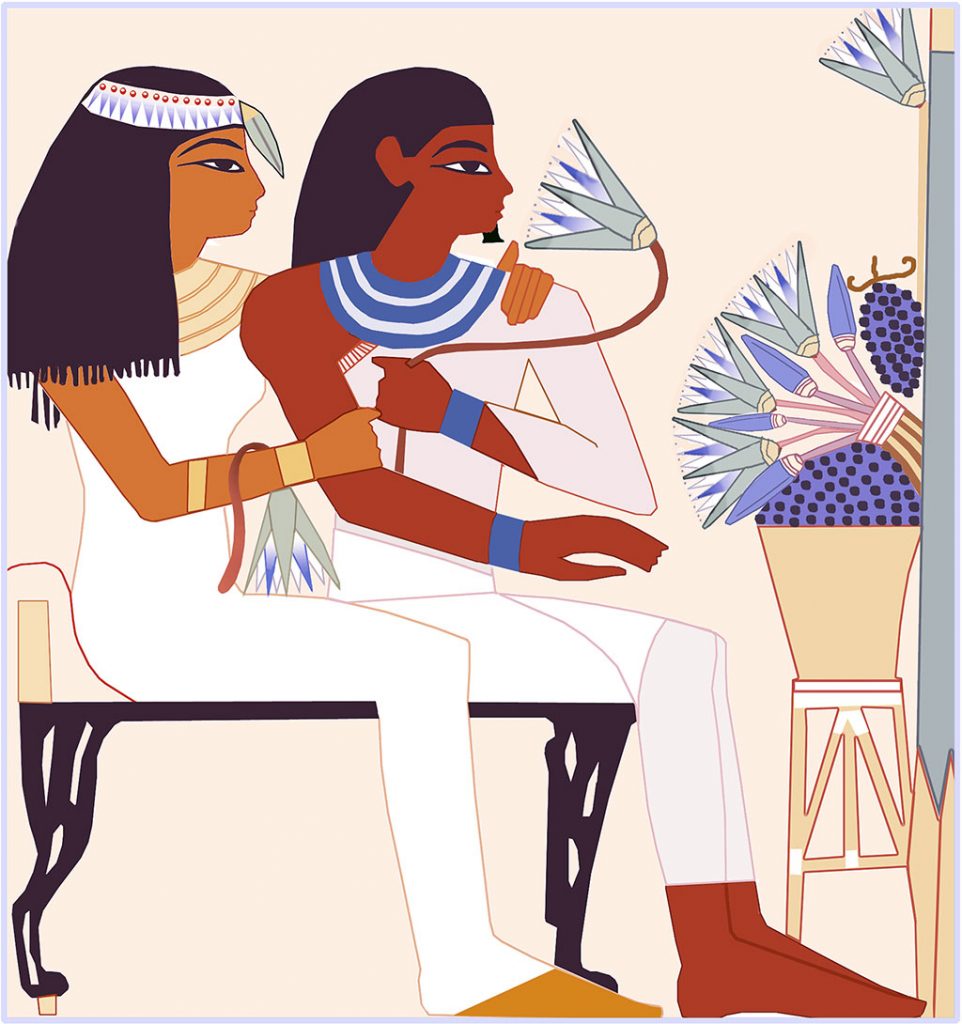 1: This copy of a painting from an ancient Egyptian tomb is filled with Sacred Blue Waterlily symbolism: her headband, the bud over her forehead, the flower over her arm, the bloom he is contemplating, and the bouquet of Waterlilies in front of them. Sacred Blue Waterlilies are ubiquitous in ancient Egyptian tomb paintings. What is their significance?
Egyptologists have wondered why, in one particularly beautiful ancient Egyptian myth, the Sun is said to rise from a Sacred Blue Waterlily (not a lotus). So, one day in early 2002, Barbara brought home several blue waterlilies (of the modern variety) for us to examine to try and solve that mystery.
It didn't take long, for in the center of the first blue waterlily we examined a tiny orb: a translucent, yellow tinted "sun." Some light reflected off its surface and some passed through it, making it appear to glow. Ancient Egyptians believed things that resembled each other were related, and that "similarities" were important clues left by the Gods and Goddesses to help people make sense of the world. Resemblance was the basis for ancient Egyptian symbolism – symbols (usually) resembled what they represented.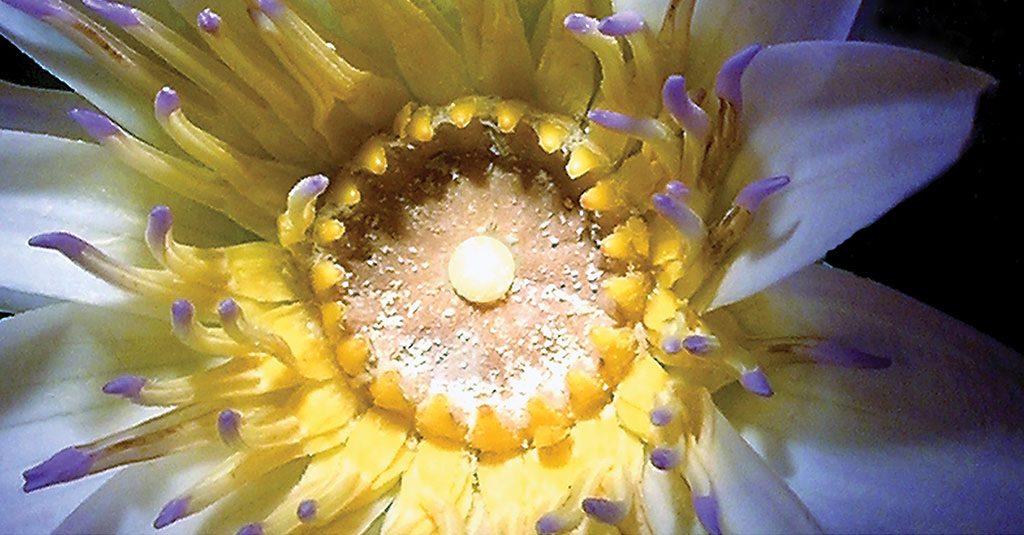 2: The Blue Waterlily's bud rose out of the black waters of Chaos and began to glow with the world's first light, pushing back the darkness. The flower's sky-blue petals unfurled, its yellow stamens spread, and from its center the nascent sun, Ra, rose for the first time…and our fragile world began.
We decided to use only the two ancient Egyptian Waterlily varieties and contacted Ken Landon. Ken, at the request of the Egyptian government, identified flower remains found in ancient Egyptian tombs. He also supplied Egypt with millions of seeds of the two ancient varieties when construction of the High Dam wiped out the Waterlilies in the Delta. Ken grew all of the Waterlilies photographed in our book.
The Waterlilies began arriving overnight from Texas, and I dissected and photographed them. Simultaneously, I immersed myself in the study of ancient Egyptian symbolism, and the combination of the two led to an avalanche of discoveries. This was virgin territory – no one had ever examined the two Sacred Waterlilies as possible sources of ancient Egyptian symbolism, or even looked to see why the Blue Waterlily was said to be the source of the Sun.

3: From left to right: top view of a Blue Waterlily's ovary, swollen with approximately 2000 seeds. Seeds go through several color changes – translucent to red to brown/black. A Waterlily seed can be seen slipping out of its "life-vest," which can keep it afloat for up to 8 hours, allowing it to travel some distance before sinking and taking root. Waterlilies also have horizontal roots (rhizomes) from which new stems grow.
It soon became evident that the two Waterlilies, ancient Egypt's most revered flowers, were the most important building blocks of their symbolism. They were the inspiration for a number of crowns and other major symbols. Waterlilies were especially valued because they were democratically employed sources of symbolism, whereas Sun Disks were only used with royalty and the Gods.
Waterlilies, which rise spotlessly from the mire, were a source of food and medicine in ancient Egypt. The Blue Waterlily's subtle aroma indicated the presence of Gods and Goddesses, some of whom played essential roles in the resurrection process. Waterlilies were primarily resurrection symbols.
4: The cobras in Princess Meritamun's Cobra-Ring Crown (© Liepe) each has a Sun on its head. Her crown resembles the center of a Blue Waterlily. These stylizations have previously been identified as different crowns. The shapes at the top of Djed Pillars are 3 Cobra-Rings, which equal 3 times the power of Sunrise.
The Blue Waterlily's center (stigmatic basin), with its sun in the middle, inspired considerable ancient Egyptian symbolism. Radiating out from its sun are serpent-like stigmas, each ending in a curl (style) that can resemble a flaring cobra – a ring of cobras around a rising Sun. As a crown it has been called "Uraei Kalathos," or royal cobra basket. However, that proved too limited, so the term "Cobra-Ring" is applied instead.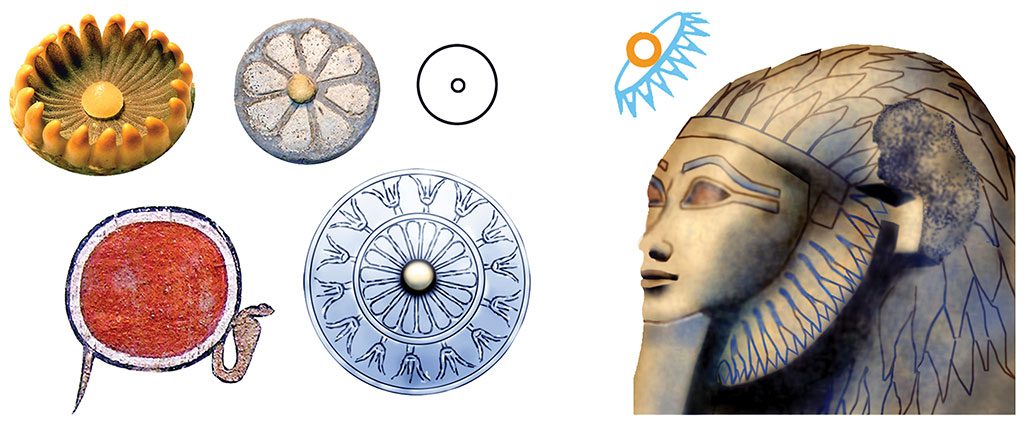 5: One cobra around a Sun Disk is also a Cobra-Ring and is inspired by the Blue Waterlily. Waterlily petals shown encircling a face imply that face is the Sun because of the sun at the Waterlily's center. The petals also imply scent because a Blue Waterlily's scent is in its petals. The White Waterlily doesn't have a discernable scent. Shapes referred to as "rosettes and roundels" are usually Waterlily centers, as are the flower designs on the breasts of some royal women's statues; the glyph for the Sun, the Solar Eye, the Solar Boat, and the stack of three stylized Cobra-Rings at the top of Djed Pillars.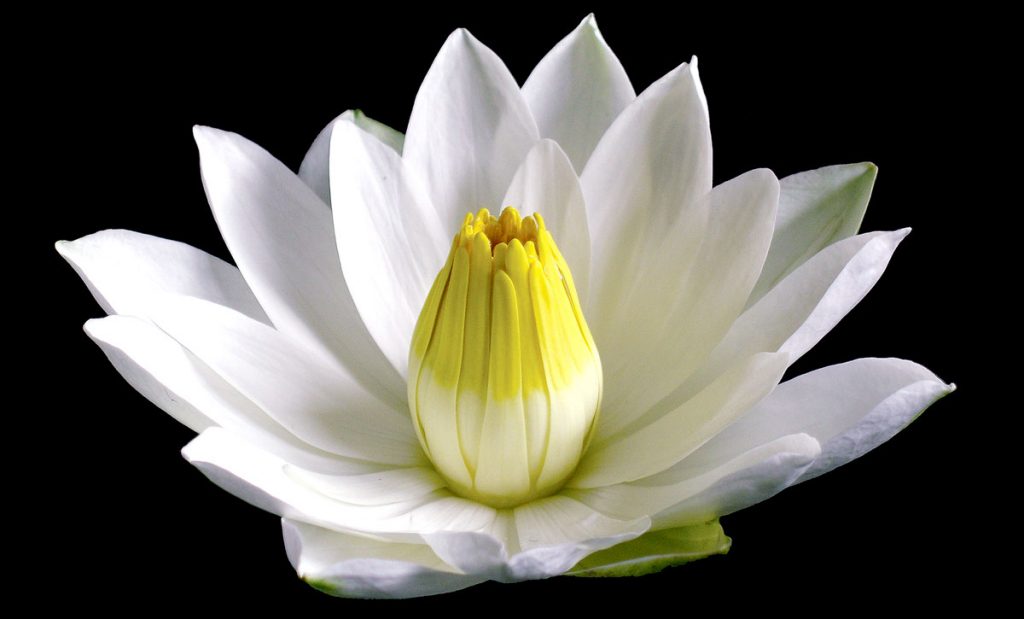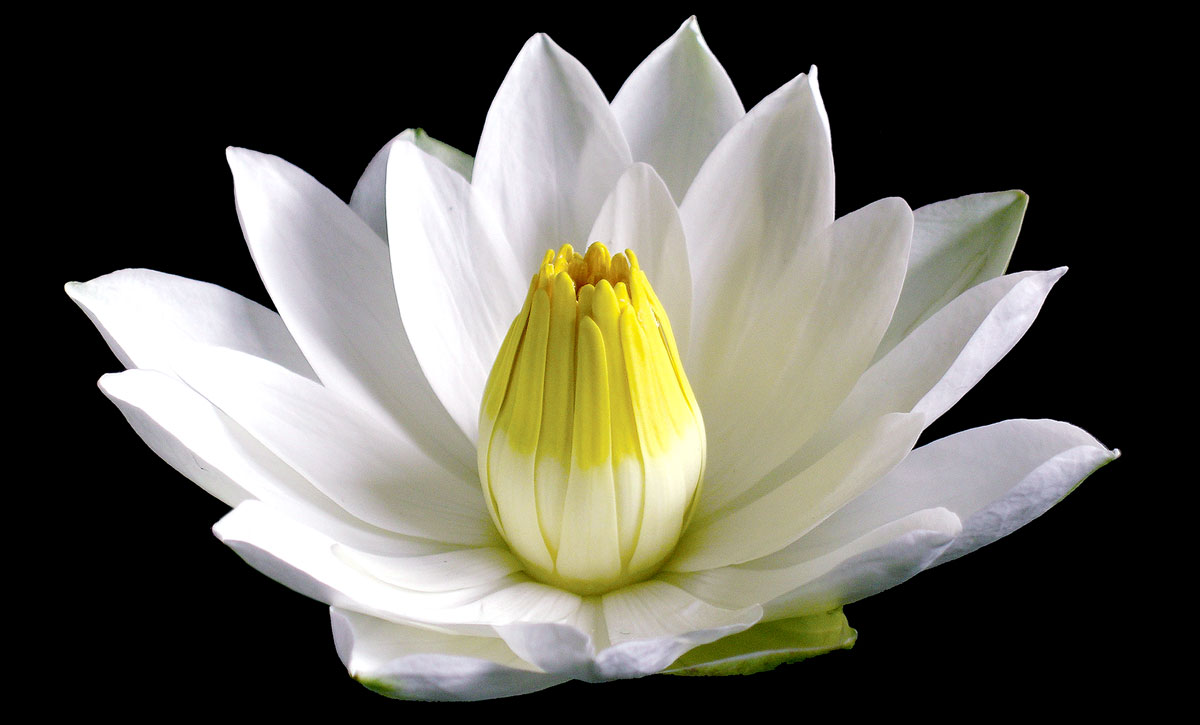 6: The Sacred Ancient Egyptian White Waterlily, although less familiar than the Blue Waterlily, was equally vital in the development of ancient Egyptian symbolism. Its petals are thicker, wider and blunter, and the top half of its vase-like cluster of stamens is often colored yellow. Both Waterlily flowers rise 5– 8 inches above the water and bloom for 3 days or nights, after which they sink to the bottom and spend the next 4– 6 weeks developing seeds. They open and close daily, as do many flowers, but they do not rise and sink with the rising and setting of the Sun, as has been suggested.

7: A White Waterlily bloom opens shortly after Sunset and stays open until noon the following day (16 hours), whereas the Blue Waterlily is only open from mid-morning to mid-afternoon (4 -7 hours). Neither Waterlily is open at Sunset, which was the most dangerous time for the Sun – it was when Ammut, the huge death serpent attacked. However, Seth was on hand to temporarily repel him, and the red streaks in the sky at Sunset and Dawn were imagined to be blood from Ammut's wounds.

8: The White Crown was inspired by a White Waterlily's stamen cluster, with its sun/Sun rising out the top. The Atef Crown is known to include a White Crown, often with its stamen lines and Sun showing, and a Maat feather on either side. It usually has a Sun rising out of its top. Therefore, we know that the bulge at the top of every White Crown symbolizes the Sun. However, stand-alone White Crowns rarely display stamen lines. Crowns were symbols used in art, and were not wearable (one exception: Seshed's golden headband, the only type of crown found to date).
9: In addition to inspiring the White Crown, the White Waterlily also inspired the little mound sometimes seen on a person's head in funerary paintings. It is commonly been called an "incense cone," but has been renamed "Resurrection Bud." The White Crown and Resurrection Bud are both resurrection machines, except in the larger White Crown's case the bulge at the top represents the rising Sun/sun, and the Resurrection Bud's Sun is only implied – whether or not it rises depends on how good that person was in life. Resurrection Buds are sometimes "worn" by those other than the deceased to help create a positive resurrection atmosphere.

10: Resurrection Buds come in a wide variety of designs, and many have vertical interior lines that represent the White Waterlily's stamens. Notice the Bud with its top half realistically colored yellow. Non-royals weren't depicted with Sun Disks over them, so the tops of their Resurrection Buds are usually egg shaped (another powerful birth and Sun symbol) so as not to resemble a Sun Disk.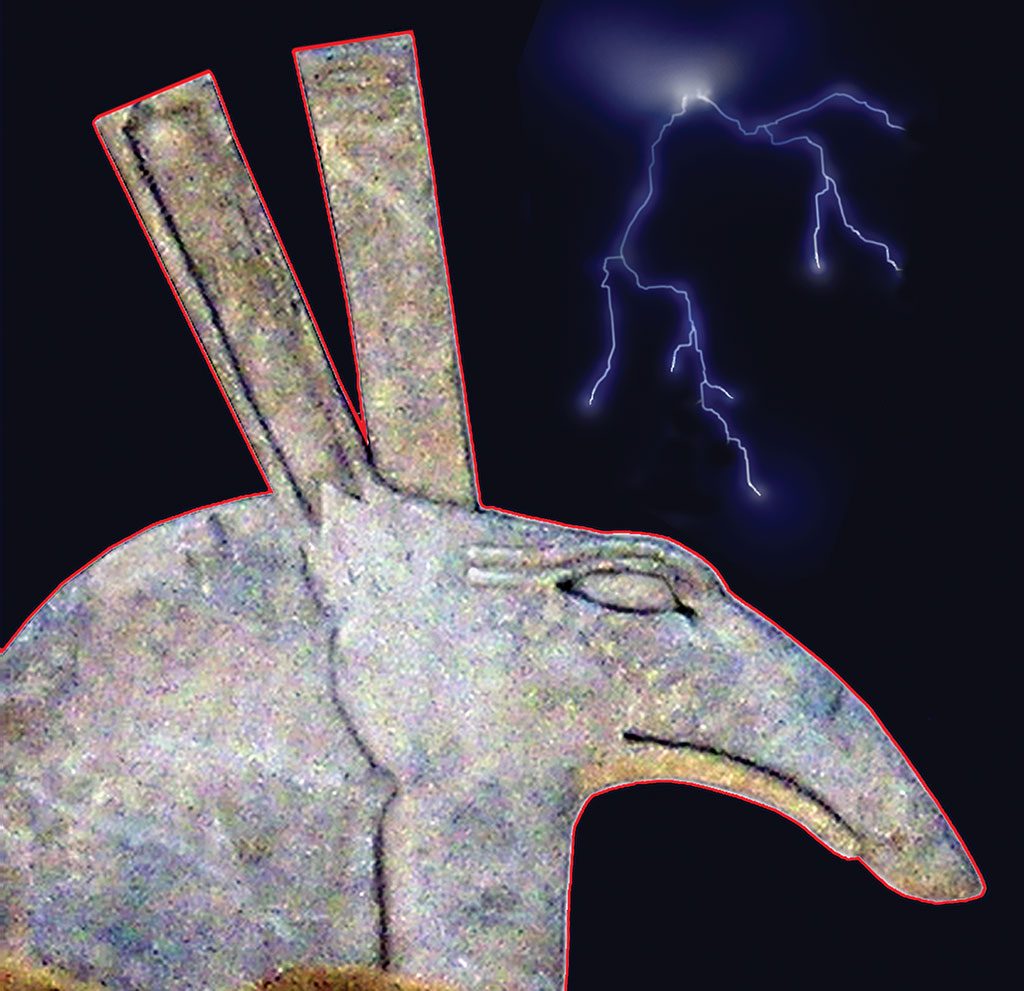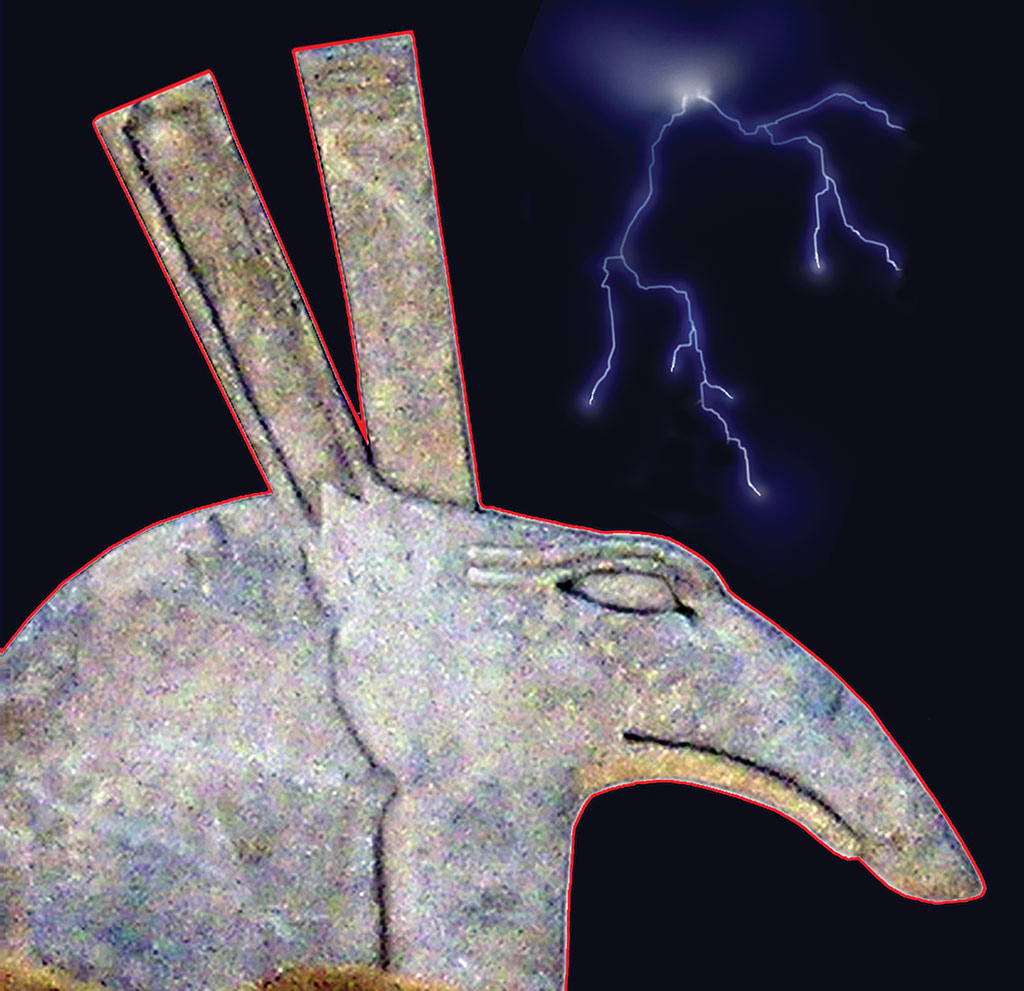 11: Seth, god of confusion, storms, illness and death, was the essential dualistic balance to Horus.
Seth was ancient Egypt's desert-dwelling god of chaos, sickness, destruction and death. And though Egyptian artists excelled at refining symbols to their simplest recognizable forms, Seth is an anomaly whose features have thus far defied identification. Other gods and goddesses are represented with clearly identifiable forms, but not Seth. He has a long, often pointed snout, and long square-topped ears. Many animals have been suggested for Seth, but none seem to fit. Eminent Egyptologists Herman te Velde and Jan Assmann both agree that Seth represented death (not generally accepted yet) in the context of the Osirian myth, but what inspired his mysterious head?
12: Osiris, who symbolizes the fertile earth, is killed twice by his younger brother Seth. For four months of the year Egyptian farms were flooded by the inundation, which was represented in myth as Osiris/soil drowning. Then, after Osiris is revived (flood recedes), Seth quickly cuts him up, killing him a second time. What cuts the soil? Seth's head was inspired by a plow. Seth's "long curved snout seems to have intrigued the Egyptians. They had a story that when Seth was forced to bow down deeply before Osiris, he hit his nose so hard that blood ran out. Ra immediately buried this blood, and thus arose the ritual of hacking the earth" (te Velde). In this picture Seth/plow is being forced to bow to Osiris/earth, with his nose "hacking the earth."
The ancient Egyptian Pyramid Texts (PT, •2350~•2100) constitute one of the world's oldest known collections of religious writing. They include 759 Utterances (wide variation in lengths), which are carved into the inner walls of 10 Old Kingdom and First Intermediate Period Royal Pyramids. They were intended as resurrection instructions, so when the Pharaoh awoke in the pitch black, he could read them by touch. The Coffin Texts (CT, •2055~•1800) constitute an even larger collection of Spells collected from the sides and insides of Middle Kingdom coffins, many of which are based on the Pyramid Texts. The primary New Kingdom funerary text has been called the Book of the Dead because it was found in tombs; however a more accurate and respectful title is "Going into the Light" (GL, •1600~•300), which is also a common near-death experience. These texts are especially important because they represent ancient Egyptians' voices.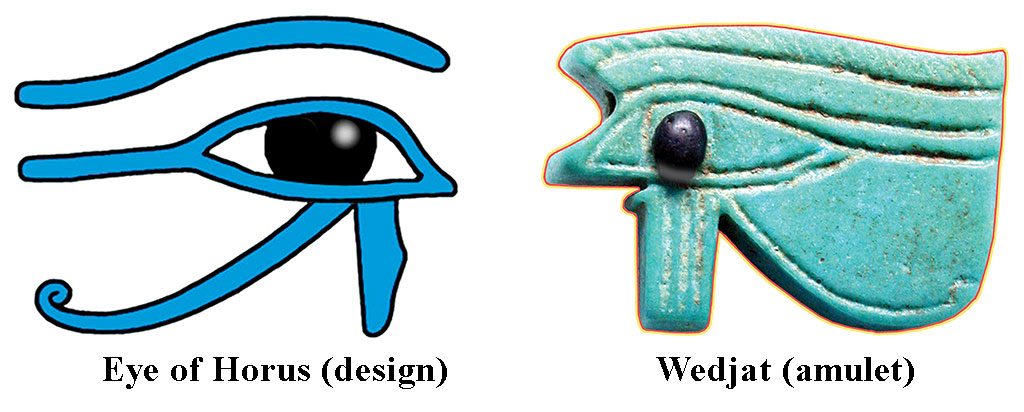 13: The most important yet least understood symbol from ancient Egypt is the Eye of Horus, which in its amulet form is called a Wedjat. It appears in 120 of the first 200 Utterances in the Pyramid Texts, and 80 times in one Coffin Text Spell alone, but because it hasn't been understood, it seldom receives more than a passing mention.
Many people have suggested over the years that Wedjats look like they were designed so that when one is rotated 90º from its Eye position, it becomes a bust of Seth – which makes perfect sense in terms of their mythology. Although scholars have been rather unreceptive, the suggestion is supported by the ancient Egyptian funerary texts (quoted below).
After Seth kills his brother Osiris a second time, Isis hides her and Osiris' son Horus. When he reaches manhood, Seth challenges him for the right to rule Egypt. During the ensuing 80-year battle Seth rips out Horus' eyes, and Horus castrates Seth. The meanings of these violent acts have been elusive, but the answers are again found in the funerary texts.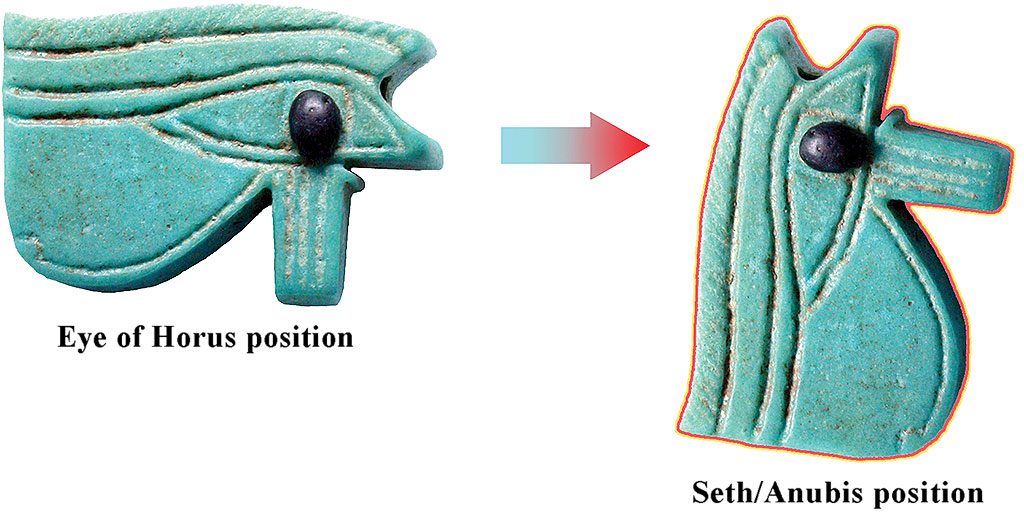 14: In the Eye of Horus' Eye-position Seth disappears = in myth he is castrated. And in the Seth-position Horus' eyes (one on either side) disappear = he is blinded. Rationalizations of the Eye of Horus' shape are responsible for much of Osirian mythology: the shape came before the myth.
These quotes from ancient Egyptian funerary texts illustrate the Eye of Horus and Seth's relationship:
"My Shape is that of the Double God Horus-Seth" (GL, 180).
"Seth is released from the Eye of Horus" (CT, 841). Seth-position.
"The Eye of Horus which Seth had hidden" (PT, 752). Seth-position.
"I am Horus who went forth as Horus and Seth" (CT, 524). Eye-position.
"I am Horus who absorbed the Chaos god [Seth]" (CT, 841). Eye-position.
"Who is he? He is Anubis, he is Horus the Eyeless" (GL, 17). Seth-position.
"I am one invisible of shape, I am merged with the sunshine god" (CT, 75). Eye-position.
"O King [Horus], your shape is hidden like that of Anubis on his belly" (PT, 677).
"You are possessor of different forms, rich in hues, one who hides in the Sacred Eye until his birth" (GL, 162). Seth.
These quotations refer primarily to Seth, but the Wedjat's ears are usually pointed like those of Anubis. Anubis was safer to be around and therefore often stood in for Seth. Anubis was the most human-friendly form of Seth/Death – he helped the deceased achieve an afterlife.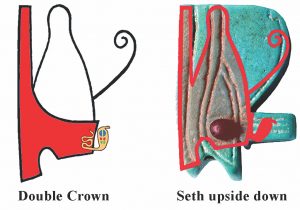 15: What was the inspiration for the Eye of Horus? That answer is also found in the funerary texts. The Double Crown (White and Red Crowns combined), which came 500 years before the Eye of Horus, was clearly its inspiration.
The following funerary text quotes illustrate the relationship between the White, Red, and Double Crowns, and the Eye of Horus/Wedjat. To ancient Egyptians these were not simply images, but rather important tools for understanding the world around them.
"The dread of you is the intact Eye of Horus, namely the White Crown" (PT, 468).
"O King, I provide you with the Eye of Horus, the Red Crown rich in power and many- natured" (PT, 468).
"The White-crown Eye of Horus goes up from your head; Horus has given you his Eye, and the Chemmis-crown [Red] Eye of Horus goes up from your head, and you appear as King of Upper and Lower Egypt" (CT, 42-3). "Appear" with the Double Crown.
"The Eye has issued from your head as the Upper Egyptian Crown Great-of-magic; the Eye has issued from your head as the Lower Egyptian Crown Great-of-magic" (PT, 592).
"I give you the Crown of Upper Egypt, the Eye which went up from your head; I give you the Crown of Lower Egypt, the Eye which went up from your head" (PT, 641; CT, 42).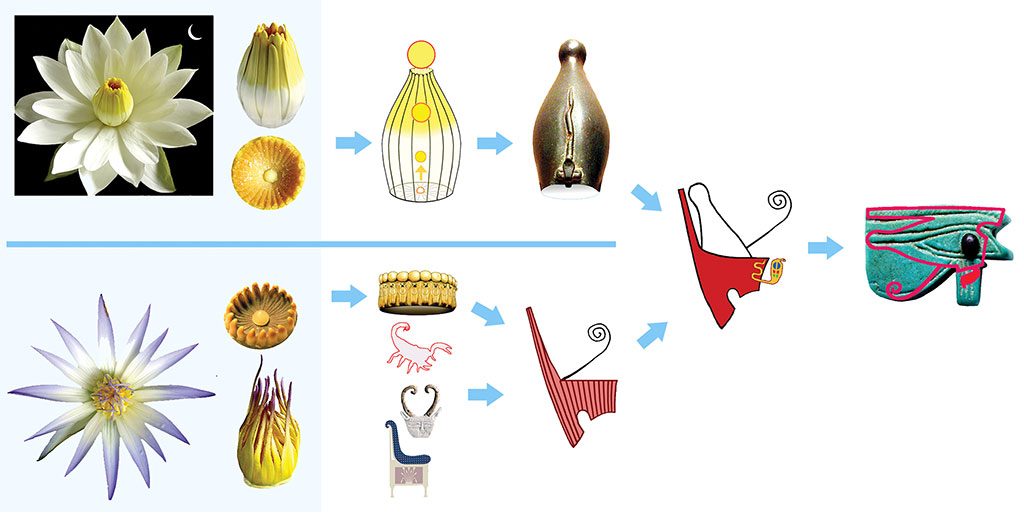 16: Ancient Egyptian symbols seem to fit seamlessly together: the Blue Waterlily inspired the Red Crown (in part), and the White Waterlily inspired the White Crown. Combined they form the Double Crown and bring together two Waterlily parts, the Blue Waterlily's center and the White's stamen cluster. The Red Crown had multiple influences on its design (scorpion, Waterlily, throne, bovine horn, and the Sethian color red).

17: The Eye of Horus/Wedjat has four positions: Horus' left eye (moon), his right eye (Sun), Seth (legless and wounded), and the Double Crown (Seth upside down). None can be eliminated without eliminating them all. When the Eye of Horus is rotated or turned over, nothing actually changes except one's perspective, which suggests that change is an illusion. The Eye of Horus symbolizes transformation.
Ancient Egyptian symbolism tends to be straightforward. Symbols resemble what they represent. This has been a much-abbreviated presentation of our book, which hopefully gives a sense of how simple, logical and beautifully integrated ancient Egyptian symbolism is, and how easily it can be understood once recognized.
"The experiential root of Egyptian religion is not safely located in the distance of a civilization long since past but belongs to the very structure of the human being as a religious being. In becoming receptive to it, we provide the soil in which it can begin to grow within ourselves, and become part of our inner orientation toward the world of spirit" (Jeremy Naydler).