Over four centuries span the earliest known images of Giza and the present. At that early point depictions of Egypt were often prone to error and seldom first hand but their record is a useful one. Through these historic images we can plot the rediscovery of an ancient nation, looking at the details as they began to fill out over time. In part one below I'll look at this period and the artistic platforms Giza's image appeared in as it developed through to the 1700's.
In part two I'll look at the noted artists of the Orientalist, Pre-Raphaelite and Academicism art movements, who travelled to Giza in the 1800's. These artists stood at Giza and stared, they recorded their gaze capturing the pyramids and Sphinx prior to excavation and deeply entrenched in huge drifts of sand. Many of their works may be familiar to you, likewise many earlier renderings too, but I hope I can introduce you to some new artists who have used their craft at Giza.
You can find the full collection from 1200 to 1920 at my site Visualising Giza
---
Visualising Giza – part one – The early renderings and influence (1200 – 1800)
---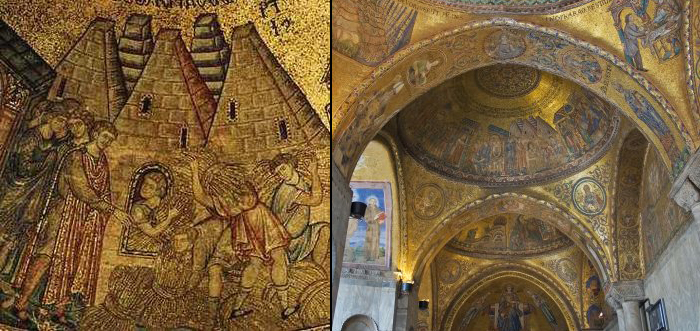 Ceiling mosaic at St Mark's Basilica, Rome (1200's)
Our visual journey begins with the gold and bronze mosaics of St Mark's Basilica in Rome. Finished in the late 13th century its domed atrium ceiling depicts many Old Testament scenes. (1) Among them Joseph standing before the pyramids with bales of wheat, a representation of the Christian myth that the pyramids served as storehouses for Pharaoh's lean years. The artists who completed the mosaics were unknown, local and possibly worked from the Cotton Genesis manuscript, a 4-5th century Greek Illuminated manuscript copy of the Book of Genesis. Sadly this was damaged in a fire in 1731 leaving only 35 of its original 165 leaves.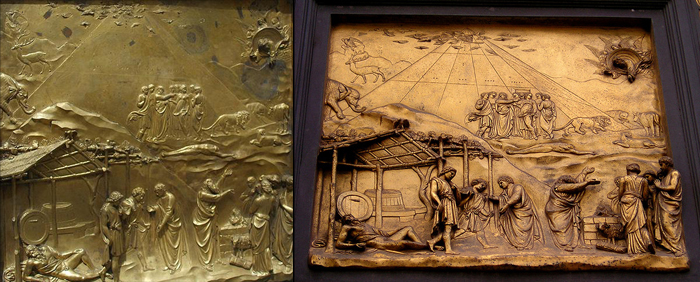 Gates of Paradise, Florence Baptistery (1452) original and copy which now sits in its place.
The pyramid as biblical detail emerges again in the 15th century with Lorenzo Ghiberti's gilded bronze doors from the Florence Baptistery. Michaelangelo named Ghiberti's doors claiming they were worthy to be 'The Gates of Paradise'. On panel no.3 they show Noah amidst a biblical flood scene, a large pyramid sits as the backdrop. Ghiberti was an early Italian Renaissance artist, a humanist, a collector of classical artefacts and a historian. His pyramid is also an ark rendered from the description of 2nd century Christian theologian Origen. It is not known to be a representation of Giza but this early resemblance on such an acclaimed work does make it worthy of note.

1 and 2 – Detail from Cosmographia by Sebastian Munster | 3 and 4 Detail from Cosmographie de Levant by Andre Thevet
From gold and bronze Giza's visual journey makes its way to woodcut printing through the cosmographers of the 16th Century. Cosmography was a science that attempted to describe the general features of the world or universe. Commissioned by the wealthy and noble they were prized possessions in early libraries. However, neither Sebastian Munster's Cosmographia (1544) nor Andre de Thevet's Cosmography of the Levant (1556) provided woodcuts with any sign of accuracy. This was in part due to the authors practice of using the work of other travellers. (2) Giza was yet to be depicted by someone who had been there themselves.

Panorama with the Abduction of Helen Amidst the Wonders of the Ancient World – Maerten van Heemskerck (1535)
In the 16th century scholars were still disputing which monuments were the most marvellous, Giza's place amongst the seven wonders was known but not fully realised. This is especially evident in Maerten van Heemskerck's oil on canvas Panorama with the Abduction of Helen Amidst the Wonders of the Ancient World (1535) (4) where we can barely see the pyramids and his Seven Wonders woodcut series where they're too narrow.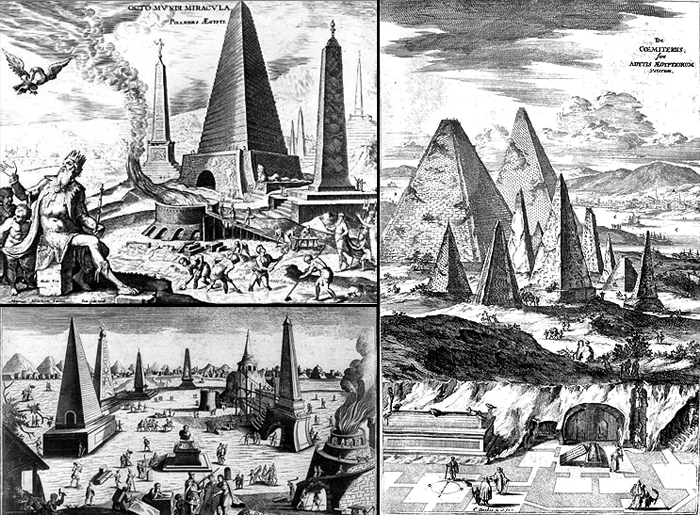 1 – Maarten Heemskerck's Seven Wonders series (1572) 2 – Pyramids of Egypt by Unknown (1500's)
3 right – Sphinx Mystagoga by Athanasius Kircher (1676)
This narrowness was a direct influence from the Pyramid of Cestius, built in 12BC it is considered one of the best-preserved ancient buildings in Rome. It was a far easier site for the European traveller and inspired many visiting artists who established its proportions as typical of pyramids elsewhere.(5) Rome's Athanasius Kircher (1601-1680) depicted this visual error in Sphinx Mystagoga (1676) but added elements from here-say such as camels, looters and pyramid climbers.

1 – Helffrich (1579) 2 – Unknown (1500's) 3 – Sommer (1591) 4 – Sandy (1610)
5 – Hollar (1643) 6 – le Gouz (1653) 7 – Moncony (1665) 8 – Afrique (1668)
The quality of information passed from traveller to cosmographer to artist or woodcutter gave a cumulative error that remained in Giza's visual record until the late 18th Century. This is particularly evident with the Sphinx, which is shown a number of times as female, with a range of hairstyles and in bust form up to its excavation in the early 19th century. (3)

Pyramids under construction by Antonio Tempesta (1608) Pyramidographia by John Greaves (1646)
By the 17th century, amidst these errors of interpretation and here-say, artists began to consider how pyramids were made. Antonio Tempesta (1555-1630), an Italian engraver, tackled the subject in his Seven Wonders etched print series, showing it far more courtesy than the slave depictions that were to follow. His Pyramids Under Construction (1608) shows a peaceful scene reminiscent of farming landscapes. Influenced by Dutch landscape painters Tempesta created a Giza easily familiar to western tastes, his construction techniques recognisable as farm labour.
Toward the mid 17th century John Greaves (1602-1652) an Oxford astronomy professor under the patronage of Archbishop Laud, visited Egypt with Edward Pocock, a professor of Arabic also from Oxford. Sent by Laud in his capacity as Chancellor of the University of Oxford Greaves was tasked to expand the university's knowledge of Egypt. (6) The resulting work was Pyramidographia (1646) (7) and from its copper engraved plates the first cross-section of the Great Pyramid in western published print. A style of representation continued right through to the 3D animations of Jean-Pierre Houdin today. (8)

The Great Sphinx of Giza by Cornelis de Bruijn (1698) Profile of the Sphinx by Frederick Ludvig Norden (1755)
Later that century in 1681 Dutch artist and traveler Cornelis de Brujn (1652-1727) entered Egypt, possibly financed through intelligence work for the Dutch. (9) Egypt inspired De Bruijn to make drawings for scholars and he heavily invested into the publication of his work Travels in the Principal Parts of Asia Minor (1698). In it he gave a more accurate depiction of the Sphinx and an early glimpse into the Grand Gallery, recorded from his own visit. Unfortunately his engraver did not share his vision of the site and amended his pyramid proportions to the recognisable slope previously established.
Collectively the 17th century had a loose grasp of Giza, entering the mid 18th century things began to change. The Danish naval captain and explorer Frederick Ludvig Norden (1708-1742) was sent at the request of the King of Denmark to make drawings and observations of Egypt's ancient monuments. Norden executed 200 'on the spot' drawings during his travels in 1737-38 which were later published in the posthumous Voyage d'Egypte et de Nubie (1755). The work contained steel engraved plates depicting views, maps and plans and contained the most comprehensive visual record of Giza published at the time. (10)

Pyramids (1765) Fantaisie Egyptienne (1760) by Hubert Robert
The first noted works of art specifically depicting Giza were made by Hubert Robert (1733-1808) a French artist who moved to Rome in 1754. Staying for 11 years he sketched amidst romantic ruins in the company of other young artists and was given the moniker Robert des ruines. Robert never travelled to Giza but this did not in any way impede his vision of the site, his works Fantaisie Egyptienne (1760) and Pyramids (1765) captured in oil 'the earliest fully realized Egyptian landscape'. These works were applauded in their time, are the forerunners to 19th century Orientalist depictions and have been exhibited in Paris, Rome, Copenhagen, America, Canada and Vienna. Pyramids is currently on display at Smith College Museum of Art, Northampton. (11) Fantaisie Egyptienne was sold at Christies in 1999 for $1.1 million and is unfortunately no longer on display. (12)

From 7 Wonders of the Ancient World – a picture book for children by Friedrich Justin Bertuch (1790)
View of the Sphinx near Cairo by Viviant Denon (1798)
The years preceding the 19th century offered many notable visualisations of Giza, yet only a few were by those who'd been there. In 1796 The improved print technologies of lithography opened a profitable market in images of new places and cultures. This combined with the opening up of Egypt, via invasion and the new dynasty of Muhammad Ali, allowed 19th century artists access to the site. Visualising its enormity and majesty they found for themselves the aspects most appealing and their work at Giza is covered in the next section.
---
---
---
---
Visualising Giza – part two – The artists on the plateau (1800 – 1900)
---
At the start of the 19th century painting at Giza was not an easy calling for an artist, the passage was lengthy and the land unknown. On arrival some took the protection of their invading army while others enjoyed the assurances of diplomatic or royal patronage. By the mid 19th century adventurous artists such as David Roberts, Carl Haag and Frank Dillon safeguarded themselves by learning Egyptian custom and practices, many traveled and camped with Bedouin sharing trusted contacts and guides. Though artists were in danger, especially for undertaking portraiture in public areas, they were more likely to suffer a health problem; Frederick Goodall was dismissively thrown from his donkey by a caravan of camels near Cairo and Thomas Seddon died of dysentery on his second visit. To support each other a number of artists chose to travel or live together and subsequently a great number of them knew each other very well. According to William Holman Hunt in 1854 artists were so commonplace they ruined his vision of Cairo. Towards the end of the 19th century Egypt opened up through steam and rail and a more leisurely adventure awaited the likes of Ivan Aivazovsky and Elihu Vedder. The earlier 19th century artists had captured a period of transition at Giza and beyond. Their images not only presented an open landscape, swallowed up later by modernity, they also showed where the dust settled when Ancient Egypt fell to slumber.
Shown below are some of the more noted artists who traveled to Giza in the 19th century, a sample of the works inspired by their visits and where possible their own recollections of their time there. In the notes you can find reference to where these works are now and their value among art collectors worldwide.
---
Luigi Mayer (1755-1803) Italian-German

In 1786 Sir Robert Ainslie, the British Ambassador to Istanbul, commissioned his friend Luigi Mayer as his personal painter during travels to Egypt, Palestine and Constantinople. Paid 50 guineas a year Mayer was asked to swiftly paint whatever caught Ainslie's eye. Using a combination of watercolor and gouache over pencil Mayer's paintings quickly captured new sights for the western world. In 1794 Mayer accompanied Ainslie on his return to England and settled with his family in London. His paintings would later become published under the auspices of Ainslie in a 3 volume set containing 96 plates in elephant folio. Mayers paintings were engraved by Thomas Milton using aquatint, a technique using corrosive elements on a copper or zinc plate. The first volume Views in Egypt was illustrated with forty eight drawings and became a best seller. Unfortunately Mayer did not live to see the extensive reproductions of his original works, he died in 1803 leaving his wife Clara, also a published artist, to assist in the publication of her late husband's paintings.

Top of the First Pyramid of Gizah (1803) The pyramids at Ghiza (1801)

Head of the Colossal Sphinx – first edition (1801) second edition (1804)

Luigi Mayer, Views in Egypt, 1801 by Fiona Barnard, Rare Books Librarian, University of Reading


Luigi Mayer – Victoria and Albert Museum collection


The pyramids at Ghiza (1801) sold for $20,000 in 2011 – Auction Notes
---
The artists of the Napoleonic Expedition (1798 – 1801)

The Napoleonic expedition included 150 members skilled and multidisciplined in the arts and sciences. Their collective work is Description de l'Egypte and Volume 5 contains Giza and Memphis. Three illustrations are provided by the painter Andre Dutertre (left), who also drew 184 portraits throughout the expedition. Charles-Louis Balzac, an architect who made many drawings for Viviant Denon's later work, provided a similar panorama to Dutertre. Nicolas-Jacques Conte provided a view of the Sphinx, Conte was a painter, balloonist and inventor of the pencil, his membership was listed as Director of Mechanics. For the Great Pyramid Francois-Charles Cecil's work was chosen, an entrance and an interior view. Cecil's membership was as mechanic working alongside Conte but he was also involved in measuring the Great Pyramid with the geographer Edme Francois Jomard, who drew the internal elevations and schematics. At first austere on closer inspection their images show representations of each other surveying the Giza site. A touch subtly chosen throughout Description de l'Egypte.

The Sphinx and the second pyramid – Andre Dutertre | View of the second pyramid – Andre Dutertre
General view of pyramids from SE – Andre Dutertre | General view of pyramids and Sphinx – Charles-Louis Balzac

View of the Sphinx – Nicolas-Jacques Conte | View of the entrance to the Great Pyramid – Francois-Charles Cecil

Description de l'Egypte (Full High Res version) – Bibliotheca Alexandrina


A copy of Description de l'Egypte, 23 volumes with mahogany display case, will be auctioned by Christies in May 2011


Napoleon and the scientific expedition to Egypt – Linda Hall Library
---
David Roberts (1796-1864) Scottish

"I have a great belief in the vast influence of art in an educational point of view…thousands can understand a historical painting who could not read Milton, or understand an epic poem" – David Roberts 1st Dec 1857

Roberts left London for Egypt in August 1838 arriving in September for a six-month return journey from Alexandria to Abu Simbel. On September 30th He visited Giza and wrote in his journal, "Caught a glimpse of the Pyramids. What sensations rush through us at first sight of these stupendous monuments of antiquity." Roberts's sketches of Giza are few in number, his diary suggests he visited the site twice, in a letter to his wife Margaret during the end of his stay he wrote, "Visited the pyramids of Geezeh. Made three sketches I cannot express my feelings on seeing these vast monuments." On his return from the Near East his drawings became the basis for lithographic prints. The entire collection required 600 lithographic stones and was the first of its kind, in both volume and subject matter, for a British artist.

The Great Sphinx – original lithographic tints (1839)

The Sphinx at Giza (1839) Dust-storm at the Sphinx at Giza (1839)

David Roberts account of his time at Giza – The Life of David Roberts by James Ballantine pages 83, 84, 102, 106


David Roberts collection – Library of Congress


David Roberts in Cairo sold for $1,071,554 in 2007 – Auction Notes
---
The artists of the Prussian Expedition (1842 – 1846)

The Prussian expedition was led by Karl Lepsius and modeled on the earlier Napoleonic mission. Among its surveyors, draftsmen, and artists were the Swedish landscape painter Johann Jakob Frey, the German artist brothers Ernst and Maximilian Weidenbach and James William Wild an English architect. In November 1842 the mission reached Giza and stayed for 6 months, surveying the surrounding area and recording the site. To commemorate their time and the birthday of the Kaiser their names were etched in hieroglyphs above Khufu's pyramid entrance. Due to health problems Frey left the expedition early in 1843 but not before completing an astounding panorama drawn from the second pyramid. The Weidenbach brothers stayed in Egypt until 1846 earning immense praise from Lepsius, 'The considerable work of the Prussian Expedition, would not have been possible without the two Weidenbach brothers.' The expedition totaled 900 plates of ancient Egyptian inscriptions across their 12 volume publication Monuments from Egypt and Ethiopia.

View of the Pyramids of Giza – Johann Frey (1842) Panorama from the second pyramid – Johann Frey (view A) (1842)

Panorama from the second pyramid – Johann Frey (views D, C, B)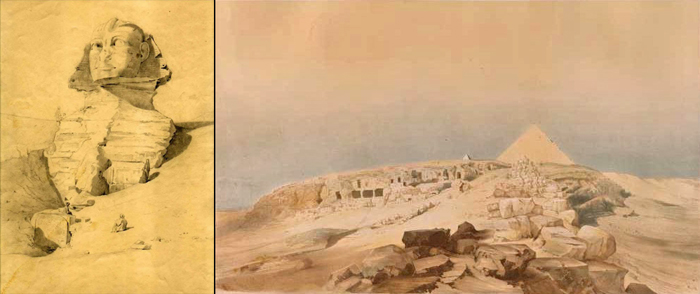 Sphinx with dream steal – James Wild (1842) Pathway to the Great Pyramid – Ernst Weidenbach (1842)

Monuments from Egypt and Ethiopia the Lepsius Archive – The drawings of the Lepsius Expedition


Panorama from the second pyramid – High Res – A, B, C, D
---
Edward Lear (1812-1888) English

"The biggest of all possible things…and as for the Sphinx, oh dear me! What a size! and the world of sand! I realy am so surprised I don't know what to do." Edward Lear January 1849

Edward Lear, the reknowned landscape artist and nonsense poet, visited Egypt four times between 1849 and 1867. He was one of the most established English artists to visit and encouraged many younger artists, including Seddon, to do so. Lear was inspired by places where beauty and history met and termed his art 'poetical topography'. At Giza he often found work difficult and his diaries gave referance to the disdain he had for the 'monstrous devil-nuisance of the locals.' While their enquiring persistence combined with hot and windy conditions shortened many visits he continued to be captivated by the site, 'Nothing in life is so amazingly astonishing as this new road or avenue, literally all through the pyramids. I could really hardly beleive my own senses.'

The Pyramids with the Sphinx and Palms (1858) The Pyramids Road, Gizah (1873)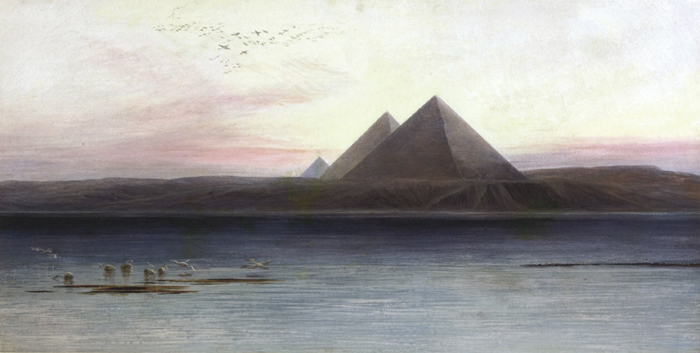 The Pyramids of Gizah (1873)

Edward Lear's account of his time at Giza – Diary transcripts by Marco Graziosi


The Pyramids with the Sphinx and Palms (1858) is on display at The Tate


The Pyramids of Gizah (1873) sold for $284,800 in 2009 – Auction Notes
---
William Holman Hunt (1827-1864) English

"The pyramids themselves are extremely ugly blocks, as one always knew, and arranged with most unpicturesque taste." Holman Hunt 16th March 1854

William Holman Hunt was an English painter and one of the founders of the Pre-Raphaelite Brotherhood. In January 1854, he embarked on a two year expedition to Egypt and the Holy Land, believing that this was the only way to produce realistic images of biblical themes. Hunt camped at Giza with fellow artist Thomas Seddon. They pitched 10 yards from the Sphinx during Mariettes excavations, using Mariette's workers as models for sketches. One morning their tent broke free during violent gusts of wind, undeterred by the scattering of their possessions across the plateau they requested a nearby tomb be swept out. Hunt was unimpressed by Giza, he had difficulties with models and derided tourism at the site in a snobbish way. Choosing to paint from an open cave under the plateau of the pyramids Hunt was reluctant to explore the site. At the end of their stay Hunt climbed to the Kings Chamber in the Great Pyramid but chose not to climb to the top.

The Great Pyramid (1854) The Sphinx of Gizeh looking towards the pyramids of Sakhara (1854)

William Holman Hunt's account of his time at Giza – Pre-Raphaelite Brotherhood (V.1) pages 378-389


The Great Pyramid (1854) sold for $50,763 in 2005 – Auction Notes


The Sphinx of Gizeh looking towards the pyramids of Sakhara is on display at Harris Museum and Art Gallery
---
Thomas Seddon (1821-1856) English

"Both pyramids and Sphinxes, in ordinary daylight, are merely ugly, and do not look half as large as they ought to look" Thomas Seddon February 1854

Thomas Seddon's experience at Giza was shadowed by the death of a newly made acquaintance, Mr Nicholson, a fellow Englishman living alone with his servant. He was a dying young man relocated to Giza for a 'change of air'. Seddon joined Nicholson at Giza camping with William Holman Hunt, there he tended to his new friend who chose to convalesce in a nearby tomb. In order to 'be on spot and keep him company' Seddon began Sunset Afterglow. Nicholson soon deteriorated and returned to Cairo, fearing the end Seddon accompanied him and remained with him till his death. When Seddon returned to Giza he no doubt did so with a heavy heart and his letters home raise doubts over the success of his painting. Following a series of cloud free sunsets Seddon's work was completed and he climbed to the top of the great pyramid, carving his and Hunt's name there. Following the success of his work Seddon returned to Egypt again in 1856 but died there from dysentery. He is buried in the same cemetery as Nicholson in Cairo.

The Great Sphinx at the Pyramids of Gizeh (1854) Pyramids of Gizeh – Sunset Afterglow (1856)

Thomas Seddon's account of his time at Giza – Memoirs and Letters pages 49 – 73


Pyramids of Gizeh – Sunset Afterglow is on display at Legion of Honor, Fine Arts Museum


The Great Sphinx at the Pyramids of Gizeh is owned by the Ashmolean Museum but not currently on display
---
Frank Dillon (1823-1909) English

Frank Dillon's first visit to Egypt was in 1854, returning in 1861, 1869 and 1873. In 1861 he lived in Giza in a typical Arab house joined by fellow artists Egron Lundgren and George Price Boyce. Dillon is known to have made four depictions of the Giza site, his initial painting, The Pyramids of Gizeh at Sunrise, was compared to a 'cheerless woodcut in a Penny Magazine' his later work, Sunset on the Nile, 'One of the most poetic effects in the whole Academy.' Though his Pyramid and Nile views became acclaimed his best work focused on the private and secular buildings of Cairo. Using contacts he had established in Giza he gained access to mid seventh century Mamluk-style houses, finding them in decay his concern was to record them before they crumbled completely. Dillon later became involved in the preservation of such buildings, taking measures to restrict their destruction and making an inventory in watercolors. He attended the first meeting of the Society for the Preservation of Monuments of Ancient Egypt, using his art work to demonstrate the deterioration of sites to Flinders Petrie and Wallis Budge.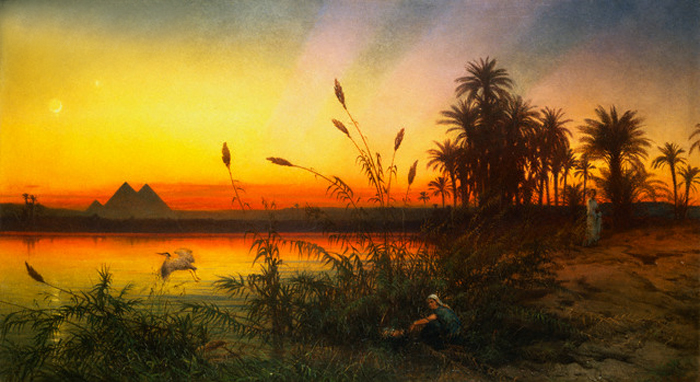 The Pyramids from the Island of Roda (1863)

The Pyramids of Gizeh at Sunrise (1855) Sunset on the Nile (1870)

The Pyramids of Gizeh at Sunrise (1855) sold for $11,250 in 2010 – Auction Notes


The Pyramids from the Island of Roda (1863) sold for $13,800 in 1993 – Auction Notes


Sunset on the Nile (1870) is held by The Victoria and Albert Museum in a study area
---
George Price Boyce (1826-1897) English

George Price Boyce was also a member of the Pre-Raphaelite Brotherhood and had traveled with Thomas Seddon to Dinan, France in 1853. Following the death of his sister Joanna, an artist in her own right, he journeyed to Egypt. He arrived in the autumn of 1861 with Frank Dillon staying for six months, they were joined by the Swedish artist Egron Lundgren and the group rented an Arab house near Giza and claimed to live there in true 'Oriental' style. This was very typical of the artist travelers of the day, who attempted to absorb themselves in the culture they were interpreting for the sake of authenticity. On Christmas day at the plateau Boyce completed his watercolor Pyramids and Sphinx of Ghizeh, it was painted in tribute to his late friend Thoams Seddon and uses a similar viewpoint to Seddon's Sunset Afterglow (1856).

The Pyramids (1861) The Great Sphinx at Gizeh (1862)

The Pyramids (1861) sold for $11 920 in 1990, now in private ownership last on loan to The Tate


The Great Sphinx at Gizeh (1862) sold for $7,690 in 1990 – Auction Notes
---
Jean-Leon Gerome (1824-1904) French

"The Orient was the most frequent of my dreams" Jean-Leon Gerome

Jean-Leon Gerome was one of the most famous and commercially successful French painters and sculptors of his day. Gerome's work makes the viewer an eyewitness to events, known to represent history as a dramatic spectacle laced with imagination his images were forerunners to the dramatic Hollywood epic. No stranger to drama himself Jean-Leon Gerome arrived in Egypt in 1856 post duel having been shot through the wrist and shoulder. A meticulous recorder of costumes and cultures of the near east he made abundant visual notes for use on return to his Paris studio. During his lifetime he produced over 600 canvases 250 of which contained an Oriental theme. Gerome travelled to Egypt seven times between 1856 and 1883, often journeying with a group of like-minded painters, writers and photographers. An influence and teacher of many artists he is known to have travelled to Egypt on a number of occasions with Auguste Bartholdi, the designer of the Statue of Liberty, who was drawn to the epic nature of Gerome's work and Egypt's colossal statues.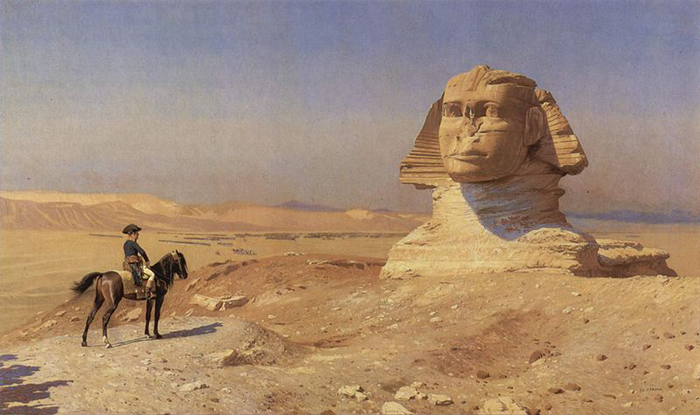 Oedipus (1868)

The Pyramids at Daybreak (1895) The First Kiss of the Sun (1890)

Oedipus (1886) AKA Bonaparte Before the Sphinx is in the CA State Parks Museum Collection


The Pyramids at Daybreak (1895) sold for $408,000 in 2005 – Auction Notes


The First Kiss of the Sun (1873) sold for $496,257 in 2003 – Auction Notes
---
Carl Haag (1820-1915) German

'I greatly enjoyed my sojourn in the desert, where I lived in an ordinary canvas tent and painted for hours every day. Desert life is most agreeable.' Carl Haag March 1899

By the time Carl Haag reached Egypt, in August 1858, he had been painting master to Queen Victoria for over 5 years. With his good friend and fellow artist Frederick Goodall he journeyed to Cairo under this royal patronage. Hiring a studio and a home in the Coptic quarter the friends entertained often and traveled out to the desert on painting expeditions. While at Giza Haag killed a jackal and spent the moonlit hours wandering amidst the scattered bones singing to himself. In April 1859 Haag traveled onto Jerusalem, under Queen Victoria's protection and heavily armed guard he secured permission to paint the Dome of The Rock. He visited Egypt again in 1873 and used his sketches to complete watercolors throughout his life. Haag eventually lost favor with Queen Victoria, due to disagreements over copyright and the expense of his work. After a successful career in British art he returned to Germany in 1903 with his wife.

The Entrance to the Pyramid of Cheops (1860) Bedouin from the Sahara Desert making Enquiries at Giza (1859)

A Night Encampment before the Sphinx (1874) The Sphinx of Giza (1874)

Carl Haag's account of painting in the desert – An Artists perils in the East, a chat with Mr Carl Haag 16th March 1899


The Sphinx of Giza (1874) sold for $22,056 in 2006 – Auction Notes
---
Frederick Goodall (1822-1904) English

'The whole desert in the neighbourhood of the Sphinx was entirely covered with snow-white human bones.' Frederick Goodall winter 1858

Frederick Goodall was born into artistic company, his father Edward Goodall engraved for Turner and his family home was frequented by many noted artists. Arriving in Alexandria in 1858, with a letter of introduction from David Roberts, he traveled onto Cairo inviting Carl Haag to take up residence with him in the principle thoroughfare of the Coptic quarter. Together the artists made the most of their 8 month stay, riding out before breakfast and using every hour of daylight for their work. Like many artists before they camped near the Sphinx at Giza. Goodall completed a sketch a day and returned to London with 160, these would form the basis of many larger paintings over the following decades. He visited Egypt again in 1870 with his brother Edward, living in the home of Augustus Mariette at Saqqara while observing the daily life of the Bedouin. For the next three decades he continued to paint variations on his Egyptian themes.

Flight into Egypt (1884) Mystery of the past (1901)

The subsiding of the Nile (1873) Arabs Crossing A Flooded Field By The Pyramids (1895)

Frederick Goodall's account of his time at Giza – The Reminiscences of Frederick Goodall pages 80-81


The subsiding of the Nile (1873) is currently in the possession of Cape Town City Council


Subsiding of the Nile is in the collection of Tyne and Wear Museums


Flight into Egypt (1884) has been on display at the Sarjeant Gallery since 1919
---
Ivan Aivazovsky (1817-1900) Russian – Armenian

Ivan Aivazovsky was a famous Russian artist born into the family of a destitute Armenian merchant in the Crimean city of Feodosia. Encouraged by the French marine painter Philippe Tanner Aivazovsky found his forte in seascape painting, a theme present in over 3,000 of his works. With a reputation as an exceptional painter of the seas Aivazovsky earned the friendship of many prominent admirals, sailing with them into battle to paint their encounters. He depicted seas so full of details they illustrated naval attack tactics. As an appointee to the General Naval Office he took passage with the Russian research and science expeditions to Turkey, Greece, America and Asia tasked to bring back marine impressions of distant shores. In 1869 Aivazovsky was invited as part of the Russian delegation for the highly anticipated opening of the Suez Canal. He was onboard the first Russian vessel to pass through and some sources state he received the honour of becoming the first artist to create a painting of the canal. During his time in Egypt he travelled to Cairo and Giza making many sketches, which he turned to oils in the following 15 years.

Boat On The Nile With Pyramids Of Gizeh (1872) The Great Pyramid at Gizeh (1878)

Boat On The Nile With Pyramids Of Gizeh (1872) is now in private ownership


The Great Pyramid at Gizeh (1878) sold for $564,273 in 2010 – Auction Notes
---
Elihu Vedder (1836-1923) American

'It is their unwritten meaning, far more eloquent than words can express; and it sometimes seemed to me that this impression would only be dulled or lessened by a greater unveiling of their mysteries, and that to me Isis unveiled would be Isis dead.' Elihu Vedder December 1889 in response to seeing Giza's monuments

Elihu Vedder was an American symbolist painter influenced by the Italian Renaissance and the Pre-Raphaelites. He left New York in the 1850's completing his artistic studies in Paris and Italy. During the Civil War he painted numerous works based on the Thousand and One Nights and completed his first version of The Questioner of the Sphinx before visiting the Near East. In 1889 he visited Egypt as the guest of the Corliss Engine Company travelling from Cairo to Aswan and back. Vedder spoke very fondly of Egypt and after his trip felt he could have lived there forever. In 1889 Vedder went on to paint the murals in the hallway of the Washington Library of Congress Reading Room.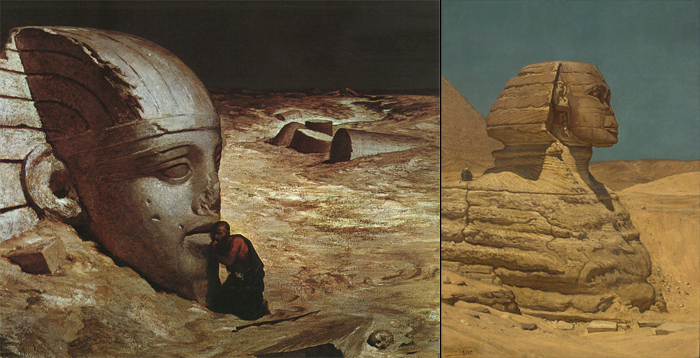 The Questioner of the Sphinx (Listening to the Sphinx) (1863) The Sphinx (1890)

Elihu Vedder's account of his time at Giza – The digressions of V. by Elihu Vedder page 451-2


The Questioner of the Sphinx (1863) is in the collection of the Museum of Fine Arts, Boston


The Questioner of the Sphinx (1890) is in the collection of Worcester Art Museum, Massachusetts


The Sphinx (1890) is in the collection of Pennsylvania Academy of the Fine Arts, Philadelphia
---
---
---
Endnotes
(1) Mosaics in the atrium of Saint Mark's Basilica in Venice – qantara
(2) Andre de Thevet's biography by Elsa Conrad
(3) By Brush and Lens: Revealing the Sphinx by Elaine Evans and Frank McClung is an excellent paper looking at image reproduction available at The University of Tennessee
(4) Panorama with the Abduction of Helen Amidst the Wonders of the Ancient World is on permanent display at The Walters Art Museum. A large high res image can be viewed here
(5) The error of the incline of the Great Pyramid is also attributed to Symon Simeonis's 1323 account
(6) Intersections, The Travel Notebooks of John Greaves by Zur Shalev pages 77 – 100
(7) A first edition of Pyramidographia was sold in 2009 at Christies for $4,750 – Lot no.179
(8) A list of historic Great Pyramid cross sections from John Greaves to J H Cole by Chris Tedder
(9) Dutch historian Jona Lendering provides a detailed look at Cornelis de Bruijn's travels including his experience inside the Great Pyramid at www.livius.org
(10) Frederick Ludvig Norden's drawings from The antiquities, natural history, ruins, and other curiosities of Egypt, Nubia and Thebes can be viewed in their entirety at www.digitalgallery.nypl.org – enter 'Norden Egypt'
(11) Hubert Robert's Pyramids – Smith College Museum of Art Database
(12) Hubert Robert's Fantaisie Egyptienne was sold in 1999 at Christies to an anonymous phone bidder for $1,102,500 – Lot no.41