Author of the Month : The Official GrahamHancock.com forums
Join us at this forum every month for a discussion with famous popular authors from around the world.
Hello.
Angelis Wrote:
-------------------------------------------------------
> Hi Thanos,
>
> Thank you for your comment.
>
> Here is the
>
link
from a Greek newspaper, but I am
> sure Google translate will produce a decent
> translation. If not, tell me and I will translate
> it for you.
It's ok, I got it.
You said:
However, archaeological findings on Crete, attributed to Homo Heidelbergensis and Homo Erectus, show that these two species had reached Crete by sea 130.000 to 700.000 years ago.
What the article actually says:
Quote

"They looked Paleolithic to us, and that's exactly how it was, as evidenced by the dating of the rocks," says Ms. Panagopoulou. "The tools (axes and axes) refer to the Achelaia cultural tradition, which is associated with Homo heidelbergensis and Homo erectus (branches of Homo sapiens). And, since Crete was an island even then, they are the oldest sign of early navigation, internationally ".
I don't think this was an error in translation. Did you not understand what it said because nowhere does it say this discovery "
shows
Homo Heidelbergensis and Homo Erectus reached Crete by sea 130,000 to 700,000yrs ago" as
you
claim.
> Seafaring at that time may not sound impressive to
> you, but we are talking about big distances.
Please don't put words in my mouth. What I said:
Also to consider is that while the idea of "seafaring" conjures an implied level of sophistication and cognitive ability this is directly betrayed by the primitive nature of the very tools not only found there but available to whatever species one desires to point to at the time.
Surely you understand the point being made.
> It is
> not just a couple of miles. And if it still does
> not sound impressive, then what Plato wrote about
> merchant ships travelling from all over the known
> world to Atlantis at 10.000 BC is perfectly
> reasonable, which was exactly my point in the
> first place.
Plato's story is allegory with no basis in historical fact if only the opposite.
> I am not an expert, so I can not tell you for sure
> which human species it was that traveled to Crete.
You just did "tell us for sure" though which misquoted the article in the first place.
> But suppose the article is wrong
The article is not wrong-you are wrong. I would have thought you would have read more on this discovery than just this one link. Here's a start:
The Plakias Stone Age Project.
> and those
> travelers were Neanderthals, as you claim.
I am sure you understand it is not "my" claim, of course, as I am not Professor Thomas Strasser who led the Greek-US team that made the discovery in the first place. Knowing this we are left to wonder why you would say this? To make it "My" opinion this somehow discredits it? You could do worse, but not, sorry. Early reports aside, as of 2012 the general consensus and prevailing theory forwarded is that these tools belonged to Neanderthal. Seems strange you would have missed that as it seems siding with Neanderthal would have made the stronger case.
> I do
> not see how that is less impressive.
But its not as impressive as you are trying to make it out to be.
And why not be accurate in the information you provide?
> The existence of those tools means that those
> people too existed on Crete.
> Unless you would
> argue that those tools were later carried to Crete
> by other people, which you have to admit that is a
> longshot.
Why would later peoples in the actual seafaring age of the last several thousand years carry, let alone find, large caches of Acheulean tools to Crete? I am not sure how noting it was more likely Neanderthal than others equates to one suggesting such a thing.
At any rate, sea levels were 400ft lower than they were today which when the exposure of land masses and islands leading to Crete are taken as a whole, regardless of the exposure of Crete itself, the journey over open water becomes significantly less which of note there are Neanderthal tool assemblages (Mousterian) found on other Greek islands as well.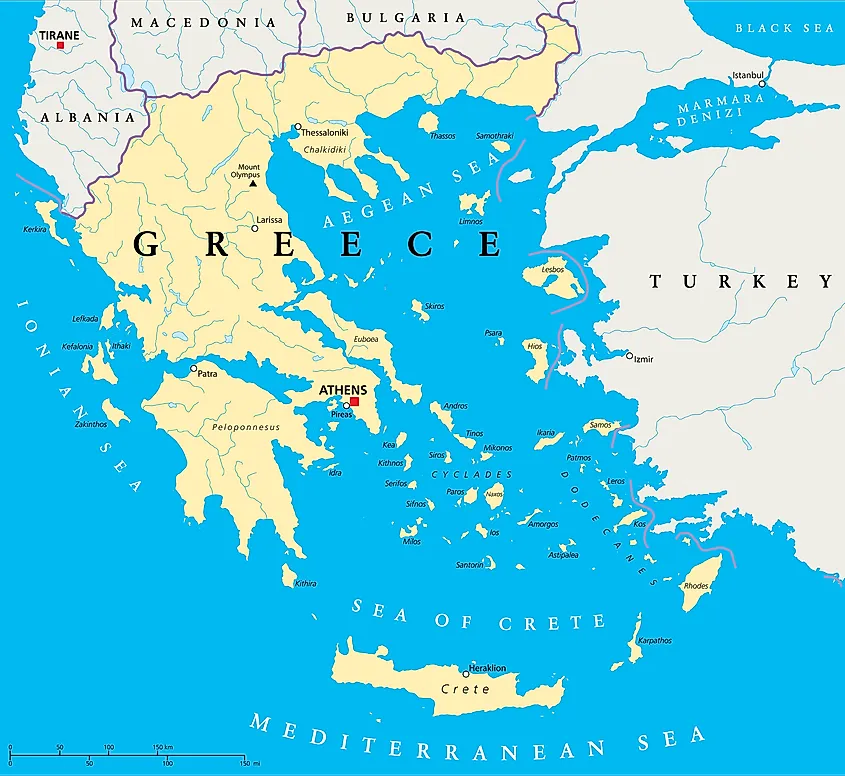 Edited 1 time(s). Last edit at 01-Sep-21 04:36 by Thanos5150.
Sorry, only registered users may post in this forum.