Author of the Month : The Official GrahamHancock.com forums
Join us at this forum every month for a discussion with famous popular authors from around the world.
thirdpal Wrote:
-------------------------------------------------------
> I've seen images of the oversized teeth. The jade
> headband is way too large for any person around
> today. Have any estimates been made as to their
> size?
It is a
bracelet
, not a headband, and is not "way too large for any person around today".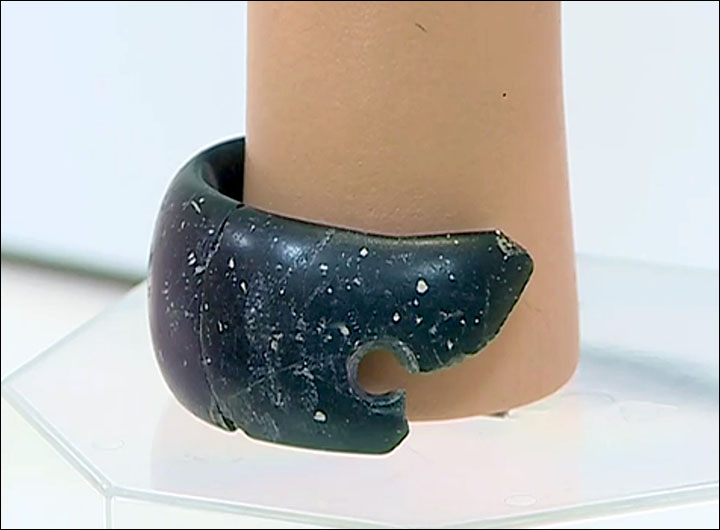 It is barely an inch wide with an estimated diameter of less 2 3/4in.
You may be reffering to what is thought to be an
ivory "tiara", or "headband",
which was also discovered.
Quote

'The fragment we discovered is quite big, and judging by how thick the (strip) is, and by its large diameter, the headband was made for a big-headed man.'

He explained that some 50,000 years after it was made, it fitted his own temple and the back of his head.

Mammoth ivory plates were first thoroughly soaked in water to become more ductile and not crack during processing, and then they were bent under a right angle,' he said.

'Any bent object tends to return to their original shape over time.

'This is the so-called memory of the shape effect. We must remember this while trying to judge the size of the head of the tiara's owner by its diameter.'
As far as their size, do not confuse "robust" with some kind of "giant" of unusual height. Neanderthal, for example, was very robust with notably larger cranial capacity compared to modern humans (non Cro-Magnon), but was also relatively short with adult males on average roughly 5.5ft tall with adult females barely 5ft. So no, a large head does not necessarily equal "giant". It is more likely Denisovans, though thought to be slightly slighter of build with other differences, were more comparable in height to Neanderthal than modern humans let alone "giants".
While true studies in modern humans of teeth size relative to height do show correlations depending on various dimensions of the teeth, the large molars found in Denisovans may just as easily be indicative of a more archaic morphology, namely megadontia, than anything having to do with height. Australopithecines, for example, were megadont having a molar size up to 2.8 times larger than modern hominoids of similar body size which it was only until Homo Habilis that the trend significantly reverses.
It is interesting to note that the modern humans who share the most Denisovan DNA, the Pacific Island
Melanesians
, are on average quite short with males and females being 5.4-4.10ft respectively.
Edited 6 time(s). Last edit at 05-Nov-19 06:50 by Thanos5150.
Sorry, only registered users may post in this forum.