Author of the Month : The Official GrahamHancock.com forums
Join us at this forum every month for a discussion with famous popular authors from around the world.
Bruce R. Fenton Wrote:
-------------------------------------------------------
> In the last two weeks we have seen the global
> media in uproar over a 7.2 million-year-old
> hominin fossils from the Mediterranean region. As
> interesting as these fossils are, it is hard to
> see them as definitive evidence of an Out of
> Europe story of human evolution. There is however
> evidence that takes the story of Homo sapiens
> outside of the African continent. As the author of
> 'The Forgotten Exodus: The Into Africa Theory of
> Human Evolution' it is my pleasure to start the
> debate on this subject - a good starting place for
> 'food for thought' is
>
this
> article
.
>
> Europe? Africa? Asia? Australasia?
>
> Where does the human story really begin?
Hello Bruce. Interesting article. An Australasian origin is not really something I have considered, but in principle, the idea of the "Into Africa Theory" is a conclusion I have come to as well.
A few comments. You say:
"Examination of the recent conclusions associated with the analysis of Homo erectus skulls in the Georgian Republic confirms that several species of hominins in Africa are in fact nothing more than expected variance within the greater H. erectus population."
Well, it is by no means a "fact" but rather opinion to explain [away] the implications of having multiple species outside of Africa at such an early date.
From a post a few years ago:
Quote

What makes a particular hominid find a distinct species or not is highly subjective, at times powered by the weight of just one individuals opinion, at times just intellectually dubious, in which despite the public face they put on one finds under the surface there is much disagreement within the anthropological community about these designations rarely reported on. Like anything, the tack is taken that if something is repeated or portrayed as fact long enough it will become so. But if you read the actual scientific literature presented in textbooks, there are rarely any "is", but instead bereift with qualifiers such as "maybe, might be, could be, suggested, possibly, probably" and the like. The moral is that I am sympathetic to what you are trying to say, and there are no doubt several hominid species that have no business being individually designated as such, but as a whole there are distinct groups that can be taxonomically quantified which I think is important if only to make it easier to understand. This isn't some stupid racial or religious thing; quantification is it just part of the scientific method.

Here is an amazing relatively recent discovery that touches on many of the things we have spoken about:

Skull discovery sheds light on human species

. The remains of 5 individuals which includes a complete skeleton were found in Dmanisi Georgia dated to 1.8mya. Where is Dmanisi you ask-right at the foot of the Caucasus mountains between the Black and Caspian Seas no less. Interesting, no? Anyways, the problem with this discovery is that according to the OAM (Out of Africa Model) the only fellow outside of Africa at this time was Homo Erectus. But Dmanisi man is not only morphologically much different than Erectus, but there are a wide array of difference just between these 5 individuals. One of the skulls, an adult, is particularly unusual in that it has a cranial capacity of barely 550cc close to half the size of the average Erectus. The other skulls are not much larger and as a whole still well below Erectus.

The problems presented here are monumental, which on the surface supports some of your contentions. Though debated, what this means is that all of the morphological differences used to delineate most if not all human species groups, like for example the already dubious 10 different (*cough*) species of Australopithecus, are not indicative of different species but rather morphological variance within the one species. This discussion so far has been limited to Erectus, but obviously it applies to all. But this is not to mean that Erectus and Neanderthal are nothing more than variances of the same species, so while there are many "barriers" I agree that should be removed there are some that should remain for obvious reasons.

Dmanisi man is very inconvenient and luckily so well attested as to leave no debate about his existence regardless of what it may mean. And yet he is now classified as a sub-species of Erectus, which if not found outside of Africa, because as we are told there are no other hominid outside of Africa 1.8mya, no doubt he would be classified as a separate species. Hominid finds, of course attributed to Erectus despite being just a tooth or the like, are found in East China and even Java dating to c. 1.7mya. What this shows is a long standing and wide ranging occupation of hominids outside of Africa long removed from their progenitors.
Here.
From a post in another thread you said to me:
"These matters are more complicated than first glance. The findings of the Dmanisi site actually included the strong suggestion that Homo habilis (and similair hominins in Africa) represent early H. erectus forms."
You seem to have just contradicted yourself...?
Regardless, the rub is that it has to be one or the other and either create their own bees nest as to what it means to the evolutionary and migratory models. I was a bit flabbergasted when this find was first released that the preliminary view at least was that these individuals represented "variation within one species" which given the morphological disparity of these individuals is obviously complete nonsense. Not to mention to hold such an opinion, not acknowledged, blows up the entire evolutionary tree if not the foundations of hominid speciation, essentially a statement of fact that in reality we don't know WTF is going on because for this to hold true for these finds and Erectus it holds true for all hominids.
The Dmanisi skulls:
I think anyone can look at these skulls, without even knowing the supporting morphological details, and understand they are clearly not just "variations within a species", but rather at least a few different species entirely.
The first obvious thought to me was that some of these individuals are Homo habilis, or the like, which creates the other problem as under the Out of Africa Model as Habilis has no business being anywhere outside of Africa 2mya let alone in the Caucasus region of Asia. And the fact he would be, or whoever this fellow is, creates obvious implications that the OAM has some insurmountable flaws. Personally, this is the only reason why the idea of variation was offered in the first place as to admit otherwise is to admit the OAM is dead.
Moving on, you say:
"I find that Homo sapiens first emerged in Australasia from a population of Homo erectus, whom had long been residents there. My date for this event is very early in the timeline, perhaps 900 – 800 thousand years ago, a date range supported by the Sima de los Huesos genome research".
Though who this may have been has yet to be found, the date range given for this split is 800,000 to less than 300,000yrs ago yet you choose not only the most upper date but raise it even farther. Regardless, with a span of over 500,000yrs, almost twice as much time as the lowest date itself , it should give caution to anyone the relative unreliability of these numbers which essentially amount to throwing turds at a wall behind one's back and waiting for one to stick.
Anyhoo, to move forward in time to modern humans, you say:
"The Out of Africa theory describes two waves of migrations involving Homo sapiens; one that made it no further than the Levant region 130,000 years ago; and a second that successfully colonised the planet around 70,000 years ago."
To be fair, the Skhul and Qafzeh finds of the Levant finds are dated to between 80,000-120,000yrs or 90,000-130,000yrs depending where one gets their numbers from. And to be clear, these finds were of a very robust archaic Homo sapien in some respects quite different from modern humans: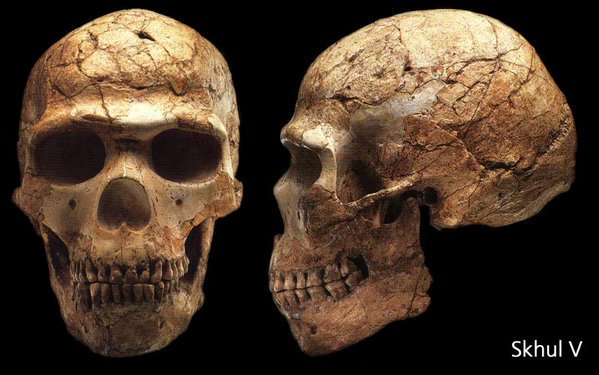 Regarding the second wave, based on genetics of the modern African San tribe of bushmen, this is estimated to have occurred between 60,000-70,000yrs ago, which a relatively
recent
study suggests humans didn't make it to south Asia until 55,000-60,000ya. Again, you pick the upper range which may not be the case if at all.
Regardless, I find the conclusions of the San bushman study, which by default would include the dating, quite suspect. Quoting myself from an earlier thread:
Quote

To consider, is that the EMH [early modern human] that left Africa, of which all MH [modern human] are said to have come from, is genetically most comparable to the San bushmen of South Africa. Looking at them today, they are a notably gracile (slight of build) people with an average height of 4.9ft. Cro-Magnon, supposedly derived from this same stock, by comparison, even to most MH today, is a veritable giant with clearly robust (large, high density bones) skeletal structure. Though it is hard to gauge exactly because of eastern population that are included, Cro-Magnon has an average height of 5.9ft with western Cro-Magnon not uncommonly to be over 6ft tall. I think the tallest found is estimated at 6.5ft. So not only do we have a clearly divergent robust skeletal form but cranially the differences are just as notable having a much larger cranial capacity and pronounced dolichocephalic skull more akin to Neanderthal than his EMH contemporaries.

So what is being said is this little bushman wandered out of Africa c. 60,000BP and by around 15,000yrs later, or less, had wandered to the farthest reaches of western Europe and magically transformed into a veritable giant displaying physical and behavioral characteristics not found before and of a completely higher order. Though what it means remains to be seen, I find it no coincidence that Neanderthal, with even more robust skeleton and dolichocephalism, who also had behavioral characteristics a cut above his EMH contemporaries, is found right in the same geographical location that Cro-Magnon himself appears. There has to be a connection, and again Neanderthal is not found in Africa either. The finds at Skhul and Qafzeh in Israel are a very curious thing on multiple levels none of which fully explained.

For other EMH to have encountered Cro-Magnon he would certainly have been a sight to behold. And not only physically but behaviorally as he was equally different in this regard as well. There is no doubt Cro-Magnon was an "unusual" fellow....

As you have read "modern man" is defined as beginning with the first Homo sapiens in Africa which is really meant as the first "anatomically modern Homo sapiens". But as I have argued, demonstrated I hope, is that this is more of a general term as it does not differentiate between clearly archaic traits of EMH and "modern humans" found after 40,000BP. Fully anatomically modern humans are not found prior to Cro-Magnon because it is some of the more subtle cranial traits of his that define full modernity. Others will define the first "modern humans" as being the first "behaviorally modern Homo sapiens" which would be Cro-Magnon in Europe. As noted before, it is also with Cro-Magnon that some of the first "anatomically modern" characteristics first appear as well. Personally, I prefer just to cut the BS and define "modern humans" as "behaviorally modern" as regardless of the semantics of physical characteristics it is here a definitive line can clearly be drawn between what it truly mean to be "modern".
Here.
Which for clarity as to the greater meaning, again:
Quote

The idea anatomically modern humans (AMH) originated in Africa is a bit of a misnomer as it is really only "early modern humans" (EMH), that originated there some 200,000yrs ago, a date derived from genetics and not anthropology. Yes, they are us, but we are not entirely them. It's a strange thing we have been indoctrinated to take the Out of Africa theory for granted, if not fact, but the truth of it is that AMH did not appear in Africa until around 36,000yrs ago which only a few have been found dating before 20,000BP. Meaning it appears that EMH migrated out of Africa and AMH migrated back into Africa which all roads seem to be pointing to an origin somewhere in Eurasia.
Archeogenetics is swell and all, but it is far from being the final word and like radiocarbon dating should be used as a supplementary tool, not "proof", as there are many statistical assumptions, among others, that goes into deriving these conclusions which may skew the dates either which way, perhaps dramatically. In many regards, the archaeology tells quite a different story which in my view still trumps the lab.
I am no expert and do not pretend to be, but my gut tells me there is something off with archeogenetics akin to early problems with RCD which at some point in the future will require a similar "calibration" readjustment. I do not have an interest to figure it out on a technical level, but something just doesn't smell right.
Anyhoo, sorry to bushwhack you with large blocks of quotes, but hopefully it adds to and kick starts the discussion which your topic so rightly deserves. Don't take the lack of interest personally, there seems to be something in the water here lately on GHMB where participation is down. Best of luck Bruce and thank you for your efforts.
Lee Anderson
Edited 4 time(s). Last edit at 07-Jun-17 14:41 by Thanos5150.
Sorry, only registered users may post in this forum.