Science & Space : The Official GrahamHancock.com forums
For all that is Scientifically related to Cosmology and Space. (NB: Please take discussions about UFOs, possible Alien contact, Crop-Circles, Alien Abductions, Planet-X and Niburu to the '
Paranormal and Supernatural
' Message Board).
ianw16 Wrote:
-------------------------------------------------------
> D-Archer Wrote:
> --------------------------------------------------
> -----
> > I mean the actual location of the physical
> north
> > pole, that has shifted over time.
> >
> > Likely due to a shift of the entire crust (wrt
> the
> > underlying mantle), such a sudden shift
> explains
> > the mammoths with grass still in their mouths.
> >
> > Regards,
> > Daniel
>
>
> Which is complete and utter nonsense, with not an
> iota of evidence to support it.
That is not
quite
accurate. The Earth's core rotates faster than the Earth's crust. See
here
. So we have a solid crust, floating on a liquid mantle, which is above a solid core, each rotating at different speeds. It is therefore possible for the crust to slip. The mathematics describing "
true polar wander
" permit it. Most likely any such slippage would range from less than a single degree of arc to much less than a single degree of arc. So no, almost certainly not the case that the Earth's crust would slip 45, or 90, or 180 degrees. But a few degrees over periods of time - yes. Geologists don't really dispute this. Big slippages, like Velikovsky asserted - yeah they dispute that.
Also, the slippage does not occur as a single event. It is likely to be a sequence of small slippages, each a fraction of a degree of arc. One of the best pieces of evidence that this occurs is demonstrated by the creation of the Hawaiian island chain. The crust moving over the hot spot, slipping and then pausing, is what created the island chain. The slippage is about 3 degrees of arc, and took place over millions of years. In other words, plate tectonics plus true polar wander. See image: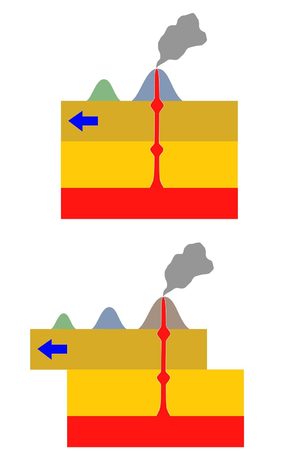 The rate of true polar wander is estimated at about 1 degree of arc per million years. So slow. An article regarding how geologists try to separate the effects of true polar wander from plate tectonics may be found
here
.
Sorry, only registered users may post in this forum.