Global Village : The Official GrahamHancock.com forums
For good-natured and mutually-respectful discussions of politics and current affairs. Soap-boxing and the promotion of extremist causes motivated by hate will not be tolerated by our moderators.
Hi C.A.
With regard to the economic development of China - in fact, it is only the middle-classes in the cities who are making economic progression. Work is done by people who are draughted in from the countryside, given a permit to live in a city for one year - explicitly without their family (to prevent their stay). After 12 months, they are made to leave the job and the city, often recieving no wages for the 12 months previous work because it was promised at the end of the job.
So it is in fact, just like the west - in China they farm their own people in place of Latin Americans / Eastern Europeans.
The difference is that in China, because the inequity is more pronounced the powder-keg is closer to blowing. It is thought that there is civil unrest in almost all the cities in China that is growing day on day.
June 4th 1989.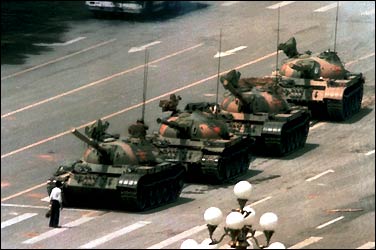 pic from here....[
pekingduck.org
]
regds, martin.
==
'When I despair I remember that all through history the ways of truth and love have always won. There have been tyrants and murderers, and for a time they can seem invincible, but in the end they always fall. Think of it-always.'
Sorry, only registered users may post in this forum.