Mysteries : The Official GrahamHancock.com forums
For serious discussion of the controversies, approaches and enigmas surrounding the origins and development of the human species and of human civilization. (NB: for more 'out there' posts we point you in the direction of the '
Paranormal & Supernatural
' Message Board).
Hello EoH,
eyeofhorus33 wrote:
> Hello Lee
>
> You mention in your post that Vyse claimed to have discovered
> pieces of the broken sarcophagus lid. Do you know if these
> found their way into a museum collection or are they alleged,
> together with the basalt box, to be in Davy Jones' locker?
It is my understanding Vyse sent an indeterminate piece of the sarcophagi to the British Museum ahead of trying to ship the rest, but it is not known if it was a piece of the lid or not. It would be interesting of course to find this piece in the BM's collection.
> I understand that the fragments of the anthropoid coffin as
> drawn by Vyse to be stylistically much, much later than the
> O.K. and on display in the British museum.
>
> I noted with interest the similarity of Meresankh III's
> sarcophagus lid and that depicted by Vyse in Menkaure's burial
> chamber. Something else that is akin to both Menkaure and
> Meresankh's burials: the date of their deaths appears on the
> entry facade. This was not customary in the period and while
> some have claimed that the inscription in Menkaure to be a
> later addition, no-one seems to question the inscriptions on
> the limestone pillars which flank the entrance way to
> Meresankh's chapel.
>
> See photo on page 15 with caption attesting to this here:
>
> [
www.gizapyramids.org
]
A keen observation. I would assume because the mastaba of Meresankh III is so lavishly attested in its interior it is not questioned.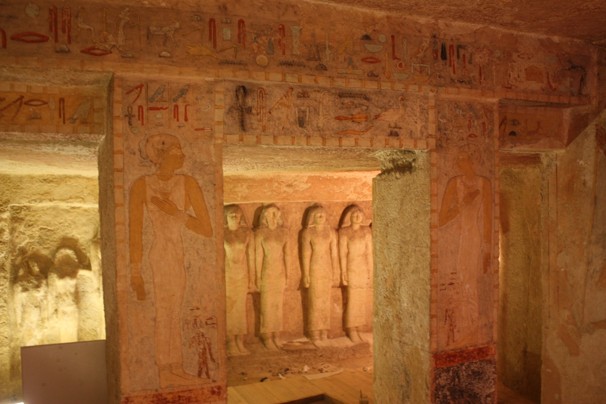 > Zahi Hawass writes of the Menkaure inscription:
>
> "At the pyramid's entrance, there is an inscription records
> that Menkaure died on the twenty-third day of the fourth month
> of the summer and that he built the pyramid. It is thought that
> this inscription dates to the reign of Khaemwas, son of Ramsses
> II."
>
> More here: [
guardians.net
]
>
> Do you know for what reasons scholars hold this view that the
> inscription in Menkaure is not contemporaneous with the
> structure?
Apparently Khaemwaset was a restorer of ancient sites including Giza, Saqqara, and the pyramid of Unas among others. It was supposedly typical of him to inscribe the names of who he thought built it on the entrance to the monument. His exploits were attested in some fashion on a papyrus.
Cairo
p6.
Post Edited (19-Jul-15 20:15)
Sorry, only registered users may post in this forum.