Mysteries : The Official GrahamHancock.com forums
For serious discussion of the controversies, approaches and enigmas surrounding the origins and development of the human species and of human civilization. (NB: for more 'out there' posts we point you in the direction of the '
Paranormal & Supernatural
' Message Board).
Hi Corp,
Corpuscles Wrote:
-------------------------------------------------------
> Hi Thanos
>
> I am in no position to argue with you, as you know
> much more about this than me. I was merely
> offering suggestions, given that the context of
> the items was funerary.
And I appreciate it. Just saying it goes back much farther than that and has a different context.
>
Quote
Thanos
> The problem is that the AE did not just represent
> doorways but rather an actual building of which
> actual palace facade buildings have been found.
>
>
> Are you saying a building(s) have been found that
> show the exact façade? If so where? Got any
> pics?
I didn't say that "exact" facade though many examples of the ruins of palace facade buildings have been posted in this thread alone. For all we know that building may not have even been in Egypt.
> Most of them (on sarcophagi) are all different in
> minor detail, some similar but others very
> different?
They all exhibit the same consistent similarities regardless of the exact details which as a whole make it hard to believe they are all not homages to the same building(s).
>
Quote
Thanos
> Those aren't figures
>
>
> Oh! Sorry, what are they then?
I believe they are supposed to be crossed or double axes but forget exactly.
Look here: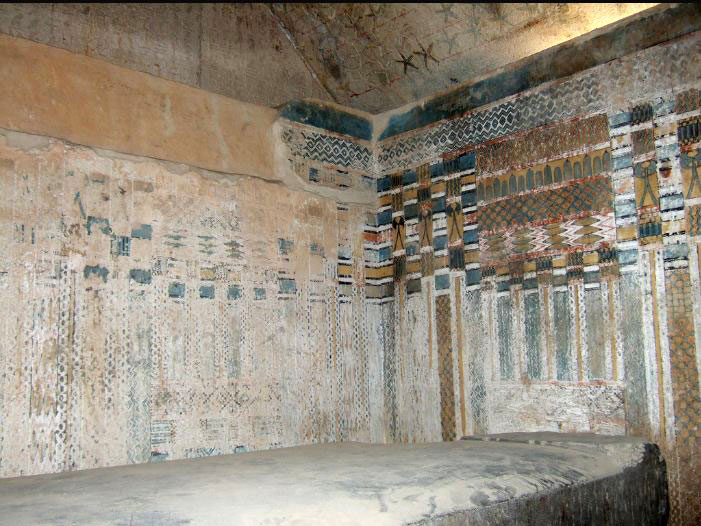 > "Building"
> Yes it looks (to our mind definitely) like a
> building. Which it seems, you consider attributes
> "kingship".
> Are you arguing that all the other boxes are not
>
kings
coffins (i.e. Lesser status or
> different period?)
I'm not sure what you mean exactly, sorry.
> Or are you suggesting that all
> such palace façade sarcophagus are contemporary
> with each other, in a specific period,
It appears they first begin in the mid 4th Dynasty.
> or of
> specific ethnic background,
Never thought of that, but interesting.The AE were keen on bloodlines which this may have had some further symbolism in this regard. I've always thought it to be merely an ideological association, but there may be more to it.
> when to be a king /
> ruler meant you got buried in a quasi palace stone
> box?
I don't think the palace facade building had as much to do exclusively with kingship at this time and took on a more general ideological meaning. Possibly a political, religious, or ideological allegiance to the old ways. It was also at this time the cartouche appears replacing the serekh as the formal seal of kingship (though some still used both for a time) and RA is instituted as the patron God of Egypt. A "changing of the guard" of sorts.
> Or as others have noted we have no way of
> determining the age or era of any stone box, and
> especially given the focus is on Menkaure ( no
> tangible thing to examine) surely a mere
> examination of :
> -The layout of the G3 "tombs" and the considerable
> add-ons that have happened progressively over
> time. (Special note of the six niche room)
> -The clear signs of the pyramid being built over
> an original (two entrance, one blind,
> configuration)
> -The remnant of the wooden Anthropoid coffin held
> in BM is very likely a later NK design.
> - Clear signs the G3 "temples" are ancient and
> have been rebuilt refurbished many times.
> -etc etc
> That there is little basis to attribute the lost ,
> or imagined, drawing of Menkaure's sarcophagus to
> any one person or time in particular, at all?
True, but in context we find many similar examples beginning in the middle 4th Dynasty so we can place it at least there or after. Could these sarcophagi date earlier than that and/or have been recycled? An interesting possibility.
> My biased interest in your thread , whilst very
> interested in the significance of the Mesopotamian
> "connection" was in part the fascination with the
> extremely muddled confused state of what is
> thought to be contemporary with "X" Dynasty
> especially 4th.
Talk to me about it. What are your thoughts exactly?
Edited 4 time(s). Last edit at 25-Jul-15 16:13 by Thanos5150.
Sorry, only registered users may post in this forum.