Mysteries : The Official GrahamHancock.com forums
For serious discussion of the controversies, approaches and enigmas surrounding the origins and development of the human species and of human civilization. (NB: for more 'out there' posts we point you in the direction of the '
Paranormal & Supernatural
' Message Board).
Hi Corp,
Corpuscles wrote:
> I applaud and agree with the national projects concept.
> The reasoning as you indicated in OP is the levelling of the
> site but also the staggering overall site
> plan whether one subscribes to OCT or CT or not.
I think it makes sense regardless of the details or by whom or when.
> Thanos you seem to place the Granite mob after the temple mob
> or change in culture.
I do. At the very least all I feel sure of is the Sphinx, associated temples, G2's base which I suggest was originally a stepped platform, and its mortuary temple predates pyramid building. I do not think the Sphinx mob was related to the granite mob. Between these two, possibly separated by thousands of years, was the formation of the Dynastic state administered by Mesopotamians.
> I place the original granite mob as the most ancient, building
> other cyclopean structures in Eygpt and around the
> world as highlighted in your other Cyclopean stone thread and
> Casimirs "Ancient Civilization" thread.
But if granite is used to face the massive limestone blocks then how can it be the most ancient? Its like saying the painter painted the house before it was built.
> I think much later , copy cats of less ability appropriated
> granite and started some renovations
> They found the going far too tough, could not replace and
> completely finish the already stolen
> cladding of G3 but tried to pretty the place up a bit.
So then you think there were two granite mobs separated in time? What would you attribute to each group and why?
> Here I have a question? Anyone?
> Can anyone suggest a reson for the seeming layers some neatly
> cladded some rounded rock in the core original of
> Meidum ?
>
> >> Meidum:
> >
>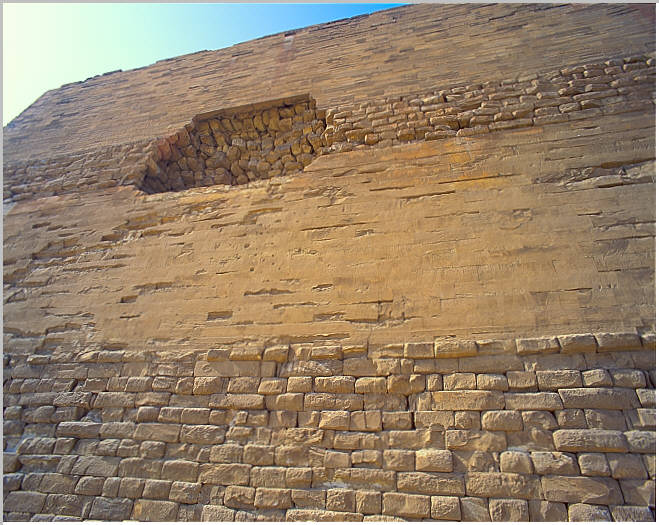 Yes. Thats what I and lover were talking about in general. Those blocks are part of the core structure and shaved flat after installation. Same as the Bent, Red and the top of G2 "casing stones". I suggested in a previous thread that what is seen today at Meidum was not originally intended to be a pyramid and the "banding" seen is stylistic.
Talk about it here:
Pyramid at Meidum-New Perspective
> Tragically whoever and whenever built the major pyramids , the
> region was then appropriated by much less sophisticated later
> nutters, who thought it was all about burying dead folk after
> ripping out their innards and brain.. so they could live
> forever!
Makes one wonder why....
Sorry, you can't reply to this topic. It has been closed.