Mysteries : The Official GrahamHancock.com forums
For serious discussion of the controversies, approaches and enigmas surrounding the origins and development of the human species and of human civilization. (NB: for more 'out there' posts we point you in the direction of the '
Paranormal & Supernatural
' Message Board).
Hi Loveritas,
loveritas wrote:
> Hi Thanos 5150,
>
> On a slightly more serious note.
>
> Q1. Did pyramid construction devolve from a highest order
> prototype (G1) to inferior copies (Dynasty 4) and then the
> "hills" of later dynasties?
>
> Q2. Did pyramid construction evolve from lesser order
> prototypes into G1 and then devolve into the G3s and "hills",
> notwithstanding the speculation that many may have been
> constructed upon earlier edifices?
>
> We've kicked this around before but, since the advent of fresh
> thinking, it may be worthwhile to stake a claim once again.
Indeed. Hopefully a more central repository of reference will be a secondary benefit.
> The following is not news to your good self, but remains my
> position and is based upon two engineering facets : (1) The
> Casing Stones(2) The Interior Chambers. The reason being that
> most epochs could simply lay stones one above the other and,
> also, dig holes in the ground. However, the mastery of masonry
> in G1, for example, has not been surpassed since its
> construction.
>
> Bent Pyramid
>
>
> Pyramid of Kafre
>
>
>
> The Pyramid of Khufu does not exhibit the style of casing
> stones which is found on Bent Pyramid. Pyramid of Kafre does.
But Khafre also exhibits the same as Khufu:
Granite no less. Which to me ties it all in with the same culture who faced the Valley temple and built with cyclopean masonry.
I have argued before that this dichotomy of style, a product of different eras, is a result of G2 having been left unfinished with the builders responsible for casing the Bent and Red, the place and shave method also seen on the exposed original core of Meidum, one and the same who attempted to case the upper section of G2 where work was eventually abandoned.
Meidum: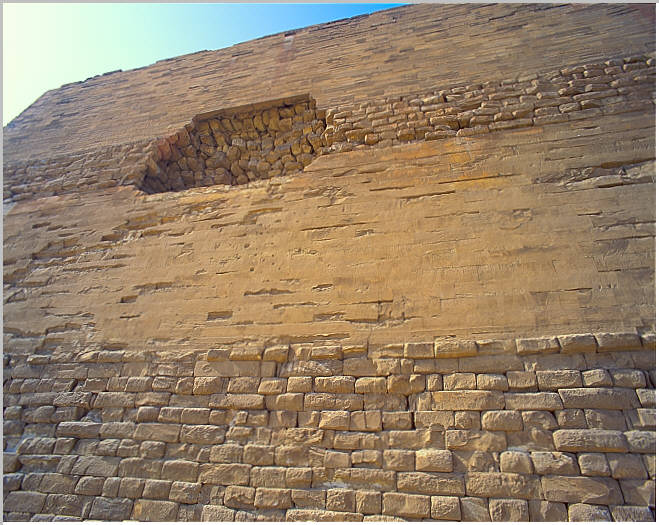 Unfinished casing work of G2: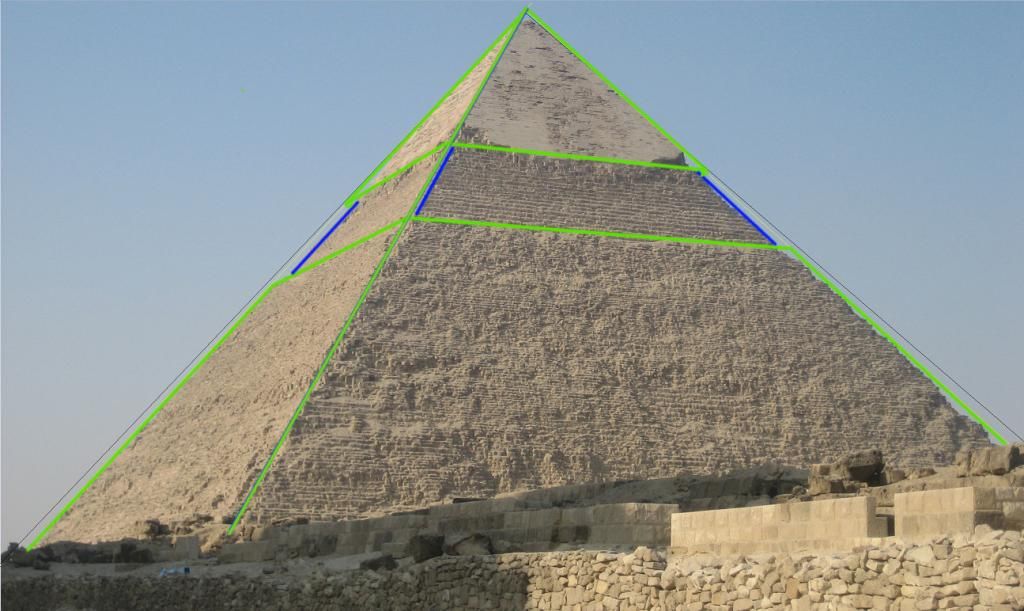 The Pyramid Puzzle
Another excellent thread started by you from days of yore.
You were the first I am aware of to note the difference in styles which has since become an integral part of my thinking. Ironically I have been to these places and it did not occur to me though I guess then my eyes were not as keen. Regardless, these different methods tell a very interesting story of which it seems at its core is one of two cultures at different times.
> Red Pyramid
>
Pyramid
> of Khufu
>
>
> The Pyramid of Khufu does exhibit similarities in the internal
> construction with Red Pyramid. Pyramid of Kafre does not.
Indeed. The corbel vault design is also found in the Bent Pyramid and its satellite, and Medium.
Spoke of here:
Pyramid at Meidum-New Perspective
. West and Bauval have suggested the Red pyramid was built around a core of an earlier megalithic structure though I haven't seen much beyond the general suggestion though I think this is possible if not likely.
> Therefore, an anomaly results.
>
> If Bent and Red are forerunners of Khufu which is a forerunner
> of Kafre, why do we not see a uniform progression in plans and
> engineering from Bent to Kafre, keeping in mind the supposed
> funerary context which Egyptologists maintain is the reason for
> all pyramid construction?
True.
> Perhaps, G1 and G2 were constructed contemporaneously.
I agree in principle and have suggested these were national projects and not those of individual pharaohs for individual pharaohs. I would extend this further to Dahshur and Meidum. I have suggested all of these great pyramids once had stand alone core structures that were later converted to pyramids with G1 being the 1st to undergo this process.
> G1 has
> been referred to as the Temple of Isis. Isis's male counterpart
> is Osiris. G1 contains a "womb." G2 does not. The two brightest
> stars in the sky, Sirius and Canopus, could come into play.
Interesting.
> Bent and Red may be inferior clones of the twins with an
> attempt at combining the features of both.
A conundrum indeed.
> Menkaure is really a
> bit of a mishmash but, originally, may have been symbolic of
> Eta Carinae, or similar, before a supernova or such, and may
> also be contemporaneous.
Maybe. I'll let you smart ones figure out the astronomy of it all.
Post Edited (17-Jun-15 05:45)
Sorry, you can't reply to this topic. It has been closed.