Mysteries : The Official GrahamHancock.com forums
For serious discussion of the controversies, approaches and enigmas surrounding the origins and development of the human species and of human civilization. (NB: for more 'out there' posts we point you in the direction of the '
Paranormal & Supernatural
' Message Board).
Jon Ellison wrote:
> The classification of an ancient column is dependent solely
> upon the design of the capitol, shaft and base. Here we see
> only the shafts. They are not fluted, so therefore that would
> put them among the Tuscan breed.
When this thread started you knew nothing about columns now you are incorrectly telling others what is what from a position of laymen's "expertise" and still getting it wrong despite being explained and shown otherwise? Not exactly heading in the right direction are we. I'd like to blame myself for this abject failure, but I believe I have done the best I can. I will give it one more go. It is the capital and base that determines the classification and fluted and non fluted shafts are used in every type. What didn't you understand about this the first time?
Ionic
capital:
On non-fluted columns:
Doric
capital:
On non fluted columns Pantheon (cough):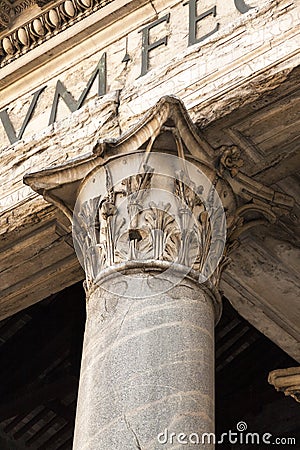 Colosseum:
Corinthian
Capital:
On non-fluted columns:
If you truly cannot see reason at this point I'm afraid I would have to question more than just your intellectual acumen at this point.
Post Edited (16-Jun-15 18:57)
Sorry, you can't reply to this topic. It has been closed.