Mysteries : The Official GrahamHancock.com forums
For serious discussion of the controversies, approaches and enigmas surrounding the origins and development of the human species and of human civilization. (NB: for more 'out there' posts we point you in the direction of the '
Paranormal & Supernatural
' Message Board).
Origyptian wrote:
> Corpuscles wrote:
>
> > So, the answer to my query about what would satisfy you as
> the required
> > "evidence" boils down to .......what you "consider"?
>
> Wow, did someone steal Corpuscles' login and post these phantom
> comments in his name? Will the real Corpuscles please stand up?
Corpuscles commentary is lucid, honest, and spot on. Unlike some he is not a snake-oil salesman pawning their wares, but has a sincere interest in history no matter where it leads him. No wonder you take offense to it when he expects the same from you.
And typically you still haven't answered his question....More of the "deflecting" and "hand waving" is it?
Answer the question-what evidence would satisfy you Philip? Why is this such a difficult question for you?
> Seriously, I'm only talking about the physical evidence.
> Period.
> Please don't force this into a conjecture or opinion piece.
He is doing nothing of the kind. His question is blunt-what evidence is acceptable to you?
> Where is the evidence that the Romans hewn, shaped, and
> finished the columns while still at the quarry in Egypt?
Rough blank with quarry marks:
Finished blank: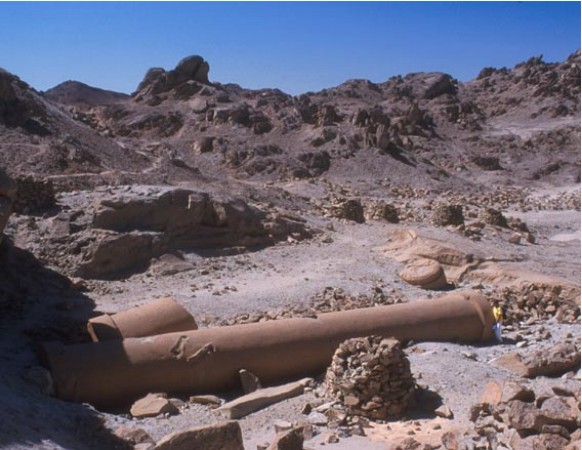 Like magic.
> Meanwhile, how do we reconcile the clear contradictions against
> the notion that those columns were hewn, shaped, and finished
> while still at the quarry in Egypt?
There is zero contradiction except in your mind.
> I've described several aspects of the physical evidence that
> contradict the notion that those blocks were quarried in Egypt
> by the Romans:
> Those so-called quarries have been
> described to be self-contained communities complete with bath
> houses, schools, women, children, rather than industrial quarry
> outposts, suggesting the columns remaining there today were
> part of that community's infrastructure.
There is no doubt they are quarries. We find the trappings of quarries and writings of quarries and the finished products of said quarries. And you do know it wasn't just a "column factory" right? All sorts of quarried projects came from there. Oh, but I guess those were all from the lost civilization too. A completely different "lost civilization" than found anywhere else in Egypt other than those Roman quarries overflowing with evidence of nothing but Roman occupation. Makes perfect sense.
Do you expect these people to live in caves? Huts? They're
Romans
. Egypt had been controlled by the Greeks and the Romans for nearly 400yrs by Hadrian's time and in the middle of his reign became an official province of the Roman Empire. Mon Claudianus was occupied for nearly 300yrs and was part of a vast Roman network of commerce and industry in Egypt. It is profoundly stupid to expect anything less than what is found as a living site for these people.
> The columns remaining in Egypt (at Mons) are completely hewn,
> shaped, and polished rather than being rough prototypes ready
> for shipping to a prestaging area at the site of construction
> where the final shaping/polishing of the surfaces in the
> finished product was done. Is there any logical explanation of
> why the construction engineers would take such an unnecessary
> risk with the final product?
They are still not completely finished, but why wouldn't you finish the blanks to that point at the quarry? Do you have anything to support this claim in all of ancient Greece, Rome, or even Egypt? They were made uniformly over spec as per the order and were finished depending on the final plans near the job site as needed. What risk are they taking? Granite is nigh indestructible is it not-not able to be worked by the hands of man according to you for over 10,000yrs? Is it going to get scratched? Chipped? The only "risk" is making them so large as to be cracked which can happen just as easily whether its rough or fine finished. What about your lost civilization? Did they take out rough blocks then finish them elsewhere? Where then? This "contradiction" is a fantasy in your mind to maintain your self-consistent narrative with of course nothing to back it up.
> All of the columns we see at the "quarry" today were completely
> finished and polished. None remain only partially quarried,
> partially shaped, or partially finished.
You've seen only the columns I have posted here which is two large ones and a few small ones. And you think this is it? And regardless, you've discerned this from tourist photos posted here from the internet? Empirical science in action.
> Hardly evidence that
> the quarry was abandoned. We do see some signs of wedge
> splitting, but nothing resembling a partially hewn column.
Because all we can find is one (two actually) off the internet and a few pictures in books?
> There is evidence that the Romanesque architecture at those
> "quarries" is the result of repurposing pre-existing structures
> that may be far older.
There is absolutely no evidence of this. The exact opposite is true. You make a statement of fact based on literally nothing other than looking at an out of context photo which you don't even understand its own context. Again, it is your fantasy. You are reffering to this:
Fortunately "looks to you" does qualify as evidence, sorry. Which means in reality there is no evidence. Regardless, you do know that this quarry is in Nubia 100's of miles from the Mons quarries right?
OMG-another one even better:
Must have been repurposed from an earlier civilization right? Oh, wait thats Petra in Jordan. My bad. But still...could be from a lost civilization.....
> There is no clear explanation regarding why Hadrian required
> columns to be brought in from Egypt instead of simply tapping
> the granite quarries in Italy,
Because Hadrian wanted it and Mons was a Roman quarry just like any other. Egypt was part of the Roman Empire of which they had several quarries and vast trade networks for hundreds of years with North Africa, namely Alexandria and Carthage, some of the largest and busiest ports in the known world. And you know Italian granite comes from Northern Italy about almost 400 miles from Rome. Even though it was obviously longer of a journey, would you rather take 60 ton columns on land over hill and dale and mountains or a nice flat smooth boat trip up the Nile and across the Mediterranean? And in the end I wonder which one would be faster....
Regardless, once again-your fall back of "why not" is not "evidence".
> and that supports the hypothesis
> that he did so because those columns were already finished in
> earlier times and were sitting there for the taking by the
> Roman Empire.
Not in the least. Complete nonsense based on nothing other than your manic need to maintain your self-consistent narrative at all costs that humans could not work granite other than your lost civilization for over 10,000yrs up until the 1800's. I didn't think it possible even for you but now you are even usurping Greek and Roman achievements to your cause. And you really think you understand our frustration with you, both alternative and mainstream alike here? Trust me-your "fresh thinking" is the least of it.
Post Edited (16-Jun-15 19:12)
Sorry, you can't reply to this topic. It has been closed.