Mysteries : The Official GrahamHancock.com forums
For serious discussion of the controversies, approaches and enigmas surrounding the origins and development of the human species and of human civilization. (NB: for more 'out there' posts we point you in the direction of the '
Paranormal & Supernatural
' Message Board).
Origyptian wrote:
> Regarding the previous discussion that inspired you to start
> this one ("
Evidence for the lost civilisation !
") I
> previously read that the ancient Romans focused on quarrying
> and constructing segmented columns, that the solid granite
> columns were appropriated from prior stonework in Egypt, and
> that the Romans merely resculpted the surfaces of those
> pre-existing solid granite columns.
The very sources you cited state the opposite. You quote them for one thing that supports your claims, but not what they say that directly contradicts it? They clearly state the Romans quarried granite columns from Egypt, namely from Mons Claudianus. The Romans even left some columns behind: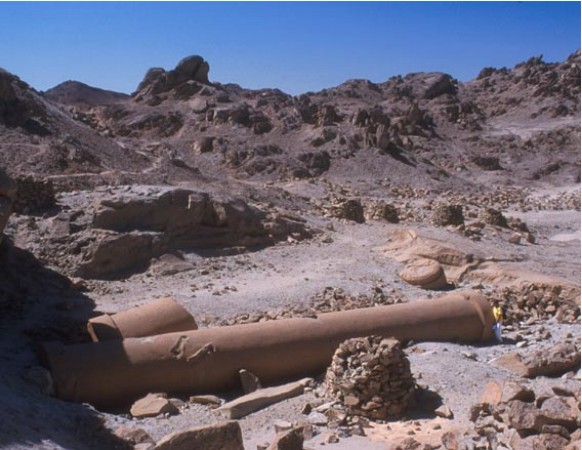 Note the man standing on the column for scale. Looks like about 50 tons to me.
That isn't an Egyptian style column either-
it's Roman
.
Again, Romans are the only culture found there, not even the AE. Roman historians claim this is where they quarried them from. And sure enough there they are in the temples that they say they appropriated them for in the first place. We even find leftovers still at the quarry that are clearly not Egyptian columns, but Roman. I think this horse is dead. I feel dumber just even having to say these things.
If you truly have any doubts in your mind at this point then the onus is on you to educate yourself. I feel I have contributed enough to this conversation and am bored.
[snip]
> Now, regarding your OP in this discussion...
>
> The currently accepted pyramid sequence is primarily based on
> which pharaoh claimed it.
Did they claim them?
> But I do not believe those pyramids
> were built by those pharaohs in the OK because there are far
> too many contradictions in the physical evidence to support
> that notion and there really is no direct evidence to date
> those structures.
What is some of this evidence? I know, but I don't know what you know.
> Rather, I believe it's quite possible that
> those pyramids existed in full regalia already by the
> appearance of the 4D.
Then who built them then?
> Sneferu claimed his trophies (THREE of them!), and then he
> claimed what looked to be the grandest on Giza for his first
> son;
Did Sneferu do this?
> perhaps he was even inspired to use the name traditionally
> given to that location as the namesake for his own son: Khufu.
> The 2nd grandest pyramid was claimed for Khafre, and Menkaure
> basically got sloppy thirds. But my investigations strongly
> indicate a reverse sequence for their actual
> construction:
Quote

G3 -> G2 -> G1
...and in your OP
> you've included an excerpt from my previous post regarding some
> of the areas on which I based that proposed sequence.
But we are waiting for the information that backs ups these claims. Your "research".
> I'm continuing to collect evidence, and I'm doing my best to
> fill in the blanks where there are blanks in the evidence.
> Meanwhile, if someone presents hard evidence that contradicts
> my own hypotheses, I'm very willing and able to adjust my own
> thoughts in order to reconcile the contradiction.
Well lay some of it out here for a change. You always speak in the negative but never in the positive for your claims, well here is your chance.
Post Edited (15-Jun-15 07:22)
Sorry, you can't reply to this topic. It has been closed.