Mysteries : The Official GrahamHancock.com forums
For serious discussion of the controversies, approaches and enigmas surrounding the origins and development of the human species and of human civilization. (NB: for more 'out there' posts we point you in the direction of the '
Paranormal & Supernatural
' Message Board).
Hello Jim
Whether the hieroglyphs were painted in situ or at the quarry prior to the block being placed in the pyramid has been a matter of much protracted and heated debate, none of which is conclusive.
Personally, I think that the glyphs were painted laterally at the quarry and it is the stone block itself which has come to rest in a different position once placed in the pyramid, hence the orientation which seems to defy vertical inscription convention.
Corroborating evidence for such an idea is the number of other glyphs which are inverted 180 degrees elsewhere in the relieving chambers. See here: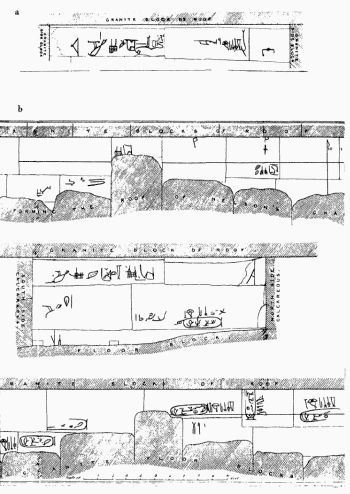 I remain firmly unconvinced that a scribe decided to paint these glyphs upside down. It is logical to assume that it is the blocks themselves which came to be placed in different orientations once they arrived at the pyramid.
The glyphs are read from right to left as Jon has pointed out, with the cartouche being read before the word 'smr' ('followers') and the determinative 'aprw' glyph which indicates a work gang.
Literally, the cartouche reads 'the followers of Khwfw.'
Hope that's useful.
:)
Post Edited (11-Jan-15 16:03)
Subject
Views
Written By
Posted
Khufu's Salient Stele
639
Dr. Troglodyte
10-Jan-15 23:39
Re: Khufu's Salient Stele
291
Luminescence
11-Jan-15 00:50
Re: Khufu's Salient Stele
320
drew
11-Jan-15 01:19
Re: Khufu's Salient Stele
427
molder
11-Jan-15 08:03
Re: Khufu's Salient Stele
372
eyeofhorus33
11-Jan-15 10:32
Re: Khufu's Salient Stele
299
molder
11-Jan-15 11:32
Re: Khufu's Salient Stele
295
Jon Ellison
11-Jan-15 15:27
Re: Khufu's Salient Stele
302
molder
13-Jan-15 05:18
Re; Egyptian Budgies
315
molder
13-Jan-15 11:48
Re: Khufu's Salient Stele
315
Skatha
19-Jan-15 23:38
Re: Khufu's Salient Stele
329
eyeofhorus33
11-Jan-15 15:49
Re: Khufu's Salient Stele
363
DScribr
11-Jan-15 16:13
Re: Khufu's Salient Stele
285
molder
14-Jan-15 22:09
Re: Khufu's Salient Stele
321
Origyptian
14-Jan-15 22:21
Re: Khufu's Salient Stele
344
eyeofhorus33
14-Jan-15 22:37
Re: Khufu's Salient Stele
314
Martin Stower
14-Jan-15 22:48
Re: Khufu's Salient Stele
288
sfbey
14-Jan-15 22:53
Re: Khufu's Salient Stele
291
Martin Stower
14-Jan-15 23:00
...the one at Giza. n/t
362
cladking
15-Jan-15 01:53
Re: Khufu's Salient Stele
331
Origyptian
15-Jan-15 00:37
Re: Khufu's painting Scribe
294
DScribr
15-Jan-15 01:30
Re: Khufu's Salient Stele
340
Jon Ellison
14-Jan-15 22:54
Re: Khufu's Salient Stele
378
Origyptian
15-Jan-15 00:44
Re: Khufu's Salient Stele
341
Jon Ellison
15-Jan-15 00:51
Re: Khufu's Salient Stele
327
Origyptian
15-Jan-15 01:26
Re: Khufu's Salient Stele
345
cladking
15-Jan-15 02:02
Re: Khufu's Salient Stele
323
Jon Ellison
15-Jan-15 03:06
Re: Khufu's Salient Stele
359
Origyptian
15-Jan-15 00:29
Re: Khufu's Salient Stele
251
DScribr
11-Jan-15 16:04
Re: Khufu's Salient Stele
339
eyeofhorus33
11-Jan-15 16:09
Re: Khufu's Salient Stele
298
Jon B
11-Jan-15 15:10
Re: Khufu's Salient Stele
381
cladking
11-Jan-15 15:29
Re: Campbells ??? Khufu's Salient Stele
354
Luminescence
11-Jan-15 16:11
Re: Campbells ??? Khufu's Salient Stele
346
eyeofhorus33
11-Jan-15 16:36
Re: Campbells ??? Khufu's Salient Stele
274
DScribr
11-Jan-15 17:06
Re: Campbells ??? Khufu's Salient Stele
315
Archae Solenhofen
11-Jan-15 18:44
Re: Campbells ??? Khufu's Cartouche orientation.
373
DScribr
11-Jan-15 16:56
Re: Khufu's Salient Stele
337
Polyfreak
11-Jan-15 17:54
Re: Documentation Khufu's Salient Stele
297
Luminescence
12-Jan-15 15:09
Re: Documentation Khufu's Salient Stele
314
cladking
12-Jan-15 15:29
Re:More Documentation Of Ramps.
323
DScribr
12-Jan-15 15:42
Re:More Documentation Of Ramps.
296
cladking
12-Jan-15 15:53
Re:EVEN More Documentation Of Ramps.
371
DScribr
13-Jan-15 01:17
Re:EVEN More Documentation Of Ramps.
334
cladking
13-Jan-15 02:17
Re:EVEN More Documentation Of Ramps.
294
DScribr
13-Jan-15 03:45
Re:EVEN More Documentation Of Ramps.
325
Origyptian
13-Jan-15 03:50
Re:EVEN More Documentation Of Ramps.
357
cladking
13-Jan-15 05:10
Re:EVEN More Documentation Of Ramps.
324
Origyptian
13-Jan-15 02:34
Re:Webster's Definition Of Ramps.
295
DScribr
13-Jan-15 03:54
Re:Webster's Definition Of Ramps.
305
Origyptian
13-Jan-15 04:07
Re:Webster's Definition Of Ramps.
362
cladking
13-Jan-15 05:16
Re:Documentation Of Ramps.
286
DScribr
13-Jan-15 14:51
Re:Documentation Of Ramps.
349
Origyptian
13-Jan-15 16:24
Re: Documentation Khufu's Salient Stele
289
Jon Ellison
12-Jan-15 15:47
Re: Documentation Khufu's Salient Stele
393
DScribr
12-Jan-15 15:51
Re: Documentation Khufu's Salient Stele
348
cladking
12-Jan-15 15:59
Re: Documentation Khufu's Salient Stele
250
Jon Ellison
12-Jan-15 16:07
Re: Documentation Khufu's Salient Stele
294
DScribr
12-Jan-15 16:23
Re: Documentation Khufu's Salient Stele
342
DScribr
12-Jan-15 16:12
Re: Documentation Khufu's Salient Stele
296
cladking
12-Jan-15 16:37
Re: Documentation Khufu's Salient Stele
327
sfbey
12-Jan-15 16:44
Re: Documentation Khufu's Salient Stele
349
Origyptian
12-Jan-15 17:16
Re: Documentation Khufu's Salient Stele
272
Jon Ellison
12-Jan-15 17:29
Re: Documentation Khufu's Salient Stele
301
sfbey
12-Jan-15 17:35
Re: Documentation Khufu's Salient Stele
362
Jon Ellison
12-Jan-15 17:40
Re: Documentation Khufu's Salient Stele
234
Origyptian
12-Jan-15 17:48
Re: Documentation Khufu's Salient Stele
343
sfbey
12-Jan-15 17:59
Re: Documentation Khufu's Salient Stele
353
Origyptian
12-Jan-15 19:04
Re: Documentation Khufu's Salient Stele
346
cladking
12-Jan-15 19:55
Re: Documentation Khufu's Salient Stele
326
sfbey
12-Jan-15 20:36
Re: Documentation Khufu's Salient Stele
345
Origyptian
12-Jan-15 20:55
Re: Documentation Khufu's Salient Stele
373
cladking
12-Jan-15 20:56
Re: Documentation Khufu's Salient Stele
345
sfbey
12-Jan-15 21:09
Re: Documentation Khufu's Salient Stele
224
Origyptian
12-Jan-15 21:21
Re: Documentation Khufu's Salient Stele
331
sfbey
12-Jan-15 21:35
Re: Documentation Khufu's Salient Stele
248
Origyptian
12-Jan-15 21:37
Re: Documentation Khufu's Salient Stele
269
Jon Ellison
12-Jan-15 21:37
Re: Documentation Khufu's Salient Stele
317
Origyptian
12-Jan-15 21:40
Re: Documentation Khufu's Salient Stele
306
Jon Ellison
12-Jan-15 21:52
Re: Documentation Khufu's Salient Stele
287
sfbey
12-Jan-15 23:01
Re: Documentation Khufu's Salient Stele
377
cladking
13-Jan-15 02:14
Re: Documentation Khufu's Salient Stele
359
sfbey
13-Jan-15 02:43
Re: Documentation Khufu's Salient Stele
340
cladking
13-Jan-15 05:22
Re: Documentation Khufu's Salient Stele
295
sfbey
13-Jan-15 13:52
Re: Documentation Khufu's Salient Stele
330
cladking
13-Jan-15 14:55
Re: Documentation Khufu's Salient Stele
269
Origyptian
13-Jan-15 16:03
Re: Documentation Khufu's Salient Stele
335
cladking
13-Jan-15 16:53
Pyramid Lines
290
sfbey
13-Jan-15 03:04
Re: Pyramid Lines
318
DScribr
13-Jan-15 03:37
Re: Pyramid Lines
256
cladking
13-Jan-15 05:30
Re: NO factual Documentation??? Khufu's Salient Stele
370
Luminescence
12-Jan-15 17:47
Re: NO factual Documentation??? Khufu's Salient Stele
295
Jon Ellison
12-Jan-15 17:57
Re: NO factual Documentation??? Khufu's Salient Stele
344
Luminescence
12-Jan-15 18:01
Re: NO factual Documentation??? Khufu's Salient Stele
348
eyeofhorus33
12-Jan-15 18:16
Re: NO factual Documentation??? Khufu's Salient Stele
378
Scott Creighton
12-Jan-15 18:32
Re: NO factual Documentation??? Khufu's Salient Stele
334
eyeofhorus33
12-Jan-15 18:46
Re: NO factual Documentation??? Khufu's Salient Stele
345
Scott Creighton
12-Jan-15 19:00
Re: NO factual Documentation??? Khufu's Salient Stele
319
Origyptian
12-Jan-15 19:10
Re: NO factual Documentation??? Khufu's Salient Stele
314
Scott Creighton
12-Jan-15 19:46
Re: NO factual Documentation??? Khufu's Salient Stele
323
Jon Ellison
12-Jan-15 19:10
Re: NO factual Documentation??? Khufu's Salient Stele
282
Jon Ellison
12-Jan-15 19:01
Re: NO factual Documentation??? Khufu's Salient Stele
378
eyeofhorus33
12-Jan-15 19:48
Re: NO factual Documentation??? Khufu's Salient Stele
318
Scott Creighton
12-Jan-15 19:53
Re: NO factual Documentation??? Khufu's Salient Stele
320
Merrell
12-Jan-15 20:08
Re: NO factual Documentation??? Khufu's Salient Stele
331
eyeofhorus33
12-Jan-15 20:44
Re: NO factual Documentation??? Khufu's Salient Stele
365
Martin Stower
12-Jan-15 21:43
Re: NO factual Documentation??? Khufu's Salient Stele
310
Origyptian
12-Jan-15 20:11
Re: NO factual Documentation??? Khufu's Salient Stele
286
Jon Ellison
12-Jan-15 20:22
Re: NO factual Documentation??? Khufu's Salient Stele
328
Origyptian
12-Jan-15 20:34
Re: NO factual Documentation??? Khufu's Salient Stele
278
eyeofhorus33
12-Jan-15 20:34
Re: NO factual Documentation??? Khufu's Salient Stele
257
Origyptian
12-Jan-15 20:53
Re: NO factual Documentation??? Khufu's Salient Stele
342
eyeofhorus33
12-Jan-15 21:02
Re: NO factual Documentation??? Khufu's Salient Stele
348
Martin Stower
12-Jan-15 22:50
Re: NO factual Documentation??? Khufu's Salient Stele
293
Origyptian
12-Jan-15 23:06
Re: NO factual Documentation??? Khufu's Salient Stele
298
sfbey
12-Jan-15 23:16
Re: NO factual Documentation??? Khufu's Salient Stele
383
Origyptian
12-Jan-15 23:49
Re: Interpretations NO factual Documentation??? Khufu's Salient Stele
356
Luminescence
13-Jan-15 00:03
Re: Interpretations NO factual Documentation??? Khufu's Salient Stele
329
Origyptian
13-Jan-15 00:30
Re: Interpretations NO factual Documentation??? Khufu's Salient Stele
326
Luminescence
13-Jan-15 01:22
Re: NO factual Documentation??? Khufu's Salient Stele
388
sfbey
13-Jan-15 01:18
Re: NO factual Documentation??? Khufu's Salient Stele
344
Origyptian
13-Jan-15 02:40
Re: NO factual Documentation??? Khufu's Salient Stele
365
Scott Creighton
12-Jan-15 23:43
Re: NO factual Documentation??? Khufu's Salient Stele
354
Luminescence
12-Jan-15 23:57
Re: NO factual Documentation??? Khufu's Salient Stele
308
Scott Creighton
13-Jan-15 00:06
Re: NO factual Documentation??? Khufu's Salient Stele
379
Origyptian
13-Jan-15 00:19
R factual documentation results in misinterpretation.
372
DScribr
13-Jan-15 00:38
Re: R factual documentation results in misinterpretation.
331
Origyptian
13-Jan-15 02:04
Khufu's Salient Stele. The proof is in his consistency.
331
DScribr
13-Jan-15 00:47
Re: Khufu's Salient Stele. The proof is in his consistency.
335
Scott Creighton
13-Jan-15 00:56
Re: Khufu's Salient Stele. The proof is in his consistency.
267
DScribr
13-Jan-15 01:38
Re: Khufu's Salient Stele. The proof is in his consistency.
337
Martin Stower
13-Jan-15 01:44
Not surprised the proof is in his consistency.
258
DScribr
13-Jan-15 01:51
Re: NO factual Documentation??? Khufu's Salient Stele
325
Jon Ellison
13-Jan-15 00:49
Re: NO factual Documentation??? Khufu's Salient Stele
333
Luminescence
13-Jan-15 01:37
Re: NO factual Documentation??? Khufu's Salient Stele
283
Jon Ellison
13-Jan-15 01:44
Re: NO factual Documentation??? Khufu's Salient Stele
264
Origyptian
13-Jan-15 01:53
Re: NO factual Documentation??? Khufu's Salient Stele
303
Origyptian
13-Jan-15 00:06
Re: NO factual Documentation??? Khufu's Salient Stele
240
Scott Creighton
13-Jan-15 00:09
Re: NO factual Documentation??? Khufu's Salient Stele
253
DScribr
13-Jan-15 00:31
Re: NO factual Documentation??? Khufu's Salient Stele
302
Scott Creighton
13-Jan-15 00:33
Re: NO factual Documentation??? Khufu's Salient Stele
289
Martin Stower
13-Jan-15 01:37
Re: NO factual Documentation???
294
DScribr
13-Jan-15 01:45
Re: NO factual Documentation???
300
Martin Stower
13-Jan-15 02:31
Re: NO factual Documentation???
245
DScribr
13-Jan-15 03:09
Re: NO factual Documentation??? Khufu's Salient Stele
296
Luminescence
13-Jan-15 01:10
Re: NO factual Documentation??? Khufu's Salient Stele
332
Martin Stower
13-Jan-15 01:20
Re: NO factual Documentation??? Khufu's Salient Stele
273
Scott Creighton
13-Jan-15 01:39
Re: NO factual Documentation??? Khufu's Salient Stele
330
Martin Stower
13-Jan-15 02:24
Re: NO factual Documentation??? Khufu's Salient Stele
216
Scott Creighton
13-Jan-15 02:28
Re: NO factual Documentation??? Khufu's Salient Stele
284
Luminescence
13-Jan-15 02:49
Re: NO factual Documentation??? Khufu's Salient Stele
261
Martin Stower
13-Jan-15 02:55
Re: NO factual Documentation??? Khufu's Salient Stele
326
Scott Creighton
13-Jan-15 03:08
Re: NO factual Documentation, speculation and assumption.
292
DScribr
13-Jan-15 03:32
Re: NO factual Documentation, speculation and assumption.
270
Scott Creighton
13-Jan-15 10:28
Re: Factual Documentation.
258
DScribr
13-Jan-15 14:30
Re: Factual Documentation.
312
Scott Creighton
13-Jan-15 14:57
Re: Factual Documentation.
285
Origyptian
13-Jan-15 15:57
Re: Factual Documentation.
226
Martin Stower
14-Jan-15 14:51
Re: Factual Documentation.
272
Origyptian
14-Jan-15 15:53
Re: Factual Documentation.
291
DScribr
14-Jan-15 15:17
Re: Factual Documentation.
245
Jon Ellison
14-Jan-15 15:26
Re: Factual Documentation VS Spin.
318
DScribr
14-Jan-15 15:46
Re: Factual Documentation.
323
Origyptian
14-Jan-15 16:03
Re: Factual Documentation.
331
Jon Ellison
14-Jan-15 16:31
Re: Factual Documentation.
321
Origyptian
14-Jan-15 16:51
Re: NO factual Documentation, speculation and assumption.
373
Martin Stower
14-Jan-15 14:49
Re: NO factual Documentation??? Khufu's Salient Stele
288
eyeofhorus33
13-Jan-15 16:17
Re: NO factual Documentation??? Khufu's Salient Stele
334
Martin Stower
13-Jan-15 23:37
Re: NO factual Documentation??? Khufu's Salient Stele
277
sfbey
14-Jan-15 01:48
Re: NO factual Documentation??? Khufu's Salient Stele
355
Martin Stower
14-Jan-15 14:36
Re: NO factual Documentation??? Khufu's Salient Stele
363
Scott Creighton
14-Jan-15 09:59
Re: NO factual Documentation??? Khufu's Salient Stele
430
Martin Stower
14-Jan-15 14:03
Re: NO factual Documentation??? Khufu's Salient Stele
309
DScribr
14-Jan-15 15:09
Re: NO factual Documentation??? Khufu's Salient Stele
265
Scott Creighton
14-Jan-15 15:09
Re: NO factual Documentation??? Khufu's Salient Stele
326
DScribr
14-Jan-15 15:33
Re: NO factual Documentation??? Khufu's Salient Stele
275
Scott Creighton
14-Jan-15 15:46
Re: NO factual Documentation??? Khufu's Salient Stele
361
Martin Stower
14-Jan-15 16:29
Re: NO factual Documentation??? Khufu's Salient Stele
236
Jon Ellison
14-Jan-15 16:49
Re: NO factual Documentation??? Khufu's Salient Stele
338
Martin Stower
14-Jan-15 17:17
Re: NO factual Documentation??? Khufu's Salient Stele
269
Scott Creighton
14-Jan-15 16:51
Re: NO factual Documentation??? Khufu's Salient Stele
303
Martin Stower
14-Jan-15 17:22
Re: NO factual Documentation??? Khufu's Salient Stele
326
Jon Ellison
14-Jan-15 17:29
Re: NO factual Documentation??? Khufu's Salient Stele
330
Martin Stower
14-Jan-15 18:21
Re: NO factual Documentation??? Khufu's Salient Stele
310
Origyptian
14-Jan-15 18:38
Re: NO factual Documentation??? Khufu's Salient Stele
299
Martin Stower
14-Jan-15 19:20
Re: NO factual Documentation??? Khufu's Salient Stele
318
Origyptian
14-Jan-15 21:34
Re: NO factual Documentation??? Khufu's Salient Stele
263
Jon Ellison
14-Jan-15 18:49
Re: NO factual Documentation??? Khufu's Salient Stele
294
Martin Stower
14-Jan-15 19:15
Re: NO factual Documentation??? Khufu's Salient Stele
324
Martin Stower
14-Jan-15 16:32
Re: NO factual Documentation??? Khufu's Salient Stele
298
Scott Creighton
14-Jan-15 17:00
Re: NO factual Documentation??? Khufu's Salient Stele
242
Martin Stower
14-Jan-15 17:27
Re: NO factual Documentation??? Khufu's Salient Stele
291
Martin Stower
14-Jan-15 15:55
Re: NO factual Documentation??? Khufu's Salient Stele
268
Scott Creighton
14-Jan-15 16:06
Re: NO factual Documentation??? Khufu's Salient Stele
333
Martin Stower
14-Jan-15 16:51
Re: NO factual Documentation??? Khufu's Salient Stele
375
Scott Creighton
14-Jan-15 16:56
Re: NO factual Documentation??? Khufu's Salient Stele
229
Martin Stower
14-Jan-15 19:09
Re: NO factual Documentation??? Khufu's Salient Stele
223
Origyptian
14-Jan-15 16:09
Re: NO factual Documentation??? Khufu's Salient Stele
270
Scott Creighton
14-Jan-15 16:14
Re: NO factual Documentation??? Khufu's Salient Stele
340
Martin Stower
14-Jan-15 16:56
Re: NO factual Documentation??? Khufu's Salient Stele
230
Jon Ellison
14-Jan-15 14:50
Re: NO factual Documentation??? Khufu's Salient Stele
353
Scott Creighton
15-Jan-15 00:39
Re: NO factual Documentation??? Khufu's Salient Stele
224
Jon Ellison
15-Jan-15 00:48
Re: NO factual Documentation??? Khufu's Salient Stele
263
Origyptian
15-Jan-15 01:22
Re: NO factual Documentation??? Khufu's Salient Stele
279
Jon Ellison
15-Jan-15 02:36
Re: NO factual Documentation??? Khufu's Salient Stele
211
Martin Stower
15-Jan-15 02:08
Re: NO factual Documentation??? Khufu's Salient Stele
289
Jon Ellison
15-Jan-15 03:53
Re: NO factual Documentation??? Khufu's Salient Stele
214
sfbey
15-Jan-15 04:25
Re: NO factual Documentation??? Khufu's Salient Stele
312
Martin Stower
15-Jan-15 15:09
Re: NO factual Documentation??? Khufu's Salient Stele
273
Martin Stower
15-Jan-15 01:55
Re: NO factual Documentation??? Khufu's Salient Stele
285
Scott Creighton
15-Jan-15 10:20
Re: NO factual Documentation??? Khufu's Salient Stele
309
Martin Stower
15-Jan-15 15:30
Re: NO factual Documentation??? Khufu's Salient Stele
238
cladking
14-Jan-15 02:52
Re: NO factual Documentation??? Khufu's Salient Stele
285
Origyptian
12-Jan-15 23:18
Re: NO factual Documentation??? Khufu's Salient Stele
242
Jon Ellison
12-Jan-15 20:34
Re: NO factual Documentation??? Khufu's Salient Stele
312
cladking
12-Jan-15 21:01
Re: NO factual Documentation??? Khufu's Salient Stele
303
Origyptian
12-Jan-15 22:49
Re: NO factual Documentation??? Khufu's Salient Stele
339
Jon Ellison
12-Jan-15 20:46
Re: NO factual Documentation??? Khufu's Salient Stele
196
Luminescence
12-Jan-15 19:11
Re: NO factual Documentation??? Khufu's Salient Stele
279
Jon Ellison
12-Jan-15 19:36
Re:Factual Documentation, For CD.
278
DScribr
13-Jan-15 01:07
Re:Factual Documentation, For CD.
308
Luminescence
13-Jan-15 01:42
Re:Factual Documentation, For CD.
285
DScribr
13-Jan-15 02:18
Re:Factual Documentation, For CD.
307
Origyptian
13-Jan-15 02:25
Re:Factual Documentation, For CD.
252
DScribr
13-Jan-15 02:39
Re:Factual Documentation, For CD.
244
Origyptian
13-Jan-15 02:46
Re:Factual Documentation, and common-sense.
332
DScribr
13-Jan-15 03:26
Re:Factual Documentation, and common-sense.
287
Origyptian
13-Jan-15 03:40
Re:Factual Documentation, For CD.
266
Origyptian
13-Jan-15 03:49
Re:Factual Documentation, For CD.
334
eyeofhorus33
13-Jan-15 16:27
Re:Factual Documentation, For CD.
353
Origyptian
13-Jan-15 16:35
Re:Factual Documentation, For CD.
286
Morten
14-Jan-15 08:48
Re:Factual Documentation, For CD.
288
eyeofhorus33
14-Jan-15 17:56
Re:Factual Documentation, For CD.
220
Scott Creighton
14-Jan-15 18:08
Re:Factual Documentation, For CD.
258
eyeofhorus33
14-Jan-15 20:52
Re:Factual Documentation, For CD.
309
Martin Stower
14-Jan-15 22:39
Re:Factual Documentation, For CD.
197
Scott Creighton
14-Jan-15 23:48
Re:Factual Documentation, For CD.
352
Origyptian
15-Jan-15 01:09
Re:Factual Documentation, For CD.
284
Martin Stower
15-Jan-15 01:23
Re:Factual Documentation, For CD.
308
Jon Ellison
14-Jan-15 18:11
Re:Factual Documentation, For CD.
308
Origyptian
14-Jan-15 18:12
Re:Factual Documentation, For CD.
238
eyeofhorus33
14-Jan-15 20:55
Re:Factual Documentation, For CD.
248
Jon Ellison
14-Jan-15 21:24
Re:Factual Documentation, For CD.
248
Origyptian
14-Jan-15 21:47
Re:Factual Documentation, For CD.
263
Martin Stower
14-Jan-15 18:26
Re:Factual Documentation, For CD.
316
Scott Creighton
14-Jan-15 18:31
Re:Factual Documentation, For CD.
290
Martin Stower
14-Jan-15 19:11
Re:Factual Documentation, For CD.
263
Scott Creighton
14-Jan-15 19:48
Re:Factual Documentation, For CD.
298
Martin Stower
14-Jan-15 19:59
Re:Factual Documentation, For CD.
280
DUNE
14-Jan-15 20:03
Re:Factual Documentation, For CD.
326
sfbey
14-Jan-15 20:10
Re:Factual Documentation, For CD.
287
DUNE
14-Jan-15 20:14
Re:Factual Documentation, For CD.
251
Jon Ellison
14-Jan-15 20:39
Re:Factual Documentation, For CD.
320
DUNE
14-Jan-15 20:42
Re:Factual Documentation, For CD.
295
Jon Ellison
14-Jan-15 21:08
Re:Factual Documentation, For CD.
298
sfbey
14-Jan-15 20:54
Re:Factual Documentation, For CD.
289
DUNE
14-Jan-15 21:24
Re:Factual Documentation, For CD.
274
Jon Ellison
14-Jan-15 21:31
Re:Factual Documentation, For CD.
334
Origyptian
14-Jan-15 21:38
Re:Factual Documentation, For CD.
235
Jon Ellison
14-Jan-15 21:43
Re:Factual Documentation, For CD.
296
Origyptian
14-Jan-15 22:16
Re:Factual Documentation, For CD.
264
Jon Ellison
14-Jan-15 22:40
Re:Factual Documentation, For CD.
313
DUNE
14-Jan-15 22:50
Re:Factual Documentation, For CD.
292
Origyptian
15-Jan-15 01:17
Re:Factual Documentation, For CD.
301
sfbey
14-Jan-15 21:47
Re:Factual Documentation, For CD.
252
Martin Stower
14-Jan-15 22:12
Re:Factual Documentation, For CD.
292
molder
22-Jan-15 12:18
Re:Factual Documentation, For CD.
273
Merrell
22-Jan-15 13:32
Re:Factual Documentation, For CD.
327
molder
23-Jan-15 04:23
Re:Factual Documentation, For CD.
233
Frank D
23-Jan-15 00:53
Re: Khufu's Salient Stele
291
Origyptian
16-Jan-15 16:32
Re: Khufu's Salient Stele
288
DUNE
16-Jan-15 17:40
Re: Khufu's Salient Stele
309
Thanos5150
16-Jan-15 19:25
Re: Khufu's Salient Stele
266
Origyptian
16-Jan-15 19:49
Re: Khufu's Salient Stele
262
Thanos5150
16-Jan-15 22:39
Re: Khufu's Salient Stele
289
Origyptian
16-Jan-15 22:55
Re: Khufu's Salient Stele
315
eyeofhorus33
16-Jan-15 23:03
Re: Khufu's Salient Stele
288
Jon Ellison
16-Jan-15 23:26
Re: Khufu's Salient Stele
339
eyeofhorus33
16-Jan-15 23:48
Re: Khufu's Salient Stele
306
Jon Ellison
17-Jan-15 00:11
Re: Khufu's Salient Stele
237
Jon Ellison
17-Jan-15 00:13
Re: Khufu's Salient Stele
286
Origyptian
17-Jan-15 00:24
Re: Khufu's Salient Stele
293
MJT
17-Jan-15 01:45
Re: Khufu's Salient Stele
290
Jon Ellison
17-Jan-15 02:19
Re: Khufu's Salient Stele
264
cladking
17-Jan-15 01:46
Re: Khufu's Salient Stele
232
Origyptian
20-Jan-15 01:56
Re: Khufu's Salient Stele
312
Thanos5150
20-Jan-15 02:22
Re: Khufu's Salient Stele
277
Origyptian
20-Jan-15 05:18
Re: Khufu's Salient Stele
273
Thanos5150
20-Jan-15 05:32
Re: Khufu's Salient Stele
314
Origyptian
20-Jan-15 21:16
Re: Khufu's Salient Stele
250
Dr. Troglodyte
20-Jan-15 23:45
Re: Khufu's Salient Stele
285
Origyptian
21-Jan-15 00:50
Re: Khufu's Salient Stele
253
sfbey
21-Jan-15 02:48
Re: Khufu's Salient Stele
273
Thanos5150
21-Jan-15 06:06
Re: Khufu's Salient Stele
262
Origyptian
22-Jan-15 06:48
Re: Royal Burials
220
Thunderbird
22-Jan-15 17:00
Re: Royal Burials
219
Thanos5150
22-Jan-15 17:29
Re:Sneferu
203
Thunderbird
23-Jan-15 16:47
Re: Serapeum - Gigal
157
Thunderbird
23-Jan-15 18:34
Re: Serapeum - Gigal
205
Martin Stower
25-Jan-15 01:44
Re: Khufu's Salient Stele
265
sfbey
20-Jan-15 02:33
Re: Khufu's Salient Stele
183
Origyptian
20-Jan-15 05:29
Re: Khufu's Salient Stele
163
Skatha
20-Jan-15 05:44
Re: Khufu's Salient Stele
149
Origyptian
20-Jan-15 07:10
Re: Khufu's Salient Stele
134
Jon Ellison
20-Jan-15 13:21
Re: Khufu's Salient Stele
128
Origyptian
20-Jan-15 19:42
Re: Khufu's Salient Stele
111
DUNE
20-Jan-15 14:16
Re: Khufu's Salient Stele
130
Skatha
20-Jan-15 20:02
Re: Khufu's Salient Stele
124
DUNE
20-Jan-15 20:17
Re: Khufu's Salient Stele
126
Martin Stower
20-Jan-15 21:30
Re: Khufu's Salient Stele
110
Origyptian
20-Jan-15 22:08
Re: Khufu's Salient Stele
140
Martin Stower
20-Jan-15 20:32
Re: Khufu's Salient Stele
136
Origyptian
20-Jan-15 21:57
Re: Khufu's Salient Stele
97
eyeofhorus33
20-Jan-15 22:13
Re: Khufu's Salient Stele
108
Origyptian
20-Jan-15 22:27
Re: Khufu's Salient Stele
133
eyeofhorus33
21-Jan-15 16:04
Re: Khufu's Salient Stele
134
DUNE
21-Jan-15 16:35
Re: Khufu's Salient Stele
146
eyeofhorus33
21-Jan-15 16:46
Re: Khufu's Salient Stele
239
Origyptian
21-Jan-15 21:58
Re: Khufu's Salient Stele
244
sfbey
21-Jan-15 22:26
Re: Khufu's Salient Stele
167
Origyptian
21-Jan-15 23:39
Re: Khufu's Salient Stele
188
Martin Stower
21-Jan-15 23:49
Re: Khufu's Salient Stele
142
Origyptian
22-Jan-15 02:25
Re: Khufu's Salient Stele
228
Martin Stower
21-Jan-15 23:56
Re: Khufu's Salient Stele
189
Origyptian
22-Jan-15 02:27
Re: Khufu's Salient Stele
253
sfbey
22-Jan-15 02:54
Re: Khufu's Salient Stele
199
Origyptian
22-Jan-15 03:56
Re: Khufu's Salient Stele
148
sfbey
22-Jan-15 04:38
Re: Khufu's Salient Stele
196
Origyptian
22-Jan-15 04:51
Re: Khufu's Salient Stele
250
sfbey
22-Jan-15 12:53
Re: Khufu's Salient Stele
212
Origyptian
22-Jan-15 16:57
Re: Khufu's Salient Stele-False inferences.
222
DScribr
23-Jan-15 00:15
Re: Khufu's Salient Stele-False inferences.
155
Origyptian
23-Jan-15 00:45
Re: Khufu's Salient Stele-False inferences.
116
DScribr
23-Jan-15 02:45
Re: Khufu's Salient Stele-False inferences.
159
Origyptian
23-Jan-15 03:37
Re: Khufu's Salient Stele-False inferences.
103
Martin Stower
23-Jan-15 03:42
Re: Khufu's Salient Stele
223
Martin Stower
22-Jan-15 03:34
Re: Khufu's Salient Stele
211
sfbey
22-Jan-15 03:35
Re: Khufu's Salient Stele
202
Martin Stower
22-Jan-15 03:41
Re: Khufu's Salient Stele
202
Origyptian
22-Jan-15 04:05
Re: Khufu's Salient Stele
219
Origyptian
22-Jan-15 04:00
Re: Khufu's Salient Stele
97
Merrell
22-Jan-15 11:08
Re: Khufu's Salient Stele
114
Origyptian
22-Jan-15 15:58
Re: Khufu's Salient Stele
134
Origyptian
22-Jan-15 17:05
Re: Khufu's Salient Stele
136
DUNE
22-Jan-15 17:41
Re: Khufu's Salient Stele
172
Origyptian
22-Jan-15 17:52
Re: Khufu's Salient Stele
181
Audrey
23-Jan-15 00:51
Re: Khufu's Salient Stele
247
Origyptian
23-Jan-15 01:33
Re: Khufu's Salient Stele
256
sfbey
23-Jan-15 02:35
Re: Khufu's Salient Stele
173
Audrey
23-Jan-15 05:41
Re: Khufu's Salient Stele
241
sfbey
23-Jan-15 15:36
Re: Khufu's Salient Stele-Evidence dismissed, again!
207
DScribr
23-Jan-15 03:25
Re: Khufu's Salient Stele-Evidence dismissed, again!
178
Origyptian
23-Jan-15 03:38
Re: Khufu's Salient Stele-Evidence dismissed, again!
177
DScribr
23-Jan-15 03:48
Re: Khufu's Salient Stele-Evidence dismissed, again!
134
Origyptian
23-Jan-15 04:28
Re: Khufu's Salient Stele-Evidence dismissed, again!
101
DScribr
23-Jan-15 15:55
Re: Khufu's Salient Stele-Evidence dismissed, again!
119
DUNE
23-Jan-15 16:27
Re: Khufu's Salient Stele-Evidence dismissed, again!
93
Origyptian
23-Jan-15 17:02
Re: Khufu's Salient Stele-Evidence dismissed, again!
104
DScribr
23-Jan-15 23:59
Re: Khufu's Salient Stele
154
Thanos5150
22-Jan-15 04:37
Re: Khufu's Salient Stele
133
Martin Stower
22-Jan-15 13:06
Re: Khufu's Salient Stele
116
Origyptian
22-Jan-15 16:42
Re: Khufu's Salient Stele
156
Merrell
22-Jan-15 17:02
Re: Khufu's Salient Stele
190
Origyptian
22-Jan-15 17:42
Re: Khufu's Salient Stele
181
Merrell
22-Jan-15 19:46
Re: Khufu's Salient Stele
166
Jon Ellison
22-Jan-15 20:40
Re: Khufu's Salient Stele
210
sfbey
22-Jan-15 20:59
Re: Khufu's Salient Stele
190
Origyptian
22-Jan-15 21:15
Re: Khufu's Salient Stele
173
Jon Ellison
22-Jan-15 21:23
Re: Khufu's Salient Stele
100
Jon Ellison
22-Jan-15 22:08
Re: Khufu's Salient Stele
128
Origyptian
22-Jan-15 21:14
Re: Khufu's Salient Stele-Accepting First-Hand Reporting.
126
DScribr
22-Jan-15 23:56
Re: Khufu's Salient Stele-Accepting First-Hand Reporting.
119
Origyptian
23-Jan-15 00:40
Re: Khufu's Salient Stele-TOTAL BS, ORI!
132
DScribr
23-Jan-15 03:59
Re: Khufu's Salient Stele-TOTAL BS, ORI!
124
Origyptian
23-Jan-15 04:33
Re: Khufu's Salient Stele-More selective blindness.
128
DScribr
23-Jan-15 05:05
Re: Khufu's Salient Stele-More selective blindness.
155
Origyptian
23-Jan-15 05:53
Re: Khufu's Salient Stele-More selective blindness.
116
DScribr
24-Jan-15 00:39
Re: Khufu's Salient Stele-Accepting First-Hand Reporting.
110
Martin Stower
23-Jan-15 01:11
Re: Khufu's Salient Stele-Accepting First-Hand Reporting.
131
Origyptian
23-Jan-15 01:22
Re: Khufu's Salient Stele-Accepting First-Hand Reporting.
113
Jon Ellison
23-Jan-15 01:42
Re: Khufu's Salient Stele-Accepting First-Hand Reporting.
110
Audrey
23-Jan-15 02:09
Re: Khufu's Salient Stele-Accepting First-Hand Reporting.
121
Jon Ellison
23-Jan-15 02:21
Re: Khufu's Salient Stele-Accepting First-Hand Reporting.
120
Audrey
23-Jan-15 03:42
Re: Khufu's Salient Stele-Accepting First-Hand Reporting.
122
Jon Ellison
23-Jan-15 10:49
Re: Khufu's Salient Stele-Accepting First-Hand Reporting.
113
Origyptian
23-Jan-15 03:32
Re: Khufu's Salient Stele-Accepting First-Hand Reporting.
98
Audrey
23-Jan-15 05:57
Re: Khufu's Salient Stele-Accepting First-Hand Reporting.
115
Thanos5150
23-Jan-15 03:39
Re: Khufu's Salient Stele-Accepting First-Hand Reporting.
117
Audrey
23-Jan-15 04:08
Re: Khufu's Salient Stele-Accepting First-Hand Reporting.
114
Martin Stower
23-Jan-15 12:50
Re: Khufu's Salient Stele-Accepting First-Hand Reporting.
124
Thanos5150
24-Jan-15 00:06
Re: Khufu's Salient Stele-Accepting First-Hand Reporting.
138
Martin Stower
23-Jan-15 03:29
Re: Khufu's Salient Stele-Accepting First-Hand Reporting.
109
Origyptian
23-Jan-15 03:44
Re: Khufu's Salient Stele-Accepting First-Hand Reporting.
129
Martin Stower
23-Jan-15 11:45
Re: Khufu's Salient Stele-Accepting First-Hand Reporting.
124
Jon Ellison
23-Jan-15 11:53
Re: Khufu's Salient Stele-Accepting First-Hand Reporting.
150
Martin Stower
23-Jan-15 12:19
Re: Khufu's Salient Stele-Accepting First-Hand Reporting.
104
Origyptian
23-Jan-15 22:01
Re: Khufu's Salient Stele-Accepting First-Hand Reporting.
98
Martin Stower
24-Jan-15 02:21
Re: Khufu's Salient Stele-Accepting First-Hand Reporting.
132
Scott Creighton
24-Jan-15 10:31
Re: Khufu's Salient Stele-Accepting First-Hand Reporting.
99
Origyptian
24-Jan-15 16:17
Re: Khufu's Salient Stele-Accepting First-Hand Reporting.
127
Scott Creighton
24-Jan-15 16:24
Re: Khufu's Salient Stele-Accepting First-Hand Reporting.
86
DScribr
24-Jan-15 16:59
Re: Khufu's Salient Stele-Accepting First-Hand Reporting.
115
Origyptian
24-Jan-15 18:12
Re: Khufu's Salient Stele-Accepting First-Hand Reporting.
123
Jon Ellison
24-Jan-15 18:12
Re: Khufu's Salient Stele-Accepting First-Hand Reporting.
148
Origyptian
24-Jan-15 18:19
Re: Khufu's Salient Stele-Accepting First-Hand Reporting.
177
Martin Stower
25-Jan-15 03:16
Re: Khufu's Salient Stele-Accepting First-Hand Reporting.
162
Origyptian
25-Jan-15 08:58
Re: Khufu's Salient Stele-Accepting First-Hand Reporting.
166
cladking
25-Jan-15 15:59
Re: Khufu's Salient Stele-Accepting First-Hand Reporting.
134
Martin Stower
24-Jan-15 23:59
Re: Khufu's Salient Stele-Accepting First-Hand Reporting.
128
Origyptian
24-Jan-15 21:29
Re: Khufu's Salient Stele-You call this evidence?!?
122
DScribr
24-Jan-15 00:26
Re: Khufu's Salient Stele-Accepting First-Hand Reporting.
145
Martin Stower
24-Jan-15 03:36
Re: Khufu's Salient Stele
108
Martin Stower
22-Jan-15 21:54
Re: Khufu's Salient Stele
124
Origyptian
22-Jan-15 22:11
Re: Khufu's Salient Stele
125
Martin Stower
23-Jan-15 03:12
Re: Khufu's Salient Stele-Attested and authentic 4th Dynasty.
125
DScribr
23-Jan-15 04:24
Re: Khufu's Salient Stele-Attested and authentic 4th Dynasty.
109
Origyptian
23-Jan-15 04:38
Re: Khufu's Salient Stele-Attested and authentic 4th Dynasty.
136
DScribr
23-Jan-15 05:17
Re: Khufu's Salient Stele-Attested and authentic 4th Dynasty.
109
Origyptian
23-Jan-15 05:55
Re: Khufu's Salient Stele-Attested and authentic 4th Dynasty.
118
DScribr
23-Jan-15 15:30
Re: Khufu's Salient Stele
153
Skatha
20-Jan-15 23:08
Re: Khufu's Salient Stele
90
Origyptian
21-Jan-15 00:26
Re: Khufu's Salient Stele
153
Martin Stower
21-Jan-15 01:25
Re: Khufu's Salient Stele
105
Origyptian
21-Jan-15 03:45
Re: Khufu's Salient Stele
142
Skatha
20-Jan-15 19:57
Re: Khufu's Salient Stele
167
Origyptian
20-Jan-15 20:10
Re: Khufu's Salient Stele
220
sfbey
21-Jan-15 02:42
Re: Khufu's Salient Stele
199
Origyptian
21-Jan-15 03:59
Re: Khufu's Salient Stele
184
Martin Stower
22-Jan-15 01:36
Re: Khufu's Salient Stele
123
Origyptian
22-Jan-15 02:32
Re: Khufu's Salient Stele
138
Merrell
22-Jan-15 11:05
Re: Khufu's Salient Stele
124
Martin Stower
22-Jan-15 12:59
Re: Khufu's Salient Stele
144
Origyptian
22-Jan-15 16:11
Re: Khufu's Salient Stele-another "Forgery"
139
DScribr
22-Jan-15 16:42
Re: Khufu's Salient Stele-another "Forgery"
116
Origyptian
22-Jan-15 17:30
Re: Khufu's Salient Stele-Pathological Thuggery
140
DScribr
22-Jan-15 16:32
Re: Khufu's Salient Stele-Pathological Thuggery
203
Origyptian
22-Jan-15 16:41
Re: Khufu's Salient Stele-Saite Period Provenance?
186
Scott Creighton
22-Jan-15 16:54
Re: Khufu's Salient Stele-Saite Period Provenance?
196
Origyptian
22-Jan-15 17:38
Re: Khufu's Salient Stele-Saite Period Provenance?
233
sfbey
22-Jan-15 17:40
Re: Khufu's Salient Stele-Saite Period Provenance?
258
Origyptian
22-Jan-15 17:47
Re: Khufu's Salient Stele-Saite Period Provenance?
238
Scott Creighton
22-Jan-15 18:17
Re: Khufu's Salient Stele-Saite Period Provenance?
161
Martin Stower
22-Jan-15 22:21
Re: Khufu's Salient Stele-Saite Period Provenance?
215
Origyptian
22-Jan-15 22:29
Re: Khufu's Salient Stele-Saite Period Provenance?
237
sfbey
22-Jan-15 22:45
Re: Khufu's Salient Stele-Saite Period Provenance?
209
Origyptian
23-Jan-15 00:18
Re: Khufu's Salient Stele-Saite Period Provenance?
226
sfbey
22-Jan-15 23:33
Re: Khufu's Salient Stele-Saite Period Provenance?
176
Origyptian
23-Jan-15 00:21
Re: Khufu's Salient Stele-Saite Period Provenance?
189
sfbey
23-Jan-15 01:34
Re: Khufu's Salient Stele-Saite Period Provenance?
208
Scott Creighton
23-Jan-15 09:47
Re: Khufu's Salient Stele-Pathological Thuggery
216
DScribr
22-Jan-15 16:59
Re: Khufu's Salient Stele-Pathological Thuggery
181
Origyptian
22-Jan-15 17:40
Re: Khufu's Salient Stele-Pathological Waffling.
179
DScribr
22-Jan-15 23:45
Re: Khufu's Salient Stele-Pathological Waffling.
169
Origyptian
23-Jan-15 00:25
Re: Khufu's Salient Stele-Pathological Waffling.
115
DScribr
23-Jan-15 03:09
Re: Khufu's Salient Stele...It seems very problematic to consider
106
DScribr
16-Jan-15 18:03
Re: Khufu's Salient Stele...It seems very problematic to consider
105
Origyptian
16-Jan-15 18:46
Re: Khufu's Salient Stele...It seems very problematic to consider
107
DUNE
16-Jan-15 18:48
Re: Khufu's Salient Stele...It seems very problematic to consider
123
Origyptian
16-Jan-15 18:59
Re: Khufu's Salient Stele...It seems very problematic to consider
103
Jon Ellison
16-Jan-15 18:54
Re: Khufu's Salient Stele...It seems very problematic to consider
110
Origyptian
16-Jan-15 19:05
Re: Khufu's Salient Stele...It seems very problematic to consider
113
DUNE
16-Jan-15 19:41
Re: Khufu's Salient Stele...It seems very problematic to consider
140
Origyptian
16-Jan-15 19:55
Re: Khufu's Salient Stele...It seems very problematic to consider
154
Origyptian
16-Jan-15 21:07
Re: Khufu's Salient Stele...It seems very problematic to consider
154
DUNE
16-Jan-15 21:33
Re: Khufu's Salient Stele...It seems very problematic to consider
193
sfbey
16-Jan-15 21:37
Obit.
235
sfbey
16-Jan-15 21:45
Re: Obit.
199
Origyptian
16-Jan-15 22:41
Re: Obit.
215
Jon Ellison
16-Jan-15 22:51
Re: Khufu's Salient Stele...It seems very problematic to consider
165
eyeofhorus33
16-Jan-15 20:02
Re: Khufu's Salient Stele...It seems very problematic to consider
117
Origyptian
16-Jan-15 20:12
Re: Khufu's Salient Stele...It seems very problematic to consider
113
Sirfiroth
17-Jan-15 13:48
Re: Khufu's Salient Stele...It seems very problematic to consider
89
Origyptian
17-Jan-15 16:15
Re: Khufu's Salient Stele...It seems very problematic to consider
159
eyeofhorus33
17-Jan-15 16:22
Re: Khufu's Salient Stele...It seems very problematic to consider
183
Origyptian
17-Jan-15 17:36
Re: Khufu's Salient Stele...It seems very problematic to consider
158
eyeofhorus33
17-Jan-15 17:48
Re: Khufu's Salient Stele...It seems very problematic to consider
211
sfbey
17-Jan-15 17:53
Re: Khufu's Salient Stele...It seems very problematic to consider
218
Origyptian
17-Jan-15 22:19
Re: Khufu's Salient Stele...It seems very problematic to consider
209
sfbey
17-Jan-15 17:49
Re: Khufu's Salient Stele...It seems very problematic to consider
229
Martin Stower
18-Jan-15 03:48
Re: Khufu's Salient Stele...It seems very problematic to consider
223
Origyptian
18-Jan-15 08:19
Re: Khufu's Salient Stele...It seems very problematic to consider
271
sfbey
17-Jan-15 17:11
Re: Khufu's Salient Stele...It seems very problematic to consider
218
DUNE
17-Jan-15 17:21
Re: Khufu's Salient Stele...It seems very problematic to consider
189
sfbey
17-Jan-15 17:27
Re: Khufu's Salient Stele...It seems very problematic to consider
211
Morten
17-Jan-15 17:52
Re: Khufu's Salient Stele...It seems very problematic to consider
155
Origyptian
17-Jan-15 18:01
Re: Khufu's Salient Stele...It seems very problematic to consider
251
Morten
17-Jan-15 18:15
Re: Khufu's Salient Stele...It seems very problematic to consider
215
Jon Ellison
17-Jan-15 18:25
Re: Khufu's Salient Stele...It seems very problematic to consider
192
Origyptian
17-Jan-15 18:27
Re: Khufu's Salient Stele...It seems very problematic to consider
178
Jon Ellison
17-Jan-15 18:35
Re: Khufu's Salient Stele...It seems very problematic to consider
253
Morten
17-Jan-15 18:38
Re: Khufu's Salient Stele...It seems very problematic to consider
214
Jon Ellison
17-Jan-15 18:40
Re: Khufu's Salient Stele...It seems very problematic to consider
193
Origyptian
17-Jan-15 19:56
Re: Khufu's Salient Stele...It seems very problematic to consider
125
Origyptian
17-Jan-15 21:07
Re: Khufu's Salient Stele...It seems very problematic to consider
140
Martin Stower
18-Jan-15 01:54
Re: Khufu's Salient Stele...It seems very problematic to consider
122
Jon Ellison
18-Jan-15 02:01
Re: Khufu's Salient Stele...It seems very problematic to consider
174
Martin Stower
18-Jan-15 03:31
Re: Khufu's Salient Stele...It seems very problematic to consider
190
Origyptian
18-Jan-15 08:37
Re: Khufu's Salient Stele...It seems very problematic to consider
198
Origyptian
17-Jan-15 17:59
Re: Khufu's Salient Stele...It seems very problematic to consider
223
sfbey
17-Jan-15 18:09
Re: Khufu's Salient Stele...It seems very problematic to consider
199
Origyptian
17-Jan-15 18:21
Re: Khufu's Salient Stele...It seems very problematic to consider
229
sfbey
17-Jan-15 18:31
Re: Khufu's Salient Stele...It seems very problematic to consider
180
Thanos5150
17-Jan-15 19:02
Re: Khufu's Salient Stele...It seems very problematic to consider
180
Origyptian
17-Jan-15 20:44
Re: Khufu's Salient Stele...It seems very problematic to consider
122
Martin Stower
18-Jan-15 01:37
Re: Khufu's Salient Stele...It seems very problematic to consider
145
Thanos5150
18-Jan-15 03:06
Re: Khufu's Salient Stele...It seems very problematic to consider
119
Martin Stower
18-Jan-15 01:23
Re: Khufu's Salient Stele...It seems very problematic to consider
125
eyeofhorus33
18-Jan-15 09:03
Re: Khufu's Salient Stele...It seems very problematic to consider
103
Origyptian
18-Jan-15 09:51
Re: Khufu's Salient Stele...It seems very problematic to consider
136
MJT
18-Jan-15 18:44
Re: Khufu's Salient Stele...It seems very problematic to consider
129
Origyptian
18-Jan-15 19:35
Re: Khufu's Salient Stele...It seems very problematic to consider
149
Martin Stower
18-Jan-15 19:49
Re: Khufu's Salient Stele...It seems very problematic to consider
117
cladking
18-Jan-15 20:18
Re: Khufu's Salient Stele...It seems very problematic to consider
116
Martin Stower
19-Jan-15 00:09
Re: Khufu's Salient Stele...It seems very problematic to consider
96
cladking
19-Jan-15 00:25
Re: Khufu's Salient Stele...It seems very problematic to consider
124
Martin Stower
19-Jan-15 01:20
Re: Khufu's Salient Stele...It seems very problematic to consider
112
Jon Ellison
19-Jan-15 09:32
Re: Khufu's Salient Stele...It seems very problematic to consider
122
cladking
19-Jan-15 15:48
Re: Khufu's Salient Stele...It seems very problematic to consider
119
Origyptian
19-Jan-15 16:45
Re: Khufu's Salient Stele...It seems very problematic to consider
117
cladking
19-Jan-15 18:28
Re: Khufu's Salient Stele...It seems very problematic to consider
133
Martin Stower
19-Jan-15 21:40
Re: Khufu's Salient Stele...It seems very problematic to consider
108
Jon Ellison
20-Jan-15 00:14
Re: Khufu's Salient Stele...It seems very problematic to consider
134
Martin Stower
20-Jan-15 01:57
Re: Khufu's Salient Stele...It seems very problematic to consider
102
Jon Ellison
20-Jan-15 04:51
Re: Khufu's Salient Stele...It seems very problematic to consider
136
Martin Stower
20-Jan-15 14:56
Re: Khufu's Salient Stele...It seems very problematic to consider
122
Origyptian
20-Jan-15 01:39
Re: Khufu's Salient Stele..CK, using facts and evidence.
118
DScribr
19-Jan-15 18:12
Re: Khufu's Salient Stele..CK, using facts and evidence.
141
cladking
19-Jan-15 18:44
Re: Khufu's Salient Stele...It seems very problematic to consider
158
Origyptian
18-Jan-15 20:21
Re: Khufu's Salient Stele...It seems very problematic to consider
171
Jon Ellison
17-Jan-15 17:59
Re: Khufu's Salient Stele...It seems very problematic to consider
213
sfbey
17-Jan-15 18:14
Re: Khufu's Salient Stele
230
sfbey
16-Jan-15 18:31
Re: Khufu's Salient Stele
212
DUNE
16-Jan-15 18:36
Re: Khufu's Salient Stele
211
sfbey
16-Jan-15 18:41
Re: Khufu's Salient Stele
195
Origyptian
16-Jan-15 18:54
Re: Khufu's Salient Stele
192
Martin Stower
17-Jan-15 01:54
Re: Khufu's Salient Stele
166
Martin Stower
17-Jan-15 02:58
Re: Khufu's Salient Stele=English Politics?!?
157
DScribr
17-Jan-15 04:53
Re: Khufu's Salient Stele=English Politics?!?
91
Martin Stower