Mysteries : The Official GrahamHancock.com forums
For serious discussion of the controversies, approaches and enigmas surrounding the origins and development of the human species and of human civilization. (NB: for more 'out there' posts we point you in the direction of the '
Paranormal & Supernatural
' Message Board).
Though it is not known who built the Pyramid at Meidum, Egyptologists theorize construction was completed in stages possibly beginning with the 3rd Dynasty pharaoh Huni and finished by his alleged son Snefuru, who is also credited with building the Bent and Red pyramids at Dashur as well. Huni remains an enigmatic pharaoh and though well attested historically in later times little is found contemporary with his suggested rein.
Meidum is believed to have have followed the stepped pyramid at Saqqara as the first attempt at building a "true" pyramid" which we are told ultimately ended in dismal failure, possibly never finished, subsequently collapsing sometime during, shortly after, or most likely several hundred years later leaving only it's "exposed core" rising above the rubble of its former self. But is this really what happened?
We have all seen countless pictures of the Pyramid at Meidum and never questioned the idea what we see today must be the "core" of a collapsed pyramid. While figuratively this may be the case, I would suggest that this is only part of the story and what is seen today is not a "core" at all, but rather the original structure as it was initially intended. Look at these pictures:
Go here and look at these pictures carefully:[
egyptphoto.ncf.ca
]
This is clearly not a "core structure" of a master plan, it is the ORIGINAL structure that a pyramid was later poorly retro-fitted on top of just like at Saqqara and G3 and as I would suggest the rest of the Great Pyramids as well. I propose that what we see at Meidum today is a finished stand-alone construction clearly evidenced by the dressed blocks and rough banding motif which is particularly evident when you look at the bottom 1/3 compared to the rest of the structure. If this were not the case there would be no point in dressing and banding the stones of the core this way then finishing it out as a pyramid never to be seen again. This design serves no structural purpose, if only the opposite, as it was obviously devastating for the structural integrity of the outer pyramid. The reason why the pyramid conversion failed is because the additional "true" pyramid layers were built on sand and never meant to be there. The sand settled, the stones shifted, and whenever it happened the result was eventually disastrous and the pyramid "sheathe" slid right off exposing the original structure that we see today.
It is said Meidum was built in stages, which if so what we see today is clearly a finished product, nothing like what would be expected at the core of any pyramid construction if started from scratch. There would be no point in building this, finishing it to look great, then add a pyramid as the last stage. And also, if part of a core of a master planned pyramid, regardless of how many stages, it would no doubt not have survived in the singular shape it is today being a self contained unit unto itself.
It is also worth noting, that Meidum, the supposed 1st "true pyramid", an epic failure, was modeled to the same exact ratios as G1 (or vise versa), an astounding success. It makes one wonder which came first-the chicken or the egg..... Interesting as well, Meidum is known by Arabs as "el-haram el-kaddab"-the "Fake Pyramid". Seems an apt description and likely applicable to all the Great Pyramids.
Regardless, Saqqara and G3 are known to have been made to be pyramids by converting existing structures "assumed" to have been mastabas or smaller pyramids, but I believe it is highly likely that their original structures were little to no different than what is seen at Meidum and were never originally intended to be pyramids nor were they built wholly by the Egyptians.
It is interesting to note that the god Atum, who emerged from the chaos waters (flood?) is considered to be the first god of Egypt whose name is thought to derive from the word "tem" which means to "complete" or "finish". He is depicted as sitting on a "BenBen", a mound that rose from the primordial waters, and was believed to be responsible for lifting the pharaoh's soul from his pyramid to the heavens. He was also a solar deity and the pyramid shape was thought to be representative of the descending rays of the sun. Makes one wonder what "mounds" this sun god associated with pyramids was supposed to be "completing".
Regardless, to accept the core of Meidum as an original structure, there is one particular design feature that must be recognized. The Great Pyramid at Giza incorporates a long passage known as the Grand Gallery most notable for its unique corbel vaulted ceiling.
What is not popularly acknowledged, however, is that this corbel vaulted design is also found at the Red and Bent Pyramids at Dashur.
Red Pyramid:
Bent pyramid: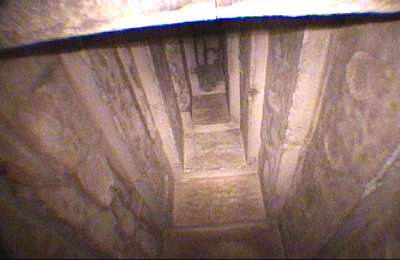 [
guardians.net
]
And as luck would have it the pyramid at Meidum shares this corbel feature as well:
Though G2 and G3 by association with G1 are undoubtedly connected to the same master plan and construction era regardless of not having a corbel ceiling, I believe it is this unique design shared with G1 that also binds the Bent, Red, and Meidum pyramids to this time as well. Obviously this corbel ceiling was part of the original Meidum pre-pyramid structure, long before it was converted, therefore it stands to reason if this is how Meidum once was then so were the other Great Pyramids as well.
What seems evident to me is that the Great Pyramids represent not original constructions, but rather a conversion and completion process of existing structures that began much earlier which even by the Old Kingdom were already in need of repairs. Misinterpretation of their original function by these Egyptians who merely tasked themselves with restoring, completing, and emulating them as best they could, led them to believe these structures represented, at least in part, the Sun and the idea these monuments, once completed and/or restored, likely as most of Giza already was, had the power to transport one's soul to the heavens. They were never meant as "tombs" for one person, but were believed, rightly or wrongly, to be "machines" to accomplish this task which apparently being buried in proximity to one was the goal, not to be buried in one.
** Updated 4-13-2015 in post below.
Post Edited (14-Apr-15 06:11)
Edited 2 time(s). Last edit at 28-May-17 13:49 by Thanos5150.
Sorry, only registered users may post in this forum.