Mysteries : The Official GrahamHancock.com forums
For serious discussion of the controversies, approaches and enigmas surrounding the origins and development of the human species and of human civilization. (NB: for more 'out there' posts we point you in the direction of the '
Paranormal & Supernatural
' Message Board).
From:
www.robertschoch.net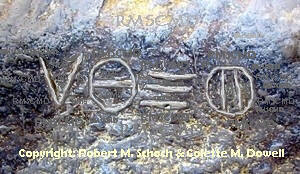 The letters are ancient Greek, reading from right to left:
Ph Ks Th V
equivalent to
Ph Ks Th Y
Looks straightforward.
Ph I Ks , Th Y R A
Phix , is sphinx in the ancient Boeotian dialect - see Kratylos Plato on the correct spelling of sphinx.
Thyra means door or gate(pyle)
So it means sphinx gate or entrance of the sphinx
If one looks deeper one finds other encodings that clearly link it to the Roswell I-beam and the Phaistos disk.
Sorry, only registered users may post in this forum.