Mysteries : The Official GrahamHancock.com forums
For serious discussion of the controversies, approaches and enigmas surrounding the origins and development of the human species and of human civilization. (NB: for more 'out there' posts we point you in the direction of the '
Paranormal & Supernatural
' Message Board).
Scott Creighton wrote:
> GR: I think solutions have been proposed but many here
> don't like the answers.
>
> SC: And here's why: [
www.grahamhancock.com
]
And I've already explained what's wrong with your clunking approach to the palaeography (look it up) of the the Seti temple:
[
www.grahamhancock.com
]
Again: in (good photographs of) the reliefs in Seti's temple,
every identifiable example
of Aa1 ("kh") is an
unlined
disc.
You're now claiming that the disc here is solar?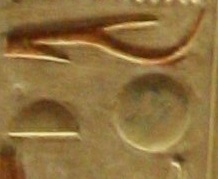 Then why's it painted a different colour to those
in the same relief
which clearly are solar?
Which difference in colour is also exemplified here (click the picture for source):
Did you forget this? Or did you merely never take it in in the first place?
If you're going to cite Budge, try reading him:
The variant shown above is present: end of first line in the entry marked red. (See, you
do
understand colour coding.)
We're not claiming that we know their writing system better than they did, Scott: we're claiming that we know it better than
you
do, which is quite a different thing.
M.
Sorry, only registered users may post in this forum.