Mysteries : The Official GrahamHancock.com forums
For serious discussion of the controversies, approaches and enigmas surrounding the origins and development of the human species and of human civilization. (NB: for more 'out there' posts we point you in the direction of the '
Paranormal & Supernatural
' Message Board).
Scott Creighton wrote:
>
Quote

GR: No Scott, hundreds of your posts show conclusively
> that you are greatly inhibited in your ability to tell. Hence
> your total confusion over Khufu and your made up King
> Raufu.
>
> SC: Made up "King Raufu"? No, Greg - that is what the evidence
> tells me. YOU say the disc in the "Khufu" cartouche at Abydos
> is unfinished, that it would have been painted in order to
> differentiate it from the plain sun disc. Tell me then, Greg -
> how exactly do you use paint to differentiate the "Kh" meaning
> into a king's official seal? And Greg - what do you think,
> logically, would be the best, simplest and most unambiguous way
> of rendering "Kh" into a seal impression from such a seal?
There is no evidence for Raufu. It is a figment of your imagination from your misinterpretation of the hieroglyphs from your total lack of understanding.
The seal is tiny and inscription is not as big as the cartouches on Seneb's family group.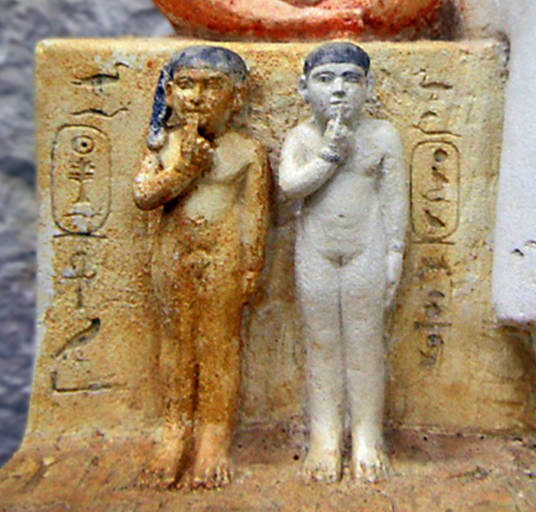 See the cartouche for Djedefre on the left. The sun disc has a dot in it. See the cartouche for Khufu on the right. It has no dot nor paint. Plain circle, exactly like on the seal but bigger. It is not Raufu is it? Exactly like on the seal. It is the kh for Khufu plus it was carved after Khufu was dead. No Raufu. It says Khufu.
The ancient Egyptian weren't confused Scott. It is you who are confused.
Djedfere put a dot in his disc. Where is even one cartouche for your Raufu with a dot in it? Where is your photographic evidence for one dot in the supposed name Raufu?
> We already know - from Sher's research - that "ufu" or "oufou"
> menas "horizon".
You and Sher are comparing the English spelling of an ancient Egyptian hieroglyph with the English spelling of an Arabic word and telling us what?
Khufu does not mean horizon. Ufu is not ancient Egyptian. Do you know what Khufu means Scott? Bet you don't.
> Khufu - Basket of the Horizon.
>
> Or...
>
> Raufu - Sun God of the Horizon.
No such word in ancient Egypt. Another of your inventions. Ufu does not exist as a word in ancient Egypt. Ufu does not exist as a seperate entity in the name Khufu either.
> Given the theory of Dr Hawass that Khufu 'annointed' himself as
> the god Ra during his lifetime, I think the odds are pretty
> good that the plain idsc in Khufu's name is indeed the sun disc
> of "Ra" and NOT the basket glyph.
If he changed his name to Raufu why does it say Khufu on Seneb ?
Carved after he died. If his name had been changed why is he called Khufu?
> You have done nothing here, I'm afraid, to convince me of your
> case.
>
> Regards,
>
> SC
And you have done nothing but make things up from your bone dry reservoir of knowledge about the language of the ancient Egyptians.
Here: "SC: Er - let me make this perfectly clear to you so that there is no misunderstanding. I know precisely ZILCH about AE script and make no pretensions otherwise! I probably never will study it in any detail. It's just not my field of interest."[
www.grahamhancock.com
]
That says it all.
Sorry, only registered users may post in this forum.