Mysteries : The Official GrahamHancock.com forums
For serious discussion of the controversies, approaches and enigmas surrounding the origins and development of the human species and of human civilization. (NB: for more 'out there' posts we point you in the direction of the '
Paranormal & Supernatural
' Message Board).
Hi Gary,
Your argument is similar, but not the same as that of Patrick McCafferty and Mike Balliey of Queens University Belfast (my own university), who in their book, The Celtic Gods, argue that many of the mythic characters (and gods) in the Celtic myths are inspired by close proximity comets. Whats this got to do with Hathor. They suggest that at close quarters, the comet's coma and tail could be seen as the hair of a maiden, with different colours sue to the scattering of light. See this image from their cover for an expalnation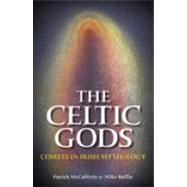 I speculate (and I am in no way suggesting that this is the case, just an interesting aside) that the curling wig of Hathor could have been inspired by this image.
Whats more, to build upon your argument, and to suggest a slightly alternative hypothesis, the ring of debris may not have been around the earth, but may have been associated with the close pass of a comet, or when the earth goes through the cometary debris field after it has passed (the meteor showers we see on the same days each year). For example, it is believed that the 1908 Tunguska blast, and an impact event on the moon in 1975 (both at the end of June), were associated with the taurid stream of meteors, itself being the debris from the comet Encke.
This in itself is interesting. The astronomers Bill Napier and Victor Clube, in their text book (with Mark Bailey), Origin of Comets, and in their popular books, Cosmic Serpent and its sequel Cosmic Winter, postulate that in the last 20,000 years, a large comet (possibly a progenitor of Comet Encke), or comets was/were injected into the inner solar sytem, and which possibly crossed earths orbit (or came close to it), and subsequently fragmented, (with the largest fragmentation event occuring between 200-400 AD). Throughout this time the sky would have been pretty active with comets passing close to the earth (and possibly sparking spectacular fireball events like that seen on 13th November 1833, and possibly even destructive events like Tunkuska, or the 1935 Brazil Event.
The point though to make is that after a close passage of a large comet, the zodiacal light would be brighter and more intense, being more concentrated. Whats more, this intense zodiacal light could have been seen as fresh milk, being spilt in the comets wake.
Finally there have been witness in the recent past to large dust loading events (due to cometary dust) that have turned the sun disk red due to scattering of light.
I recommend getting a copy of The Celtic Gods, because much of the authors thesis can be used to describe similar to your own thesis, but putting the main character as a comet. Thus hathor could be seen as the embodiment of a comet or comets. I think it might be worth while considering this. If you like I can try and give more details when i have time.
Jonny
---
This post was created using 100% recycled electrons
Sorry, only registered users may post in this forum.