Mysteries : The Official GrahamHancock.com forums
For serious discussion of the controversies, approaches and enigmas surrounding the origins and development of the human species and of human civilization. (NB: for more 'out there' posts we point you in the direction of the '
Paranormal & Supernatural
' Message Board).
thinkitover Wrote:
-------------------------------------------------------
> Not there
anymore
, do you mean, anymore
> than anything to the contrary appears to be there
> anymore?
No, this is not what I mean. Compare this section as it leaves the VT (regardless of the fact it has been restored in modern times):
To these: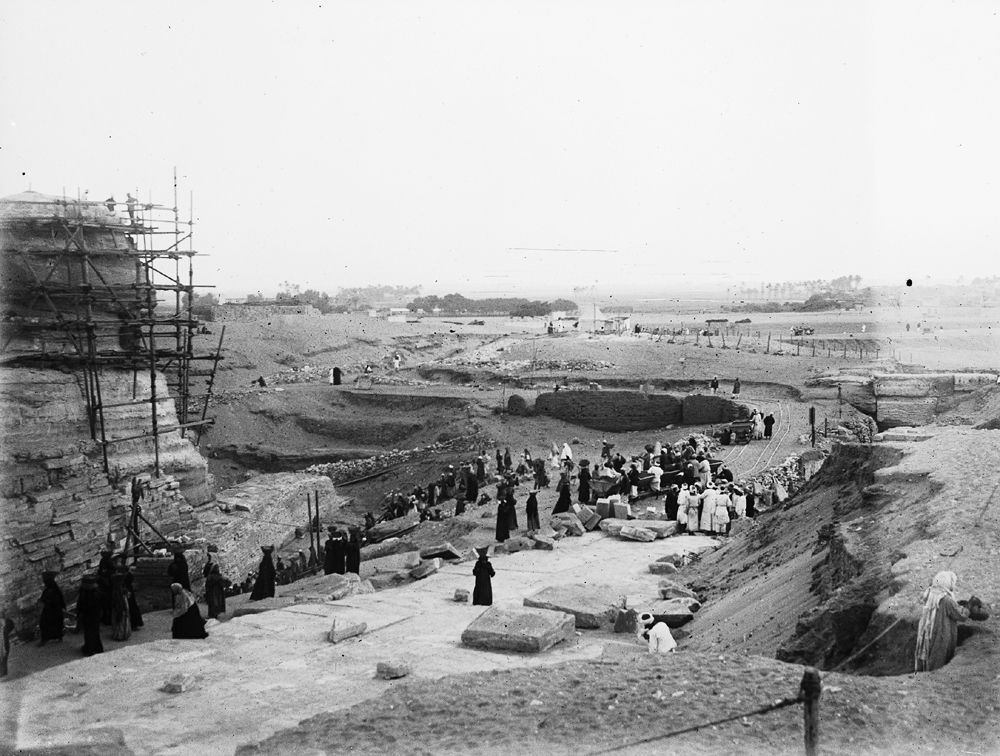 Does it appear to you the walls and path in the first photo is just "missing" from the rest, or perhaps they were never there or at the very least much different i.e the walls being significantly father apart?
> I'm not sure I see so much as one of these mud
> bricks in the photos, let alone walls. Sort of
> looks like the things have been stripped silly.
The mud brick walls as said pertain to G3. Again, they were part of a rather haphazard attempt by Shepsekaf to finish some of the G3 complex in which he also used mud brick to try and complete part of the mortuary temple. Pepi I of the 6th Dynasty also did some work in mud brick to the G3 Valley Temple area. As an aside, what people do not realize is that there were many mud brick structures and repairs to various areas on the Giza plateau that are now gone. You can see some, for example, in the 2nd photo above directly in front of the Sphinx.
> What evidence is there that these causeways were
> roofed, might I ask -
It is inferred by itself and other example's architectural/archaeological remains and assumed to be part of the building program of causeways in general, but the fact is much of this is speculation largely taken from the late 5th Dynasty Pyramid of Unas.
> particularly if there isn't
> a consensus between Egyptologists what they were
> roofed with -
There is a reason why it was suggested it wood though this may be unlikely and was rather had a corbelled mud brick roof.
> or that they actually went
> unfinished?
Unfinished work is very common regardless of whether it being a pyramid complex or not.
> I suppose you could say G1 went unfinished too
> because there's all that casing missing,
You could say that, and I have pondered this myself, though it is not a direct comparison as something that is now gone may have been removed after the fact whereas in the case of the G3 causeway, for example, it is a lack of architectural completeness. A more compelling example to me, which I do see actual evidence for, is that G2's casing was never completed.
> but they
> seem to like me to think that what actually
> happened is that it was plundered and repurposed
> after the fact.
Some of it was for sure.
> Would there be some issue with the idea that the
> original materials used for the causeway walls
> might have been repurposed and later replaced with
> mud bricks, by the way?
No. There is no foundation for stone walls that were replaced by the mud brick.
> Dunno, most of what Steve's saying seems to make a
> lot of sense to me. I can't seem to think of why
> the AEs wouldn't avail themselves of such helpful
> measures.
It makes perfect sense, if not required, the initial ramp that later became the causeway would be the transport route for stone from the Nile. This is not what Steve is proposing, but rather that the causeways we see today were part of his funicular system which there is no evidence for if only to the contrary.
Edited 4 time(s). Last edit at 22-Mar-20 14:56 by Thanos5150.
Sorry, only registered users may post in this forum.