Mysteries : The Official GrahamHancock.com forums
For serious discussion of the controversies, approaches and enigmas surrounding the origins and development of the human species and of human civilization. (NB: for more 'out there' posts we point you in the direction of the '
Paranormal & Supernatural
' Message Board).
Thanos5150 Wrote:
-------------------------------------------------------
> Similar, Tomb of Pashedu:
>
This is from the "book of the dead". In the afterlife the Nile might be cool effervescent water as described in other sources. Just as you believe everything in the PT is from the afterlife it's entirely possible that this applies to later works as well. You presented no evidence Ani is drinking water from the Nile or the Nile in the Elysium Fields. But this is irrelevant in any case at all since we are actually talking about the great pyramid builders and not people from 1000 years later. It is these anachronisms and nonsequiturs that allowed Egyptological methodology.
> Papyrus of Ani-Ani and wife drinking water from a
> stream:
>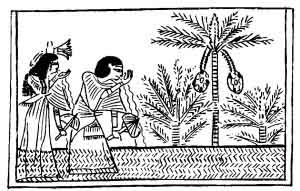 Streams would quickly contain relatively clean water when they began filling.
Remember this is EXACTLY why the cistern in Khentkawestown had a tiny little opening for filling; when water first started it was dirty and most would flow right over the opening but as the stream continued to run the water would improve and fill it.
> And as far as what the man was getting the water
> for, or the point of the article associated with
> that photo, before you say anything else
> irredeemably moronic do yourself and us a favor
> and actually read it.
Taking information from later eras and imposing it on the pyramid builders is exactly how we know they had no water source and they drank very bad water. We saw what happened in the 19th century and used it to invent Egyptology. What anyone today is doing is irrelevant to the pyramid builders. I opened the link to the picture of the man filling a container next to the carcass and never saw that he was drinking it or giving it to others to drink. Of course as I just said, it is irrelevant anyway. The o0nly reason I posted you just -snipped-; to say that Egyptians drink water from treatment plants that are poorly operated and 17,000 children a year die from drinking the water.
In some ways the water was even worse in ancient times. It is likely that some was consumed but the reality is the water would be very dangerous to access and more dangerous to drink in the late spring. It is probable that most people used water from wells for most of the year in the great pyramid building age. There's precious little evidence for anything at all but, again, I'd remind you that the Well Of Joseph near the pyramids dates nearly to the 4th dynasty. Wells low in the valley would have poor water but higher wells would be much better. This water would be better than what most are drinking today. There is even a well so close to the workers village you could throw a stone.
People can drink really bad water but they can get really sick too. I know of no evidence that shows the pyramid builders drank any warm muddy water at all. This is all assumption.
Man fears the pyramid, time fears man.
Edited 4 time(s). Last edit at 18-Mar-20 14:48 by cladking.
Sorry, only registered users may post in this forum.