Mysteries : The Official GrahamHancock.com forums
For serious discussion of the controversies, approaches and enigmas surrounding the origins and development of the human species and of human civilization. (NB: for more 'out there' posts we point you in the direction of the '
Paranormal & Supernatural
' Message Board).
Hello Jacob.
Sirfiroth Wrote:
-------------------------------------------------------
> Hi Lee,
>
> The mathematics is my primary area of interest.
> Secondary is the Sumerian cultures and the
> mathematical information that seems to have been
> traded back and forth between the two
> civilizations. One of the more fascinating aspects
> is the Sumerian 6 x 60 x 60 x 60 subdivisions of a
> circle which seems to be part of that shared
> information. The Royal Egyptian cubit and Kings
> Chamber measures length and width are base in the
> radius and diameter of that 6 x 60 x 60 x 60
> circle.
Interesting. That would be a cool thread for you to start is the shared mathematics between the two and
when
these start appearing or is this 1st found at G1. All this effort spent on Giza and yet when do these standard measures and systems start appearing, like the royal cubit at Saqqara under Djoser, you think would be paramount to the discussion. What is the
history
of these mathematics? As I have discussed before, there appears to be a significant influx of foreign relations, namely with the Levant, again under Khasekhemwy, the last ruler of the 2nd Dynasty. He is credited with building (expanding) massive works such as Shunet ez-Zebib (438ft long and 255ft wide with walls 16ft thich and over 35ft high):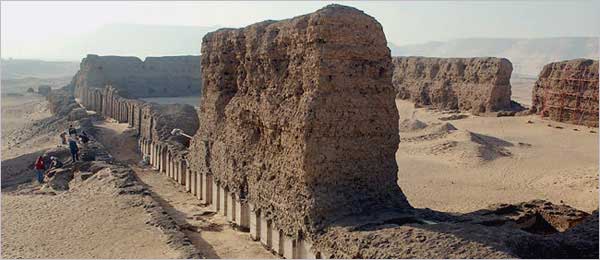 And the "fort" structure at Hierakonpolis: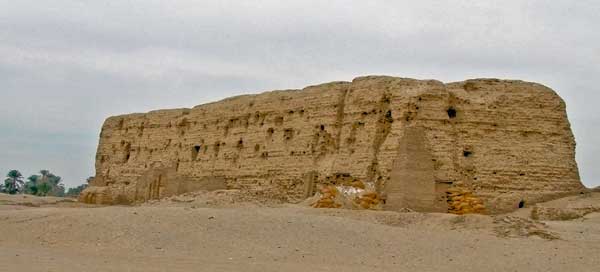 Do these connections appear here and before and if not then it would appear these systems began under Djoser. The question is so then what was their system then
before
this time? Does it have a direct parallel with Mesopotamia.
See here:
Troubles with the 2nd Dynasty.
here:
Khasekhemwy- Bridge to the Pyramid Age
here:
Mesopotamian Origin of the Egyptian Serekh Palace Facade Building
and here:
The Enigma of the Palace Facade Mastabas of the 1st Dynasty
> As said many times before, deciphering Ancient
> Egyptian structural dimensions requires at least a
> basic working knowledge of the their methods and
> demonstrated units of measure. We really are self
> imposing limited thinking when addressing their
> accomplishments by reverting to our mathematical
> methods for study of theirs.
> Through the papyri the Ancient Egyptian present
> explanations accounting for what has survived in
> the arena of their largely ignored mathematics by
> researchers today. Their methods and explanations
> are evidently so at odds with our current system
> we ignore their methods which skews our current
> understanding of their system.
>
> There are many plausible but unprovable
> conjectures along with some very foolish fantasies
> all of which are no substitute for good factual
> research. Ultimately it is evidence and
> understanding that separates plausible hypotheses
> from the unprovable conjecture and foolish
> fantasies. Fortunately all unprovable conjecture
> and foolish fantasies will eventually be abandoned
> and pass from scientific consciousness.
All well said. Could not agree more. Much of this "research" seems more like fan-fiction-fun-with-numbers bordering on some sort of mental disorder.
> Your query regarding the Ubaid Cubit: I will have
> to plead ignorance, since truthfully I know little
> about the Ubaid Cubit.
That is not surprising as the authors of this paper are the ones proposing it.
> A quick search turned up
> little in the way of useful information. If the 72
> cm measure is accurate the Ubaid cubit measures 28
> 1917/5000" and at first look, fractionally does
> not lend itself very well to the Royal Egyptian
> cubit. One thing I can state with certainty is all
> valid cubits lengths, relating to Ancient Egypt
> from the 18 inches of G1 sarcophagus to the 20
> 92/125 of G2 sarcophagus and up through Petrie
> Museum's two 21 inch cubit rods all maintain a
> n/n-1 ratio to its predecessor and/or the Royal
> Egyptian cubit. This n/n-1 ratio is also found
> between the seked of the pyramids both interior
> passageways and exterior gradients.
The question that OP poses is do/how do we find if the Ubaid cubit is present in the structures of the 1st Dynasty not the OK and later as it is understood if the royal cubit did not appear until the 3rd Dynasty they would be different. DE architecture before this time still had to have used a metrology system so what was it? The Sumerian system of complex metrology does not appear until the middle/end of the 4th millennium. In the 1st Dynasty in Egypt we have clearly Mesopotamian inspired architecture which begs the question did they use Sumerian metrology and if not, given the period, perhaps it was based on the Ubaid cubit.
> LOL, I know the feeling you speak of. People, some
> like myself, have a tendency to shy away from
> responding to something they know little or
> nothing about. Others try to change the subject
> hence there is always a series of irrelevant
> responses.
I can understand this to some degree, but in this case one does not need to know much about it as if you have the skills to understand all this other stuff surely you could apply it here, I presume rather simply. If I found an ancient structure with otherwise no history how would I know what system of measurement they used? In this case we assume it was the Ubaid cubit of 72cm. I think this would be something some of you guys would be able to figure out in a jif. What am I not understanding here?
Lee
Sorry, only registered users may post in this forum.