Mysteries : The Official GrahamHancock.com forums
For serious discussion of the controversies, approaches and enigmas surrounding the origins and development of the human species and of human civilization. (NB: for more 'out there' posts we point you in the direction of the '
Paranormal & Supernatural
' Message Board).
Martin Stower Wrote:
-------------------------------------------------------
> The suggestion that this item is a
psš-kf
> was made by Robert Bauval:
>
>
https://www.bibliotecapleyades .net/piramides/esp_piramide_15.htm
Repeated as "fact" by Merrell and not even cited as a source which in reality is
the
source, not the ones cited. Regardless, even Buaval offers "probably". I don't get it.
> He renders the name oddly as "Pesh-en-kef";
> also he states that I. E. S. Edwards agreed with
> the identification.
Orion Mystery
p232:
Quote

I gave Dr Andrews my opinion that the 'tool' was a Pesh-en-kef instrument, and also a sighting device for stellar alignments. Dr Andrews favoured the latter idea, but said that no Pesh-en-kef instrument of this shape was known before the Eighteenth Dynasty. I then showed the diagrams to Dr Edwards in Oxford and he, too, was compelled to support this idea but, unlike Dr Andrews, he recognized the instrument as a type of Pesh-en-kef. Both Rudolf Gantenbrink and I tend to agree with him on this.
Edwards who was in his 80's at the time and died just 2yrs after Orion Mystery was published? Curiously Bauval gives no elaboration as to why Edwards would have been "compelled to support this idea" beyond "recognizing the instrument as a type of Pesh-en-kef" despite the fact it clearly is not nor would there be any reason for it to be there in isolation let alone at all. Something does not smell right.
The further suggestion this was placed there deliberately is just plain nonsense, as again, there would be zero reason to place such an object haphazardly in a sealed shaft let alone without the equally if not more important adze as well as the complete kit of ritual jars.
These are a kit.
And even if so, they would not put this there (with stone ball having nothing to do with any ceremony):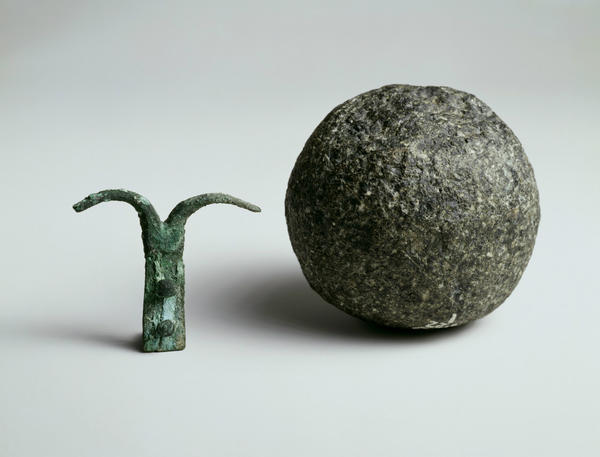 It would be
specifically
something exactly like this:
By this time the Pesh-en-kef is personal and symbolic-not some utilitarian "tool".
Bah. Pure nonsense. Like the stone ball it is a tool left behind.
The QC shaft doors have "handles" with no apparent purpose or means of access:
Backside of one of the doors:
The hook was meant to be affixed to a rod or handle. I have always wondered if this grapnel hook was used to manipulate the handles/rings on the doors which begs the question when and why.
Edited 3 time(s). Last edit at 11-Aug-19 01:46 by Thanos5150.
Sorry, only registered users may post in this forum.