Mysteries : The Official GrahamHancock.com forums
For serious discussion of the controversies, approaches and enigmas surrounding the origins and development of the human species and of human civilization. (NB: for more 'out there' posts we point you in the direction of the '
Paranormal & Supernatural
' Message Board).
1.Like we all learn before us there was dinosaurs....right...ok i say yes but how are they die this is i big question.I agree that asteroid is fall on earth but i dont believe that all dinosaurs on all world are die because of that asteroid .Why i dont believe??
First reason is question what i ask for my self from time when i was very young how is possible that dinosaurs what so big why there is now such big animal on earth now??
There is a lot of explanation on this question but i believe in next.In the time of dinosaurs earth rotation was much slower and because of that, earth gravitation was much smaller, now is 9,81 m/s2 but in that time i believe it was about 4m/s2,and because of that animal on earth in this case dinosaurs have possibility to grow in that great dimension.Why the die...
I believe that when asteroid hit the ground (earth) hi come in very sharp angle and hi hit with so much speed and power that he accelerated the earth rotation. After that dinosaurs what not die from the blast and other things they die because of the gravitation because it rise a double and maybe more.They didnt have possibility to walk any more and this thing hit all dinosaurus on every part of the earth.
I believe that this asteroid come from Mars.There is some text i read that some scientist i think his name is Jacob Armstrong Richardson from NASA is calculate that last now eruption of great Vulcan on Mars i same period when the dinosaur's are die.
Is it possible that great Vulcano Asia mons or OLIMP are have there eruption and send big rock in to the space and after that that rock hit the Earth and spin her waster and kill all dinosaurs??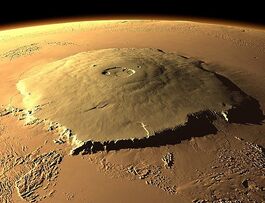 Does this look like great canon to you??
2.Anunaki,if i remember there were very tall
(giants).Is it possible that they were from Mars because on Mars the gravity are about
3,711m/s2 and there is possibility that living beings grown in that size.
Now is question how is possibility that on Mars is possible to live.I believe that in period of
dinosaurs our Sun was stronger and bigger and in this period and Earth and Mars was in green
belt in space where is possible life (not too close not to far away of the SUN).
I believe that the come on earth and made all this great structure on earth and then go
away from Earth.WHY and WERE...I believe that they were constructor of great Pyramid.
Becase the precision of that pyramid is so correct that is almost not possible that made people in Egypt.In my opinion Egyptians were guards of that pyramids noting else. WHY...
Is because the shape of Pyramid is totally like great Vulcan on Mars.
www.space.com/4509-martian-volcanoes-extinct.html
One big and 3 smaller like on Mars one big Vulcano and 3 smaller.
Now we asking for what purpose they build the pyramid??
I believe that they need some source of energy tho be on Earth to send the energy to them or
to keep that source of the energy.
Now i wont to tell you what i think....I believe that they move on Moon because they can easy live over there because the gravity is very low on Moon.I believe that they live on dark side of the moon where we cannot see them.Ok you will say but we was on Moon right but i will aks you why NASA dont made some colony on Moon first to test how the people can live in other planet such us Mars.Why they dont test their technology on our closest planet (moon) why the all test on Earth and hope that that will work on Mars??Maybe because they dont have promision to go on Moon...
3.Ideas is.
I believe that sarkofag in king chamber is have some machine or source of energy and whit that source pyramide work like machine.Where is that source???
I belive that Moses was stolen that source of the energy and whit his people go away from the Egypt.
If you know that dimension of Ark of the Covenant is 125mm x 75mm x 75mm you will see that this dimension is similar the sarkofag from king chamber from pyramide.
Why the pharaon send the army after couple of days( i thing 3 days) to catch the Moses??
Maybe hi find out that Moses stolen the source of the energy from pyramid and try to get him back???
Sorry, only registered users may post in this forum.