Mysteries : The Official GrahamHancock.com forums
For serious discussion of the controversies, approaches and enigmas surrounding the origins and development of the human species and of human civilization. (NB: for more 'out there' posts we point you in the direction of the '
Paranormal & Supernatural
' Message Board).
Scott Creighton Wrote:
-------------------------------------------------------
> Hello Avry,
>
> Yes I'm well, thanks.
>
> And yes - a couple of comments.
>
> First of all I see you have resorted to satellite
> images when I had asked you to use an (accurate)
> plan drawing (of your choice).
A drawing outweighs photography. Check.
> You seemed to have
> ignored all the usual caveats (atmospheric
> distortion, geometric distortion etc) when using
> satellite imagery in this way.
I have ignored nothing. And you're talking about Google Earth the way it 'may' have been when it first came out. What we can do, however, is test the known measures against the GE image, and voila, they match. This makes the photo valid. Shall I post another screen shot showing this to increase your embarrassment? Or, anyone who likes can boot up the program and check for themselves with the measuring tool.
> So, I'll pass on your 'findings'.
What a surprise.:) And without even bothering to verify for yourself, rather choosing an invalid argument to stomp your feet.
Here's a photo *not from Google Earth*, single frame, no stitching, and when overlain onto the same timeline photo used above to flirp your floop it matches exactly, verifying the GE image is pure and correct: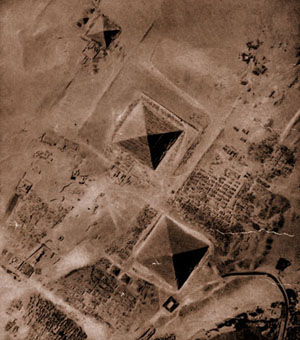 > What I will do, however, is give the final word on
> this to Dr Lehner, who tells us:
>
>
Quote

"A great SW-NE diagonal cuts the diagonal
> of Menkaure's first queen's pyramid, touches the
> SE corner of his pyramid, cuts the diagonal of his
> Mortuary Temple, passes the SE corner of the
> Khafre Pyramid court, cuts the diagonal of the
> fore-temple of Khafre's Mortuary Temple, touches
> the SE corner of Khufu's Pyramid, very nearly cuts
> the diagonal of his first queen's pyramid and ends
> in a large block of masonry built into the
> escarpment." Lehner, M. (1985), A Contextual
> Approach to the Giza Pyramids, Archiv für
> Orientforschung 31: 136-158. §2:1, 143 (PDF
> 9)
>
>
> "These alignments are out by just about the amount
> that we would expect from methods of sighting and
> measuring using long cords across a kilometre of
> sloping plateau." - Lehner, M., TCP,
> p.106
All which turned out poppycock. :) But, nice attempt at deflection. The lines you drew on your 'plan drawing' were quite easily shown as utterly false, so leave Lehner out of it. Photographic proof shows you are faking a set of lines.
> The
intent
of the builders, however, is
> perfectly clear and demonstrates a clear
> homogeneous plan for these pyramids (and the
> Sphinx). The underlying 'design template' for this
> was Orion's Belt. The Lehner-Goedicke line and my
> 2 inter-quarter lines are but a 'legacy' of
>
this
> underlying design
.
Yawn.
(By that, I mean I'm tired.) Goodnight and good luck.
Sorry, only registered users may post in this forum.