Mysteries : The Official GrahamHancock.com forums
For serious discussion of the controversies, approaches and enigmas surrounding the origins and development of the human species and of human civilization. (NB: for more 'out there' posts we point you in the direction of the '
Paranormal & Supernatural
' Message Board).
Hi
This has possibly been mentioned before but from Mr Creighton recent "article" :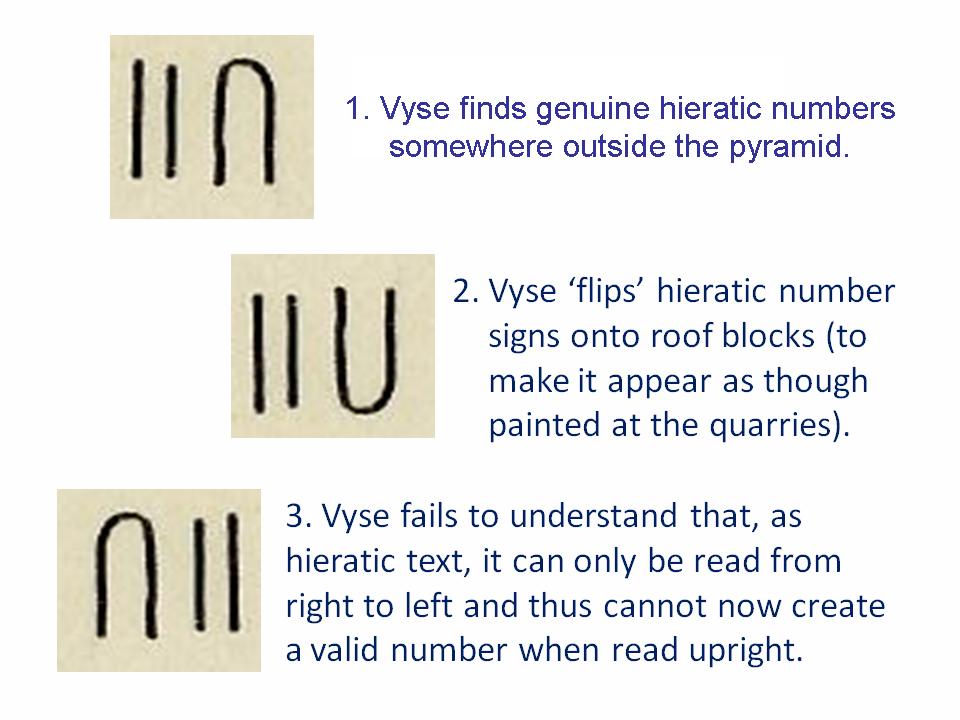 Mr Creighton seems to insist that :
- Vyse "found" cardinal numbers (ie upright )
-Presumably he "found" them somewhere*** associated, with either or both separately, with the
nfr
or
was
sceptre symbol also in a
similar
(edit dissimilar non upright) position.
***"somewhere" perhaps in a very secret never to emerge document?
Surely this 'master fraudster' would have copied such onto paper (ie not just retained in his memory)
NOW, in wishing to fool all comers he decides it ought be upside down to indicate his forgery was made as part of construction and placed upside down.
SO, instead of merely obtaining his piece of paper and turning it upside down..... inexplicably for a super duper fraudster and way ahead of his time interpreter of rudimentary hieratic almost identical to the hieroglyphic equivalent of cardinal numbers.....
….. HE THEN DECIDES (
STUPIDLY
) to place a mirror to his page to determine what it would look like upside down!!!!
?????????????????????????????????
If you don't follow what I am pointing out then look at SC's step one and look at it from the top of your computer screen to mimick "upside down"
now..... do you (ANYONE) see the same thing as SC suggests is step two?
?
Cheers
Edited 1 time(s). Last edit at 16-Jun-18 02:14 by Corpuscles.
Sorry, only registered users may post in this forum.