Mysteries : The Official GrahamHancock.com forums
For serious discussion of the controversies, approaches and enigmas surrounding the origins and development of the human species and of human civilization. (NB: for more 'out there' posts we point you in the direction of the '
Paranormal & Supernatural
' Message Board).
Hanslune Wrote:
-------------------------------------------------------
> This ain't secret material just look it up
> genius.
The equations here are quite complex but more importantly both "concrete" and "limestone" exist on a very wide set of characteristics and parameters. You can look up "limestone" in the Handbook of Chemistry and Physics and get a reasonably good estimation of most of the relevant characteristics but "concrete" is hardly so simple. But even if each characteristic were carefully measured for these specific "stones" the FACT remains the largest determinant of the absorption of solar radiation is COLOR. This color is visible right in the photo with Hawass claiming that concrete is hotter than stone and the photo is NOT CONSISTENT with what he is suggesting. The concrete should apparently be somewhat HOTTER than the surrounding area since some of the area is darker in color and is exposed to more sunlight. Instead it is cooler!!! It is therefore IMPOSSIBLE that the difference is caused by different absorption or exposure.
If you would actually look at the photo you could see heat is emanating from a point or small region rather than from some specific "stone" Hawass claims is causing the anomaly. It takes only two eyes to see that this is intentional misdirection.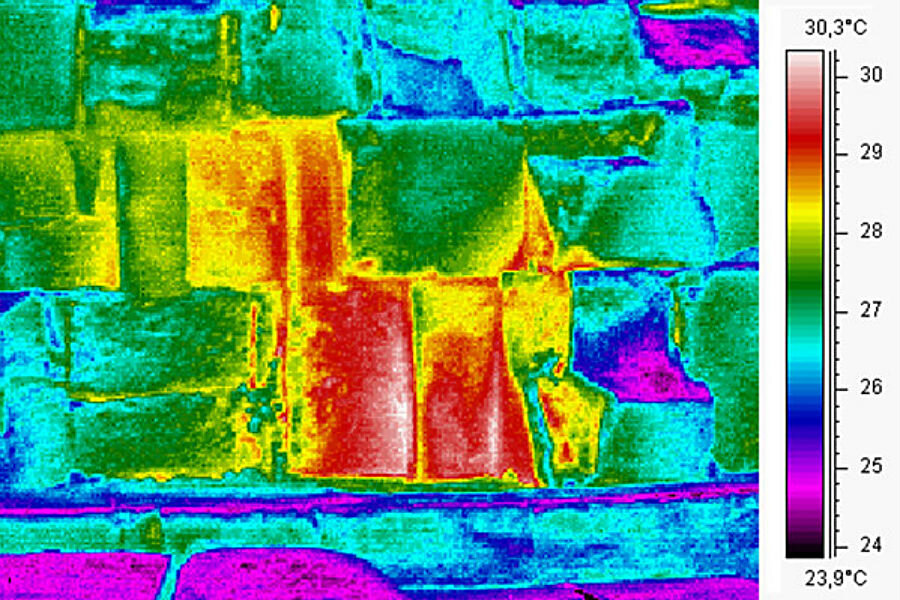 The "stone" Hawass identified as being "hot because it is concrete" is the less hot vertical stone on the upper left of the picture (it is green). It is more exposed to solar radiation and lighter in color than some of the hot stones. HEAT FLOWS ONLY IN ONE DIRECTION FROM HOT TO COLD so that it is concrete is patently irrelevant to why it is hot (and it is barely hot at all).
Egyptology is refusing to release further data AND are refusing to address this existing data. Even Peers are being denied access to this information. Obviously it is far more disruptive to the paradigm than one voice on the web. It was only released initially because they wanted the input of Peers and THEY ACTUALLY SAID SO. Now they want to sweep the whole thing under the rug.
Man fears the pyramid, time fears man.
Edited 7 time(s). Last edit at 26-Feb-20 19:45 by cladking.
Sorry, only registered users may post in this forum.