Mysteries : The Official GrahamHancock.com forums
For serious discussion of the controversies, approaches and enigmas surrounding the origins and development of the human species and of human civilization. (NB: for more 'out there' posts we point you in the direction of the '
Paranormal & Supernatural
' Message Board).
Barbelo Wrote:
-------------------------------------------------------
> I'm surprised that this image of the palace facade
> sarcophagus hasn't inspired any debate as to why
> there was such a departure from the pure aesthetic
> of the Great Pyramid coffer to a foreign style
> unless the dearly departed was perhaps from that
> culture.
The palace facade building depicted on this sarcophagus was typical in the OK apparently after Khufu. This OP may interest you:
Mesopotamian Origin of the Egyptian Serekh Palace Facade Building
. Whether depicted on a sarcophagus or not, this building, or its archetype, is revered since the beginnings of Dynastic Egypt and for long after the OK. For example, on the interior of Unas's pyramid: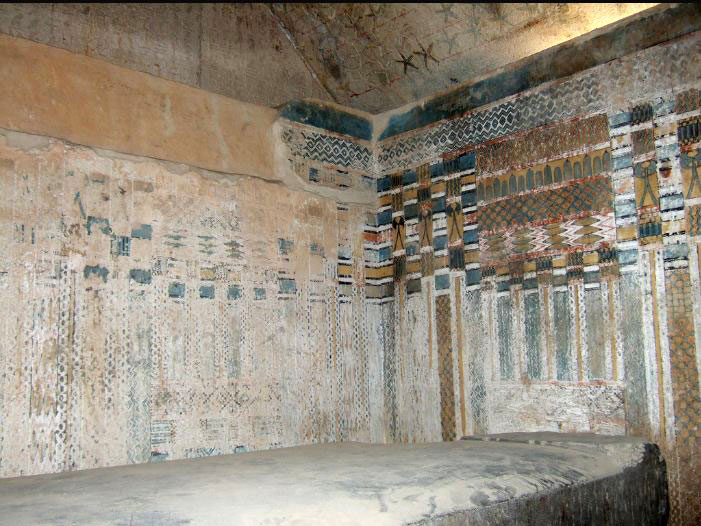 Of note, however, is that his sarcophagus, unlike many others of the period and before, though akin to Khufu and Khafre with no decoration, does not have the PF building on it:
I find this quite interesting. It was so important to paint it all over the walls, but not important enough to make the sarcophagus that way despite the fact it was otherwise normal to do so.
Wood sarcophagi in the 2nd Dynasty and earlier were commonly made in a palace facade design. Note the curved lid typical of later stone counterparts:
If we take an inventory of all stone sarcophagi found from the 3rd Dynasty through the OK, it appears that beginning sometime shortly after Khufu this not only became the norm for sarcophagi, but they were in general quite obsessed with this old building in one form or another. I think this means something just as it means something when an OK pharoah's sarcophagi, like Khufu and Khafre, do not have the PF building.
A thought I have had that I have still not quite worked out yet, as discussed before, is that Djedefre appears to have rekindled the whole boat burying meme, a practice apparently abandoned in the 2nd Dynasty if not before, and first seen in the 1st Dynasty. The serekh features a PF building, I believe it is one and the same as those depicted on later sarcophagi ect, and is the very symbol of archaic Dynastic kingship from Dynasty 0. Taking accepted chronology at face value, Djedefre revitalizes boat burying and it is also with his reign, apparently, that the PF building is incorporated into sarcophagi and becomes a common artistic meme in general-both clear revivalist reverences to the archaic Dynastic period.
Why? What happened at this time that prompted this revivalist veneration of these early icons and practices? It is also at the beginning of the 4th Dynasty that the cartouche is invented and the serekh transitioned away from (though it is still used in some cases) which no longer incorporates the PF building and its associated symbolism which is quite important. My monkey brain is still working it out but no doubt this is all quite important to the continuing tale of the OK.
> This may tie in with the reversion to the mastaba
> after perfecting the pyramid as evidenced in the
> Big Two. The Pyramid of Menkaure somehow seems not
> to fit the pattern. Maybe Shepsekaf who had his
> finger in a couple of pies wasn't who he was said
> to be.
Shepseskaf is an interesting fellow.
Edited 2 time(s). Last edit at 29-Oct-17 02:06 by Thanos5150.
Sorry, only registered users may post in this forum.