Mysteries : The Official GrahamHancock.com forums
For serious discussion of the controversies, approaches and enigmas surrounding the origins and development of the human species and of human civilization. (NB: for more 'out there' posts we point you in the direction of the '
Paranormal & Supernatural
' Message Board).
MDaines Wrote:
-------------------------------------------------------
> Yes, indeed. Very intriguing. Not Wonder Woman,
> but Woven Woman, complete with beard which, in the
> Sumerian style head, would be the symbol KA for
> word/speak/mouth/opening. I've found another
> Sumerian example that confirms this connection
> since we discussed the Sumero-Egyptian head, if
> you remember that. Also the ankhs might be
> interpreted here as three weaving weights. Has
> anyone come up with an explanation for this
> image?
This is the last figure in the line:
Green. AE women, like this one, are more often than not depicted as quite svelte. The women towards the front of the line, including the curious bearded one, are, huh, by comparison "well fed". I believe this is the bookend to the other relief: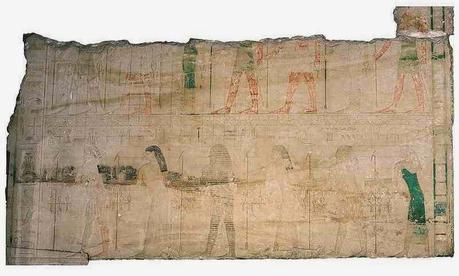 Wonder why this was important to them to make these physical distinctions?
The bearded woman would appear to be a mock pharoah?
As an aside, I would also note the border of stars separating the two registers.
Edited 5 time(s). Last edit at 02-Nov-17 21:28 by Thanos5150.
Sorry, only registered users may post in this forum.