Mysteries : The Official GrahamHancock.com forums
For serious discussion of the controversies, approaches and enigmas surrounding the origins and development of the human species and of human civilization. (NB: for more 'out there' posts we point you in the direction of the '
Paranormal & Supernatural
' Message Board).
Quote
Origyptian quote
"It's interesting that what you seemed to consider to be animal erosion tracks between the ruts in previous images actually fall to the right, and not between, the cart ruts in that last image. So maybe not animal tracks?

Meanwhile, no sign of animal tracks in the cross hatched lines between the ruts.
"
At Ta Cenc, I saw quite no seemingly animal track traces between ruts. But there are not so many rut pairs visible and not along significant distances. The ground is quite flat, no slopes.
I do not consider systematically that any spot between ruts is a trace of hauling animal track. It seems clear that in many cases, there are no traces between the ruts pairs. On the other hand, in other places in Malta (that I saw only on photos)they are clearly visible. So to me, we can discuss until end of times, the point remains open.
In Malta, it seems that you can find evidence of cart animal hauling as well as evidence of no such animal traction. In some places (in book "Cart ruts and their impact on Maltese landscape", photo pages 34-35) you can see both types in the same area, with and without. So what?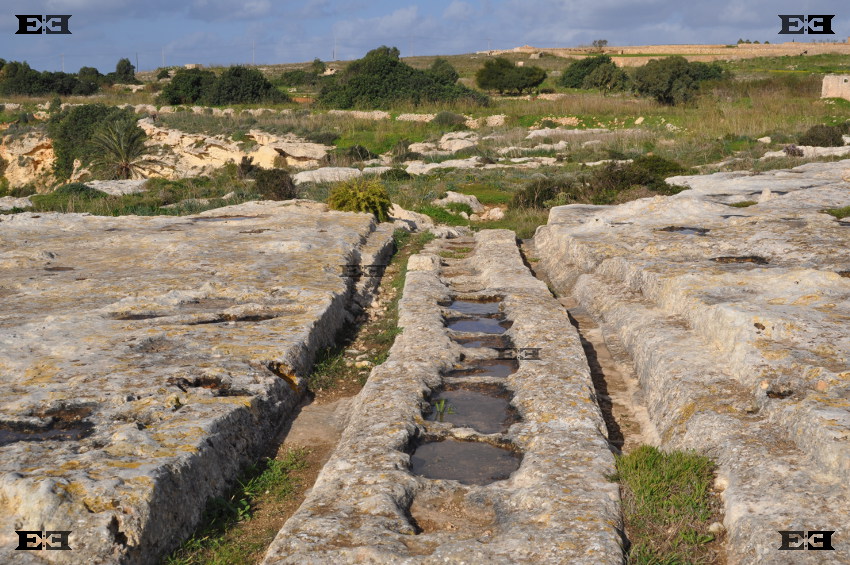 I only said that in the case of Clapham Junction, which I consider to be an ancient quarry, it is quite inconclusive considering how messy and eroded is the whole terrain, including the ruts themselves.
In many cases, you just cannot ask "animal central tracks? yes or no". Just random holes, bumps and cracks.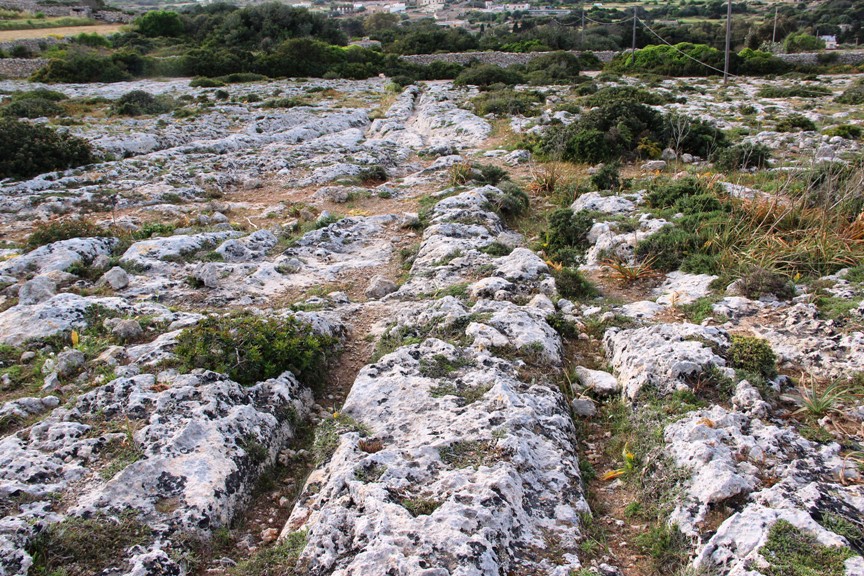 This is what you see when starting visiting the site from the public parking after entrance, at the level of "eastfield farmhouse", no clear patterns and conclusive evidences (in addition you constantly have to look where you put the feet):
And I added in the same case that being a quarry with gentle converging slopes, it appeared to me possible that slabs transportation may have been operated downhill because of converging forks ruts at the bottom of slopes, not at the top. Then you may not need strong animal power to uplift unladen carts or whatever system.
But this explanation suits only in a quarry with moderate slopes like Clapham Junction. Elsewhere, I just can't say. Do you understand my point?
Did they have "railruts" hand cars? :)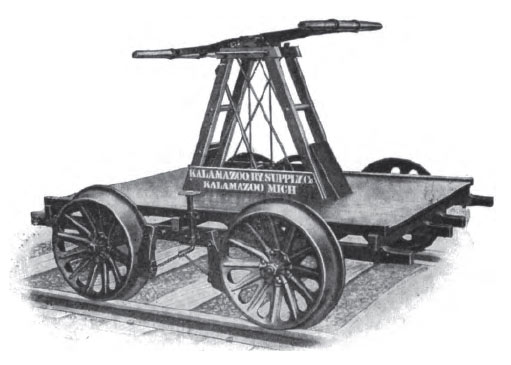 Michel Demaria
Edited 3 time(s). Last edit at 19-Apr-20 09:01 by Mike D.
Sorry, only registered users may post in this forum.