Mysteries : The Official GrahamHancock.com forums
For serious discussion of the controversies, approaches and enigmas surrounding the origins and development of the human species and of human civilization. (NB: for more 'out there' posts we point you in the direction of the '
Paranormal & Supernatural
' Message Board).
You're welcome.
As a complement for all interested (Jon, Tsurugi, Origyptian, Molder, Audrey) here are some views showing what I think is a quarry system of "cutting benches" crossing "cart ruts".
01_Discovering the terrain from the parking area, north-east of Clapham Junction, looking south-west from higher portion of area, note the radar antenna dome on Dingli Cliffs edge is visible in background.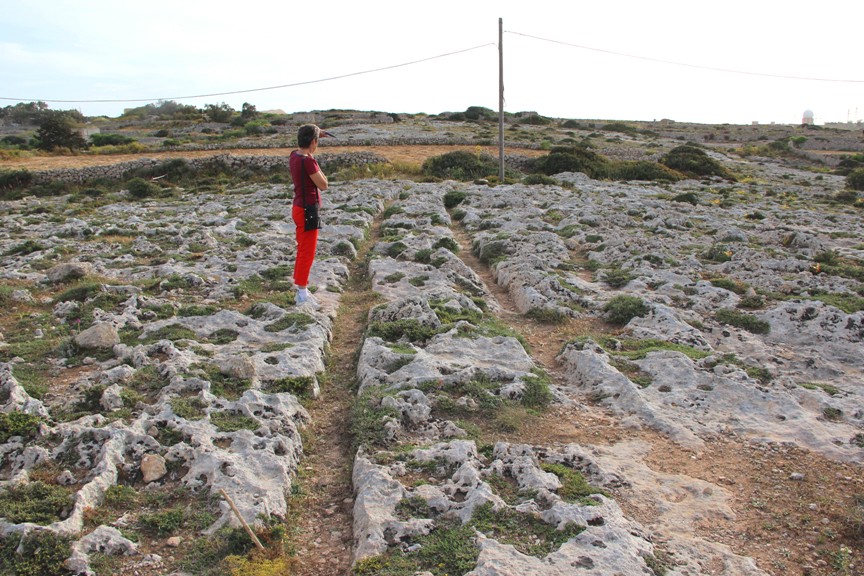 02_Better views when ruts appear more visible, downhill, main junction is behind me, lower.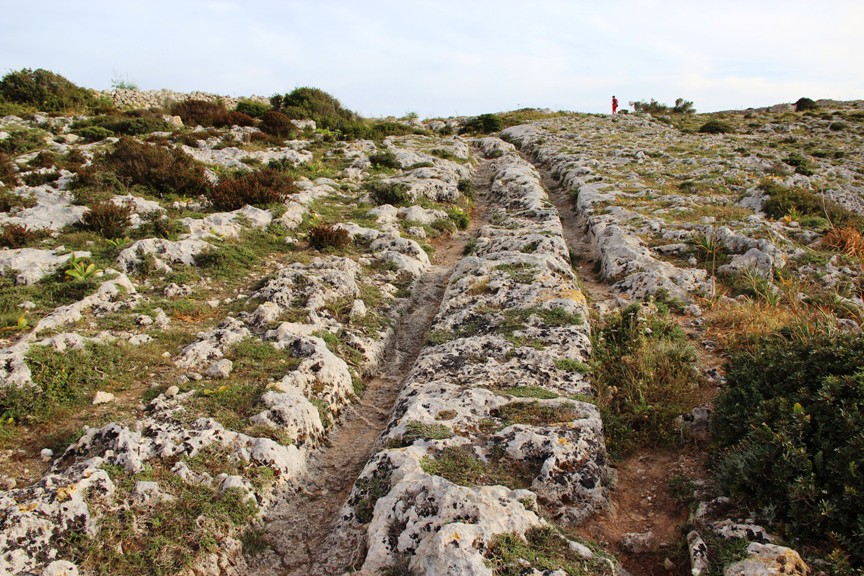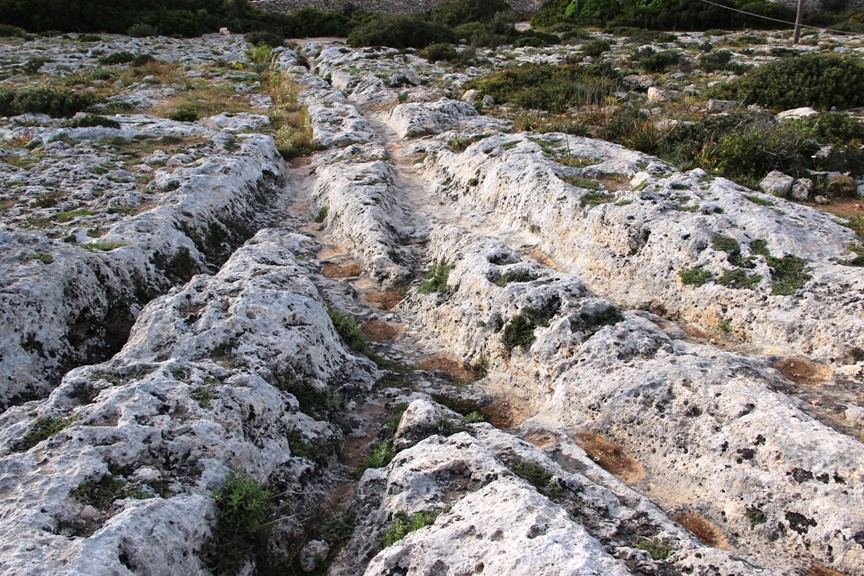 03_Examples of ancient quarries on south-west side of cart ruts zone, medium and smaller size blocks.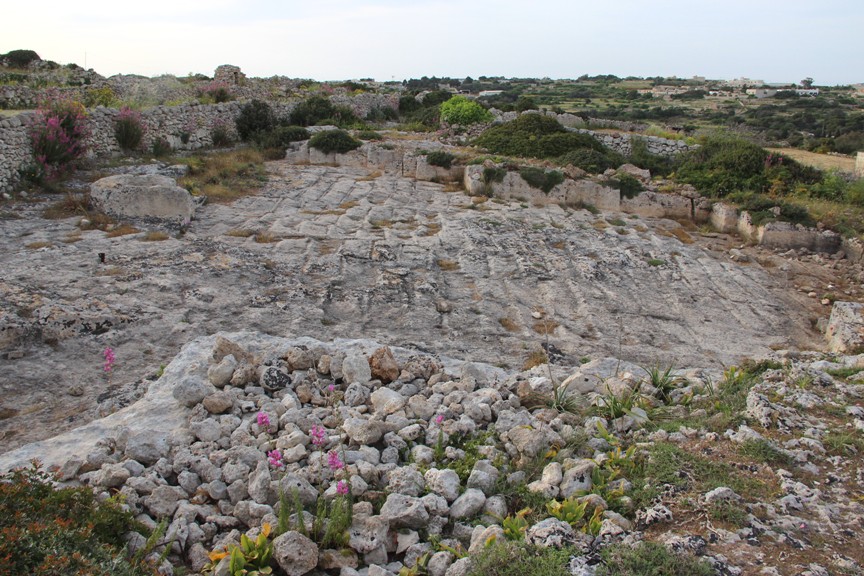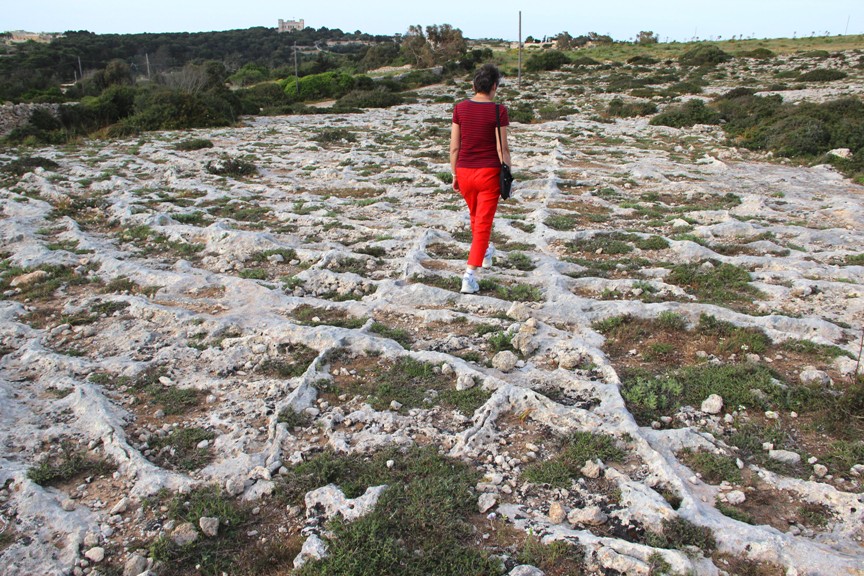 Verdala Palace near Buskett Gardens situated north of Clapham Junction area is visible in background.
04_Little by little the impression of some criss-cross network with two sets of intersecting lines appears, not yet so clear however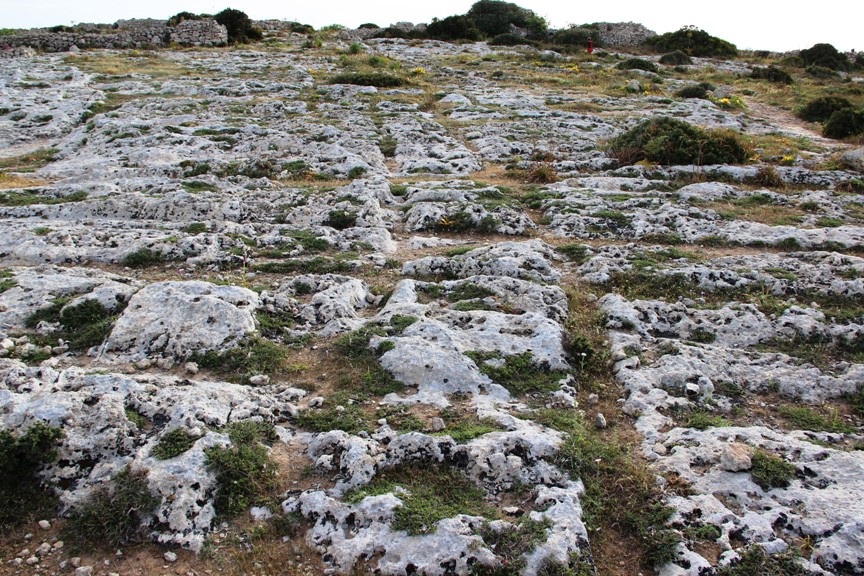 05-from an aerial view, two networks of parallel lines at equal distances between them can be discerned, which are intersected at constant angles by cart ruts network. Those "cart tracks" are also parallel to each other, and will then converge or diverge after leaving the parallel lines network they have crossed. My opinion, after in situ walk is that these "lines networks" are in fact cutting benches for large slabs.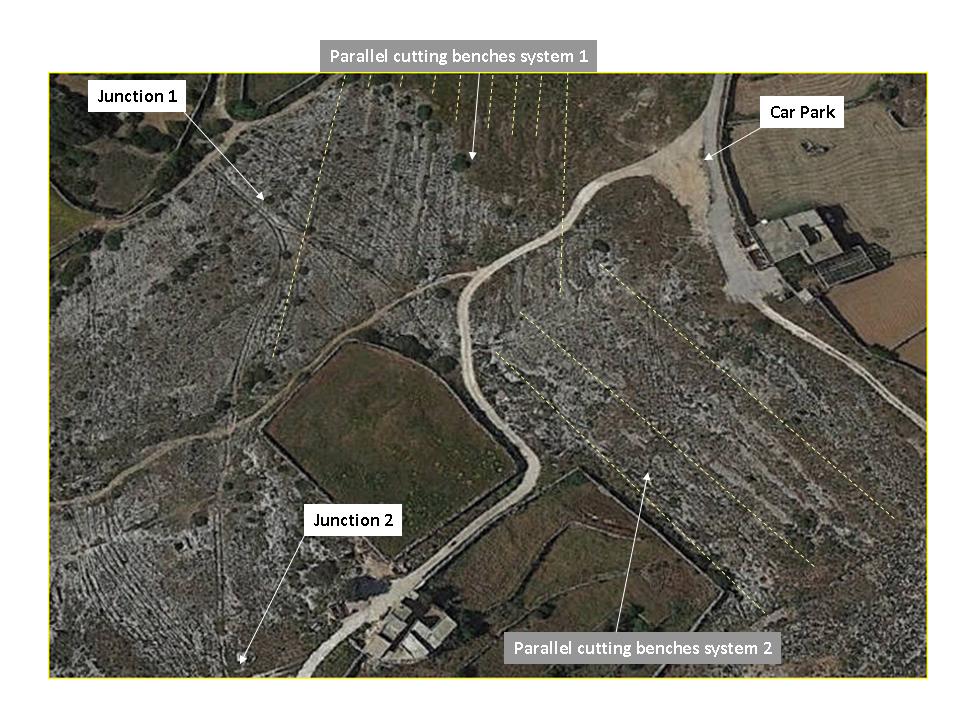 06-The first impression of walking along a linear cutting bench (on the left is the ancient but maybe more recent quarry zone seen in previous images)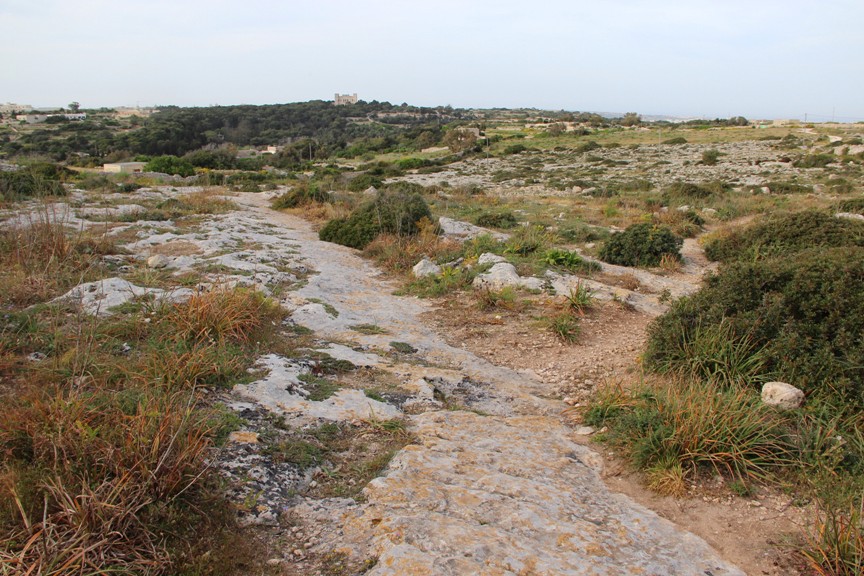 Note the parallel tool marks on foreground, and the perfect levelled aspect of surface at a constant angle.
07-Discovery of parallel benches system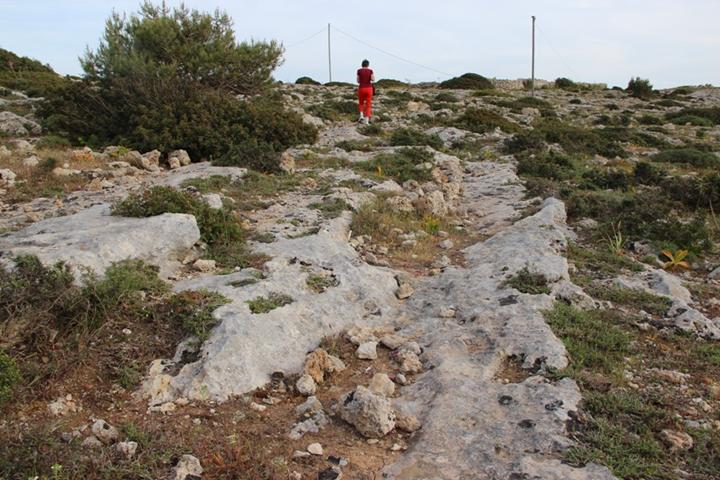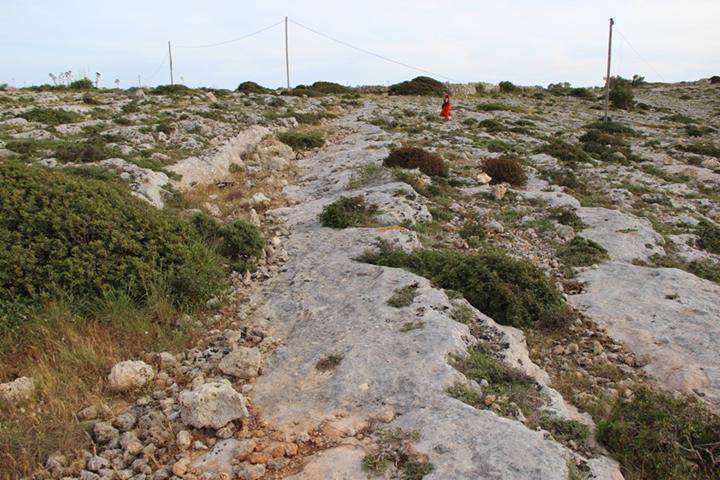 08-Same view with ref. lines superimposed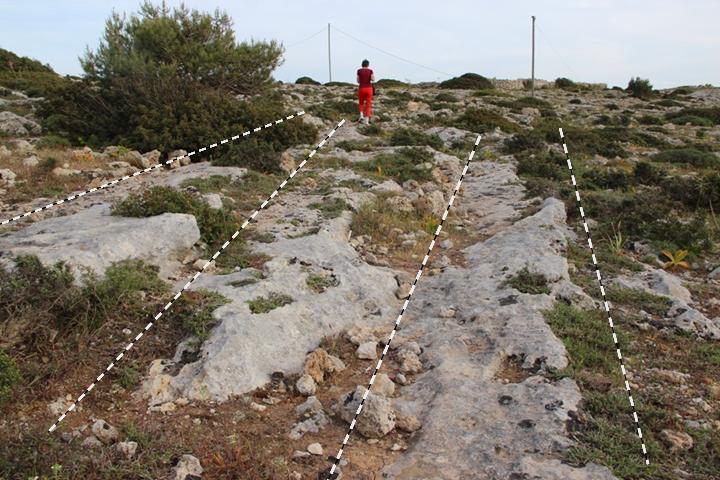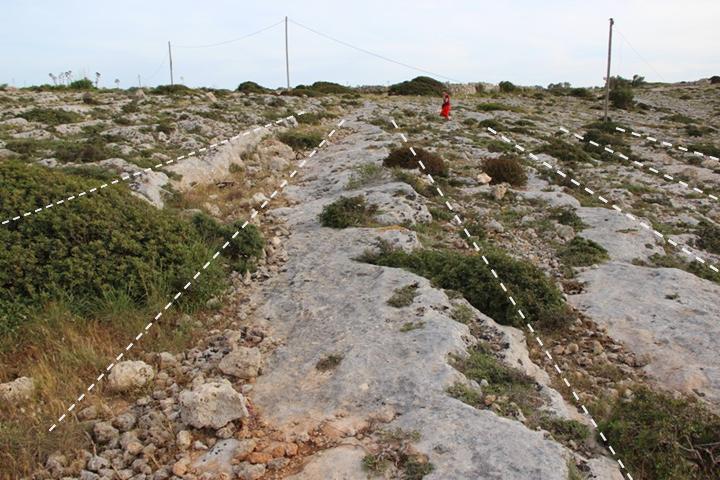 09-Then came the overview of visible crossing benches and ruts system, just above the cart ruts junction.
Cart ruts parallel curves are running downwards from foreground to lower junction, from right to left, and they cross linear benches that you see from left to right.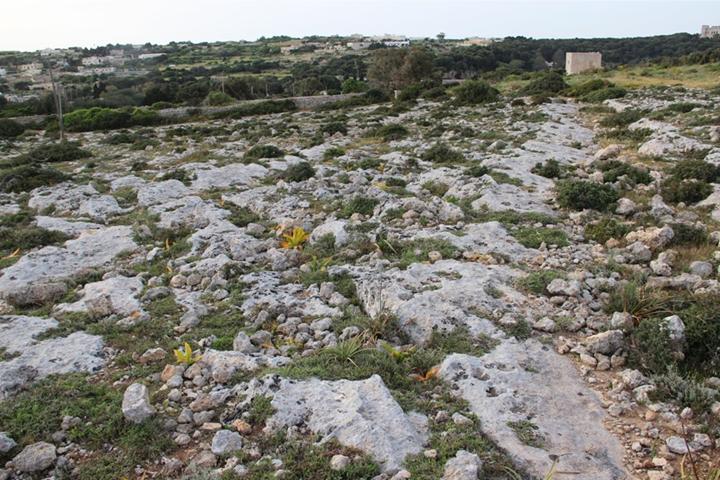 10-Same view with ref. lines on parallel linear cutting benches, then with crossing cart ruts parallel curves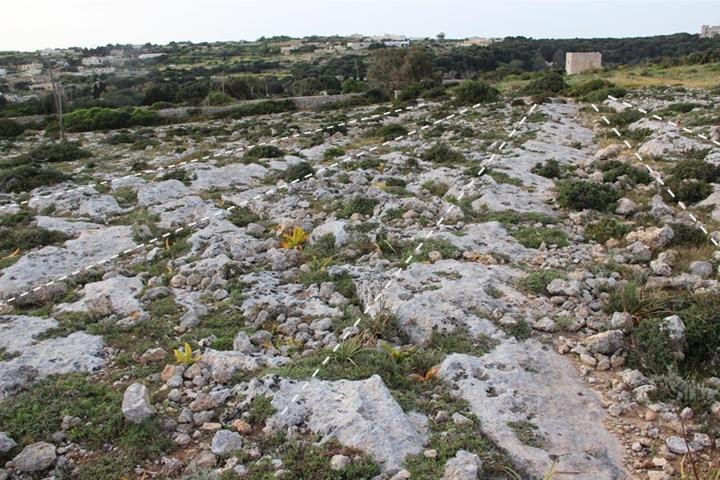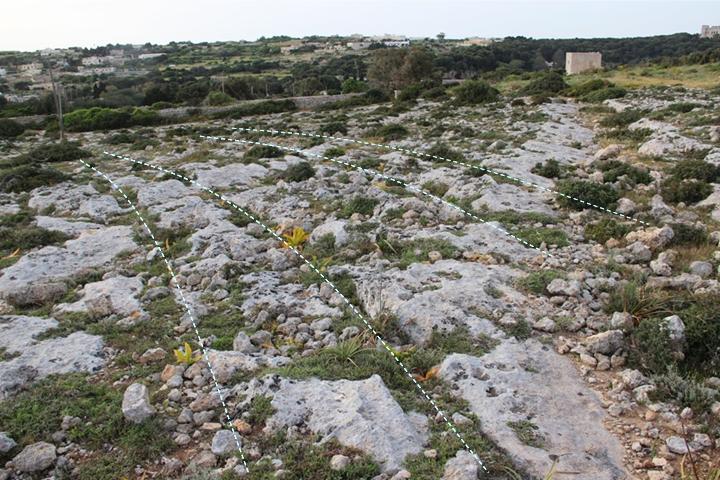 11-Complete view with quarry network of cutting benches lines and cart ruts curves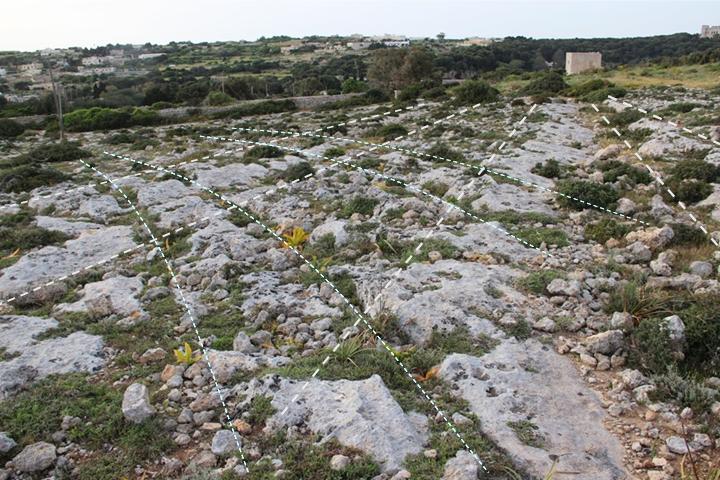 My view is that it makes a clear case of ancient quarry organization. It appears that cutting benches are not deep at all and were used for cutting one depth only of large slabs of moderate thickness.
Michel Demaria
Edited 13 time(s). Last edit at 19-Apr-20 08:41 by Mike D.
Sorry, only registered users may post in this forum.