Mysteries : The Official GrahamHancock.com forums
For serious discussion of the controversies, approaches and enigmas surrounding the origins and development of the human species and of human civilization. (NB: for more 'out there' posts we point you in the direction of the '
Paranormal & Supernatural
' Message Board).
Sorry but I don't agree.
First, in Clapham Junction (Malta) you can find both large and narrow tracks, according to slope and may be also considering varying local resistance of terrain limestone.
Second, as I just answered to Jon, it was surely not a big deal to engrave on initial undisturbed, uneroded, terrain path direction lines to follow, according to quarry organization needs at a given moment, and even to start digging an initial shallow track to be followed. that is limestone, not granite.
Third, concerning traces left by beasts of burden. There remain some places where you can clearly see regular traces in the middle.
But in Clapham Junction slopes, most of terrain is so eroded and disturbed with holes, bumps and cracks in bed rock, that such an assumption, pro or con, is quite impossible to establish as true or false.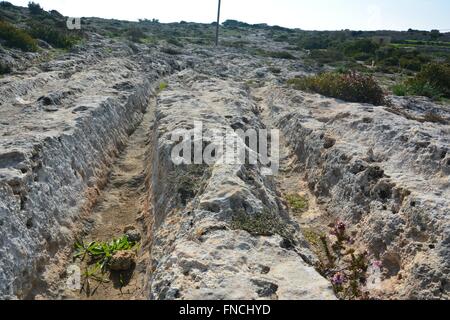 Clapham Junction terrain looks very old and damaged.
And in the case of this site, we don't know if stones were transported downhill or uphill. In the former case, maybe a brakes system was necessary, not a pair of oxen.
Michel Demaria
Edited 3 time(s). Last edit at 27-Nov-17 16:55 by Mike D.
Sorry, only registered users may post in this forum.