Mysteries : The Official GrahamHancock.com forums
For serious discussion of the controversies, approaches and enigmas surrounding the origins and development of the human species and of human civilization. (NB: for more 'out there' posts we point you in the direction of the '
Paranormal & Supernatural
' Message Board).
There are several mixed questions, and often answsers to some go against answers to others.
Let us ask "Are the ruts result of pre-carving tracks network in hard rock, of soft rock wear by repeated passages (possibly random initially,or being the impression of unique and very old passages in a soft ground, which would then have hardened?". We quickly understand that the geological aspect of ground is one of key parameters to take into account.
And then you realize that cart ruts over the world run on much different soils. So naturally bringing divergent and opposite solutions. Are we considering different epochs and technologies, hidden behind apparent similarity?
Then, after the rock nature, comes the age.
To keep inside Malta debate, an important aspect seems to me to have been neglected, the distribution and the frequency of tracks according to the nature of the ground. hereunder are two maps, showing that cart ruts distribution on the island seems much more dense in Upper and Lower Coralline limestone areas than in Globigerina limestone areas.
Geological map: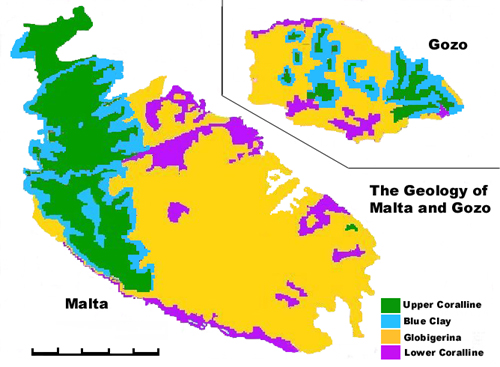 Location map:
There must exist a relation and explanation: Corallina limestone is harder than Globigerina. Was it a more intersting terrain for transportation and/or quarries, did other tracks on globigerina softer rock disappear with erosion?
Informations on Malta layers: [
www.emwis-mt.org
]
Michel Demaria
Edited 1 time(s). Last edit at 17-Jul-19 12:19 by Mike D.
Sorry, only registered users may post in this forum.