Mysteries : The Official GrahamHancock.com forums
For serious discussion of the controversies, approaches and enigmas surrounding the origins and development of the human species and of human civilization. (NB: for more 'out there' posts we point you in the direction of the '
Paranormal & Supernatural
' Message Board).
MDaines as in Madeline Daines,
The Rustle of Stones
. Sorry I missed this article. Need to spend some time with it, but so far very interesting by the way.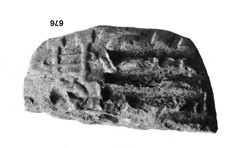 MDaines Wrote:
-------------------------------------------------------
[snip for brevity]
Nice to know you can make some sense of this tablet.
Tablet.
While writing on the back side where the head is is sparse, the writing on the front side and edges is quite extensive by comparison. Any clues to be had? I assume this tablet has something to do with accounting which if there is any mention of some form of trade between party A in relation to party B, this might be a start. Some aspect that implies great distance or a foreign element.
> The style of cuneiform on this tablet is of its
> time but, for me, this character has a distinctly
> Egyptian flavour…the profile with the goatee.
> Where else?
To be fair, it may be Lybia which later examples show goatees of this sort as well:
The vanquished enemies on the Narmer pallette, suggested by some to have been Lybian, also have this goatee which in this depiction are actually overall quite similar to what is depicted on the Sumerian tablet:
Battlefield palette of the same period which appears to show a different group with similar goatee:
As an aside, I would note the right corner of the lower fragment, unfortunately with top broken off, and the long dress of the figure standing next to the bound prisoner which is typical Mesopotamian garb of the period, not Egyptian. Compare to the Dynasty 0/1 period Gebel el-Arak Knife Handle found in Egypt: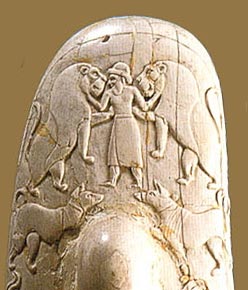 Classic Mesopotamian "master of beasts" motif. This scene shows us a featured, clearly Mesopotamian man, several boats implying sailing more substantial than just casual excursions down the Nile, and a bevy of prisoners of a different culture.
> And yet even integrated into the
> text.
> Sorry not to post photos – don't know how.
> Perhaps the kind doctor will oblige.
If you use the quote button you can see how images are formatted.
So is it fair to say a late predynastic Mesopotamian/Egyptian connection is of particular interest to you?
Edited 3 time(s). Last edit at 03-Jul-17 17:17 by Thanos5150.
Sorry, only registered users may post in this forum.