Mysteries : The Official GrahamHancock.com forums
For serious discussion of the controversies, approaches and enigmas surrounding the origins and development of the human species and of human civilization. (NB: for more 'out there' posts we point you in the direction of the '
Paranormal & Supernatural
' Message Board).
Audrey Wrote:
-------------------------------------------------------
> That painting is not "ancient Chinese".
I agree. It is an
example
of this use of perspective, that is in fact ancient, not lost on Jon apparently as he makes no mention of it and says: "Yes we know about the Chinese [use of perspective], and the Arab traders borrowed it and introduced it into Europe. Yada yada yada." A clue for you might have been the heading under one of the other pictures I posted which gives the date of "Figure 44: Yuan Jiang, Garden for gazing, China,
Qing Dynasty, 1690-1746
. The orthographic [also called "isometric"] projection is more suited to the particularly wide format of handscrolls."
But if you require "ancient" Chinese examples of this use of perspective:
Song Dynasty 960-1279AD:
Artist Zhang Zeduan (1085-1145AD):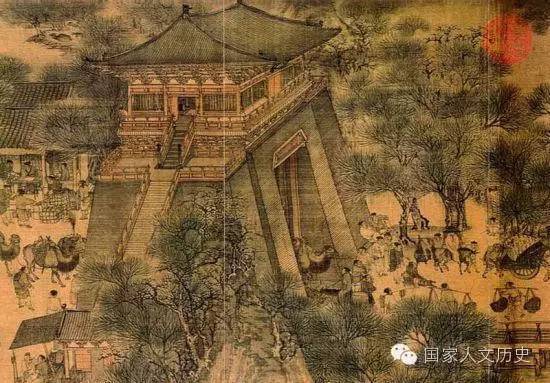 Tang Dynasty 618-907AD:
Sui Dynasty (581-618AD):
Artist Gu Kaizhi 345-406AD:
Six Dynasties Period 220-589AD:
Han Dynasty on Stone 202BC-202AD:
Large
Your posts are getting dumber by the day just as your are becoming more and more irrelevant, if that were even possible at this point, with each vitriolic trip flat on your face.
Edited 2 time(s). Last edit at 22-Apr-17 05:31 by Thanos5150.
Subject
Views
Written By
Posted
The Phyles in the chambers
3919
Audrey
09-Apr-17 03:10
Re: The Phyles in the chambers
681
Thanos5150
09-Apr-17 03:37
Re: The Phyles in the chambers
791
molder
09-Apr-17 03:51
monster of a paradigm
784
cladking
09-Apr-17 03:51
Re: The Phyles in the chambers
747
Origyptian
09-Apr-17 06:09
Re: The Phyles in the chambers
839
Martin Stower
09-Apr-17 12:03
Re: The Phyles in the chambers
548
cladking
09-Apr-17 13:54
Re: The Phyles in the chambers
645
Martin Stower
09-Apr-17 14:34
Re: The Phyles in the chambers
763
cladking
09-Apr-17 15:17
Re: The Phyles in the chambers
589
Martin Stower
09-Apr-17 15:33
Re: The Phyles in the chambers
504
Hanslune
09-Apr-17 21:43
Re: The Phyles in the chambers
609
Origyptian
09-Apr-17 15:02
Re: The Phyles in the chambers
718
Martin Stower
09-Apr-17 15:32
Re: The Phyles in the cham
567
Origyptian
09-Apr-17 16:24
Re: The Phyles in the cham
656
Martin Stower
09-Apr-17 16:49
Nix the Spoon
622
Warwick
09-Apr-17 16:55
Re: The Phyles in the cham
570
Origyptian
09-Apr-17 19:54
Re: The Phyles in the cham
564
Martin Stower
09-Apr-17 20:14
Re: The Phyles in the cham
657
Origyptian
09-Apr-17 20:33
Re: The Phyles in the cham
577
Martin Stower
09-Apr-17 21:36
Re: The Phyles in the cham
504
Warwick
10-Apr-17 16:22
Re: The Phyles in the cham
574
Origyptian
10-Apr-17 18:19
Re: The Phyles in the cham
544
Warwick
10-Apr-17 18:59
Re: The Phyles in the cham
519
Origyptian
10-Apr-17 19:30
Re: The Phyles in the cham
696
Warwick
10-Apr-17 19:39
Hint
659
Martin Stower
09-Apr-17 19:31
Re: Hint
696
Audrey
09-Apr-17 22:04
Re: Hint
618
Merrell
09-Apr-17 22:13
Re: Hint
679
Martin Stower
09-Apr-17 22:19
Re: Hint
632
Merrell
10-Apr-17 08:12
Re: Hint
592
Audrey
11-Apr-17 01:01
Re: Hint
531
Martin Stower
11-Apr-17 01:57
Re: Hint
607
Martin Stower
09-Apr-17 23:00
Re: Hint
528
Audrey
11-Apr-17 01:10
Re: Hint
670
Martin Stower
11-Apr-17 01:46
Re: Hint
514
Audrey
11-Apr-17 02:01
Re: Hint
568
Martin Stower
11-Apr-17 02:25
Re: Hint
685
Warwick
10-Apr-17 16:31
Re: Hint
586
Origyptian
10-Apr-17 18:27
Re: Hint
632
Martin Stower
10-Apr-17 18:35
Re: Hint
588
Warwick
10-Apr-17 18:39
Re: The Phyles in the chambers
618
Thanos5150
09-Apr-17 15:46
Re: The Phyles in the chambers
582
Martin Stower
09-Apr-17 16:03
Re: The Phyles in the chambers
541
Thanos5150
09-Apr-17 16:22
Re: The Phyles in the chambers
646
Warwick
09-Apr-17 16:30
Re: The Phyles in the chambers
564
Origyptian
09-Apr-17 16:40
Re: The Phyles in the chambers
530
Warwick
09-Apr-17 16:48
Re: The Phyles in the chambers
560
sfbey
10-Apr-17 14:29
Re: The Phyles in the chambers
612
Origyptian
10-Apr-17 15:40
Re: The Phyles in the chambers
489
Warwick
10-Apr-17 16:13
Re: The Phyles in the chambers
532
Origyptian
10-Apr-17 18:08
Re: The Phyles in the chambers
552
Martin Stower
10-Apr-17 18:27
Re: The Phyles in the chambers
478
Warwick
10-Apr-17 19:12
Re: The Phyles in the chambers
618
Origyptian
10-Apr-17 21:28
Re: The Phyles in the chambers
544
Warwick
10-Apr-17 19:09
Re: The Phyles in the chambers
695
Origyptian
10-Apr-17 20:09
Re: The Phyles in the chambers
716
Martin Stower
10-Apr-17 20:41
Re: The Phyles in the chambers
573
Origyptian
10-Apr-17 21:05
Re: The Phyles in the chambers
543
sfbey
10-Apr-17 21:20
Re: The Phyles in the chambers
521
Origyptian
10-Apr-17 21:43
Re: The Phyles in the chambers
559
Corpuscles
10-Apr-17 21:39
Re: The Phyles in the chambers
685
Martin Stower
10-Apr-17 21:46
Re: The Phyles in the chambers
542
Origyptian
10-Apr-17 21:52
Re: The Phyles in the chambers
683
Martin Stower
10-Apr-17 22:02
Re: The Phyles in the chambers
575
Origyptian
10-Apr-17 22:15
Re: The Phyles in the chambers
593
Martin Stower
10-Apr-17 22:57
Now the screaming will start
467
Warwick
11-Apr-17 16:45
Re: The Phyles in the chambers
644
Martin Stower
11-Apr-17 01:14
Re: The Phyles in the chambers
481
Warwick
11-Apr-17 16:35
Re: The Phyles in the chambers
499
Origyptian
11-Apr-17 20:34
Re: The Phyles in the chambers
589
Warwick
12-Apr-17 17:02
Re: The Phyles in the chambers
574
sfbey
12-Apr-17 18:29
Re: The Phyles in the chambers
549
Origyptian
12-Apr-17 18:53
Re: The Phyles in the chambers
424
Warwick
12-Apr-17 19:04
Re: The Phyles in the chambers
569
Origyptian
12-Apr-17 19:34
Re: The Phyles in the chambers
491
Warwick
13-Apr-17 16:11
Re: The Phyles in the chambers
563
Origyptian
13-Apr-17 16:28
Re: The Phyles in the chambers
609
sfbey
12-Apr-17 19:38
Re: The Phyles in the chambers
614
R Avry Wilson
13-Apr-17 01:13
Re: The Phyles in the chambers
569
Origyptian
13-Apr-17 02:46
Re: The Phyles in the chambers
478
Warwick
13-Apr-17 16:18
Re: The Phyles in the chambers
593
Origyptian
13-Apr-17 16:36
Re: The Phyles in the chambers
566
Warwick
13-Apr-17 16:53
Re: The Phyles in the chambers
652
Martin Stower
13-Apr-17 10:41
Re: The Phyles in the chambers
456
Warwick
12-Apr-17 19:03
Re: The Phyles in the chambers
606
sfbey
12-Apr-17 19:25
Re: The Phyles in the chambers
499
Warwick
13-Apr-17 16:07
Re: The Phyles in the chambers
551
Audrey
11-Apr-17 02:16
Re: The Phyles in the chambers
571
Origyptian
11-Apr-17 02:37
Re: The Phyles in the chambers
505
Martin Stower
11-Apr-17 02:41
Re: The Phyles in the chambers
565
Origyptian
11-Apr-17 03:01
Re: The Phyles in the chambers
609
Martin Stower
11-Apr-17 08:58
Re: The Phyles in the chambers
544
Warwick
11-Apr-17 16:55
Re: The Phyles in the chambers
566
Audrey
13-Apr-17 04:07
Re: The Phyles in the chambers
471
Warwick
13-Apr-17 16:32
Re: The Phyles in the chambers
559
Origyptian
13-Apr-17 17:20
Re: The Phyles in the chambers
546
Warwick
13-Apr-17 17:24
Re: The Phyles in the chambers
461
Thanos5150
09-Apr-17 17:15
Re: The Phyles in the chambers
444
Warwick
09-Apr-17 17:24
Re: The Phyles in the chambers
642
Thanos5150
09-Apr-17 17:16
Re: The Phyles in the chambers
573
Martin Stower
09-Apr-17 17:22
Re: The Phyles in the chambers
559
Warwick
09-Apr-17 17:37
Re: The Phyles in the chambers
554
Thanos5150
09-Apr-17 17:50
Re: The Phyles in the chambers
520
Warwick
09-Apr-17 18:02
Re: The Phyles in the chambers
642
Thunderbird
09-Apr-17 21:34
Re: The Phyles in the chambers
525
Martin Stower
09-Apr-17 21:44
Re: The Phyles in the chambers
582
Audrey
11-Apr-17 01:43
Re: To big to fail : )
680
Thunderbird
11-Apr-17 04:35
Re: To big to fail : )
508
Martin Stower
11-Apr-17 12:47
Re: To big to fail : )
565
Jon Ellison
11-Apr-17 13:42
Re: To big to fail : )
523
Jon Ellison
11-Apr-17 13:51
Re: To big to fail : )
669
Martin Stower
11-Apr-17 14:10
Re: To big to fail : )
625
Jon Ellison
11-Apr-17 15:49
Re: To big to fail : )
755
Martin Stower
11-Apr-17 16:06
Re: To big to fail : )
556
Warwick
12-Apr-17 17:32
Re: The Phyles in the chambers
704
Audrey
09-Apr-17 23:37
Re: The Phyles in the chambers
543
cladking
10-Apr-17 00:10
Re: The Phyles in the chambers
565
Thanos5150
10-Apr-17 01:09
Re: The Phyles in the chambers
564
Audrey
11-Apr-17 00:50
Re: The Phyles in the chambers
708
Thanos5150
11-Apr-17 03:16
Re: The Phyles in the chambers
754
Martin Stower
11-Apr-17 10:23
Re: The Phyles in the chambers
756
Thanos5150
11-Apr-17 16:06
Re: The Phyles in the chambers
537
Origyptian
11-Apr-17 20:13
Re: The Phyles in the chambers
610
Thanos5150
11-Apr-17 20:34
Re: Egyptians can move mountains
601
Thunderbird
11-Apr-17 19:05
Re: Egyptians can move mountains
604
Jon Ellison
11-Apr-17 19:30
FWIW
601
Warwick
11-Apr-17 19:46
Re: FWIW
604
Origyptian
11-Apr-17 21:02
Nothing up my sleeve...
552
cladking
11-Apr-17 21:09
Mumblejumbled numbers
639
Warwick
12-Apr-17 16:51
Re: Mumblejumbled numbers
652
cladking
12-Apr-17 18:16
Re: Mumblejumbled numbers
559
Warwick
12-Apr-17 19:11
Re: FWIW
612
Martin Stower
11-Apr-17 22:26
Re: Egyptians can move mountains
616
Thunderbird
11-Apr-17 20:02
Re: Egyptians can move mountains
503
Warwick
11-Apr-17 20:17
Re: Egyptians can move mountains
633
cladking
11-Apr-17 21:14
Re: Egyptians can move mountains
655
Warwick
12-Apr-17 17:05
Re: Egyptians can move mountains
500
cladking
12-Apr-17 18:28
Re: The Phyles in the chambers
619
Corpuscles
10-Apr-17 03:35
Re: The Phyles in the chambers
576
eyeofhorus33
10-Apr-17 14:06
Re: The Phyles in the chambers
565
Merrell
10-Apr-17 14:58
Re: The Phyles in the chambers
525
Warwick
10-Apr-17 16:48
Re: The Phyles in the chambers
678
Audrey
11-Apr-17 01:54
Re: The Phyles in the chambers
560
Warwick
11-Apr-17 17:07
Re: The Phyles in the chambers
532
Audrey
11-Apr-17 01:29
Re: The Phyles in the chambers
522
Origyptian
11-Apr-17 02:25
Re: Audrey's thought experiment
825
Corpuscles
12-Apr-17 00:38
Re: Audrey's thought experiment
741
Martin Stower
12-Apr-17 10:20
Re: Audrey's thought experiment
481
Thanos5150
12-Apr-17 16:51
Re: Audrey's thought experiment
449
Warwick
12-Apr-17 17:12
Re: Audrey's thought experiment
579
Thanos5150
12-Apr-17 20:15
Re: Audrey's thought experiment
526
Corpuscles
12-Apr-17 22:16
Re: Audrey's thought experiment
522
Martin Stower
12-Apr-17 23:04
Re: Audrey's thought experiment
759
Audrey
13-Apr-17 03:54
Re: Audrey's thought experiment
711
Corpuscles
13-Apr-17 10:03
Re: Audrey's thought experiment
579
Audrey
14-Apr-17 00:59
Re: Audrey's thought experiment
579
Corpuscles
14-Apr-17 23:20
Re: Audrey's thought experiment
688
Martin Stower
13-Apr-17 12:12
Re: Audrey's thought experiment
609
cladking
13-Apr-17 13:33
Re: Audrey's thought experiment
745
Martin Stower
13-Apr-17 13:48
Your Assumptions Are Showing...
515
cladking
13-Apr-17 17:00
Re: Your Assumptions Are Showing...
532
Martin Stower
13-Apr-17 18:31
Re: Your Assumptions Are Showing...
521
cladking
13-Apr-17 19:45
Re: Your Assumptions Are Showing...
669
Warwick
13-Apr-17 20:08
Re: Your Assumptions Are Showing...
495
Origyptian
13-Apr-17 20:24
Re: Your Assumptions Are Showing...
484
Martin Stower
13-Apr-17 20:46
Re: Your Assumptions Are Showing...
553
cladking
13-Apr-17 20:59
Re: Your Assumptions Are Showing...
611
R Avry Wilson
13-Apr-17 21:14
Re: Your Assumptions Are Showing...
565
cladking
13-Apr-17 21:31
Re: Your Assumptions Are Showing...
555
Origyptian
13-Apr-17 22:00
Re: Your Assumptions Are Showing...
549
R Avry Wilson
13-Apr-17 21:10
Re: Your Assumptions Are Showing...
427
cladking
13-Apr-17 21:43
Re: Your Assumptions Are Showing...
519
Origyptian
13-Apr-17 21:58
Re: Your Assumptions Are Showing...
612
R Avry Wilson
13-Apr-17 22:17
Re: Your Assumptions Are Showing...
511
cladking
13-Apr-17 22:32
Re: Your Assumptions Are Showing...
483
Origyptian
13-Apr-17 23:04
Re: Your Assumptions Are Showing...
490
Martin Stower
13-Apr-17 23:35
Re: Your Assumptions Are Showing...
549
Corpuscles
13-Apr-17 23:52
Re: Your Assumptions Are Showing...
495
Martin Stower
14-Apr-17 00:38
Re: Your Assumptions Are Showing...
545
cladking
14-Apr-17 00:52
Re: Your Assumptions Are Showing...
441
Warwick
17-Apr-17 16:18
Re: Your Assumptions Are Showing...
520
cladking
17-Apr-17 19:23
Re: Your Assumptions Are Showing...
448
cladking
17-Apr-17 19:30
Re: Your Assumptions Are Showing...
593
Tommi
18-Apr-17 17:45
Re: Your Assumptions Are Showing...
478
cladking
18-Apr-17 19:59
Re: Your Assumptions Are Showing...
499
Thanos5150
17-Apr-17 19:30
Re: Your Assumptions Are Showing...
455
Warwick
17-Apr-17 21:43
Re: Your Assumptions Are Showing...
628
R Avry Wilson
14-Apr-17 01:16
Re: Your Assumptions Are Showing...
531
Audrey
14-Apr-17 01:37
Re: Your Assumptions Are Showing...
542
R Avry Wilson
14-Apr-17 01:54
Re: Your Assumptions Are Showing...
499
Audrey
14-Apr-17 02:15
Re: Your Assumptions Are Showing...
533
cladking
14-Apr-17 02:27
Re: Your Assumptions Are Showing...
532
R Avry Wilson
14-Apr-17 03:32
Re: Your Assumptions Are Showing...
512
Audrey
14-Apr-17 04:12
Re: Your Assumptions Are Showing...
599
R Avry Wilson
14-Apr-17 07:22
Re: Your Assumptions Are Showing...
551
Martin Stower
14-Apr-17 11:08
Devil's Advocate:
927
WonderWho
14-Apr-17 11:52
Re: Devil's Advocate:
570
M. J. Thomas
14-Apr-17 18:59
Re: Devil's Advocate:
509
Martin Stower
15-Apr-17 22:54
re names
548
Warwick
17-Apr-17 16:34
Re: Your Assumptions Are Showing...
542
cladking
14-Apr-17 13:43
Re: Your Assumptions Are Showing...
495
Martin Stower
14-Apr-17 10:17
Re: Your Assumptions Are Showing...
554
cladking
14-Apr-17 15:52
Re: Your Assumptions Are Showing...
537
Martin Stower
14-Apr-17 20:57
Re: Your Assumptions Are Showing...
418
Warwick
17-Apr-17 16:39
Re: Your Assumptions Are Showing...
452
Warwick
17-Apr-17 16:23
Re: Your Assumptions Are Showing...
505
cladking
17-Apr-17 19:35
Re: Your Assumptions Are Showing...
377
cladking
14-Apr-17 02:20
Re: Your Assumptions Are Showing...
475
Origyptian
14-Apr-17 16:42
Re: Your Assumptions Are Showing...
450
cladking
14-Apr-17 17:33
Philip, the time waster
650
R Avry Wilson
15-Apr-17 00:42
Re: Philip, the time waster
578
cladking
15-Apr-17 01:38
Re: Philip, the time waster
599
Origyptian
15-Apr-17 21:31
Re: Your Assumptions Are Showing...
560
Thanos5150
14-Apr-17 18:22
Re: Your Assumptions Are Showing...
501
Origyptian
14-Apr-17 20:47
Re: Your Assumptions Are Showing...
584
Martin Stower
14-Apr-17 22:24
Re: Your Assumptions Are Showing...
464
Origyptian
14-Apr-17 22:36
Re: Your Assumptions Are Showing...
551
Martin Stower
14-Apr-17 23:00
Re: Your Assumptions Are Showing...
728
Thanos5150
15-Apr-17 01:42
Re: Your Assumptions Are Showing...
562
Martin Stower
15-Apr-17 09:47
Re: Your Assumptions Are Showing...
766
Thanos5150
15-Apr-17 17:19
Re: Your Assumptions Are Showing...
652
Origyptian
15-Apr-17 19:58
Re: Your Assumptions Are Showing...
645
Martin Stower
15-Apr-17 20:51
Re: Your Assumptions Are Showing...
788
Thanos5150
16-Apr-17 17:43
Re: Your Assumptions Are Showing...
528
Origyptian
16-Apr-17 18:26
Re: Your Assumptions Are Showing...
559
eyeofhorus33
16-Apr-17 20:24
Re: Your Assumptions Are Showing...
428
Origyptian
17-Apr-17 02:16
Re: Your Assumptions Are Showing...
529
Martin Stower
16-Apr-17 22:41
Re: Your Assumptions Are Showing...
479
Thanos5150
17-Apr-17 03:12
Re: Your Assumptions Are Showing...
550
Thanos5150
17-Apr-17 01:59
Re: Your Assumptions Are Showing...
453
Origyptian
17-Apr-17 02:19
Re: Your Assumptions Are Showing...
438
Martin Stower
17-Apr-17 12:42
Re: Your Assumptions Are Showing...
467
Origyptian
17-Apr-17 13:01
Re: Your Assumptions Are Showing...
563
Martin Stower
17-Apr-17 13:43
Re: Your Assumptions Are Showing...
540
Origyptian
17-Apr-17 13:47
Re: Your Assumptions Are Showing...
571
Martin Stower
17-Apr-17 14:37
Re: Your Assumptions Are Showing...
453
Origyptian
17-Apr-17 17:40
Re: Your Assumptions Are Showing...
493
Martin Stower
17-Apr-17 18:16
Re: Your Assumptions Are Showing...
555
Thanos5150
17-Apr-17 16:17
Re: Your Assumptions Are Showing...
511
Martin Stower
17-Apr-17 16:30
Re: Your Assumptions Are Showing...
448
Origyptian
17-Apr-17 17:48
Re: Your Assumptions Are Showing...
601
Martin Stower
17-Apr-17 18:14
Re: Your Assumptions Are Showing...
456
Origyptian
17-Apr-17 18:29
Re: Your Assumptions Are Showing...
532
Thanos5150
17-Apr-17 18:58
Re: Your Assumptions Are Showing...
433
Origyptian
17-Apr-17 19:34
Re: Your Assumptions Are Showing...
400
Martin Stower
17-Apr-17 20:48
Ori goes to a classy restaurant!
607
Corpuscles
17-Apr-17 23:12
Re: Ori goes to a classy restaurant!
523
Origyptian
18-Apr-17 03:46
Re: Ori goes to a classy restaurant!
514
Martin Stower
18-Apr-17 11:07
Re: Your Assumptions Are Showing...
511
Thanos5150
18-Apr-17 00:23
Re: Your Assumptions Are Showing...
503
Origyptian
18-Apr-17 04:04
Re: Your Assumptions Are Showing...
540
Martin Stower
18-Apr-17 11:23
Re: Your Assumptions Are Showing...
534
Origyptian
18-Apr-17 13:06
Re: Your Assumptions Are Showing...
520
Martin Stower
18-Apr-17 13:42
Re: Your Assumptions Are Showing...
511
Thanos5150
18-Apr-17 17:30
Re: Your Assumptions Are Showing...
496
Audrey
19-Apr-17 00:44
Re: Your Assumptions Are Showing...
537
Origyptian
19-Apr-17 01:09
Re: Your Assumptions Are Showing...
594
Thanos5150
19-Apr-17 01:26
Re: Your Assumptions Are Showing...
539
Thanos5150
19-Apr-17 01:13
Re: Your Assumptions Are Showing...
550
Audrey
19-Apr-17 02:07
Re: Your Assumptions Are Showing...
503
Martin Stower
19-Apr-17 11:44
Re: Your Assumptions Are Showing...
533
Warwick
19-Apr-17 16:56
Re: Your Assumptions Are Showing...
541
Martin Stower
20-Apr-17 00:36
Agrest and his sources
511
Merrell
20-Apr-17 12:18
Re: Your Assumptions Are Showing...
511
Origyptian
19-Apr-17 01:01
Re: Your Assumptions Are Showing...
536
Thanos5150
19-Apr-17 02:06
Re: Your Assumptions Are Showing...
624
Audrey
19-Apr-17 02:27
Re: Your Assumptions Are Showing...
614
Origyptian
19-Apr-17 03:30
Re: Your Assumptions Are Showing...
478
Thanos5150
19-Apr-17 04:40
Re: Your Assumptions Are Showing...
482
Thanos5150
19-Apr-17 06:06
Re: Your Assumptions Are Showing...
525
Origyptian
19-Apr-17 15:45
Re: Your Assumptions Are Showing...
492
Corpuscles
19-Apr-17 10:11
Re: Your Assumptions Are Showing...
612
Morten
19-Apr-17 11:24
Re: Your Assumptions Are Showing...
486
Corpuscles
19-Apr-17 11:38
Re: Your Assumptions Are Showing...
451
cladking
19-Apr-17 15:16
Re: Your Assumptions Are Showing...
537
Martin Stower
20-Apr-17 00:59
Re: Your Assumptions Are Showing...
518
Hanslune
20-Apr-17 02:39
Re: Your Assumptions Are Showing...
703
Martin Stower
20-Apr-17 08:09
Roman capabilities
527
Warwick
18-Apr-17 15:37
Re: Roman capabilities
473
Origyptian
18-Apr-17 16:04
Re: Roman capabilities
420
Warwick
18-Apr-17 18:04
Re: Roman capabilities
451
Origyptian
18-Apr-17 18:09
ahhhh. an attack. how droll
418
Warwick
18-Apr-17 20:25
Re: ahhhh. an attack. how droll
437
Origyptian
18-Apr-17 21:27
Re: ahhhh. an attack. how droll
403
Warwick
19-Apr-17 13:49
Stuck in a time warp
506
Audrey
18-Apr-17 03:35
Re: Stuck in a time warp
350
Martin Stower
18-Apr-17 10:56
Re: Stuck in a time warp
427
Audrey
19-Apr-17 01:04
Re: Stuck in a time warp
365
Martin Stower
19-Apr-17 09:49
Re: Your Assumptions Are Showing...
434
Thanos5150
17-Apr-17 16:00
Re: Your Assumptions Are Showing...
407
Origyptian
17-Apr-17 02:25
Experiment terminated
367
Martin Stower
17-Apr-17 12:52
Re: Your Assumptions Are Showing...
465
Jon Ellison
16-Apr-17 21:37
Re: Your Assumptions Are Showing...
504
Merrell
16-Apr-17 22:45
Re: Your Assumptions Are Showing...
619
Thanos5150
17-Apr-17 03:59
Re: Your Assumptions Are Showing...
565
Jon Ellison
17-Apr-17 08:07
Re: Your Assumptions Are Showing...
460
Thanos5150
17-Apr-17 15:36
Re: Your Assumptions Are Showing...
410
Warwick
17-Apr-17 22:01
Re: Your Assumptions Are Showing...
488
Jon Ellison
18-Apr-17 08:13
Re: Your Assumptions Are Showing...
302
Thanos5150
18-Apr-17 18:10
Re: Your Assumptions Are Showing...
528
Jon Ellison
19-Apr-17 00:41
Re: Your Assumptions Are Showing...
619
sfbey
19-Apr-17 14:30
Re: Your Assumptions Are Showing...
576
Jon Ellison
19-Apr-17 15:18
Re: Your Assumptions Are Showing...
342
cladking
19-Apr-17 15:48
Re: Your Assumptions Are Showing...
511
sfbey
19-Apr-17 15:57
Re: Your Assumptions Are Showing...
645
Thanos5150
19-Apr-17 17:22
Re: Your Assumptions Are Showing...
504
Thanos5150
19-Apr-17 17:35
Re: Your Assumptions Are Showing...
603
Origyptian
19-Apr-17 22:32
Re: Your Assumptions Are Showing...
385
Thanos5150
19-Apr-17 23:15
Re: Your Assumptions Are Showing...
421
Origyptian
19-Apr-17 23:21
Re: Your Assumptions Are Showing...
391
Warwick
20-Apr-17 16:57
Re: Your Assumptions Are Showing...
445
Origyptian
20-Apr-17 17:18
The Pyramids were NOT a secret
419
Warwick
20-Apr-17 17:50
Re: The Pyramids were NOT a secret
424
Origyptian
20-Apr-17 18:27
Re: The Pyramids were NOT a secret
334
Martin Stower
20-Apr-17 19:11
Re: The Pyramids were NOT a secret
367
Origyptian
20-Apr-17 19:29
Re: The Pyramids were NOT a secret
455
Martin Stower
20-Apr-17 22:15
Re: The Pyramids were NOT a secret
445
Origyptian
21-Apr-17 04:37
Re: The Pyramids were NOT a secret
365
Martin Stower
21-Apr-17 08:26
Flat, Oblique, Isometric, Single Point Linear, Two Point Linear
418
Jon Ellison
21-Apr-17 09:20
Mathematical bases of ancient Egyptian architecture and graphic art
591
sfbey
21-Apr-17 14:19
Re: Flat, Oblique, Isometric, Single Point Linear, Two Point Linear
334
Warwick
21-Apr-17 17:30
Re: Flat, Oblique, Isometric, Single Point Linear, Two Point Linear
380
Origyptian
21-Apr-17 19:37
Re: Flat, Oblique, Isometric, Single Point Linear, Two Point Linear
530
Warwick
22-Apr-17 15:53
Re: Flat, Oblique, Isometric, Single Point Linear, Two Point Linear
401
Origyptian
23-Apr-17 02:06
Re: Flat, Oblique, Isometric, Single Point Linear, Two Point Linear
301
Warwick
23-Apr-17 16:18
Re: Your Assumptions Are Showing...
358
Martin Stower
20-Apr-17 18:20
Re: Your Assumptions Are Showing...
381
Origyptian
20-Apr-17 18:44
Re: Your Assumptions Are Showing...
319
sfbey
20-Apr-17 19:03
Re: Your Assumptions Are Showing...
486
Martin Stower
20-Apr-17 19:16
Re: Your Assumptions Are Showing...
304
Martin Stower
20-Apr-17 19:31
Re: Your Assumptions Are Showing...
374
Martin Stower
20-Apr-17 17:52
Re: Your Assumptions Are Showing...
374
Origyptian
20-Apr-17 18:38
Re: Your Assumptions Are Showing...
327
Martin Stower
20-Apr-17 19:34
Re: Your Assumptions Are Showing...
574
Thanos5150
19-Apr-17 23:44
Re: Your Assumptions Are Showing...
349
Jon Ellison
19-Apr-17 18:19
Re: Your Assumptions Are Showing...
517
Thanos5150
19-Apr-17 19:45
Re: Your Assumptions Are Showing...
558
Jon Ellison
19-Apr-17 21:47
Re: Your Assumptions Are Showing...
438
Thanos5150
19-Apr-17 22:33
Re: Your Assumptions Are Showing...
444
Warwick
20-Apr-17 17:17
Re: Your Assumptions Are Showing...
510
Thanos5150
20-Apr-17 17:57
Principles of Egyptian Art
350
sfbey
20-Apr-17 18:49
Re: Your Assumptions Are Showing...
444
Jon Ellison
20-Apr-17 18:53
Re: Your Assumptions Are Showing...
459
Jon Ellison
20-Apr-17 19:28
Re: Your Assumptions Are Showing...
593
Thanos5150
20-Apr-17 20:24
Re: Your Assumptions Are Showing...
395
Thanos5150
20-Apr-17 20:43
Re: Your Assumptions Are Showing...
351
Origyptian
20-Apr-17 21:29
Re: Your Assumptions Are Showing...
472
Thanos5150
20-Apr-17 23:55
Re: Your Assumptions Are Showing...
510
R Avry Wilson
21-Apr-17 01:32
Re: Your Assumptions Are Showing...
537
Audrey
21-Apr-17 03:02
Re: Your Assumptions Are Showing...
403
Warwick
21-Apr-17 06:38
Re: Your Assumptions Are Showing...
337
Origyptian
21-Apr-17 04:56
Re: Your Assumptions Are Showing...
369
Corpuscles
21-Apr-17 06:36
Re: Your Assumptions Are Showing...
355
Corpuscles
21-Apr-17 06:08
Re: Your Assumptions Are Showing...
392
Thanos5150
21-Apr-17 06:44
The willfully blind do not see
407
Warwick
21-Apr-17 07:07
Re: The willfully blind do not see
368
Thanos5150
21-Apr-17 16:27
Re: The willfully blind do not see
417
Warwick
21-Apr-17 17:07
Re: The willfully blind do not see
385
Thanos5150
21-Apr-17 18:12
Re: The willfully blind do not see
452
eyeofhorus33
21-Apr-17 21:15
Re: The willfully ignorant do not learn
486
Audrey
22-Apr-17 02:29
Re: The willfully ignorant do not learn
623
Thanos5150
22-Apr-17 05:23
Re: The willfully ignorant do not learn
409
Jon Ellison
22-Apr-17 09:13
Re: The willfully ignorant do not learn
439
Jon Ellison
22-Apr-17 09:22
Re: The willfully ignorant do not learn
378
Jon Ellison
22-Apr-17 10:26
Re: The willfully ignorant do not learn
399
Jon Ellison
22-Apr-17 10:46
Re: The willfully ignorant do not learn
535
Jon Ellison
22-Apr-17 11:42
Re: The willfully ignorant do not learn
702
Origyptian
22-Apr-17 14:02
Re: The willfully ignorant do not learn
375
cladking
22-Apr-17 14:45
Re: The willfully ignorant do not learn
529
Jon Ellison
22-Apr-17 15:05
Re: The willfully ignorant do not learn
469
Origyptian
22-Apr-17 15:17
Re: The willfully ignorant do not learn
398
Jon Ellison
22-Apr-17 15:20
Re: The willfully ignorant do not learn
436
Thanos5150
22-Apr-17 15:46
Re: The willfully ignorant do not learn
346
Jon Ellison
22-Apr-17 16:07
Re: The willfully ignorant do not learn
426
Jon Ellison
22-Apr-17 16:56
Re: The willfully ignorant do not learn
393
Thanos5150
22-Apr-17 17:33
Re: The willfully ignorant do not learn
309
R Avry Wilson
22-Apr-17 19:38
Re: The willfully ignorant do not learn
523
cladking
22-Apr-17 19:46
Re: The willfully ignorant do not learn
376
cladking
22-Apr-17 19:54
Re: The willfully ignorant do not learn
370
Audrey
22-Apr-17 20:26
Re: The willfully ignorant do not learn
337
cladking
22-Apr-17 21:17
Re: The willfully ignorant do not learn
506
Audrey
22-Apr-17 20:36
Re: The willfully ignorant do not learn
324
cladking
22-Apr-17 21:21
Re: The willfully ignorant do not learn
382
Origyptian
22-Apr-17 13:51
Re: The willfully ignorant do not learn
429
Thanos5150
22-Apr-17 16:45
How this is relevant
423
Warwick
22-Apr-17 16:51
Re: How this is relevant
483
Origyptian
23-Apr-17 02:09
Re: How this is relevant
381
Warwick
23-Apr-17 15:43
Re: The willfully ignorant do not learn
398
Warwick
22-Apr-17 16:00
Direct questions to self appointed "alt' spokeswoman
466
Corpuscles
22-Apr-17 21:39
Re: Direct questions to self appointed "alt' spokeswoman
468
Origyptian
23-Apr-17 03:39
Re: Direct questions to self appointed "alt' spokeswoman
342
Corpuscles
23-Apr-17 07:19
Re: Direct questions to self appointed "alt' spokeswoman
522
Origyptian
23-Apr-17 13:51
Re: Direct questions to self appointed "alt' spokeswoman
375
Martin Stower
23-Apr-17 14:38
Re: Direct questions to self appointed "alt' spokeswoman
389
Origyptian
23-Apr-17 15:03
Re: Direct questions to self appointed "alt' spokeswoman
418
Corpuscles
23-Apr-17 22:14
Re: Direct questions to self appointed "alt' spokeswoman
399
Thanos5150
23-Apr-17 15:50
Re: Direct questions to self appointed "alt' spokeswoman
406
Origyptian
23-Apr-17 16:18
Re: Direct questions to self appointed "alt' spokeswoman
349
Martin Stower
23-Apr-17 12:58
Re: Direct questions to self appointed "alt' spokeswoman
324
Warwick
23-Apr-17 16:13
Re: Direct questions to self appointed "alt' spokeswoman
424
Corpuscles
23-Apr-17 21:44
Re: Your Assumptions Are Showing...
436
Corpuscles
21-Apr-17 07:12
Re: Your Assumptions Are Showing...
450
Warwick
21-Apr-17 17:43
Rabbits . . .
598
Martin Stower
21-Apr-17 10:04
Re: Rabbits . . .
568
Merrell
21-Apr-17 12:48
Re: Your Assumptions Are Showing...
377
Warwick
21-Apr-17 18:01
Re: Your Assumptions Are Showing...
480
Jon Ellison
20-Apr-17 20:45
Re: Your Assumptions Are Showing...
505
Audrey
21-Apr-17 01:08
Re: Your Assumptions Are Showing...
304
Jon Ellison
20-Apr-17 19:53
Re: Your Assumptions Are Showing...
427
Warwick
19-Apr-17 17:43
Re: Your Assumptions Are Showing...
491
Jon Ellison
19-Apr-17 18:40
Re: Your Assumptions Are Showing...
467
Warwick
20-Apr-17 17:29
Re: Your Assumptions Are Showing...
501
Corpuscles
17-Apr-17 00:04
Re: Your Assumptions Are Showing...
530
Thanos5150
17-Apr-17 02:05
Re: Your Assumptions Are Showing...
476
Martin Stower
17-Apr-17 00:05
Re: Your Assumptions Are Showing...
425
Thanos5150
17-Apr-17 03:15