Mysteries : The Official GrahamHancock.com forums
For serious discussion of the controversies, approaches and enigmas surrounding the origins and development of the human species and of human civilization. (NB: for more 'out there' posts we point you in the direction of the '
Paranormal & Supernatural
' Message Board).
Jon Ellison Wrote:
-------------------------------------------------------
> Thanos.
> Furthermore..
>
> The image you posted claiming to be in isometric
> perspective.
Oh, its not my claim.
ISOMETRIC PERSPECTIVE
"Isometric perspective makes use of parallel diagonal lines to imply depth on a picture plane. It imposes the measurements of an architectural drawing onto a simulation of three-dimensions."
Xu Yang - Scroll, ink and color on silk, 1770 (p. 85)
Isometric Perspective
"Isometric perspective is used in traditional Asian art, video games, and in exploding diagrams. In isometric perspective, all lines remain parallel, or equidistant. In this type of perspective, there is no horizon line and no vanishing points. There is no fixed or limited point of view as in linear perspective. It is possible to shift viewpoints throughout the entire composition, to see the front, side and back of a room or building, for example, at the same time."
"Traditional Chinese use of isometric perspective."
Figure 44: Yuan Jiang, Garden for gazing, China, Qing Dynasty, 1690-1746. The orthographic [also called "isometric"] projection is more suited to the particularly wide format of handscrolls.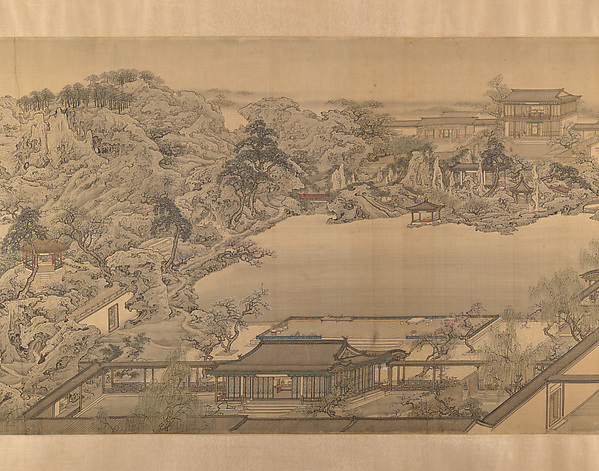 And so on. You are lost in your own pedantism Jon.
Subject
Views
Written By
Posted
The Phyles in the chambers
3911
Audrey
09-Apr-17 03:10
Re: The Phyles in the chambers
677
Thanos5150
09-Apr-17 03:37
Re: The Phyles in the chambers
787
molder
09-Apr-17 03:51
monster of a paradigm
762
cladking
09-Apr-17 03:51
Re: The Phyles in the chambers
743
Origyptian
09-Apr-17 06:09
Re: The Phyles in the chambers
832
Martin Stower
09-Apr-17 12:03
Re: The Phyles in the chambers
542
cladking
09-Apr-17 13:54
Re: The Phyles in the chambers
641
Martin Stower
09-Apr-17 14:34
Re: The Phyles in the chambers
710
cladking
09-Apr-17 15:17
Re: The Phyles in the chambers
585
Martin Stower
09-Apr-17 15:33
Re: The Phyles in the chambers
500
Hanslune
09-Apr-17 21:43
Re: The Phyles in the chambers
604
Origyptian
09-Apr-17 15:02
Re: The Phyles in the chambers
713
Martin Stower
09-Apr-17 15:32
Re: The Phyles in the cham
563
Origyptian
09-Apr-17 16:24
Re: The Phyles in the cham
653
Martin Stower
09-Apr-17 16:49
Nix the Spoon
619
Warwick
09-Apr-17 16:55
Re: The Phyles in the cham
545
Origyptian
09-Apr-17 19:54
Re: The Phyles in the cham
560
Martin Stower
09-Apr-17 20:14
Re: The Phyles in the cham
651
Origyptian
09-Apr-17 20:33
Re: The Phyles in the cham
573
Martin Stower
09-Apr-17 21:36
Re: The Phyles in the cham
501
Warwick
10-Apr-17 16:22
Re: The Phyles in the cham
570
Origyptian
10-Apr-17 18:19
Re: The Phyles in the cham
540
Warwick
10-Apr-17 18:59
Re: The Phyles in the cham
514
Origyptian
10-Apr-17 19:30
Re: The Phyles in the cham
656
Warwick
10-Apr-17 19:39
Hint
631
Martin Stower
09-Apr-17 19:31
Re: Hint
690
Audrey
09-Apr-17 22:04
Re: Hint
576
Merrell
09-Apr-17 22:13
Re: Hint
676
Martin Stower
09-Apr-17 22:19
Re: Hint
627
Merrell
10-Apr-17 08:12
Re: Hint
587
Audrey
11-Apr-17 01:01
Re: Hint
526
Martin Stower
11-Apr-17 01:57
Re: Hint
600
Martin Stower
09-Apr-17 23:00
Re: Hint
524
Audrey
11-Apr-17 01:10
Re: Hint
667
Martin Stower
11-Apr-17 01:46
Re: Hint
504
Audrey
11-Apr-17 02:01
Re: Hint
564
Martin Stower
11-Apr-17 02:25
Re: Hint
659
Warwick
10-Apr-17 16:31
Re: Hint
582
Origyptian
10-Apr-17 18:27
Re: Hint
626
Martin Stower
10-Apr-17 18:35
Re: Hint
553
Warwick
10-Apr-17 18:39
Re: The Phyles in the chambers
614
Thanos5150
09-Apr-17 15:46
Re: The Phyles in the chambers
577
Martin Stower
09-Apr-17 16:03
Re: The Phyles in the chambers
535
Thanos5150
09-Apr-17 16:22
Re: The Phyles in the chambers
642
Warwick
09-Apr-17 16:30
Re: The Phyles in the chambers
559
Origyptian
09-Apr-17 16:40
Re: The Phyles in the chambers
525
Warwick
09-Apr-17 16:48
Re: The Phyles in the chambers
556
sfbey
10-Apr-17 14:29
Re: The Phyles in the chambers
608
Origyptian
10-Apr-17 15:40
Re: The Phyles in the chambers
485
Warwick
10-Apr-17 16:13
Re: The Phyles in the chambers
528
Origyptian
10-Apr-17 18:08
Re: The Phyles in the chambers
548
Martin Stower
10-Apr-17 18:27
Re: The Phyles in the chambers
474
Warwick
10-Apr-17 19:12
Re: The Phyles in the chambers
614
Origyptian
10-Apr-17 21:28
Re: The Phyles in the chambers
538
Warwick
10-Apr-17 19:09
Re: The Phyles in the chambers
691
Origyptian
10-Apr-17 20:09
Re: The Phyles in the chambers
674
Martin Stower
10-Apr-17 20:41
Re: The Phyles in the chambers
567
Origyptian
10-Apr-17 21:05
Re: The Phyles in the chambers
538
sfbey
10-Apr-17 21:20
Re: The Phyles in the chambers
516
Origyptian
10-Apr-17 21:43
Re: The Phyles in the chambers
555
Corpuscles
10-Apr-17 21:39
Re: The Phyles in the chambers
680
Martin Stower
10-Apr-17 21:46
Re: The Phyles in the chambers
538
Origyptian
10-Apr-17 21:52
Re: The Phyles in the chambers
678
Martin Stower
10-Apr-17 22:02
Re: The Phyles in the chambers
570
Origyptian
10-Apr-17 22:15
Re: The Phyles in the chambers
589
Martin Stower
10-Apr-17 22:57
Now the screaming will start
462
Warwick
11-Apr-17 16:45
Re: The Phyles in the chambers
640
Martin Stower
11-Apr-17 01:14
Re: The Phyles in the chambers
476
Warwick
11-Apr-17 16:35
Re: The Phyles in the chambers
495
Origyptian
11-Apr-17 20:34
Re: The Phyles in the chambers
585
Warwick
12-Apr-17 17:02
Re: The Phyles in the chambers
570
sfbey
12-Apr-17 18:29
Re: The Phyles in the chambers
545
Origyptian
12-Apr-17 18:53
Re: The Phyles in the chambers
421
Warwick
12-Apr-17 19:04
Re: The Phyles in the chambers
566
Origyptian
12-Apr-17 19:34
Re: The Phyles in the chambers
488
Warwick
13-Apr-17 16:11
Re: The Phyles in the chambers
560
Origyptian
13-Apr-17 16:28
Re: The Phyles in the chambers
587
sfbey
12-Apr-17 19:38
Re: The Phyles in the chambers
609
R Avry Wilson
13-Apr-17 01:13
Re: The Phyles in the chambers
566
Origyptian
13-Apr-17 02:46
Re: The Phyles in the chambers
472
Warwick
13-Apr-17 16:18
Re: The Phyles in the chambers
590
Origyptian
13-Apr-17 16:36
Re: The Phyles in the chambers
560
Warwick
13-Apr-17 16:53
Re: The Phyles in the chambers
648
Martin Stower
13-Apr-17 10:41
Re: The Phyles in the chambers
451
Warwick
12-Apr-17 19:03
Re: The Phyles in the chambers
602
sfbey
12-Apr-17 19:25
Re: The Phyles in the chambers
495
Warwick
13-Apr-17 16:07
Re: The Phyles in the chambers
546
Audrey
11-Apr-17 02:16
Re: The Phyles in the chambers
549
Origyptian
11-Apr-17 02:37
Re: The Phyles in the chambers
500
Martin Stower
11-Apr-17 02:41
Re: The Phyles in the chambers
560
Origyptian
11-Apr-17 03:01
Re: The Phyles in the chambers
606
Martin Stower
11-Apr-17 08:58
Re: The Phyles in the chambers
540
Warwick
11-Apr-17 16:55
Re: The Phyles in the chambers
562
Audrey
13-Apr-17 04:07
Re: The Phyles in the chambers
467
Warwick
13-Apr-17 16:32
Re: The Phyles in the chambers
556
Origyptian
13-Apr-17 17:20
Re: The Phyles in the chambers
542
Warwick
13-Apr-17 17:24
Re: The Phyles in the chambers
456
Thanos5150
09-Apr-17 17:15
Re: The Phyles in the chambers
441
Warwick
09-Apr-17 17:24
Re: The Phyles in the chambers
637
Thanos5150
09-Apr-17 17:16
Re: The Phyles in the chambers
570
Martin Stower
09-Apr-17 17:22
Re: The Phyles in the chambers
556
Warwick
09-Apr-17 17:37
Re: The Phyles in the chambers
551
Thanos5150
09-Apr-17 17:50
Re: The Phyles in the chambers
516
Warwick
09-Apr-17 18:02
Re: The Phyles in the chambers
637
Thunderbird
09-Apr-17 21:34
Re: The Phyles in the chambers
521
Martin Stower
09-Apr-17 21:44
Re: The Phyles in the chambers
577
Audrey
11-Apr-17 01:43
Re: To big to fail : )
676
Thunderbird
11-Apr-17 04:35
Re: To big to fail : )
504
Martin Stower
11-Apr-17 12:47
Re: To big to fail : )
562
Jon Ellison
11-Apr-17 13:42
Re: To big to fail : )
519
Jon Ellison
11-Apr-17 13:51
Re: To big to fail : )
640
Martin Stower
11-Apr-17 14:10
Re: To big to fail : )
621
Jon Ellison
11-Apr-17 15:49
Re: To big to fail : )
703
Martin Stower
11-Apr-17 16:06
Re: To big to fail : )
552
Warwick
12-Apr-17 17:32
Re: The Phyles in the chambers
700
Audrey
09-Apr-17 23:37
Re: The Phyles in the chambers
539
cladking
10-Apr-17 00:10
Re: The Phyles in the chambers
560
Thanos5150
10-Apr-17 01:09
Re: The Phyles in the chambers
558
Audrey
11-Apr-17 00:50
Re: The Phyles in the chambers
703
Thanos5150
11-Apr-17 03:16
Re: The Phyles in the chambers
743
Martin Stower
11-Apr-17 10:23
Re: The Phyles in the chambers
752
Thanos5150
11-Apr-17 16:06
Re: The Phyles in the chambers
533
Origyptian
11-Apr-17 20:13
Re: The Phyles in the chambers
607
Thanos5150
11-Apr-17 20:34
Re: Egyptians can move mountains
597
Thunderbird
11-Apr-17 19:05
Re: Egyptians can move mountains
601
Jon Ellison
11-Apr-17 19:30
FWIW
593
Warwick
11-Apr-17 19:46
Re: FWIW
559
Origyptian
11-Apr-17 21:02
Nothing up my sleeve...
545
cladking
11-Apr-17 21:09
Mumblejumbled numbers
635
Warwick
12-Apr-17 16:51
Re: Mumblejumbled numbers
619
cladking
12-Apr-17 18:16
Re: Mumblejumbled numbers
555
Warwick
12-Apr-17 19:11
Re: FWIW
607
Martin Stower
11-Apr-17 22:26
Re: Egyptians can move mountains
612
Thunderbird
11-Apr-17 20:02
Re: Egyptians can move mountains
499
Warwick
11-Apr-17 20:17
Re: Egyptians can move mountains
618
cladking
11-Apr-17 21:14
Re: Egyptians can move mountains
651
Warwick
12-Apr-17 17:05
Re: Egyptians can move mountains
497
cladking
12-Apr-17 18:28
Re: The Phyles in the chambers
616
Corpuscles
10-Apr-17 03:35
Re: The Phyles in the chambers
572
eyeofhorus33
10-Apr-17 14:06
Re: The Phyles in the chambers
561
Merrell
10-Apr-17 14:58
Re: The Phyles in the chambers
521
Warwick
10-Apr-17 16:48
Re: The Phyles in the chambers
673
Audrey
11-Apr-17 01:54
Re: The Phyles in the chambers
556
Warwick
11-Apr-17 17:07
Re: The Phyles in the chambers
529
Audrey
11-Apr-17 01:29
Re: The Phyles in the chambers
519
Origyptian
11-Apr-17 02:25
Re: Audrey's thought experiment
820
Corpuscles
12-Apr-17 00:38
Re: Audrey's thought experiment
735
Martin Stower
12-Apr-17 10:20
Re: Audrey's thought experiment
477
Thanos5150
12-Apr-17 16:51
Re: Audrey's thought experiment
443
Warwick
12-Apr-17 17:12
Re: Audrey's thought experiment
575
Thanos5150
12-Apr-17 20:15
Re: Audrey's thought experiment
522
Corpuscles
12-Apr-17 22:16
Re: Audrey's thought experiment
517
Martin Stower
12-Apr-17 23:04
Re: Audrey's thought experiment
755
Audrey
13-Apr-17 03:54
Re: Audrey's thought experiment
686
Corpuscles
13-Apr-17 10:03
Re: Audrey's thought experiment
575
Audrey
14-Apr-17 00:59
Re: Audrey's thought experiment
575
Corpuscles
14-Apr-17 23:20
Re: Audrey's thought experiment
684
Martin Stower
13-Apr-17 12:12
Re: Audrey's thought experiment
571
cladking
13-Apr-17 13:33
Re: Audrey's thought experiment
712
Martin Stower
13-Apr-17 13:48
Your Assumptions Are Showing...
511
cladking
13-Apr-17 17:00
Re: Your Assumptions Are Showing...
528
Martin Stower
13-Apr-17 18:31
Re: Your Assumptions Are Showing...
517
cladking
13-Apr-17 19:45
Re: Your Assumptions Are Showing...
608
Warwick
13-Apr-17 20:08
Re: Your Assumptions Are Showing...
490
Origyptian
13-Apr-17 20:24
Re: Your Assumptions Are Showing...
480
Martin Stower
13-Apr-17 20:46
Re: Your Assumptions Are Showing...
548
cladking
13-Apr-17 20:59
Re: Your Assumptions Are Showing...
605
R Avry Wilson
13-Apr-17 21:14
Re: Your Assumptions Are Showing...
559
cladking
13-Apr-17 21:31
Re: Your Assumptions Are Showing...
552
Origyptian
13-Apr-17 22:00
Re: Your Assumptions Are Showing...
544
R Avry Wilson
13-Apr-17 21:10
Re: Your Assumptions Are Showing...
424
cladking
13-Apr-17 21:43
Re: Your Assumptions Are Showing...
516
Origyptian
13-Apr-17 21:58
Re: Your Assumptions Are Showing...
607
R Avry Wilson
13-Apr-17 22:17
Re: Your Assumptions Are Showing...
507
cladking
13-Apr-17 22:32
Re: Your Assumptions Are Showing...
478
Origyptian
13-Apr-17 23:04
Re: Your Assumptions Are Showing...
485
Martin Stower
13-Apr-17 23:35
Re: Your Assumptions Are Showing...
528
Corpuscles
13-Apr-17 23:52
Re: Your Assumptions Are Showing...
491
Martin Stower
14-Apr-17 00:38
Re: Your Assumptions Are Showing...
542
cladking
14-Apr-17 00:52
Re: Your Assumptions Are Showing...
437
Warwick
17-Apr-17 16:18
Re: Your Assumptions Are Showing...
516
cladking
17-Apr-17 19:23
Re: Your Assumptions Are Showing...
442
cladking
17-Apr-17 19:30
Re: Your Assumptions Are Showing...
589
Tommi
18-Apr-17 17:45
Re: Your Assumptions Are Showing...
473
cladking
18-Apr-17 19:59
Re: Your Assumptions Are Showing...
495
Thanos5150
17-Apr-17 19:30
Re: Your Assumptions Are Showing...
451
Warwick
17-Apr-17 21:43
Re: Your Assumptions Are Showing...
622
R Avry Wilson
14-Apr-17 01:16
Re: Your Assumptions Are Showing...
527
Audrey
14-Apr-17 01:37
Re: Your Assumptions Are Showing...
534
R Avry Wilson
14-Apr-17 01:54
Re: Your Assumptions Are Showing...
496
Audrey
14-Apr-17 02:15
Re: Your Assumptions Are Showing...
529
cladking
14-Apr-17 02:27
Re: Your Assumptions Are Showing...
527
R Avry Wilson
14-Apr-17 03:32
Re: Your Assumptions Are Showing...
507
Audrey
14-Apr-17 04:12
Re: Your Assumptions Are Showing...
595
R Avry Wilson
14-Apr-17 07:22
Re: Your Assumptions Are Showing...
548
Martin Stower
14-Apr-17 11:08
Devil's Advocate:
839
WonderWho
14-Apr-17 11:52
Re: Devil's Advocate:
567
M. J. Thomas
14-Apr-17 18:59
Re: Devil's Advocate:
505
Martin Stower
15-Apr-17 22:54
re names
544
Warwick
17-Apr-17 16:34
Re: Your Assumptions Are Showing...
539
cladking
14-Apr-17 13:43
Re: Your Assumptions Are Showing...
488
Martin Stower
14-Apr-17 10:17
Re: Your Assumptions Are Showing...
550
cladking
14-Apr-17 15:52
Re: Your Assumptions Are Showing...
532
Martin Stower
14-Apr-17 20:57
Re: Your Assumptions Are Showing...
414
Warwick
17-Apr-17 16:39
Re: Your Assumptions Are Showing...
447
Warwick
17-Apr-17 16:23
Re: Your Assumptions Are Showing...
500
cladking
17-Apr-17 19:35
Re: Your Assumptions Are Showing...
374
cladking
14-Apr-17 02:20
Re: Your Assumptions Are Showing...
472
Origyptian
14-Apr-17 16:42
Re: Your Assumptions Are Showing...
447
cladking
14-Apr-17 17:33
Philip, the time waster
647
R Avry Wilson
15-Apr-17 00:42
Re: Philip, the time waster
574
cladking
15-Apr-17 01:38
Re: Philip, the time waster
585
Origyptian
15-Apr-17 21:31
Re: Your Assumptions Are Showing...
555
Thanos5150
14-Apr-17 18:22
Re: Your Assumptions Are Showing...
498
Origyptian
14-Apr-17 20:47
Re: Your Assumptions Are Showing...
579
Martin Stower
14-Apr-17 22:24
Re: Your Assumptions Are Showing...
459
Origyptian
14-Apr-17 22:36
Re: Your Assumptions Are Showing...
547
Martin Stower
14-Apr-17 23:00
Re: Your Assumptions Are Showing...
722
Thanos5150
15-Apr-17 01:42
Re: Your Assumptions Are Showing...
559
Martin Stower
15-Apr-17 09:47
Re: Your Assumptions Are Showing...
711
Thanos5150
15-Apr-17 17:19
Re: Your Assumptions Are Showing...
648
Origyptian
15-Apr-17 19:58
Re: Your Assumptions Are Showing...
588
Martin Stower
15-Apr-17 20:51
Re: Your Assumptions Are Showing...
782
Thanos5150
16-Apr-17 17:43
Re: Your Assumptions Are Showing...
525
Origyptian
16-Apr-17 18:26
Re: Your Assumptions Are Showing...
518
eyeofhorus33
16-Apr-17 20:24
Re: Your Assumptions Are Showing...
425
Origyptian
17-Apr-17 02:16
Re: Your Assumptions Are Showing...
525
Martin Stower
16-Apr-17 22:41
Re: Your Assumptions Are Showing...
476
Thanos5150
17-Apr-17 03:12
Re: Your Assumptions Are Showing...
547
Thanos5150
17-Apr-17 01:59
Re: Your Assumptions Are Showing...
447
Origyptian
17-Apr-17 02:19
Re: Your Assumptions Are Showing...
434
Martin Stower
17-Apr-17 12:42
Re: Your Assumptions Are Showing...
463
Origyptian
17-Apr-17 13:01
Re: Your Assumptions Are Showing...
523
Martin Stower
17-Apr-17 13:43
Re: Your Assumptions Are Showing...
536
Origyptian
17-Apr-17 13:47
Re: Your Assumptions Are Showing...
567
Martin Stower
17-Apr-17 14:37
Re: Your Assumptions Are Showing...
448
Origyptian
17-Apr-17 17:40
Re: Your Assumptions Are Showing...
489
Martin Stower
17-Apr-17 18:16
Re: Your Assumptions Are Showing...
505
Thanos5150
17-Apr-17 16:17
Re: Your Assumptions Are Showing...
508
Martin Stower
17-Apr-17 16:30
Re: Your Assumptions Are Showing...
444
Origyptian
17-Apr-17 17:48
Re: Your Assumptions Are Showing...
560
Martin Stower
17-Apr-17 18:14
Re: Your Assumptions Are Showing...
451
Origyptian
17-Apr-17 18:29
Re: Your Assumptions Are Showing...
528
Thanos5150
17-Apr-17 18:58
Re: Your Assumptions Are Showing...
428
Origyptian
17-Apr-17 19:34
Re: Your Assumptions Are Showing...
396
Martin Stower
17-Apr-17 20:48
Ori goes to a classy restaurant!
585
Corpuscles
17-Apr-17 23:12
Re: Ori goes to a classy restaurant!
517
Origyptian
18-Apr-17 03:46
Re: Ori goes to a classy restaurant!
508
Martin Stower
18-Apr-17 11:07
Re: Your Assumptions Are Showing...
508
Thanos5150
18-Apr-17 00:23
Re: Your Assumptions Are Showing...
500
Origyptian
18-Apr-17 04:04
Re: Your Assumptions Are Showing...
535
Martin Stower
18-Apr-17 11:23
Re: Your Assumptions Are Showing...
529
Origyptian
18-Apr-17 13:06
Re: Your Assumptions Are Showing...
516
Martin Stower
18-Apr-17 13:42
Re: Your Assumptions Are Showing...
506
Thanos5150
18-Apr-17 17:30
Re: Your Assumptions Are Showing...
491
Audrey
19-Apr-17 00:44
Re: Your Assumptions Are Showing...
531
Origyptian
19-Apr-17 01:09
Re: Your Assumptions Are Showing...
538
Thanos5150
19-Apr-17 01:26
Re: Your Assumptions Are Showing...
536
Thanos5150
19-Apr-17 01:13
Re: Your Assumptions Are Showing...
546
Audrey
19-Apr-17 02:07
Re: Your Assumptions Are Showing...
498
Martin Stower
19-Apr-17 11:44
Re: Your Assumptions Are Showing...
526
Warwick
19-Apr-17 16:56
Re: Your Assumptions Are Showing...
537
Martin Stower
20-Apr-17 00:36
Agrest and his sources
507
Merrell
20-Apr-17 12:18
Re: Your Assumptions Are Showing...
506
Origyptian
19-Apr-17 01:01
Re: Your Assumptions Are Showing...
532
Thanos5150
19-Apr-17 02:06
Re: Your Assumptions Are Showing...
620
Audrey
19-Apr-17 02:27
Re: Your Assumptions Are Showing...
604
Origyptian
19-Apr-17 03:30
Re: Your Assumptions Are Showing...
474
Thanos5150
19-Apr-17 04:40
Re: Your Assumptions Are Showing...
478
Thanos5150
19-Apr-17 06:06
Re: Your Assumptions Are Showing...
521
Origyptian
19-Apr-17 15:45
Re: Your Assumptions Are Showing...
488
Corpuscles
19-Apr-17 10:11
Re: Your Assumptions Are Showing...
609
Morten
19-Apr-17 11:24
Re: Your Assumptions Are Showing...
483
Corpuscles
19-Apr-17 11:38
Re: Your Assumptions Are Showing...
445
cladking
19-Apr-17 15:16
Re: Your Assumptions Are Showing...
534
Martin Stower
20-Apr-17 00:59
Re: Your Assumptions Are Showing...
513
Hanslune
20-Apr-17 02:39
Re: Your Assumptions Are Showing...
683
Martin Stower
20-Apr-17 08:09
Roman capabilities
521
Warwick
18-Apr-17 15:37
Re: Roman capabilities
470
Origyptian
18-Apr-17 16:04
Re: Roman capabilities
414
Warwick
18-Apr-17 18:04
Re: Roman capabilities
446
Origyptian
18-Apr-17 18:09
ahhhh. an attack. how droll
411
Warwick
18-Apr-17 20:25
Re: ahhhh. an attack. how droll
432
Origyptian
18-Apr-17 21:27
Re: ahhhh. an attack. how droll
370
Warwick
19-Apr-17 13:49
Stuck in a time warp
500
Audrey
18-Apr-17 03:35
Re: Stuck in a time warp
346
Martin Stower
18-Apr-17 10:56
Re: Stuck in a time warp
422
Audrey
19-Apr-17 01:04
Re: Stuck in a time warp
361
Martin Stower
19-Apr-17 09:49
Re: Your Assumptions Are Showing...
430
Thanos5150
17-Apr-17 16:00
Re: Your Assumptions Are Showing...
403
Origyptian
17-Apr-17 02:25
Experiment terminated
360
Martin Stower
17-Apr-17 12:52
Re: Your Assumptions Are Showing...
460
Jon Ellison
16-Apr-17 21:37
Re: Your Assumptions Are Showing...
500
Merrell
16-Apr-17 22:45
Re: Your Assumptions Are Showing...
615
Thanos5150
17-Apr-17 03:59
Re: Your Assumptions Are Showing...
552
Jon Ellison
17-Apr-17 08:07
Re: Your Assumptions Are Showing...
437
Thanos5150
17-Apr-17 15:36
Re: Your Assumptions Are Showing...
406
Warwick
17-Apr-17 22:01
Re: Your Assumptions Are Showing...
483
Jon Ellison
18-Apr-17 08:13
Re: Your Assumptions Are Showing...
298
Thanos5150
18-Apr-17 18:10
Re: Your Assumptions Are Showing...
524
Jon Ellison
19-Apr-17 00:41
Re: Your Assumptions Are Showing...
561
sfbey
19-Apr-17 14:30
Re: Your Assumptions Are Showing...
573
Jon Ellison
19-Apr-17 15:18
Re: Your Assumptions Are Showing...
336
cladking
19-Apr-17 15:48
Re: Your Assumptions Are Showing...
507
sfbey
19-Apr-17 15:57
Re: Your Assumptions Are Showing...
639
Thanos5150
19-Apr-17 17:22
Re: Your Assumptions Are Showing...
500
Thanos5150
19-Apr-17 17:35
Re: Your Assumptions Are Showing...
598
Origyptian
19-Apr-17 22:32
Re: Your Assumptions Are Showing...
380
Thanos5150
19-Apr-17 23:15
Re: Your Assumptions Are Showing...
417
Origyptian
19-Apr-17 23:21
Re: Your Assumptions Are Showing...
388
Warwick
20-Apr-17 16:57
Re: Your Assumptions Are Showing...
415
Origyptian
20-Apr-17 17:18
The Pyramids were NOT a secret
416
Warwick
20-Apr-17 17:50
Re: The Pyramids were NOT a secret
419
Origyptian
20-Apr-17 18:27
Re: The Pyramids were NOT a secret
331
Martin Stower
20-Apr-17 19:11
Re: The Pyramids were NOT a secret
362
Origyptian
20-Apr-17 19:29
Re: The Pyramids were NOT a secret
452
Martin Stower
20-Apr-17 22:15
Re: The Pyramids were NOT a secret
442
Origyptian
21-Apr-17 04:37
Re: The Pyramids were NOT a secret
362
Martin Stower
21-Apr-17 08:26
Flat, Oblique, Isometric, Single Point Linear, Two Point Linear
413
Jon Ellison
21-Apr-17 09:20
Mathematical bases of ancient Egyptian architecture and graphic art
586
sfbey
21-Apr-17 14:19
Re: Flat, Oblique, Isometric, Single Point Linear, Two Point Linear
331
Warwick
21-Apr-17 17:30
Re: Flat, Oblique, Isometric, Single Point Linear, Two Point Linear
375
Origyptian
21-Apr-17 19:37
Re: Flat, Oblique, Isometric, Single Point Linear, Two Point Linear
524
Warwick
22-Apr-17 15:53
Re: Flat, Oblique, Isometric, Single Point Linear, Two Point Linear
397
Origyptian
23-Apr-17 02:06
Re: Flat, Oblique, Isometric, Single Point Linear, Two Point Linear
297
Warwick
23-Apr-17 16:18
Re: Your Assumptions Are Showing...
353
Martin Stower
20-Apr-17 18:20
Re: Your Assumptions Are Showing...
377
Origyptian
20-Apr-17 18:44
Re: Your Assumptions Are Showing...
316
sfbey
20-Apr-17 19:03
Re: Your Assumptions Are Showing...
476
Martin Stower
20-Apr-17 19:16
Re: Your Assumptions Are Showing...
301
Martin Stower
20-Apr-17 19:31
Re: Your Assumptions Are Showing...
370
Martin Stower
20-Apr-17 17:52
Re: Your Assumptions Are Showing...
370
Origyptian
20-Apr-17 18:38
Re: Your Assumptions Are Showing...
323
Martin Stower
20-Apr-17 19:34
Re: Your Assumptions Are Showing...
568
Thanos5150
19-Apr-17 23:44
Re: Your Assumptions Are Showing...
344
Jon Ellison
19-Apr-17 18:19
Re: Your Assumptions Are Showing...
510
Thanos5150
19-Apr-17 19:45
Re: Your Assumptions Are Showing...
551
Jon Ellison
19-Apr-17 21:47
Re: Your Assumptions Are Showing...
433
Thanos5150
19-Apr-17 22:33
Re: Your Assumptions Are Showing...
439
Warwick
20-Apr-17 17:17
Re: Your Assumptions Are Showing...
505
Thanos5150
20-Apr-17 17:57
Principles of Egyptian Art
344
sfbey
20-Apr-17 18:49
Re: Your Assumptions Are Showing...
440
Jon Ellison
20-Apr-17 18:53
Re: Your Assumptions Are Showing...
455
Jon Ellison
20-Apr-17 19:28
Re: Your Assumptions Are Showing...
588
Thanos5150
20-Apr-17 20:24
Re: Your Assumptions Are Showing...
391
Thanos5150
20-Apr-17 20:43
Re: Your Assumptions Are Showing...
346
Origyptian
20-Apr-17 21:29
Re: Your Assumptions Are Showing...
428
Thanos5150
20-Apr-17 23:55
Re: Your Assumptions Are Showing...
506
R Avry Wilson
21-Apr-17 01:32
Re: Your Assumptions Are Showing...
531
Audrey
21-Apr-17 03:02
Re: Your Assumptions Are Showing...
399
Warwick
21-Apr-17 06:38
Re: Your Assumptions Are Showing...
333
Origyptian
21-Apr-17 04:56
Re: Your Assumptions Are Showing...
365
Corpuscles
21-Apr-17 06:36
Re: Your Assumptions Are Showing...
351
Corpuscles
21-Apr-17 06:08
Re: Your Assumptions Are Showing...
388
Thanos5150
21-Apr-17 06:44
The willfully blind do not see
403
Warwick
21-Apr-17 07:07
Re: The willfully blind do not see
365
Thanos5150
21-Apr-17 16:27
Re: The willfully blind do not see
413
Warwick
21-Apr-17 17:07
Re: The willfully blind do not see
381
Thanos5150
21-Apr-17 18:12
Re: The willfully blind do not see
400
eyeofhorus33
21-Apr-17 21:15
Re: The willfully ignorant do not learn
482
Audrey
22-Apr-17 02:29
Re: The willfully ignorant do not learn
587
Thanos5150
22-Apr-17 05:23
Re: The willfully ignorant do not learn
405
Jon Ellison
22-Apr-17 09:13
Re: The willfully ignorant do not learn
436
Jon Ellison
22-Apr-17 09:22
Re: The willfully ignorant do not learn
373
Jon Ellison
22-Apr-17 10:26
Re: The willfully ignorant do not learn
394
Jon Ellison
22-Apr-17 10:46
Re: The willfully ignorant do not learn
516
Jon Ellison
22-Apr-17 11:42
Re: The willfully ignorant do not learn
698
Origyptian
22-Apr-17 14:02
Re: The willfully ignorant do not learn
371
cladking
22-Apr-17 14:45
Re: The willfully ignorant do not learn
524
Jon Ellison
22-Apr-17 15:05
Re: The willfully ignorant do not learn
463
Origyptian
22-Apr-17 15:17
Re: The willfully ignorant do not learn
394
Jon Ellison
22-Apr-17 15:20
Re: The willfully ignorant do not learn
430
Thanos5150
22-Apr-17 15:46
Re: The willfully ignorant do not learn
342
Jon Ellison
22-Apr-17 16:07
Re: The willfully ignorant do not learn
423
Jon Ellison
22-Apr-17 16:56
Re: The willfully ignorant do not learn
389
Thanos5150
22-Apr-17 17:33
Re: The willfully ignorant do not learn
306
R Avry Wilson
22-Apr-17 19:38
Re: The willfully ignorant do not learn
517
cladking
22-Apr-17 19:46
Re: The willfully ignorant do not learn
342
cladking
22-Apr-17 19:54
Re: The willfully ignorant do not learn
363
Audrey
22-Apr-17 20:26
Re: The willfully ignorant do not learn
334
cladking
22-Apr-17 21:17
Re: The willfully ignorant do not learn
502
Audrey
22-Apr-17 20:36
Re: The willfully ignorant do not learn
321
cladking
22-Apr-17 21:21
Re: The willfully ignorant do not learn
379
Origyptian
22-Apr-17 13:51
Re: The willfully ignorant do not learn
424
Thanos5150
22-Apr-17 16:45
How this is relevant
418
Warwick
22-Apr-17 16:51
Re: How this is relevant
480
Origyptian
23-Apr-17 02:09
Re: How this is relevant
377
Warwick
23-Apr-17 15:43
Re: The willfully ignorant do not learn
394
Warwick
22-Apr-17 16:00
Direct questions to self appointed "alt' spokeswoman
462
Corpuscles
22-Apr-17 21:39
Re: Direct questions to self appointed "alt' spokeswoman
464
Origyptian
23-Apr-17 03:39
Re: Direct questions to self appointed "alt' spokeswoman
336
Corpuscles
23-Apr-17 07:19
Re: Direct questions to self appointed "alt' spokeswoman
516
Origyptian
23-Apr-17 13:51
Re: Direct questions to self appointed "alt' spokeswoman
370
Martin Stower
23-Apr-17 14:38
Re: Direct questions to self appointed "alt' spokeswoman
385
Origyptian
23-Apr-17 15:03
Re: Direct questions to self appointed "alt' spokeswoman
391
Corpuscles
23-Apr-17 22:14
Re: Direct questions to self appointed "alt' spokeswoman
393
Thanos5150
23-Apr-17 15:50
Re: Direct questions to self appointed "alt' spokeswoman
402
Origyptian
23-Apr-17 16:18
Re: Direct questions to self appointed "alt' spokeswoman
345
Martin Stower
23-Apr-17 12:58
Re: Direct questions to self appointed "alt' spokeswoman
321
Warwick
23-Apr-17 16:13
Re: Direct questions to self appointed "alt' spokeswoman
421
Corpuscles
23-Apr-17 21:44
Re: Your Assumptions Are Showing...
432
Corpuscles
21-Apr-17 07:12
Re: Your Assumptions Are Showing...
412
Warwick
21-Apr-17 17:43
Rabbits . . .
544
Martin Stower
21-Apr-17 10:04
Re: Rabbits . . .
563
Merrell
21-Apr-17 12:48
Re: Your Assumptions Are Showing...
372
Warwick
21-Apr-17 18:01
Re: Your Assumptions Are Showing...
476
Jon Ellison
20-Apr-17 20:45
Re: Your Assumptions Are Showing...
500
Audrey
21-Apr-17 01:08
Re: Your Assumptions Are Showing...
300
Jon Ellison
20-Apr-17 19:53
Re: Your Assumptions Are Showing...
424
Warwick
19-Apr-17 17:43
Re: Your Assumptions Are Showing...
487
Jon Ellison
19-Apr-17 18:40
Re: Your Assumptions Are Showing...
433
Warwick
20-Apr-17 17:29
Re: Your Assumptions Are Showing...
497
Corpuscles
17-Apr-17 00:04
Re: Your Assumptions Are Showing...
527
Thanos5150
17-Apr-17 02:05
Re: Your Assumptions Are Showing...
473
Martin Stower
17-Apr-17 00:05
Re: Your Assumptions Are Showing...
421
Thanos5150
17-Apr-17 03:15
Re: Your Assumptions Are Showing...
315
Martin Stower
17-Apr-17 12:03