Mysteries : The Official GrahamHancock.com forums
For serious discussion of the controversies, approaches and enigmas surrounding the origins and development of the human species and of human civilization. (NB: for more 'out there' posts we point you in the direction of the '
Paranormal & Supernatural
' Message Board).
sfbey Wrote:
-------------------------------------------------------
> I don't understand your point. The finest tomb
> painting was done upon a field of raised or sunk
> relief. The play of light would have created
> contours -highlights and shadows.
> It was sophisticated according to their canon.
> Architecture and sculpture were 3D. The Heb Sed
> buildings at Djoser's complex are sculpted and
> assembled. The statues were meant to be seen in
> the round. No, the art does not follow your rules
> of what is the "most recognizable angle of view."
> Why should it?
Because Jon believes line art to be "primitive", namely due to the apparent lack of "comprehension" to portray subjects in 3 dimensions on a 2 dimensional surface, he is attempting to juxtapose this "primitiveness" against the required "sophistication" of 3 dimensional stone statuary in an attempt to "prove" they could not have been made by the same culture. Of course whatever paintings would belong to the AE because such materials would otherwise be gone given the prerequisite tens of thousands if not millions of years for all such OLC "non-durable" materials to have disappeared.
Despite the culturally seamless congruity between AE painting and statuary, is that all 2-D art of the ancient world until classical Greece is no different. Why ancient peoples choose to limit themselves to this style for so long is an interesting thought, however, equating this to some kind of "primitiveness" is unwarranted as all other aspects of these cultures clearly show they did in fact understand these principles with a high level of sophistication, but rather
choose
to convey information in their art in this style
regardless
, ergo not a matter of "ability", but rather sensibility.
The rub, however, lost on Jon, is that the AE also made equally complex statuary in other "non-durable" materials no different than their stone counterparts.
A few examples: 6th Dynasty copper statues of Pepi and Merenre: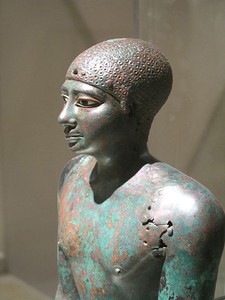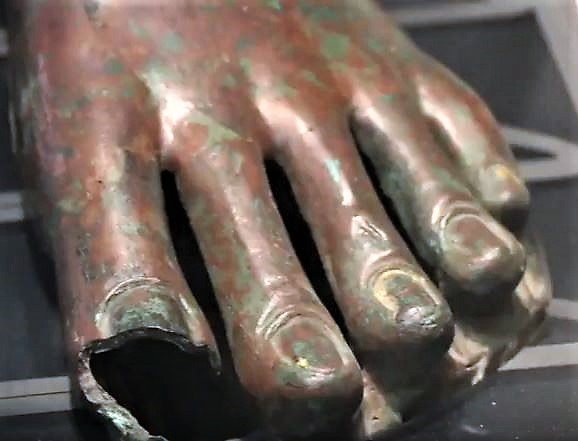 5th Dynasty wood statue of Ka-Aper
Wooden statues comparable to their stone counterparts are ubiquitous throughout AE culture and though largely all destroyed, date back to at least the 2nd Dynasty.
There is also the curious fascination, dating back to at least the OK, of wooden model making: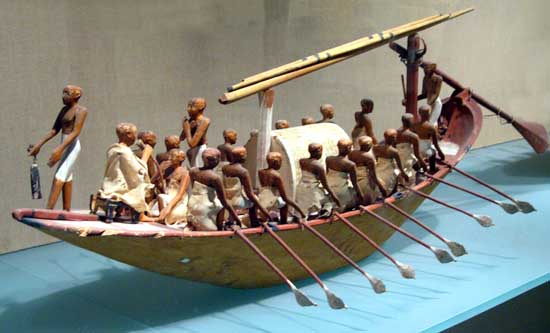 As we can see, the use of other mediums for statuary other than stone clearly demonstrates the AE ability to understand subjects in 3 dimensions regardless of whether they choose not to express this within their 2 dimensional art.
Edited 2 time(s). Last edit at 19-Apr-17 18:13 by Thanos5150.
Subject
Views
Written By
Posted
The Phyles in the chambers
3920
Audrey
09-Apr-17 03:10
Re: The Phyles in the chambers
682
Thanos5150
09-Apr-17 03:37
Re: The Phyles in the chambers
794
molder
09-Apr-17 03:51
monster of a paradigm
790
cladking
09-Apr-17 03:51
Re: The Phyles in the chambers
750
Origyptian
09-Apr-17 06:09
Re: The Phyles in the chambers
842
Martin Stower
09-Apr-17 12:03
Re: The Phyles in the chambers
549
cladking
09-Apr-17 13:54
Re: The Phyles in the chambers
646
Martin Stower
09-Apr-17 14:34
Re: The Phyles in the chambers
770
cladking
09-Apr-17 15:17
Re: The Phyles in the chambers
590
Martin Stower
09-Apr-17 15:33
Re: The Phyles in the chambers
505
Hanslune
09-Apr-17 21:43
Re: The Phyles in the chambers
611
Origyptian
09-Apr-17 15:02
Re: The Phyles in the chambers
719
Martin Stower
09-Apr-17 15:32
Re: The Phyles in the cham
568
Origyptian
09-Apr-17 16:24
Re: The Phyles in the cham
658
Martin Stower
09-Apr-17 16:49
Nix the Spoon
624
Warwick
09-Apr-17 16:55
Re: The Phyles in the cham
576
Origyptian
09-Apr-17 19:54
Re: The Phyles in the cham
565
Martin Stower
09-Apr-17 20:14
Re: The Phyles in the cham
658
Origyptian
09-Apr-17 20:33
Re: The Phyles in the cham
579
Martin Stower
09-Apr-17 21:36
Re: The Phyles in the cham
506
Warwick
10-Apr-17 16:22
Re: The Phyles in the cham
575
Origyptian
10-Apr-17 18:19
Re: The Phyles in the cham
545
Warwick
10-Apr-17 18:59
Re: The Phyles in the cham
521
Origyptian
10-Apr-17 19:30
Re: The Phyles in the cham
697
Warwick
10-Apr-17 19:39
Hint
660
Martin Stower
09-Apr-17 19:31
Re: Hint
697
Audrey
09-Apr-17 22:04
Re: Hint
627
Merrell
09-Apr-17 22:13
Re: Hint
680
Martin Stower
09-Apr-17 22:19
Re: Hint
633
Merrell
10-Apr-17 08:12
Re: Hint
594
Audrey
11-Apr-17 01:01
Re: Hint
532
Martin Stower
11-Apr-17 01:57
Re: Hint
608
Martin Stower
09-Apr-17 23:00
Re: Hint
530
Audrey
11-Apr-17 01:10
Re: Hint
671
Martin Stower
11-Apr-17 01:46
Re: Hint
518
Audrey
11-Apr-17 02:01
Re: Hint
569
Martin Stower
11-Apr-17 02:25
Re: Hint
687
Warwick
10-Apr-17 16:31
Re: Hint
588
Origyptian
10-Apr-17 18:27
Re: Hint
634
Martin Stower
10-Apr-17 18:35
Re: Hint
603
Warwick
10-Apr-17 18:39
Re: The Phyles in the chambers
620
Thanos5150
09-Apr-17 15:46
Re: The Phyles in the chambers
583
Martin Stower
09-Apr-17 16:03
Re: The Phyles in the chambers
542
Thanos5150
09-Apr-17 16:22
Re: The Phyles in the chambers
648
Warwick
09-Apr-17 16:30
Re: The Phyles in the chambers
565
Origyptian
09-Apr-17 16:40
Re: The Phyles in the chambers
531
Warwick
09-Apr-17 16:48
Re: The Phyles in the chambers
561
sfbey
10-Apr-17 14:29
Re: The Phyles in the chambers
614
Origyptian
10-Apr-17 15:40
Re: The Phyles in the chambers
490
Warwick
10-Apr-17 16:13
Re: The Phyles in the chambers
533
Origyptian
10-Apr-17 18:08
Re: The Phyles in the chambers
553
Martin Stower
10-Apr-17 18:27
Re: The Phyles in the chambers
479
Warwick
10-Apr-17 19:12
Re: The Phyles in the chambers
621
Origyptian
10-Apr-17 21:28
Re: The Phyles in the chambers
546
Warwick
10-Apr-17 19:09
Re: The Phyles in the chambers
696
Origyptian
10-Apr-17 20:09
Re: The Phyles in the chambers
720
Martin Stower
10-Apr-17 20:41
Re: The Phyles in the chambers
574
Origyptian
10-Apr-17 21:05
Re: The Phyles in the chambers
544
sfbey
10-Apr-17 21:20
Re: The Phyles in the chambers
523
Origyptian
10-Apr-17 21:43
Re: The Phyles in the chambers
561
Corpuscles
10-Apr-17 21:39
Re: The Phyles in the chambers
687
Martin Stower
10-Apr-17 21:46
Re: The Phyles in the chambers
544
Origyptian
10-Apr-17 21:52
Re: The Phyles in the chambers
684
Martin Stower
10-Apr-17 22:02
Re: The Phyles in the chambers
576
Origyptian
10-Apr-17 22:15
Re: The Phyles in the chambers
594
Martin Stower
10-Apr-17 22:57
Now the screaming will start
468
Warwick
11-Apr-17 16:45
Re: The Phyles in the chambers
646
Martin Stower
11-Apr-17 01:14
Re: The Phyles in the chambers
483
Warwick
11-Apr-17 16:35
Re: The Phyles in the chambers
501
Origyptian
11-Apr-17 20:34
Re: The Phyles in the chambers
590
Warwick
12-Apr-17 17:02
Re: The Phyles in the chambers
576
sfbey
12-Apr-17 18:29
Re: The Phyles in the chambers
550
Origyptian
12-Apr-17 18:53
Re: The Phyles in the chambers
426
Warwick
12-Apr-17 19:04
Re: The Phyles in the chambers
571
Origyptian
12-Apr-17 19:34
Re: The Phyles in the chambers
493
Warwick
13-Apr-17 16:11
Re: The Phyles in the chambers
566
Origyptian
13-Apr-17 16:28
Re: The Phyles in the chambers
618
sfbey
12-Apr-17 19:38
Re: The Phyles in the chambers
615
R Avry Wilson
13-Apr-17 01:13
Re: The Phyles in the chambers
571
Origyptian
13-Apr-17 02:46
Re: The Phyles in the chambers
479
Warwick
13-Apr-17 16:18
Re: The Phyles in the chambers
596
Origyptian
13-Apr-17 16:36
Re: The Phyles in the chambers
567
Warwick
13-Apr-17 16:53
Re: The Phyles in the chambers
655
Martin Stower
13-Apr-17 10:41
Re: The Phyles in the chambers
458
Warwick
12-Apr-17 19:03
Re: The Phyles in the chambers
608
sfbey
12-Apr-17 19:25
Re: The Phyles in the chambers
501
Warwick
13-Apr-17 16:07
Re: The Phyles in the chambers
552
Audrey
11-Apr-17 02:16
Re: The Phyles in the chambers
575
Origyptian
11-Apr-17 02:37
Re: The Phyles in the chambers
506
Martin Stower
11-Apr-17 02:41
Re: The Phyles in the chambers
566
Origyptian
11-Apr-17 03:01
Re: The Phyles in the chambers
611
Martin Stower
11-Apr-17 08:58
Re: The Phyles in the chambers
546
Warwick
11-Apr-17 16:55
Re: The Phyles in the chambers
568
Audrey
13-Apr-17 04:07
Re: The Phyles in the chambers
472
Warwick
13-Apr-17 16:32
Re: The Phyles in the chambers
560
Origyptian
13-Apr-17 17:20
Re: The Phyles in the chambers
547
Warwick
13-Apr-17 17:24
Re: The Phyles in the chambers
462
Thanos5150
09-Apr-17 17:15
Re: The Phyles in the chambers
446
Warwick
09-Apr-17 17:24
Re: The Phyles in the chambers
644
Thanos5150
09-Apr-17 17:16
Re: The Phyles in the chambers
575
Martin Stower
09-Apr-17 17:22
Re: The Phyles in the chambers
560
Warwick
09-Apr-17 17:37
Re: The Phyles in the chambers
556
Thanos5150
09-Apr-17 17:50
Re: The Phyles in the chambers
521
Warwick
09-Apr-17 18:02
Re: The Phyles in the chambers
643
Thunderbird
09-Apr-17 21:34
Re: The Phyles in the chambers
526
Martin Stower
09-Apr-17 21:44
Re: The Phyles in the chambers
584
Audrey
11-Apr-17 01:43
Re: To big to fail : )
682
Thunderbird
11-Apr-17 04:35
Re: To big to fail : )
511
Martin Stower
11-Apr-17 12:47
Re: To big to fail : )
566
Jon Ellison
11-Apr-17 13:42
Re: To big to fail : )
525
Jon Ellison
11-Apr-17 13:51
Re: To big to fail : )
678
Martin Stower
11-Apr-17 14:10
Re: To big to fail : )
627
Jon Ellison
11-Apr-17 15:49
Re: To big to fail : )
768
Martin Stower
11-Apr-17 16:06
Re: To big to fail : )
558
Warwick
12-Apr-17 17:32
Re: The Phyles in the chambers
706
Audrey
09-Apr-17 23:37
Re: The Phyles in the chambers
545
cladking
10-Apr-17 00:10
Re: The Phyles in the chambers
567
Thanos5150
10-Apr-17 01:09
Re: The Phyles in the chambers
565
Audrey
11-Apr-17 00:50
Re: The Phyles in the chambers
710
Thanos5150
11-Apr-17 03:16
Re: The Phyles in the chambers
756
Martin Stower
11-Apr-17 10:23
Re: The Phyles in the chambers
759
Thanos5150
11-Apr-17 16:06
Re: The Phyles in the chambers
540
Origyptian
11-Apr-17 20:13
Re: The Phyles in the chambers
612
Thanos5150
11-Apr-17 20:34
Re: Egyptians can move mountains
603
Thunderbird
11-Apr-17 19:05
Re: Egyptians can move mountains
605
Jon Ellison
11-Apr-17 19:30
FWIW
602
Warwick
11-Apr-17 19:46
Re: FWIW
612
Origyptian
11-Apr-17 21:02
Nothing up my sleeve...
553
cladking
11-Apr-17 21:09
Mumblejumbled numbers
641
Warwick
12-Apr-17 16:51
Re: Mumblejumbled numbers
653
cladking
12-Apr-17 18:16
Re: Mumblejumbled numbers
560
Warwick
12-Apr-17 19:11
Re: FWIW
613
Martin Stower
11-Apr-17 22:26
Re: Egyptians can move mountains
618
Thunderbird
11-Apr-17 20:02
Re: Egyptians can move mountains
504
Warwick
11-Apr-17 20:17
Re: Egyptians can move mountains
646
cladking
11-Apr-17 21:14
Re: Egyptians can move mountains
658
Warwick
12-Apr-17 17:05
Re: Egyptians can move mountains
501
cladking
12-Apr-17 18:28
Re: The Phyles in the chambers
620
Corpuscles
10-Apr-17 03:35
Re: The Phyles in the chambers
579
eyeofhorus33
10-Apr-17 14:06
Re: The Phyles in the chambers
566
Merrell
10-Apr-17 14:58
Re: The Phyles in the chambers
526
Warwick
10-Apr-17 16:48
Re: The Phyles in the chambers
679
Audrey
11-Apr-17 01:54
Re: The Phyles in the chambers
561
Warwick
11-Apr-17 17:07
Re: The Phyles in the chambers
535
Audrey
11-Apr-17 01:29
Re: The Phyles in the chambers
524
Origyptian
11-Apr-17 02:25
Re: Audrey's thought experiment
826
Corpuscles
12-Apr-17 00:38
Re: Audrey's thought experiment
743
Martin Stower
12-Apr-17 10:20
Re: Audrey's thought experiment
482
Thanos5150
12-Apr-17 16:51
Re: Audrey's thought experiment
450
Warwick
12-Apr-17 17:12
Re: Audrey's thought experiment
580
Thanos5150
12-Apr-17 20:15
Re: Audrey's thought experiment
527
Corpuscles
12-Apr-17 22:16
Re: Audrey's thought experiment
523
Martin Stower
12-Apr-17 23:04
Re: Audrey's thought experiment
761
Audrey
13-Apr-17 03:54
Re: Audrey's thought experiment
721
Corpuscles
13-Apr-17 10:03
Re: Audrey's thought experiment
580
Audrey
14-Apr-17 00:59
Re: Audrey's thought experiment
580
Corpuscles
14-Apr-17 23:20
Re: Audrey's thought experiment
690
Martin Stower
13-Apr-17 12:12
Re: Audrey's thought experiment
610
cladking
13-Apr-17 13:33
Re: Audrey's thought experiment
746
Martin Stower
13-Apr-17 13:48
Your Assumptions Are Showing...
517
cladking
13-Apr-17 17:00
Re: Your Assumptions Are Showing...
533
Martin Stower
13-Apr-17 18:31
Re: Your Assumptions Are Showing...
524
cladking
13-Apr-17 19:45
Re: Your Assumptions Are Showing...
674
Warwick
13-Apr-17 20:08
Re: Your Assumptions Are Showing...
498
Origyptian
13-Apr-17 20:24
Re: Your Assumptions Are Showing...
485
Martin Stower
13-Apr-17 20:46
Re: Your Assumptions Are Showing...
555
cladking
13-Apr-17 20:59
Re: Your Assumptions Are Showing...
612
R Avry Wilson
13-Apr-17 21:14
Re: Your Assumptions Are Showing...
568
cladking
13-Apr-17 21:31
Re: Your Assumptions Are Showing...
556
Origyptian
13-Apr-17 22:00
Re: Your Assumptions Are Showing...
551
R Avry Wilson
13-Apr-17 21:10
Re: Your Assumptions Are Showing...
430
cladking
13-Apr-17 21:43
Re: Your Assumptions Are Showing...
521
Origyptian
13-Apr-17 21:58
Re: Your Assumptions Are Showing...
614
R Avry Wilson
13-Apr-17 22:17
Re: Your Assumptions Are Showing...
513
cladking
13-Apr-17 22:32
Re: Your Assumptions Are Showing...
484
Origyptian
13-Apr-17 23:04
Re: Your Assumptions Are Showing...
492
Martin Stower
13-Apr-17 23:35
Re: Your Assumptions Are Showing...
551
Corpuscles
13-Apr-17 23:52
Re: Your Assumptions Are Showing...
496
Martin Stower
14-Apr-17 00:38
Re: Your Assumptions Are Showing...
546
cladking
14-Apr-17 00:52
Re: Your Assumptions Are Showing...
443
Warwick
17-Apr-17 16:18
Re: Your Assumptions Are Showing...
522
cladking
17-Apr-17 19:23
Re: Your Assumptions Are Showing...
449
cladking
17-Apr-17 19:30
Re: Your Assumptions Are Showing...
596
Tommi
18-Apr-17 17:45
Re: Your Assumptions Are Showing...
480
cladking
18-Apr-17 19:59
Re: Your Assumptions Are Showing...
501
Thanos5150
17-Apr-17 19:30
Re: Your Assumptions Are Showing...
457
Warwick
17-Apr-17 21:43
Re: Your Assumptions Are Showing...
630
R Avry Wilson
14-Apr-17 01:16
Re: Your Assumptions Are Showing...
533
Audrey
14-Apr-17 01:37
Re: Your Assumptions Are Showing...
544
R Avry Wilson
14-Apr-17 01:54
Re: Your Assumptions Are Showing...
501
Audrey
14-Apr-17 02:15
Re: Your Assumptions Are Showing...
534
cladking
14-Apr-17 02:27
Re: Your Assumptions Are Showing...
533
R Avry Wilson
14-Apr-17 03:32
Re: Your Assumptions Are Showing...
513
Audrey
14-Apr-17 04:12
Re: Your Assumptions Are Showing...
600
R Avry Wilson
14-Apr-17 07:22
Re: Your Assumptions Are Showing...
553
Martin Stower
14-Apr-17 11:08
Devil's Advocate:
937
WonderWho
14-Apr-17 11:52
Re: Devil's Advocate:
574
M. J. Thomas
14-Apr-17 18:59
Re: Devil's Advocate:
510
Martin Stower
15-Apr-17 22:54
re names
550
Warwick
17-Apr-17 16:34
Re: Your Assumptions Are Showing...
544
cladking
14-Apr-17 13:43
Re: Your Assumptions Are Showing...
496
Martin Stower
14-Apr-17 10:17
Re: Your Assumptions Are Showing...
555
cladking
14-Apr-17 15:52
Re: Your Assumptions Are Showing...
538
Martin Stower
14-Apr-17 20:57
Re: Your Assumptions Are Showing...
421
Warwick
17-Apr-17 16:39
Re: Your Assumptions Are Showing...
453
Warwick
17-Apr-17 16:23
Re: Your Assumptions Are Showing...
506
cladking
17-Apr-17 19:35
Re: Your Assumptions Are Showing...
380
cladking
14-Apr-17 02:20
Re: Your Assumptions Are Showing...
476
Origyptian
14-Apr-17 16:42
Re: Your Assumptions Are Showing...
451
cladking
14-Apr-17 17:33
Philip, the time waster
651
R Avry Wilson
15-Apr-17 00:42
Re: Philip, the time waster
581
cladking
15-Apr-17 01:38
Re: Philip, the time waster
607
Origyptian
15-Apr-17 21:31
Re: Your Assumptions Are Showing...
562
Thanos5150
14-Apr-17 18:22
Re: Your Assumptions Are Showing...
503
Origyptian
14-Apr-17 20:47
Re: Your Assumptions Are Showing...
585
Martin Stower
14-Apr-17 22:24
Re: Your Assumptions Are Showing...
466
Origyptian
14-Apr-17 22:36
Re: Your Assumptions Are Showing...
552
Martin Stower
14-Apr-17 23:00
Re: Your Assumptions Are Showing...
729
Thanos5150
15-Apr-17 01:42
Re: Your Assumptions Are Showing...
563
Martin Stower
15-Apr-17 09:47
Re: Your Assumptions Are Showing...
769
Thanos5150
15-Apr-17 17:19
Re: Your Assumptions Are Showing...
655
Origyptian
15-Apr-17 19:58
Re: Your Assumptions Are Showing...
654
Martin Stower
15-Apr-17 20:51
Re: Your Assumptions Are Showing...
789
Thanos5150
16-Apr-17 17:43
Re: Your Assumptions Are Showing...
529
Origyptian
16-Apr-17 18:26
Re: Your Assumptions Are Showing...
568
eyeofhorus33
16-Apr-17 20:24
Re: Your Assumptions Are Showing...
430
Origyptian
17-Apr-17 02:16
Re: Your Assumptions Are Showing...
530
Martin Stower
16-Apr-17 22:41
Re: Your Assumptions Are Showing...
481
Thanos5150
17-Apr-17 03:12
Re: Your Assumptions Are Showing...
554
Thanos5150
17-Apr-17 01:59
Re: Your Assumptions Are Showing...
454
Origyptian
17-Apr-17 02:19
Re: Your Assumptions Are Showing...
439
Martin Stower
17-Apr-17 12:42
Re: Your Assumptions Are Showing...
469
Origyptian
17-Apr-17 13:01
Re: Your Assumptions Are Showing...
568
Martin Stower
17-Apr-17 13:43
Re: Your Assumptions Are Showing...
541
Origyptian
17-Apr-17 13:47
Re: Your Assumptions Are Showing...
572
Martin Stower
17-Apr-17 14:37
Re: Your Assumptions Are Showing...
454
Origyptian
17-Apr-17 17:40
Re: Your Assumptions Are Showing...
494
Martin Stower
17-Apr-17 18:16
Re: Your Assumptions Are Showing...
557
Thanos5150
17-Apr-17 16:17
Re: Your Assumptions Are Showing...
514
Martin Stower
17-Apr-17 16:30
Re: Your Assumptions Are Showing...
449
Origyptian
17-Apr-17 17:48
Re: Your Assumptions Are Showing...
610
Martin Stower
17-Apr-17 18:14
Re: Your Assumptions Are Showing...
457
Origyptian
17-Apr-17 18:29
Re: Your Assumptions Are Showing...
534
Thanos5150
17-Apr-17 18:58
Re: Your Assumptions Are Showing...
434
Origyptian
17-Apr-17 19:34
Re: Your Assumptions Are Showing...
403
Martin Stower
17-Apr-17 20:48
Ori goes to a classy restaurant!
613
Corpuscles
17-Apr-17 23:12
Re: Ori goes to a classy restaurant!
524
Origyptian
18-Apr-17 03:46
Re: Ori goes to a classy restaurant!
515
Martin Stower
18-Apr-17 11:07
Re: Your Assumptions Are Showing...
513
Thanos5150
18-Apr-17 00:23
Re: Your Assumptions Are Showing...
505
Origyptian
18-Apr-17 04:04
Re: Your Assumptions Are Showing...
542
Martin Stower
18-Apr-17 11:23
Re: Your Assumptions Are Showing...
535
Origyptian
18-Apr-17 13:06
Re: Your Assumptions Are Showing...
521
Martin Stower
18-Apr-17 13:42
Re: Your Assumptions Are Showing...
513
Thanos5150
18-Apr-17 17:30
Re: Your Assumptions Are Showing...
497
Audrey
19-Apr-17 00:44
Re: Your Assumptions Are Showing...
539
Origyptian
19-Apr-17 01:09
Re: Your Assumptions Are Showing...
599
Thanos5150
19-Apr-17 01:26
Re: Your Assumptions Are Showing...
540
Thanos5150
19-Apr-17 01:13
Re: Your Assumptions Are Showing...
552
Audrey
19-Apr-17 02:07
Re: Your Assumptions Are Showing...
504
Martin Stower
19-Apr-17 11:44
Re: Your Assumptions Are Showing...
537
Warwick
19-Apr-17 16:56
Re: Your Assumptions Are Showing...
542
Martin Stower
20-Apr-17 00:36
Agrest and his sources
512
Merrell
20-Apr-17 12:18
Re: Your Assumptions Are Showing...
513
Origyptian
19-Apr-17 01:01
Re: Your Assumptions Are Showing...
538
Thanos5150
19-Apr-17 02:06
Re: Your Assumptions Are Showing...
627
Audrey
19-Apr-17 02:27
Re: Your Assumptions Are Showing...
624
Origyptian
19-Apr-17 03:30
Re: Your Assumptions Are Showing...
480
Thanos5150
19-Apr-17 04:40
Re: Your Assumptions Are Showing...
485
Thanos5150
19-Apr-17 06:06
Re: Your Assumptions Are Showing...
527
Origyptian
19-Apr-17 15:45
Re: Your Assumptions Are Showing...
493
Corpuscles
19-Apr-17 10:11
Re: Your Assumptions Are Showing...
613
Morten
19-Apr-17 11:24
Re: Your Assumptions Are Showing...
487
Corpuscles
19-Apr-17 11:38
Re: Your Assumptions Are Showing...
452
cladking
19-Apr-17 15:16
Re: Your Assumptions Are Showing...
539
Martin Stower
20-Apr-17 00:59
Re: Your Assumptions Are Showing...
520
Hanslune
20-Apr-17 02:39
Re: Your Assumptions Are Showing...
712
Martin Stower
20-Apr-17 08:09
Roman capabilities
528
Warwick
18-Apr-17 15:37
Re: Roman capabilities
474
Origyptian
18-Apr-17 16:04
Re: Roman capabilities
421
Warwick
18-Apr-17 18:04
Re: Roman capabilities
452
Origyptian
18-Apr-17 18:09
ahhhh. an attack. how droll
419
Warwick
18-Apr-17 20:25
Re: ahhhh. an attack. how droll
439
Origyptian
18-Apr-17 21:27
Re: ahhhh. an attack. how droll
413
Warwick
19-Apr-17 13:49
Stuck in a time warp
507
Audrey
18-Apr-17 03:35
Re: Stuck in a time warp
352
Martin Stower
18-Apr-17 10:56
Re: Stuck in a time warp
428
Audrey
19-Apr-17 01:04
Re: Stuck in a time warp
366
Martin Stower
19-Apr-17 09:49
Re: Your Assumptions Are Showing...
435
Thanos5150
17-Apr-17 16:00
Re: Your Assumptions Are Showing...
410
Origyptian
17-Apr-17 02:25
Experiment terminated
368
Martin Stower
17-Apr-17 12:52
Re: Your Assumptions Are Showing...
466
Jon Ellison
16-Apr-17 21:37
Re: Your Assumptions Are Showing...
506
Merrell
16-Apr-17 22:45
Re: Your Assumptions Are Showing...
621
Thanos5150
17-Apr-17 03:59
Re: Your Assumptions Are Showing...
573
Jon Ellison
17-Apr-17 08:07
Re: Your Assumptions Are Showing...
473
Thanos5150
17-Apr-17 15:36
Re: Your Assumptions Are Showing...
413
Warwick
17-Apr-17 22:01
Re: Your Assumptions Are Showing...
489
Jon Ellison
18-Apr-17 08:13
Re: Your Assumptions Are Showing...
303
Thanos5150
18-Apr-17 18:10
Re: Your Assumptions Are Showing...
529
Jon Ellison
19-Apr-17 00:41
Re: Your Assumptions Are Showing...
627
sfbey
19-Apr-17 14:30
Re: Your Assumptions Are Showing...
577
Jon Ellison
19-Apr-17 15:18
Re: Your Assumptions Are Showing...
344
cladking
19-Apr-17 15:48
Re: Your Assumptions Are Showing...
512
sfbey
19-Apr-17 15:57
Re: Your Assumptions Are Showing...
646
Thanos5150
19-Apr-17 17:22
Re: Your Assumptions Are Showing...
505
Thanos5150
19-Apr-17 17:35
Re: Your Assumptions Are Showing...
606
Origyptian
19-Apr-17 22:32
Re: Your Assumptions Are Showing...
386
Thanos5150
19-Apr-17 23:15
Re: Your Assumptions Are Showing...
423
Origyptian
19-Apr-17 23:21
Re: Your Assumptions Are Showing...
393
Warwick
20-Apr-17 16:57
Re: Your Assumptions Are Showing...
456
Origyptian
20-Apr-17 17:18
The Pyramids were NOT a secret
421
Warwick
20-Apr-17 17:50
Re: The Pyramids were NOT a secret
426
Origyptian
20-Apr-17 18:27
Re: The Pyramids were NOT a secret
335
Martin Stower
20-Apr-17 19:11
Re: The Pyramids were NOT a secret
368
Origyptian
20-Apr-17 19:29
Re: The Pyramids were NOT a secret
457
Martin Stower
20-Apr-17 22:15
Re: The Pyramids were NOT a secret
447
Origyptian
21-Apr-17 04:37
Re: The Pyramids were NOT a secret
368
Martin Stower
21-Apr-17 08:26
Flat, Oblique, Isometric, Single Point Linear, Two Point Linear
420
Jon Ellison
21-Apr-17 09:20
Mathematical bases of ancient Egyptian architecture and graphic art
592
sfbey
21-Apr-17 14:19
Re: Flat, Oblique, Isometric, Single Point Linear, Two Point Linear
337
Warwick
21-Apr-17 17:30
Re: Flat, Oblique, Isometric, Single Point Linear, Two Point Linear
381
Origyptian
21-Apr-17 19:37
Re: Flat, Oblique, Isometric, Single Point Linear, Two Point Linear
532
Warwick
22-Apr-17 15:53
Re: Flat, Oblique, Isometric, Single Point Linear, Two Point Linear
402
Origyptian
23-Apr-17 02:06
Re: Flat, Oblique, Isometric, Single Point Linear, Two Point Linear
302
Warwick
23-Apr-17 16:18
Re: Your Assumptions Are Showing...
359
Martin Stower
20-Apr-17 18:20
Re: Your Assumptions Are Showing...
382
Origyptian
20-Apr-17 18:44
Re: Your Assumptions Are Showing...
322
sfbey
20-Apr-17 19:03
Re: Your Assumptions Are Showing...
488
Martin Stower
20-Apr-17 19:16
Re: Your Assumptions Are Showing...
305
Martin Stower
20-Apr-17 19:31
Re: Your Assumptions Are Showing...
376
Martin Stower
20-Apr-17 17:52
Re: Your Assumptions Are Showing...
376
Origyptian
20-Apr-17 18:38
Re: Your Assumptions Are Showing...
328
Martin Stower
20-Apr-17 19:34
Re: Your Assumptions Are Showing...
576
Thanos5150
19-Apr-17 23:44
Re: Your Assumptions Are Showing...
350
Jon Ellison
19-Apr-17 18:19
Re: Your Assumptions Are Showing...
519
Thanos5150
19-Apr-17 19:45
Re: Your Assumptions Are Showing...
559
Jon Ellison
19-Apr-17 21:47
Re: Your Assumptions Are Showing...
440
Thanos5150
19-Apr-17 22:33
Re: Your Assumptions Are Showing...
445
Warwick
20-Apr-17 17:17
Re: Your Assumptions Are Showing...
512
Thanos5150
20-Apr-17 17:57
Principles of Egyptian Art
352
sfbey
20-Apr-17 18:49
Re: Your Assumptions Are Showing...
445
Jon Ellison
20-Apr-17 18:53
Re: Your Assumptions Are Showing...
460
Jon Ellison
20-Apr-17 19:28
Re: Your Assumptions Are Showing...
595
Thanos5150
20-Apr-17 20:24
Re: Your Assumptions Are Showing...
397
Thanos5150
20-Apr-17 20:43
Re: Your Assumptions Are Showing...
352
Origyptian
20-Apr-17 21:29
Re: Your Assumptions Are Showing...
480
Thanos5150
20-Apr-17 23:55
Re: Your Assumptions Are Showing...
511
R Avry Wilson
21-Apr-17 01:32
Re: Your Assumptions Are Showing...
539
Audrey
21-Apr-17 03:02
Re: Your Assumptions Are Showing...
404
Warwick
21-Apr-17 06:38
Re: Your Assumptions Are Showing...
339
Origyptian
21-Apr-17 04:56
Re: Your Assumptions Are Showing...
370
Corpuscles
21-Apr-17 06:36
Re: Your Assumptions Are Showing...
357
Corpuscles
21-Apr-17 06:08
Re: Your Assumptions Are Showing...
394
Thanos5150
21-Apr-17 06:44
The willfully blind do not see
409
Warwick
21-Apr-17 07:07
Re: The willfully blind do not see
371
Thanos5150
21-Apr-17 16:27
Re: The willfully blind do not see
418
Warwick
21-Apr-17 17:07
Re: The willfully blind do not see
387
Thanos5150
21-Apr-17 18:12
Re: The willfully blind do not see
465
eyeofhorus33
21-Apr-17 21:15
Re: The willfully ignorant do not learn
487
Audrey
22-Apr-17 02:29
Re: The willfully ignorant do not learn
626
Thanos5150
22-Apr-17 05:23
Re: The willfully ignorant do not learn
410
Jon Ellison
22-Apr-17 09:13
Re: The willfully ignorant do not learn
441
Jon Ellison
22-Apr-17 09:22
Re: The willfully ignorant do not learn
380
Jon Ellison
22-Apr-17 10:26
Re: The willfully ignorant do not learn
401
Jon Ellison
22-Apr-17 10:46
Re: The willfully ignorant do not learn
536
Jon Ellison
22-Apr-17 11:42
Re: The willfully ignorant do not learn
705
Origyptian
22-Apr-17 14:02
Re: The willfully ignorant do not learn
377
cladking
22-Apr-17 14:45
Re: The willfully ignorant do not learn
530
Jon Ellison
22-Apr-17 15:05
Re: The willfully ignorant do not learn
470
Origyptian
22-Apr-17 15:17
Re: The willfully ignorant do not learn
399
Jon Ellison
22-Apr-17 15:20
Re: The willfully ignorant do not learn
437
Thanos5150
22-Apr-17 15:46
Re: The willfully ignorant do not learn
349
Jon Ellison
22-Apr-17 16:07
Re: The willfully ignorant do not learn
427
Jon Ellison
22-Apr-17 16:56
Re: The willfully ignorant do not learn
396
Thanos5150
22-Apr-17 17:33
Re: The willfully ignorant do not learn
312
R Avry Wilson
22-Apr-17 19:38
Re: The willfully ignorant do not learn
524
cladking
22-Apr-17 19:46
Re: The willfully ignorant do not learn
391
cladking
22-Apr-17 19:54
Re: The willfully ignorant do not learn
371
Audrey
22-Apr-17 20:26
Re: The willfully ignorant do not learn
340
cladking
22-Apr-17 21:17
Re: The willfully ignorant do not learn
507
Audrey
22-Apr-17 20:36
Re: The willfully ignorant do not learn
326
cladking
22-Apr-17 21:21
Re: The willfully ignorant do not learn
384
Origyptian
22-Apr-17 13:51
Re: The willfully ignorant do not learn
431
Thanos5150
22-Apr-17 16:45
How this is relevant
424
Warwick
22-Apr-17 16:51
Re: How this is relevant
485
Origyptian
23-Apr-17 02:09
Re: How this is relevant
382
Warwick
23-Apr-17 15:43
Re: The willfully ignorant do not learn
401
Warwick
22-Apr-17 16:00
Direct questions to self appointed "alt' spokeswoman
467
Corpuscles
22-Apr-17 21:39
Re: Direct questions to self appointed "alt' spokeswoman
471
Origyptian
23-Apr-17 03:39
Re: Direct questions to self appointed "alt' spokeswoman
343
Corpuscles
23-Apr-17 07:19
Re: Direct questions to self appointed "alt' spokeswoman
523
Origyptian
23-Apr-17 13:51
Re: Direct questions to self appointed "alt' spokeswoman
376
Martin Stower
23-Apr-17 14:38
Re: Direct questions to self appointed "alt' spokeswoman
391
Origyptian
23-Apr-17 15:03
Re: Direct questions to self appointed "alt' spokeswoman
420
Corpuscles
23-Apr-17 22:14
Re: Direct questions to self appointed "alt' spokeswoman
400
Thanos5150
23-Apr-17 15:50
Re: Direct questions to self appointed "alt' spokeswoman
408
Origyptian
23-Apr-17 16:18
Re: Direct questions to self appointed "alt' spokeswoman
350
Martin Stower
23-Apr-17 12:58
Re: Direct questions to self appointed "alt' spokeswoman
325
Warwick
23-Apr-17 16:13
Re: Direct questions to self appointed "alt' spokeswoman
425
Corpuscles
23-Apr-17 21:44
Re: Your Assumptions Are Showing...
437
Corpuscles
21-Apr-17 07:12
Re: Your Assumptions Are Showing...
458
Warwick
21-Apr-17 17:43
Rabbits . . .
599
Martin Stower
21-Apr-17 10:04
Re: Rabbits . . .
570
Merrell
21-Apr-17 12:48
Re: Your Assumptions Are Showing...
378
Warwick
21-Apr-17 18:01
Re: Your Assumptions Are Showing...
481
Jon Ellison
20-Apr-17 20:45
Re: Your Assumptions Are Showing...
506
Audrey
21-Apr-17 01:08
Re: Your Assumptions Are Showing...
305
Jon Ellison
20-Apr-17 19:53
Re: Your Assumptions Are Showing...
429
Warwick
19-Apr-17 17:43
Re: Your Assumptions Are Showing...
492
Jon Ellison
19-Apr-17 18:40
Re: Your Assumptions Are Showing...
473
Warwick
20-Apr-17 17:29
Re: Your Assumptions Are Showing...
502
Corpuscles
17-Apr-17 00:04
Re: Your Assumptions Are Showing...
531
Thanos5150
17-Apr-17 02:05
Re: Your Assumptions Are Showing...
478
Martin Stower
17-Apr-17 00:05
Re: Your Assumptions Are Showing...
427
Thanos5150
17-Apr-17 03:15