Mysteries : The Official GrahamHancock.com forums
For serious discussion of the controversies, approaches and enigmas surrounding the origins and development of the human species and of human civilization. (NB: for more 'out there' posts we point you in the direction of the '
Paranormal & Supernatural
' Message Board).
Origyptian Wrote:
-------------------------------------------------------
> Thanos5150 Wrote:
> > Again, what evidence can you offer of the
> >
culture
itself the AE adopted them from
> > beyond just the monuments themselves?
Once again Origyptian ignores the question and goes right back to the "monuments".
> Are you suggesting that those monuments do not
> represent an enormous amount of evidence of the
> capabilities of the culture that built them?
I have no doubt you understand the question, yet you choose to pretend to answer it time and again with the same response about the monuments never once addressing the actual question which asks for evidence other than that. If you don't know, which we all know you don't, just be honest for once and say so.
> First
> of all, I never said the Dynastics adopted those
> monuments, I said they adapted those monuments.
And I don't care and say it for what it is, "adoption", a term coined by the late Alan Alford nearly 20yrs ago, the one thing I do know about him: "
Adoption Theory
".
Quote

In my book 'The Phoenix Solution' (1998), I noted that virtually all of the supposed evidence for 4th dynasty construction of the Giza Pyramids and Sphinx was, in fact, consistent with an adoption scenario. In other words, it seemed entirely plausible that the Egyptian kings Khufu and Khafre had adopted pre-existing structures in the form of the Great Pyramid, the Second Pyramid and the Sphinx...
Yet another example of your non-existent "revolution" you think has been happening here in "the last 2yrs".
> Second, what other evidence do you expect?
I will never understand why you are so often incapable of being honest. I know you are not stupid. The question has been explained many times before and if you truly do not understand what "culture" is beyond stone monuments you have even less reason to be here than you already do.
The irony, is that in my last few posts I am answering this question for you, like below.
> > You deny the
> > AE ability to craft hard stone, what I am
> getting
> > at is according to you something like this
> would
> > have to be evidence of one of the many cultures
> > you envision occupied AE prior to the Dynastic
> > Egyptians:
> How many times will traditionalists try to use
> that stone as evidence of provenance of such
> stonework in the 3rd millennium BC?
I know, right? How stupid must those "traditionalists" be to think 3,000yrs of uninterrupted depictions of pharaohs with their names on it and all the cultural trappings that go with it specific to only AE culture might actually belong to those very people. How foolish that their first thought 150yrs ago, which nothing has changed to the present day to contradict it, was instead they must be from a non-human/different species of human LC tens of thousands if not millions of years old.
> I've already
> mentioned many times that in my opinion, anyone
> with at least one functioning eye can see the
> vastly different craftsmanship that went into
> those chicken scratched graffiti glyphs on the
> base compared to the magnificent skill that went
> into the figures themselves.
So if the
quality of the inscription
is one of the determining factors then what are we to make of this:
Or say, this:
I would get your eyes checked as the statue inscriptions look exactly how they should which unlike the statue cannot be polished so it should be common sense they would retain inherent imperfections from hand engraving. Or is your expectation they were routered in with a CNC machine?
> It's this circular
> reptition of the same point that makes me avoid
> addressing your points all over again, year after
> year.
Yet you do all the same time and again offering the same evasions as always. And please understand the point of this is not for you, but a reminder for the readers who might still take you seriously at this point.
> At this point it's better if we simply agree
> to disagree than waste more bandwidth covering the
> same debate, discussion after discussion.
Please be honest as this is not a mere matter of "disagreement", nor are we having a "debate", as it is a point of fact you have no evidence to answer the question which anyone with at least one functioning eye can understand. And if you wish to stop wasting the bandwidth I suggest you stop promoting and imposing your world view on the rest of us by repeating the same nonsense over and over again post after post.
> > You believe this statue is tens of thousands of
> > years old and from the LC and the writing was
> > scrawled on there by AE squatters, right? I
> just
> > want to be clear.
> Not "is", but rather "could just as well be".
> Otherwise, yes, "clear".
"Could just as well be" AE or could be an LC millions of years old. Lol. "Who knows"? Egads.
Ok, so now that we cleared that up, when asked for evidence of the LC culture beyond the stone monuments you can answer now all of at least the igneous rock statues and artifacts like these:
Or just big statues like these:
If you are to be believed, that all of this is tens of thousands if not millions of years old, no one can say for sure, made by your LC, then in fact there is not only an abundance of their culture to be found beyond the monuments, like for example what clothes they wore, but also of what they looked like as these are the faces of the LC. You believe they were another species of human, or perhaps non-human-can you explain what it is about their anatomy that leads you to this conclusion? For example, what is it about these two that suggest to you they are "non-human" or a different species of human:
Is it the hawk growing out of the back of his head:
You also recently said that you are not sure if these things are 6,000 or 600 million(?) years old and have oft repeated we have no idea of knowing how old these "things" are. I wonder what their statues could tell us that would give us a clue:
Ram:
Hawk:
Domesticated
dog:
Domesticated
cat:
Baboons: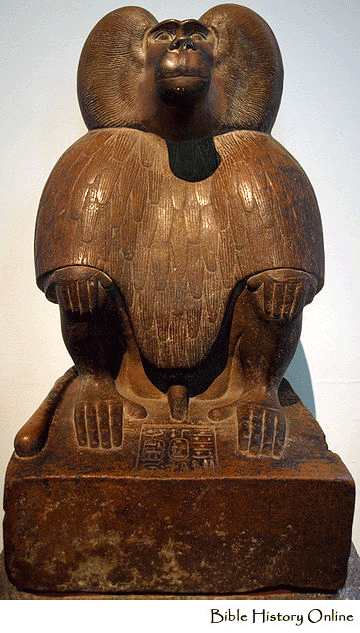 The
domesticated
cow:
And so forth.
Do you think the LC had domesticated dogs millions of years ago? Cats? Cows? I wonder if knowing when these animals first appeared in the anthropological record might give us some clue as to when the LC lived. Yet you just can't figure out how anyone might have a clue when these people lived and to you could just as easily have been tens of thousands if not hundreds of millions of years ago. Man, those traditionalist sure are stupid. What they hell are they thinking?
> Not just any "stone", mainly those which for which
> no tools or methods have been identified for 3rd
> millennium Egypt.
Can you give a few examples?
> And those tens of thousands of
> stone vessels discovered in the basement of Step
> Pyramid add an interesting ingredient to further
> amplify that mystery.
Right, like possibly the core of the stepped pyramid dates to the 1st or 2nd Dynasties which part and parcel of this stoneware are the seals and inscriptions found on them of these earlier pharaohs. Once again, you will find this idea is nothing new, one however, that I am keen on as well.
> But that's a sidebar which
> I'm not focusing on.
Good luck with that.
> Where is the evidence that such achievements were
> possible in 3rd millennium BC Egypt?
> Any artifacts
> of such tools?
> Any inscriptions describing or
> depicting such tools? Do the tombs of any
> architects, designers, builders, gang
> superivisors, etc. bring any of them to the
> afterlife? I'm certainly not the only one who's
> noticed that there indeed is a body of tools and
> documentation remaining behind from that era, but
> virtually nothing at all that speaks to their
> ability to achieve much of that stonework. Ther
> are far too many enigmas to ignore the disconnect.
That you are "not the only one" is beyond an understatement and pointed proof or your egocentric nature.
Its interesting that you use the lack of these things in their tombs as "proof" yet ignore if they did not exist they could never have made the very tombs in the first place which this evidence is not found.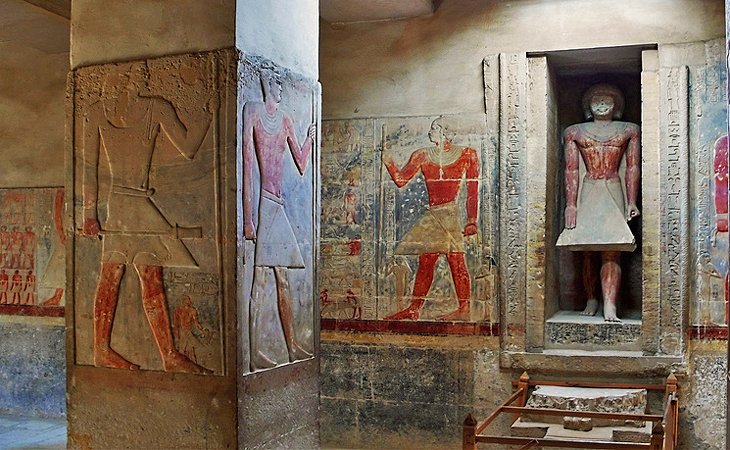 By your logic then, these are once again not the work of the AE, but rather the LC. Again, if we beleive what you say it is not the LC that is missing from history but rather the Dynastic Egyptians themselves.
> I don't understand your logic there. Why wouldn't
> they be able to add a block of stone where one is
> damaged or decayed in order to attempt to preserve
> the original condition?
So you are saying the LC also built Saqqara as well? So this is the work of the LC: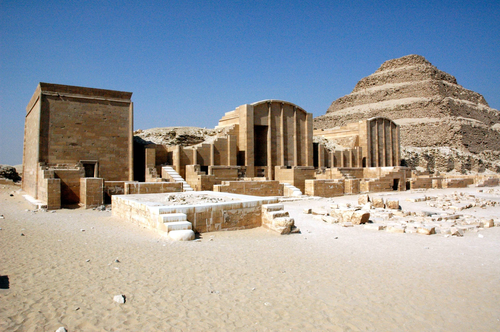 Awesome.
But what tools would they use to make these repairs? How would they carve the blocks to fit or lift them to set them in place? Several OK writings spoken of tell us how they are getting boatload after boatload of stone blocks from the quarries at Tura and Aswan, inlcuding lots of granite which are also comprised of finished peices such as sarcophagi, doors, offering tables, ect, which according to you would have been for repairs and not construction. Did the LC just leave these boatloads of blocks lying around the quarries to be used for 3,000yrs of repairs? How did they move the blocks or get them on to boats? How did they unload them, drag them to the site and install them one after the other just perfectly to match the stone already there so that no one would ever be any the wiser they were not part of the original construction?
By giving them the ability to repair these monuments you have given them the very principles to build them in the first place. And yet by the same token the tools to do such repairs are also missing so I guess this means its all tens of thousands if not millions of years old, repairs and all.
> Especialily if they
> adapted those monuments into an expression of
> their own funerary context.
Barf.
> I tell you what, give me a few thousand
> investigators for a few centuries, just like
> orthodoxy has had. Then we'll see whether it's
> possible to arrive at a more realistic narrative
> than what orthodoxy has been able to concoct with
> a similarly immense effort.
Yes, too bad none of these "thousands of investigators" ever shared their findings with anyone ever. They kept it all to themselves telling us sheeple what to believe leaving us with nothing to figure it out for ourselves. The grandest of conspiracies. If only we had access to all of their notes or digs or even the literally millions of artifacts they discovered. If only we could see these monuments for ourselves, or any other ancient culture for that matter, to give context to the history of the ancient world. My, if we did I bet the obvious answer would appear that instead of any of this appearing as it seems, it would all be magically turned on its head attributed to the work of a non-human LC tens of thousands if not millions of years ago. And not just Egypt but everywhere any big blocks are found.
> That's your characterization, not mine.
Of course its not yours, but it is the truth nonetheless.
[snip]
Edited 6 time(s). Last edit at 18-Apr-17 01:10 by Thanos5150.
Subject
Views
Written By
Posted
The Phyles in the chambers
3919
Audrey
09-Apr-17 03:10
Re: The Phyles in the chambers
681
Thanos5150
09-Apr-17 03:37
Re: The Phyles in the chambers
791
molder
09-Apr-17 03:51
monster of a paradigm
784
cladking
09-Apr-17 03:51
Re: The Phyles in the chambers
747
Origyptian
09-Apr-17 06:09
Re: The Phyles in the chambers
839
Martin Stower
09-Apr-17 12:03
Re: The Phyles in the chambers
548
cladking
09-Apr-17 13:54
Re: The Phyles in the chambers
644
Martin Stower
09-Apr-17 14:34
Re: The Phyles in the chambers
762
cladking
09-Apr-17 15:17
Re: The Phyles in the chambers
589
Martin Stower
09-Apr-17 15:33
Re: The Phyles in the chambers
504
Hanslune
09-Apr-17 21:43
Re: The Phyles in the chambers
609
Origyptian
09-Apr-17 15:02
Re: The Phyles in the chambers
717
Martin Stower
09-Apr-17 15:32
Re: The Phyles in the cham
567
Origyptian
09-Apr-17 16:24
Re: The Phyles in the cham
656
Martin Stower
09-Apr-17 16:49
Nix the Spoon
622
Warwick
09-Apr-17 16:55
Re: The Phyles in the cham
570
Origyptian
09-Apr-17 19:54
Re: The Phyles in the cham
564
Martin Stower
09-Apr-17 20:14
Re: The Phyles in the cham
657
Origyptian
09-Apr-17 20:33
Re: The Phyles in the cham
577
Martin Stower
09-Apr-17 21:36
Re: The Phyles in the cham
504
Warwick
10-Apr-17 16:22
Re: The Phyles in the cham
574
Origyptian
10-Apr-17 18:19
Re: The Phyles in the cham
544
Warwick
10-Apr-17 18:59
Re: The Phyles in the cham
519
Origyptian
10-Apr-17 19:30
Re: The Phyles in the cham
696
Warwick
10-Apr-17 19:39
Hint
659
Martin Stower
09-Apr-17 19:31
Re: Hint
695
Audrey
09-Apr-17 22:04
Re: Hint
618
Merrell
09-Apr-17 22:13
Re: Hint
679
Martin Stower
09-Apr-17 22:19
Re: Hint
632
Merrell
10-Apr-17 08:12
Re: Hint
592
Audrey
11-Apr-17 01:01
Re: Hint
531
Martin Stower
11-Apr-17 01:57
Re: Hint
607
Martin Stower
09-Apr-17 23:00
Re: Hint
528
Audrey
11-Apr-17 01:10
Re: Hint
670
Martin Stower
11-Apr-17 01:46
Re: Hint
514
Audrey
11-Apr-17 02:01
Re: Hint
568
Martin Stower
11-Apr-17 02:25
Re: Hint
685
Warwick
10-Apr-17 16:31
Re: Hint
586
Origyptian
10-Apr-17 18:27
Re: Hint
632
Martin Stower
10-Apr-17 18:35
Re: Hint
587
Warwick
10-Apr-17 18:39
Re: The Phyles in the chambers
617
Thanos5150
09-Apr-17 15:46
Re: The Phyles in the chambers
582
Martin Stower
09-Apr-17 16:03
Re: The Phyles in the chambers
541
Thanos5150
09-Apr-17 16:22
Re: The Phyles in the chambers
646
Warwick
09-Apr-17 16:30
Re: The Phyles in the chambers
564
Origyptian
09-Apr-17 16:40
Re: The Phyles in the chambers
530
Warwick
09-Apr-17 16:48
Re: The Phyles in the chambers
560
sfbey
10-Apr-17 14:29
Re: The Phyles in the chambers
612
Origyptian
10-Apr-17 15:40
Re: The Phyles in the chambers
489
Warwick
10-Apr-17 16:13
Re: The Phyles in the chambers
532
Origyptian
10-Apr-17 18:08
Re: The Phyles in the chambers
552
Martin Stower
10-Apr-17 18:27
Re: The Phyles in the chambers
478
Warwick
10-Apr-17 19:12
Re: The Phyles in the chambers
618
Origyptian
10-Apr-17 21:28
Re: The Phyles in the chambers
544
Warwick
10-Apr-17 19:09
Re: The Phyles in the chambers
695
Origyptian
10-Apr-17 20:09
Re: The Phyles in the chambers
715
Martin Stower
10-Apr-17 20:41
Re: The Phyles in the chambers
572
Origyptian
10-Apr-17 21:05
Re: The Phyles in the chambers
543
sfbey
10-Apr-17 21:20
Re: The Phyles in the chambers
520
Origyptian
10-Apr-17 21:43
Re: The Phyles in the chambers
559
Corpuscles
10-Apr-17 21:39
Re: The Phyles in the chambers
685
Martin Stower
10-Apr-17 21:46
Re: The Phyles in the chambers
542
Origyptian
10-Apr-17 21:52
Re: The Phyles in the chambers
683
Martin Stower
10-Apr-17 22:02
Re: The Phyles in the chambers
575
Origyptian
10-Apr-17 22:15
Re: The Phyles in the chambers
593
Martin Stower
10-Apr-17 22:57
Now the screaming will start
467
Warwick
11-Apr-17 16:45
Re: The Phyles in the chambers
644
Martin Stower
11-Apr-17 01:14
Re: The Phyles in the chambers
481
Warwick
11-Apr-17 16:35
Re: The Phyles in the chambers
499
Origyptian
11-Apr-17 20:34
Re: The Phyles in the chambers
589
Warwick
12-Apr-17 17:02
Re: The Phyles in the chambers
574
sfbey
12-Apr-17 18:29
Re: The Phyles in the chambers
549
Origyptian
12-Apr-17 18:53
Re: The Phyles in the chambers
424
Warwick
12-Apr-17 19:04
Re: The Phyles in the chambers
569
Origyptian
12-Apr-17 19:34
Re: The Phyles in the chambers
491
Warwick
13-Apr-17 16:11
Re: The Phyles in the chambers
563
Origyptian
13-Apr-17 16:28
Re: The Phyles in the chambers
609
sfbey
12-Apr-17 19:38
Re: The Phyles in the chambers
614
R Avry Wilson
13-Apr-17 01:13
Re: The Phyles in the chambers
569
Origyptian
13-Apr-17 02:46
Re: The Phyles in the chambers
478
Warwick
13-Apr-17 16:18
Re: The Phyles in the chambers
593
Origyptian
13-Apr-17 16:36
Re: The Phyles in the chambers
566
Warwick
13-Apr-17 16:53
Re: The Phyles in the chambers
652
Martin Stower
13-Apr-17 10:41
Re: The Phyles in the chambers
456
Warwick
12-Apr-17 19:03
Re: The Phyles in the chambers
606
sfbey
12-Apr-17 19:25
Re: The Phyles in the chambers
499
Warwick
13-Apr-17 16:07
Re: The Phyles in the chambers
551
Audrey
11-Apr-17 02:16
Re: The Phyles in the chambers
571
Origyptian
11-Apr-17 02:37
Re: The Phyles in the chambers
505
Martin Stower
11-Apr-17 02:41
Re: The Phyles in the chambers
565
Origyptian
11-Apr-17 03:01
Re: The Phyles in the chambers
609
Martin Stower
11-Apr-17 08:58
Re: The Phyles in the chambers
544
Warwick
11-Apr-17 16:55
Re: The Phyles in the chambers
566
Audrey
13-Apr-17 04:07
Re: The Phyles in the chambers
471
Warwick
13-Apr-17 16:32
Re: The Phyles in the chambers
559
Origyptian
13-Apr-17 17:20
Re: The Phyles in the chambers
546
Warwick
13-Apr-17 17:24
Re: The Phyles in the chambers
461
Thanos5150
09-Apr-17 17:15
Re: The Phyles in the chambers
444
Warwick
09-Apr-17 17:24
Re: The Phyles in the chambers
642
Thanos5150
09-Apr-17 17:16
Re: The Phyles in the chambers
573
Martin Stower
09-Apr-17 17:22
Re: The Phyles in the chambers
559
Warwick
09-Apr-17 17:37
Re: The Phyles in the chambers
554
Thanos5150
09-Apr-17 17:50
Re: The Phyles in the chambers
520
Warwick
09-Apr-17 18:02
Re: The Phyles in the chambers
642
Thunderbird
09-Apr-17 21:34
Re: The Phyles in the chambers
525
Martin Stower
09-Apr-17 21:44
Re: The Phyles in the chambers
582
Audrey
11-Apr-17 01:43
Re: To big to fail : )
680
Thunderbird
11-Apr-17 04:35
Re: To big to fail : )
508
Martin Stower
11-Apr-17 12:47
Re: To big to fail : )
565
Jon Ellison
11-Apr-17 13:42
Re: To big to fail : )
523
Jon Ellison
11-Apr-17 13:51
Re: To big to fail : )
669
Martin Stower
11-Apr-17 14:10
Re: To big to fail : )
625
Jon Ellison
11-Apr-17 15:49
Re: To big to fail : )
755
Martin Stower
11-Apr-17 16:06
Re: To big to fail : )
556
Warwick
12-Apr-17 17:32
Re: The Phyles in the chambers
704
Audrey
09-Apr-17 23:37
Re: The Phyles in the chambers
543
cladking
10-Apr-17 00:10
Re: The Phyles in the chambers
565
Thanos5150
10-Apr-17 01:09
Re: The Phyles in the chambers
564
Audrey
11-Apr-17 00:50
Re: The Phyles in the chambers
708
Thanos5150
11-Apr-17 03:16
Re: The Phyles in the chambers
754
Martin Stower
11-Apr-17 10:23
Re: The Phyles in the chambers
756
Thanos5150
11-Apr-17 16:06
Re: The Phyles in the chambers
537
Origyptian
11-Apr-17 20:13
Re: The Phyles in the chambers
610
Thanos5150
11-Apr-17 20:34
Re: Egyptians can move mountains
601
Thunderbird
11-Apr-17 19:05
Re: Egyptians can move mountains
604
Jon Ellison
11-Apr-17 19:30
FWIW
601
Warwick
11-Apr-17 19:46
Re: FWIW
603
Origyptian
11-Apr-17 21:02
Nothing up my sleeve...
551
cladking
11-Apr-17 21:09
Mumblejumbled numbers
639
Warwick
12-Apr-17 16:51
Re: Mumblejumbled numbers
652
cladking
12-Apr-17 18:16
Re: Mumblejumbled numbers
559
Warwick
12-Apr-17 19:11
Re: FWIW
612
Martin Stower
11-Apr-17 22:26
Re: Egyptians can move mountains
616
Thunderbird
11-Apr-17 20:02
Re: Egyptians can move mountains
503
Warwick
11-Apr-17 20:17
Re: Egyptians can move mountains
633
cladking
11-Apr-17 21:14
Re: Egyptians can move mountains
655
Warwick
12-Apr-17 17:05
Re: Egyptians can move mountains
500
cladking
12-Apr-17 18:28
Re: The Phyles in the chambers
619
Corpuscles
10-Apr-17 03:35
Re: The Phyles in the chambers
576
eyeofhorus33
10-Apr-17 14:06
Re: The Phyles in the chambers
564
Merrell
10-Apr-17 14:58
Re: The Phyles in the chambers
525
Warwick
10-Apr-17 16:48
Re: The Phyles in the chambers
678
Audrey
11-Apr-17 01:54
Re: The Phyles in the chambers
560
Warwick
11-Apr-17 17:07
Re: The Phyles in the chambers
532
Audrey
11-Apr-17 01:29
Re: The Phyles in the chambers
522
Origyptian
11-Apr-17 02:25
Re: Audrey's thought experiment
825
Corpuscles
12-Apr-17 00:38
Re: Audrey's thought experiment
741
Martin Stower
12-Apr-17 10:20
Re: Audrey's thought experiment
481
Thanos5150
12-Apr-17 16:51
Re: Audrey's thought experiment
449
Warwick
12-Apr-17 17:12
Re: Audrey's thought experiment
579
Thanos5150
12-Apr-17 20:15
Re: Audrey's thought experiment
526
Corpuscles
12-Apr-17 22:16
Re: Audrey's thought experiment
522
Martin Stower
12-Apr-17 23:04
Re: Audrey's thought experiment
759
Audrey
13-Apr-17 03:54
Re: Audrey's thought experiment
711
Corpuscles
13-Apr-17 10:03
Re: Audrey's thought experiment
579
Audrey
14-Apr-17 00:59
Re: Audrey's thought experiment
579
Corpuscles
14-Apr-17 23:20
Re: Audrey's thought experiment
688
Martin Stower
13-Apr-17 12:12
Re: Audrey's thought experiment
609
cladking
13-Apr-17 13:33
Re: Audrey's thought experiment
745
Martin Stower
13-Apr-17 13:48
Your Assumptions Are Showing...
515
cladking
13-Apr-17 17:00
Re: Your Assumptions Are Showing...
532
Martin Stower
13-Apr-17 18:31
Re: Your Assumptions Are Showing...
521
cladking
13-Apr-17 19:45
Re: Your Assumptions Are Showing...
669
Warwick
13-Apr-17 20:08
Re: Your Assumptions Are Showing...
495
Origyptian
13-Apr-17 20:24
Re: Your Assumptions Are Showing...
484
Martin Stower
13-Apr-17 20:46
Re: Your Assumptions Are Showing...
553
cladking
13-Apr-17 20:59
Re: Your Assumptions Are Showing...
611
R Avry Wilson
13-Apr-17 21:14
Re: Your Assumptions Are Showing...
564
cladking
13-Apr-17 21:31
Re: Your Assumptions Are Showing...
555
Origyptian
13-Apr-17 22:00
Re: Your Assumptions Are Showing...
549
R Avry Wilson
13-Apr-17 21:10
Re: Your Assumptions Are Showing...
427
cladking
13-Apr-17 21:43
Re: Your Assumptions Are Showing...
519
Origyptian
13-Apr-17 21:58
Re: Your Assumptions Are Showing...
612
R Avry Wilson
13-Apr-17 22:17
Re: Your Assumptions Are Showing...
510
cladking
13-Apr-17 22:32
Re: Your Assumptions Are Showing...
483
Origyptian
13-Apr-17 23:04
Re: Your Assumptions Are Showing...
490
Martin Stower
13-Apr-17 23:35
Re: Your Assumptions Are Showing...
549
Corpuscles
13-Apr-17 23:52
Re: Your Assumptions Are Showing...
495
Martin Stower
14-Apr-17 00:38
Re: Your Assumptions Are Showing...
545
cladking
14-Apr-17 00:52
Re: Your Assumptions Are Showing...
441
Warwick
17-Apr-17 16:18
Re: Your Assumptions Are Showing...
520
cladking
17-Apr-17 19:23
Re: Your Assumptions Are Showing...
448
cladking
17-Apr-17 19:30
Re: Your Assumptions Are Showing...
593
Tommi
18-Apr-17 17:45
Re: Your Assumptions Are Showing...
478
cladking
18-Apr-17 19:59
Re: Your Assumptions Are Showing...
499
Thanos5150
17-Apr-17 19:30
Re: Your Assumptions Are Showing...
455
Warwick
17-Apr-17 21:43
Re: Your Assumptions Are Showing...
628
R Avry Wilson
14-Apr-17 01:16
Re: Your Assumptions Are Showing...
531
Audrey
14-Apr-17 01:37
Re: Your Assumptions Are Showing...
542
R Avry Wilson
14-Apr-17 01:54
Re: Your Assumptions Are Showing...
499
Audrey
14-Apr-17 02:15
Re: Your Assumptions Are Showing...
533
cladking
14-Apr-17 02:27
Re: Your Assumptions Are Showing...
532
R Avry Wilson
14-Apr-17 03:32
Re: Your Assumptions Are Showing...
511
Audrey
14-Apr-17 04:12
Re: Your Assumptions Are Showing...
599
R Avry Wilson
14-Apr-17 07:22
Re: Your Assumptions Are Showing...
551
Martin Stower
14-Apr-17 11:08
Devil's Advocate:
927
WonderWho
14-Apr-17 11:52
Re: Devil's Advocate:
570
M. J. Thomas
14-Apr-17 18:59
Re: Devil's Advocate:
509
Martin Stower
15-Apr-17 22:54
re names
548
Warwick
17-Apr-17 16:34
Re: Your Assumptions Are Showing...
542
cladking
14-Apr-17 13:43
Re: Your Assumptions Are Showing...
494
Martin Stower
14-Apr-17 10:17
Re: Your Assumptions Are Showing...
554
cladking
14-Apr-17 15:52
Re: Your Assumptions Are Showing...
537
Martin Stower
14-Apr-17 20:57
Re: Your Assumptions Are Showing...
418
Warwick
17-Apr-17 16:39
Re: Your Assumptions Are Showing...
452
Warwick
17-Apr-17 16:23
Re: Your Assumptions Are Showing...
504
cladking
17-Apr-17 19:35
Re: Your Assumptions Are Showing...
377
cladking
14-Apr-17 02:20
Re: Your Assumptions Are Showing...
475
Origyptian
14-Apr-17 16:42
Re: Your Assumptions Are Showing...
450
cladking
14-Apr-17 17:33
Philip, the time waster
650
R Avry Wilson
15-Apr-17 00:42
Re: Philip, the time waster
578
cladking
15-Apr-17 01:38
Re: Philip, the time waster
599
Origyptian
15-Apr-17 21:31
Re: Your Assumptions Are Showing...
560
Thanos5150
14-Apr-17 18:22
Re: Your Assumptions Are Showing...
501
Origyptian
14-Apr-17 20:47
Re: Your Assumptions Are Showing...
584
Martin Stower
14-Apr-17 22:24
Re: Your Assumptions Are Showing...
464
Origyptian
14-Apr-17 22:36
Re: Your Assumptions Are Showing...
551
Martin Stower
14-Apr-17 23:00
Re: Your Assumptions Are Showing...
728
Thanos5150
15-Apr-17 01:42
Re: Your Assumptions Are Showing...
562
Martin Stower
15-Apr-17 09:47
Re: Your Assumptions Are Showing...
766
Thanos5150
15-Apr-17 17:19
Re: Your Assumptions Are Showing...
652
Origyptian
15-Apr-17 19:58
Re: Your Assumptions Are Showing...
645
Martin Stower
15-Apr-17 20:51
Re: Your Assumptions Are Showing...
787
Thanos5150
16-Apr-17 17:43
Re: Your Assumptions Are Showing...
528
Origyptian
16-Apr-17 18:26
Re: Your Assumptions Are Showing...
559
eyeofhorus33
16-Apr-17 20:24
Re: Your Assumptions Are Showing...
428
Origyptian
17-Apr-17 02:16
Re: Your Assumptions Are Showing...
529
Martin Stower
16-Apr-17 22:41
Re: Your Assumptions Are Showing...
479
Thanos5150
17-Apr-17 03:12
Re: Your Assumptions Are Showing...
550
Thanos5150
17-Apr-17 01:59
Re: Your Assumptions Are Showing...
453
Origyptian
17-Apr-17 02:19
Re: Your Assumptions Are Showing...
438
Martin Stower
17-Apr-17 12:42
Re: Your Assumptions Are Showing...
467
Origyptian
17-Apr-17 13:01
Re: Your Assumptions Are Showing...
563
Martin Stower
17-Apr-17 13:43
Re: Your Assumptions Are Showing...
540
Origyptian
17-Apr-17 13:47
Re: Your Assumptions Are Showing...
571
Martin Stower
17-Apr-17 14:37
Re: Your Assumptions Are Showing...
453
Origyptian
17-Apr-17 17:40
Re: Your Assumptions Are Showing...
492
Martin Stower
17-Apr-17 18:16
Re: Your Assumptions Are Showing...
555
Thanos5150
17-Apr-17 16:17
Re: Your Assumptions Are Showing...
511
Martin Stower
17-Apr-17 16:30
Re: Your Assumptions Are Showing...
448
Origyptian
17-Apr-17 17:48
Re: Your Assumptions Are Showing...
601
Martin Stower
17-Apr-17 18:14
Re: Your Assumptions Are Showing...
455
Origyptian
17-Apr-17 18:29
Re: Your Assumptions Are Showing...
532
Thanos5150
17-Apr-17 18:58
Re: Your Assumptions Are Showing...
433
Origyptian
17-Apr-17 19:34
Re: Your Assumptions Are Showing...
400
Martin Stower
17-Apr-17 20:48
Ori goes to a classy restaurant!
607
Corpuscles
17-Apr-17 23:12
Re: Ori goes to a classy restaurant!
523
Origyptian
18-Apr-17 03:46
Re: Ori goes to a classy restaurant!
514
Martin Stower
18-Apr-17 11:07
Re: Your Assumptions Are Showing...
511
Thanos5150
18-Apr-17 00:23
Re: Your Assumptions Are Showing...
503
Origyptian
18-Apr-17 04:04
Re: Your Assumptions Are Showing...
540
Martin Stower
18-Apr-17 11:23
Re: Your Assumptions Are Showing...
533
Origyptian
18-Apr-17 13:06
Re: Your Assumptions Are Showing...
520
Martin Stower
18-Apr-17 13:42
Re: Your Assumptions Are Showing...
511
Thanos5150
18-Apr-17 17:30
Re: Your Assumptions Are Showing...
496
Audrey
19-Apr-17 00:44
Re: Your Assumptions Are Showing...
537
Origyptian
19-Apr-17 01:09
Re: Your Assumptions Are Showing...
594
Thanos5150
19-Apr-17 01:26
Re: Your Assumptions Are Showing...
539
Thanos5150
19-Apr-17 01:13
Re: Your Assumptions Are Showing...
550
Audrey
19-Apr-17 02:07
Re: Your Assumptions Are Showing...
502
Martin Stower
19-Apr-17 11:44
Re: Your Assumptions Are Showing...
533
Warwick
19-Apr-17 16:56
Re: Your Assumptions Are Showing...
541
Martin Stower
20-Apr-17 00:36
Agrest and his sources
511
Merrell
20-Apr-17 12:18
Re: Your Assumptions Are Showing...
511
Origyptian
19-Apr-17 01:01
Re: Your Assumptions Are Showing...
536
Thanos5150
19-Apr-17 02:06
Re: Your Assumptions Are Showing...
624
Audrey
19-Apr-17 02:27
Re: Your Assumptions Are Showing...
614
Origyptian
19-Apr-17 03:30
Re: Your Assumptions Are Showing...
478
Thanos5150
19-Apr-17 04:40
Re: Your Assumptions Are Showing...
482
Thanos5150
19-Apr-17 06:06
Re: Your Assumptions Are Showing...
525
Origyptian
19-Apr-17 15:45
Re: Your Assumptions Are Showing...
492
Corpuscles
19-Apr-17 10:11
Re: Your Assumptions Are Showing...
612
Morten
19-Apr-17 11:24
Re: Your Assumptions Are Showing...
486
Corpuscles
19-Apr-17 11:38
Re: Your Assumptions Are Showing...
450
cladking
19-Apr-17 15:16
Re: Your Assumptions Are Showing...
537
Martin Stower
20-Apr-17 00:59
Re: Your Assumptions Are Showing...
518
Hanslune
20-Apr-17 02:39
Re: Your Assumptions Are Showing...
703
Martin Stower
20-Apr-17 08:09
Roman capabilities
527
Warwick
18-Apr-17 15:37
Re: Roman capabilities
473
Origyptian
18-Apr-17 16:04
Re: Roman capabilities
420
Warwick
18-Apr-17 18:04
Re: Roman capabilities
450
Origyptian
18-Apr-17 18:09
ahhhh. an attack. how droll
418
Warwick
18-Apr-17 20:25
Re: ahhhh. an attack. how droll
437
Origyptian
18-Apr-17 21:27
Re: ahhhh. an attack. how droll
403
Warwick
19-Apr-17 13:49
Stuck in a time warp
506
Audrey
18-Apr-17 03:35
Re: Stuck in a time warp
350
Martin Stower
18-Apr-17 10:56
Re: Stuck in a time warp
427
Audrey
19-Apr-17 01:04
Re: Stuck in a time warp
365
Martin Stower
19-Apr-17 09:49
Re: Your Assumptions Are Showing...
434
Thanos5150
17-Apr-17 16:00
Re: Your Assumptions Are Showing...
407
Origyptian
17-Apr-17 02:25
Experiment terminated
367
Martin Stower
17-Apr-17 12:52
Re: Your Assumptions Are Showing...
465
Jon Ellison
16-Apr-17 21:37
Re: Your Assumptions Are Showing...
504
Merrell
16-Apr-17 22:45
Re: Your Assumptions Are Showing...
619
Thanos5150
17-Apr-17 03:59
Re: Your Assumptions Are Showing...
565
Jon Ellison
17-Apr-17 08:07
Re: Your Assumptions Are Showing...
459
Thanos5150
17-Apr-17 15:36
Re: Your Assumptions Are Showing...
410
Warwick
17-Apr-17 22:01
Re: Your Assumptions Are Showing...
488
Jon Ellison
18-Apr-17 08:13
Re: Your Assumptions Are Showing...
302
Thanos5150
18-Apr-17 18:10
Re: Your Assumptions Are Showing...
528
Jon Ellison
19-Apr-17 00:41
Re: Your Assumptions Are Showing...
619
sfbey
19-Apr-17 14:30
Re: Your Assumptions Are Showing...
576
Jon Ellison
19-Apr-17 15:18
Re: Your Assumptions Are Showing...
342
cladking
19-Apr-17 15:48
Re: Your Assumptions Are Showing...
511
sfbey
19-Apr-17 15:57
Re: Your Assumptions Are Showing...
645
Thanos5150
19-Apr-17 17:22
Re: Your Assumptions Are Showing...
504
Thanos5150
19-Apr-17 17:35
Re: Your Assumptions Are Showing...
603
Origyptian
19-Apr-17 22:32
Re: Your Assumptions Are Showing...
385
Thanos5150
19-Apr-17 23:15
Re: Your Assumptions Are Showing...
421
Origyptian
19-Apr-17 23:21
Re: Your Assumptions Are Showing...
391
Warwick
20-Apr-17 16:57
Re: Your Assumptions Are Showing...
445
Origyptian
20-Apr-17 17:18
The Pyramids were NOT a secret
419
Warwick
20-Apr-17 17:50
Re: The Pyramids were NOT a secret
424
Origyptian
20-Apr-17 18:27
Re: The Pyramids were NOT a secret
334
Martin Stower
20-Apr-17 19:11
Re: The Pyramids were NOT a secret
367
Origyptian
20-Apr-17 19:29
Re: The Pyramids were NOT a secret
455
Martin Stower
20-Apr-17 22:15
Re: The Pyramids were NOT a secret
445
Origyptian
21-Apr-17 04:37
Re: The Pyramids were NOT a secret
365
Martin Stower
21-Apr-17 08:26
Flat, Oblique, Isometric, Single Point Linear, Two Point Linear
418
Jon Ellison
21-Apr-17 09:20
Mathematical bases of ancient Egyptian architecture and graphic art
591
sfbey
21-Apr-17 14:19
Re: Flat, Oblique, Isometric, Single Point Linear, Two Point Linear
334
Warwick
21-Apr-17 17:30
Re: Flat, Oblique, Isometric, Single Point Linear, Two Point Linear
379
Origyptian
21-Apr-17 19:37
Re: Flat, Oblique, Isometric, Single Point Linear, Two Point Linear
530
Warwick
22-Apr-17 15:53
Re: Flat, Oblique, Isometric, Single Point Linear, Two Point Linear
401
Origyptian
23-Apr-17 02:06
Re: Flat, Oblique, Isometric, Single Point Linear, Two Point Linear
301
Warwick
23-Apr-17 16:18
Re: Your Assumptions Are Showing...
358
Martin Stower
20-Apr-17 18:20
Re: Your Assumptions Are Showing...
381
Origyptian
20-Apr-17 18:44
Re: Your Assumptions Are Showing...
319
sfbey
20-Apr-17 19:03
Re: Your Assumptions Are Showing...
485
Martin Stower
20-Apr-17 19:16
Re: Your Assumptions Are Showing...
304
Martin Stower
20-Apr-17 19:31
Re: Your Assumptions Are Showing...
374
Martin Stower
20-Apr-17 17:52
Re: Your Assumptions Are Showing...
374
Origyptian
20-Apr-17 18:38
Re: Your Assumptions Are Showing...
327
Martin Stower
20-Apr-17 19:34
Re: Your Assumptions Are Showing...
573
Thanos5150
19-Apr-17 23:44
Re: Your Assumptions Are Showing...
349
Jon Ellison
19-Apr-17 18:19
Re: Your Assumptions Are Showing...
517
Thanos5150
19-Apr-17 19:45
Re: Your Assumptions Are Showing...
558
Jon Ellison
19-Apr-17 21:47
Re: Your Assumptions Are Showing...
438
Thanos5150
19-Apr-17 22:33
Re: Your Assumptions Are Showing...
444
Warwick
20-Apr-17 17:17
Re: Your Assumptions Are Showing...
510
Thanos5150
20-Apr-17 17:57
Principles of Egyptian Art
350
sfbey
20-Apr-17 18:49
Re: Your Assumptions Are Showing...
444
Jon Ellison
20-Apr-17 18:53
Re: Your Assumptions Are Showing...
459
Jon Ellison
20-Apr-17 19:28
Re: Your Assumptions Are Showing...
593
Thanos5150
20-Apr-17 20:24
Re: Your Assumptions Are Showing...
395
Thanos5150
20-Apr-17 20:43
Re: Your Assumptions Are Showing...
351
Origyptian
20-Apr-17 21:29
Re: Your Assumptions Are Showing...
472
Thanos5150
20-Apr-17 23:55
Re: Your Assumptions Are Showing...
509
R Avry Wilson
21-Apr-17 01:32
Re: Your Assumptions Are Showing...
537
Audrey
21-Apr-17 03:02
Re: Your Assumptions Are Showing...
403
Warwick
21-Apr-17 06:38
Re: Your Assumptions Are Showing...
337
Origyptian
21-Apr-17 04:56
Re: Your Assumptions Are Showing...
369
Corpuscles
21-Apr-17 06:36
Re: Your Assumptions Are Showing...
355
Corpuscles
21-Apr-17 06:08
Re: Your Assumptions Are Showing...
392
Thanos5150
21-Apr-17 06:44
The willfully blind do not see
407
Warwick
21-Apr-17 07:07
Re: The willfully blind do not see
368
Thanos5150
21-Apr-17 16:27
Re: The willfully blind do not see
417
Warwick
21-Apr-17 17:07
Re: The willfully blind do not see
385
Thanos5150
21-Apr-17 18:12
Re: The willfully blind do not see
452
eyeofhorus33
21-Apr-17 21:15
Re: The willfully ignorant do not learn
486
Audrey
22-Apr-17 02:29
Re: The willfully ignorant do not learn
622
Thanos5150
22-Apr-17 05:23
Re: The willfully ignorant do not learn
409
Jon Ellison
22-Apr-17 09:13
Re: The willfully ignorant do not learn
439
Jon Ellison
22-Apr-17 09:22
Re: The willfully ignorant do not learn
378
Jon Ellison
22-Apr-17 10:26
Re: The willfully ignorant do not learn
399
Jon Ellison
22-Apr-17 10:46
Re: The willfully ignorant do not learn
535
Jon Ellison
22-Apr-17 11:42
Re: The willfully ignorant do not learn
702
Origyptian
22-Apr-17 14:02
Re: The willfully ignorant do not learn
375
cladking
22-Apr-17 14:45
Re: The willfully ignorant do not learn
529
Jon Ellison
22-Apr-17 15:05
Re: The willfully ignorant do not learn
469
Origyptian
22-Apr-17 15:17
Re: The willfully ignorant do not learn
398
Jon Ellison
22-Apr-17 15:20
Re: The willfully ignorant do not learn
436
Thanos5150
22-Apr-17 15:46
Re: The willfully ignorant do not learn
346
Jon Ellison
22-Apr-17 16:07
Re: The willfully ignorant do not learn
426
Jon Ellison
22-Apr-17 16:56
Re: The willfully ignorant do not learn
393
Thanos5150
22-Apr-17 17:33
Re: The willfully ignorant do not learn
309
R Avry Wilson
22-Apr-17 19:38
Re: The willfully ignorant do not learn
523
cladking
22-Apr-17 19:46
Re: The willfully ignorant do not learn
376
cladking
22-Apr-17 19:54
Re: The willfully ignorant do not learn
370
Audrey
22-Apr-17 20:26
Re: The willfully ignorant do not learn
337
cladking
22-Apr-17 21:17
Re: The willfully ignorant do not learn
506
Audrey
22-Apr-17 20:36
Re: The willfully ignorant do not learn
324
cladking
22-Apr-17 21:21
Re: The willfully ignorant do not learn
382
Origyptian
22-Apr-17 13:51
Re: The willfully ignorant do not learn
429
Thanos5150
22-Apr-17 16:45
How this is relevant
423
Warwick
22-Apr-17 16:51
Re: How this is relevant
483
Origyptian
23-Apr-17 02:09
Re: How this is relevant
381
Warwick
23-Apr-17 15:43
Re: The willfully ignorant do not learn
397
Warwick
22-Apr-17 16:00
Direct questions to self appointed "alt' spokeswoman
466
Corpuscles
22-Apr-17 21:39
Re: Direct questions to self appointed "alt' spokeswoman
468
Origyptian
23-Apr-17 03:39
Re: Direct questions to self appointed "alt' spokeswoman
341
Corpuscles
23-Apr-17 07:19
Re: Direct questions to self appointed "alt' spokeswoman
522
Origyptian
23-Apr-17 13:51
Re: Direct questions to self appointed "alt' spokeswoman
375
Martin Stower
23-Apr-17 14:38
Re: Direct questions to self appointed "alt' spokeswoman
389
Origyptian
23-Apr-17 15:03
Re: Direct questions to self appointed "alt' spokeswoman
418
Corpuscles
23-Apr-17 22:14
Re: Direct questions to self appointed "alt' spokeswoman
398
Thanos5150
23-Apr-17 15:50
Re: Direct questions to self appointed "alt' spokeswoman
406
Origyptian
23-Apr-17 16:18
Re: Direct questions to self appointed "alt' spokeswoman
348
Martin Stower
23-Apr-17 12:58
Re: Direct questions to self appointed "alt' spokeswoman
324
Warwick
23-Apr-17 16:13
Re: Direct questions to self appointed "alt' spokeswoman
424
Corpuscles
23-Apr-17 21:44
Re: Your Assumptions Are Showing...
436
Corpuscles
21-Apr-17 07:12
Re: Your Assumptions Are Showing...
450
Warwick
21-Apr-17 17:43
Rabbits . . .
598
Martin Stower
21-Apr-17 10:04
Re: Rabbits . . .
568
Merrell
21-Apr-17 12:48
Re: Your Assumptions Are Showing...
377
Warwick
21-Apr-17 18:01
Re: Your Assumptions Are Showing...
480
Jon Ellison
20-Apr-17 20:45
Re: Your Assumptions Are Showing...
504
Audrey
21-Apr-17 01:08
Re: Your Assumptions Are Showing...
304
Jon Ellison
20-Apr-17 19:53
Re: Your Assumptions Are Showing...
427
Warwick
19-Apr-17 17:43
Re: Your Assumptions Are Showing...
491