Mysteries : The Official GrahamHancock.com forums
For serious discussion of the controversies, approaches and enigmas surrounding the origins and development of the human species and of human civilization. (NB: for more 'out there' posts we point you in the direction of the '
Paranormal & Supernatural
' Message Board).
This was all talked about at length in December:
Pyramid Construction.
DUNE Wrote:
-------------------------------------------------------
> Hi John,
>
> Yea G3 is a bit of a puzzle , they even changed
> their minds on how to build the so called Queens
> pyramids.
>
> Two of them get built in a step like fashion, then
> the third seems to have been built in the same
> manner as the main pyramids.
No. As talked about before we are seeing them in their various stages of completion, but were all made the same way:
You can see the ribs of the steps of the 3rd pyramid
HERE.
In response to this same comment by loveritas I replied:
Quote

It should be obvious the outer layer has fallen away from the other two whereas the 3rd clearly still retains its outer "true" pyramid layer.

To pan out we can see the outer layer has fallen away and still remains. When originally finished #1 would have looked like #3 just like #3 would like #1 today if these blocks were stripped away:

A different angle from the source of your

PHOTO.

From

HERE. HERE

you can see the steps starting to reveal themselves.
> I dont know if this is significant, but you see
> how neat and blocky those two Queens pyramids are,
> then take a look at how the internal block work
> looks from inside that gash on G3's North side,
> kinda similar dont you think. its thought this
> internal stonework is indicative of a change in
> the size of G3, now im not so sure about that,
> were they just building in the same fashion as
> those two Queens pyramids.but then again the
> double descending passage says a change of sorts
> took place, hmm its all speculation.
Also talked about at length: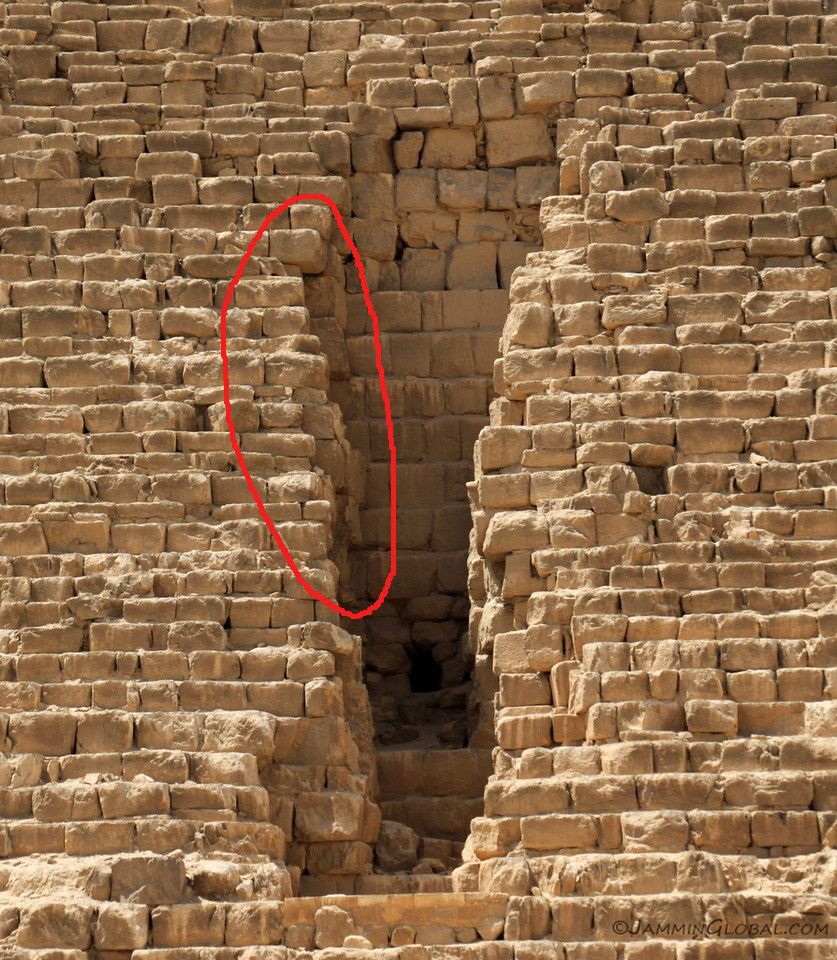 Quote

Note the vertical face at the back of the exposed gash. Looking from the top of the gash down, we can see the blocks become increasingly larger, much larger than the outer blocks, as well as the fact the rows of these blocks, highlighted by the red circle, become incongruous with the courses of the outer blocks even when they are stacked in twos to make up for the height differential.
In context of the discussion what this is meant to show is that the core was originally a stepped core like the queen's pyramids. As I've talked about many times, I believe this core structure was the original which was later converted to a true pyramid most recently
HERE
Edited 1 time(s). Last edit at 07-Mar-17 18:26 by Thanos5150.