Mysteries : The Official GrahamHancock.com forums
For serious discussion of the controversies, approaches and enigmas surrounding the origins and development of the human species and of human civilization. (NB: for more 'out there' posts we point you in the direction of the '
Paranormal & Supernatural
' Message Board).
Thanos5150 Wrote:
-------------------------------------------------------
> Hi Dennis.
>
> DUNE Wrote:
> --------------------------------------------------
> -----
> > Hi Lee,
> >
> > Using Petries triangulation and spacing
> figures
> > between G1 and G2, the angle for the diagonal
> > between G2's South East corner to G1's South
> East
> > corner is 45.36 degrees, so if you can spot
> G1's
> > South East corner then project your line from
> > there at that 45.36 degree angle, and of course
> i
> > see significance in the numbers for that angle
> ,
> > as 4536 x 2 = 9072
>
> Using an angle of 45.36 it takes me within 2 miles
> (west) of the Temple of Jupiter at Baalbek. It
> also puts me within a few hundred feet, a little
> north of the Temple of Jupiter, almost parallel to
> it, of a curious "hill" set within a wide open
> area which looks like a possible archaeological
> site. Be interesting to know what that is.
Hi Lee,
My Google Earths heading reading for a diagonal of a perfect square seems to be a little out, in that if you construct a perfect square using their ruler system it gives a 44.85 degree heading for the diagonal.
So is that a Google Earth algorithm bias that is trying to compensate for operating on a sphere ? , or maybe a genuine fault with their system, there is nothing wrong with their distance measurements as the length of the diagonal is spot on to what a calculator says it should be using the square root of two.
Could it be Google Earths use of decimals when giving a heading in degrees instead of minutes and seconds ?
Are you using Google Earth to run your 45.36 degree line ?, do you get 44.85 degree heading in a square ?.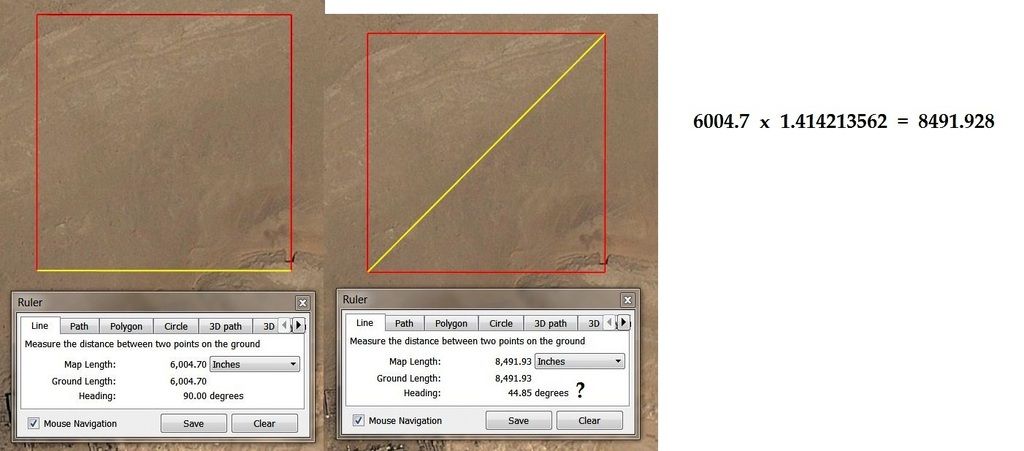 DPP
Edited 2 time(s). Last edit at 14-Jan-17 14:21 by DUNE.
Sorry, only registered users may post in this forum.