Mysteries : The Official GrahamHancock.com forums
For serious discussion of the controversies, approaches and enigmas surrounding the origins and development of the human species and of human civilization. (NB: for more 'out there' posts we point you in the direction of the '
Paranormal & Supernatural
' Message Board).
Thanos5150 Wrote:
-------------------------------------------------------
> Thanos5150 Wrote:
> --------------------------------------------------
> -----
> > Thanos5150 Wrote:
> >
> --------------------------------------------------
>
> > -----
> > > The east corner lines are quite close
> > regardless
> > > of the offset of G2.
> >
> > I would also note that Petrie, among others,
> > believed, as do I, that the G3 outer pyramid
> was
> > built over an existing core structure:
> >
>
>
> > To start the line backwards from G1 to G2, it
> is
> > inset on G3's corner by approximately 23 meters
>
>
> > If we removed the outer pyramid layer to reveal
> > the original core structure we would be pretty
> > darned close to a straight line on all corners
> if
> > not spot on. I have to wonder if this alignment
> is
> > in fact a way to measure how large the original
> > structure was.
>
> Which leads me to a curious thought for you OCT
> believers is that maybe the reason G3 was enlarged
> in the first place from its existing structure was
> to offset it to mirror Orion.
Hi Lee,
In saying G3 was built over an
Existing
core, are you implying it predates the final build by a significant amount of years ?, or is it that what we are seeing is just a change of plan by the ongoing builders of that specific time, in a similar vein that one can see other changes of plans during the building of G2 , as we can observe one of its descending passages opening outside its base, and then we have another change in the placement of another pyramid in G1's initial placement, where they begun their descending passage only to move a couple of hundred feet South and some 600 ft West from where they first begun, to which this first descending passage has been miss named as being a Trial passage, really , would you liked to have been the guy who told the workers that they have spent weeks or months doing back breaking work only to be told its in the wrong place, and would now move a couple of hundred feet and start all over the again, i wonder if they caught him haha.
Some diagrams on this aspect from my post here [
grahamhancock.com
]
I thought i would see how big G3 would have had to have been if its South East corner was going to line up with the South East corners of G1 and G2's,
It turns out G3 would have had sides around 247 ft, i am of the opinion that the reason why we find G3 at its present size is that its evidence of a correction , not surprising really when you consider that the Giza plan had begun some 60 years or more before G3's start , so again the two different structural aspects of G3 can be reconciled by my correction hypothesis that keeps the whole structure being built under one workforce, but maybe under a different site manager .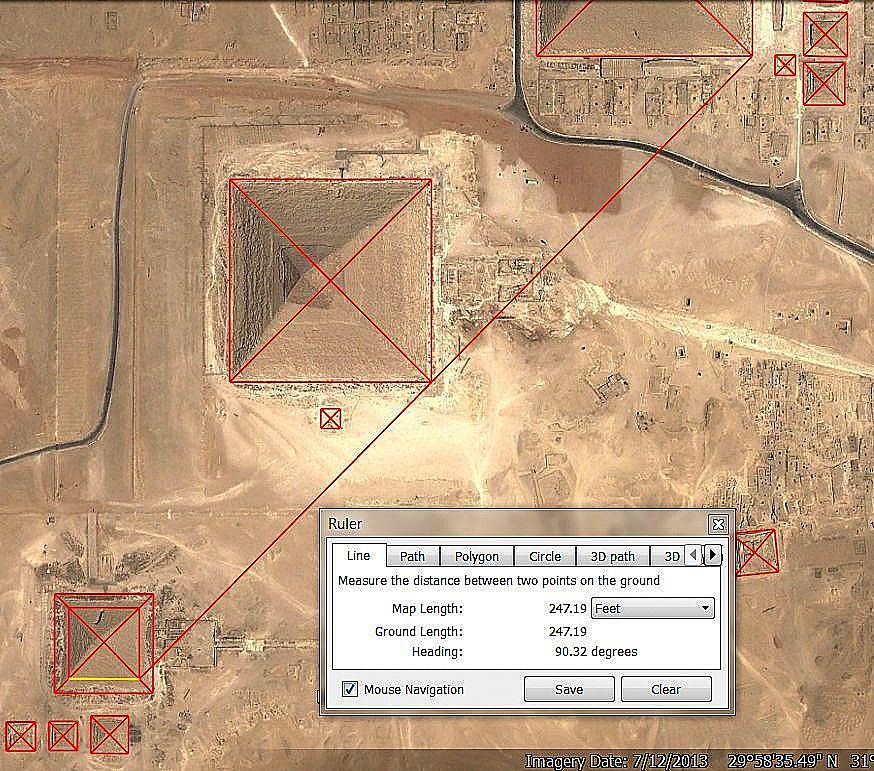 So then i thought how the two different pyramids would look in real time, so below is my scaled diagram of the three, and as you can see Lee i have use that diagram you posted that shows how big this so called Existing structure would have been if it had been its final size, but when i used that diagram to extrapolate the size of the internal structure it resulted in quite a big difference from what the Google Earth ruler system provided .
As you can see , my Google Earth diagram shows this three corner line up plan,(if there was one ) would have resulted in a structure to have sides of around 247 ft.
But when i use your double G3 diagram the scale gives a base of around 156 ft per side, so obviously there is a very big discrepancy there compared to my 247 ft Google Earth estimate.

So in conclusion i still hold to the master plan , and that these build anomalies at Giza are the product of corrections .
It does seem G3 marks the end of BIG pyramid building as all the remaining pyramids built from this time onwards never got much over 346 ft for their base, and there were at least 20 pyramids built after G3.
DPP
Edited 2 time(s). Last edit at 11-Jan-17 14:59 by DUNE.
Sorry, only registered users may post in this forum.