Mysteries : The Official GrahamHancock.com forums
For serious discussion of the controversies, approaches and enigmas surrounding the origins and development of the human species and of human civilization. (NB: for more 'out there' posts we point you in the direction of the '
Paranormal & Supernatural
' Message Board).
Origyptian Wrote:
-------------------------------------------------------
> DUNE Wrote:
> --------------------------------------------------
> -----
> > Hi Phil,
> >
> > That three corner alignment going through the
> west
> > corners do not go to Baalbeck , and does not
> pass
> > through or near any other ancient site as far as
> i
> > can see, so i drew a line back from the temple
> at
> > Baalbeck to Giza,and from my perspective i
> don't
> > see any significance in it, even the distance
> has
> > no significance as far as i can tell.
> >
> > The Yellow line is from Baalbeck
> >
> >
> [
i1329.photobucket.com
]
> 3/Screenshot%20-%2010_01_2017%20%2015_24_39.jpg
> >
> >
> > DPP
>
> Thanks for the effort, DUNE.
>
> Have you considered looking into the tectonic
> faults of Lebanon and the ongoing rotation of the
> Arabian plate (with its slowly changing fulcrum
> over the ages!) to see whether there might have
> been a time in the distant past when Baalbek
> aligned with correlative points in Giza?
Well in view of these plates movements of around an inch or two per year this would mean a going back tens of thousands of years to see changes in these lines orientation , even then it may result in the opposite direct, im gona pass on that one for now, but this has peaked my interest for what may be the significance of the Giza three corner lineup via the pyramids West corners.
So instead of projecting it North East , i back projected it South Westward to see where it lead me to, and as you can see in the two joined together screen grabs it brought me to the very tip of Antarctica , and the distance is very close to Earths equatorial diameter of some 7926 mile.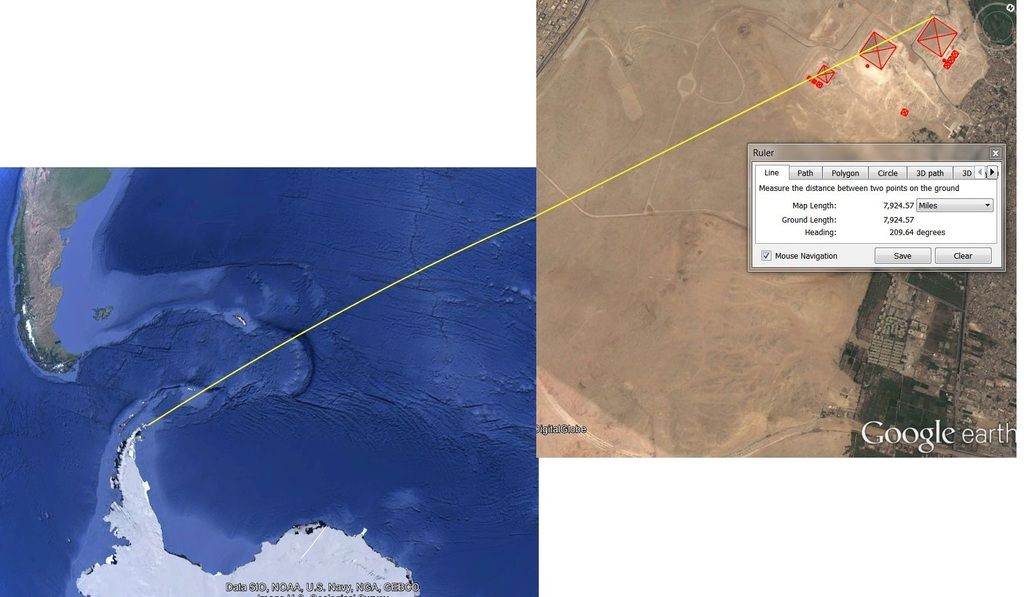 As ive said in my previous post some years back now, Giza has been placed to correlate to many other parts of the world via some sort of ancient grid.
DPP
Sorry, only registered users may post in this forum.