Mysteries : The Official GrahamHancock.com forums
For serious discussion of the controversies, approaches and enigmas surrounding the origins and development of the human species and of human civilization. (NB: for more 'out there' posts we point you in the direction of the '
Paranormal & Supernatural
' Message Board).
Jon Ellison Wrote:
-------------------------------------------------------
> If you take a peek at this table you can see how
> few examples we have of fossilised Homo Sapiens
> from the 10,000 to 50,000 window.
No. Apparently you do not understand how woefully incomplete this list is or exactly what you are looking at. Most of these entries represent but one individual found at a site whereas many other finds are not listed at all. "Predmost 3", for example, is but one of more than 20 individuals found at the site. "Skull 5" found in the "pit of bones" in Spain is just one of at least 28 individuals from a cache of over 1,600 bones including several near complete skulls.
If you see that these entries have a number after it it is to denote their designation among a group. "Shanidar 1" from the 300,000-50,000 period from this list, for example, was the 1st of four individuals discovered which the others you can see are not included. There are several glaring omissions from the list that come to mind, for example, the triple burial of Dolni Vestonice ( Czech Republic) c.25,000BC:
Or the double burial and "shaman" of Sungir (Russia) c. 25,000BC: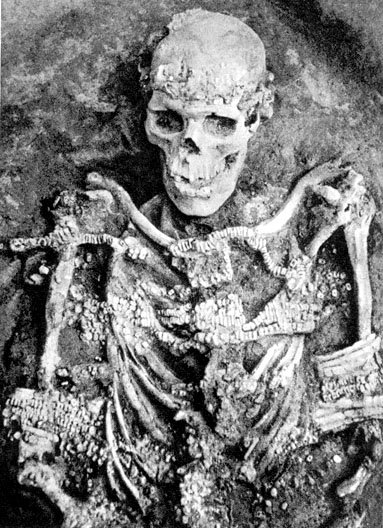 To name a few.
As if it needed to be said, numerous archaeological sites have been found that do not contain human remains, so just because there are no bones does not mean there is not even more evidence of their presence. And if anyone is wondering, the section of this list between 10,000-5,000yrs ago is worthless as thousands of individuals, entire cemeteries, have been found during this period from all over the world.
> In comparison with the millions that must have
> actually lived over that period.
After the Mt Toba eruption c. 70,000BC it is estimated that the human population had dwindled to as little as 1,000-2,000 individuals. 1.2 mya the total hominid population is estimated to have been roughly
55,000
. It shouldn't be that hard to understand why human populations were small given we had been in the throes of an ice age for half of our existence up until around 12,000yrs ago. The period between 21,000-18,000ya was particularly harsh and was the coldest and driest world climates in the previous 130,000yrs. This is a graph from a recent study done of European population estimates between 30,000-13,000ya:
LARGE
These are individuals per 100km2 (39sq mi). Interesting to see how relatively few people there were, but also how these populations dwindle significantly between the period of 21,000-18,000ya.
Regardless, you also assume we have found all there is to find which is ironic as it is the very argument some of you make for the absence of the LC. Though there are a lot more human remains that have been found in the fossil record then you obviously realize, human fossils are inherently scarce, among other reasons, because populations have always been relatively small and scattered over a wide geographical area spanning multiple continents.
> Fact is, we're just not very good at getting
> ourselves fossilised and into the record.
> For all the reasons that Buildreps gives.
> We haven't been around for long enough, were too small, we tend to not die in swamps.
No. The only reason you say this is because you have this picture in your mind of dinosaurs living in swamps, we have a lot of dinosaurs fossils, therefore-voila- fossils must be made in "swamps". Not so. You will find that few hominid fossils are derived from "swamps" which of those not found from intentional burial (obviously), are otherwise most often found in cave systems or at or near river beds or bodies of water. Fossilization requires burial in earth, deliberate or otherwise, which water is usually involved in the process trapping the remains in mud and silt. Not to mention that the term "fossil" does not necessarily mean "bone turned to stone" and is to denote any evidence of the existence of extinct living organisms. Many later what are termed "fossils" are not stone but rather bone and even those that have been mineralized regardless of age, including dinosaur bones, can still contain actual bone.
Hominid fossils are rare for various factors the least of which is the fact that from the earliest hominid species we like to hide in caves. For example, a recent 2015 find in South Africa of over 1400 bones from 15 individuals ("Homo naledi c.2-4mya) discovered in just one dig season in which there is estimated to be thousands more bones:
With all that being said, this is not to say we have it all figured out, far from it, but the reality of the fossil record is much more substantial despite it flaws than I am sure most of you realize. There will no doubt be discovered many surprises, some which will surely cause us to reevaluate the foundations of our evolutionary models, a process that is already underway, but the idea that there is some paleolithic pyramid building master species out there that is otherwise culturally and physically completely missing from the archaeological record other than the megaliths they left behind is, to put it politely, highly unlikely.
Edited 4 time(s). Last edit at 01-Jan-17 17:42 by Thanos5150.
Sorry, only registered users may post in this forum.