Mysteries : The Official GrahamHancock.com forums
For serious discussion of the controversies, approaches and enigmas surrounding the origins and development of the human species and of human civilization. (NB: for more 'out there' posts we point you in the direction of the '
Paranormal & Supernatural
' Message Board).
Whoever gave you the advice to learn to read hieroglyphs by starting with Middle Egyptian was right, Willie.
By the end of dynastic Egypt, the language and its vocabulary had grown enormously and it's really quite difficult to learn.
However, Middle Egyptian is a lot more manageable - about 20% of the glyphs are used about 80% of the time so you can pick it up more readily. Some of the rules of grammar are quite challenging, even as an English teacher, and I can understand why people struggle with aspects of it.
Incense and oils are frequently mentioned in the funerary offering formula, too, by the way (normally just after the alabaster and linen) as sntr mrht. See below, from the stela of Mentuhotep: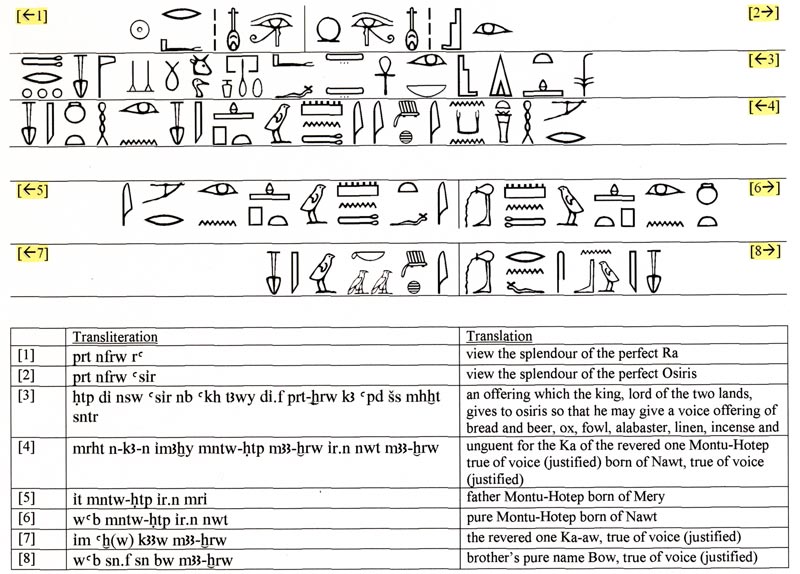 sntr (incense) is the last 4 glyphs on the left hand side of the second row while the mrht (oils) are the first 5 glyphs on the right side of the third row of glyphs. Interestingly, the 5th glyph acts as a determiner and makes me wonder if that's what the oils were placed in on the offering table!
The numbers relate to the order the inscription should be read in. You'll spot the vertical line which separates one directional reading from another.
Matt :)
Edited 1 time(s). Last edit at 19-Dec-16 23:35 by eyeofhorus33.
Sorry, only registered users may post in this forum.